It doesn't get much more exclusive than the fully staffed experience at The Estate of Petroio in Rufina, near Florence. The main residence, an elegant 12th-century villa, and two accompanying stone farmhouses are set within a 900-acre Chianti wine and olive-oil estate.
Sleeping up to 30 guests, The Estate of Petroio is an idyllic Tuscan retreat, perfect for a family reunion, a grand celebration or even a bespoke destination wedding for up to 40 guests.
Live the al fresco high life
Set within 900-acres of grounds, you won't be short of space at The Estate of Petroio. Alongside the peaceful courtyard equipped with a stone pizza oven and charcoal barbecue, are ample shaded lounging spots and dining areas with unforgettable views over the surrounding Chianti hills.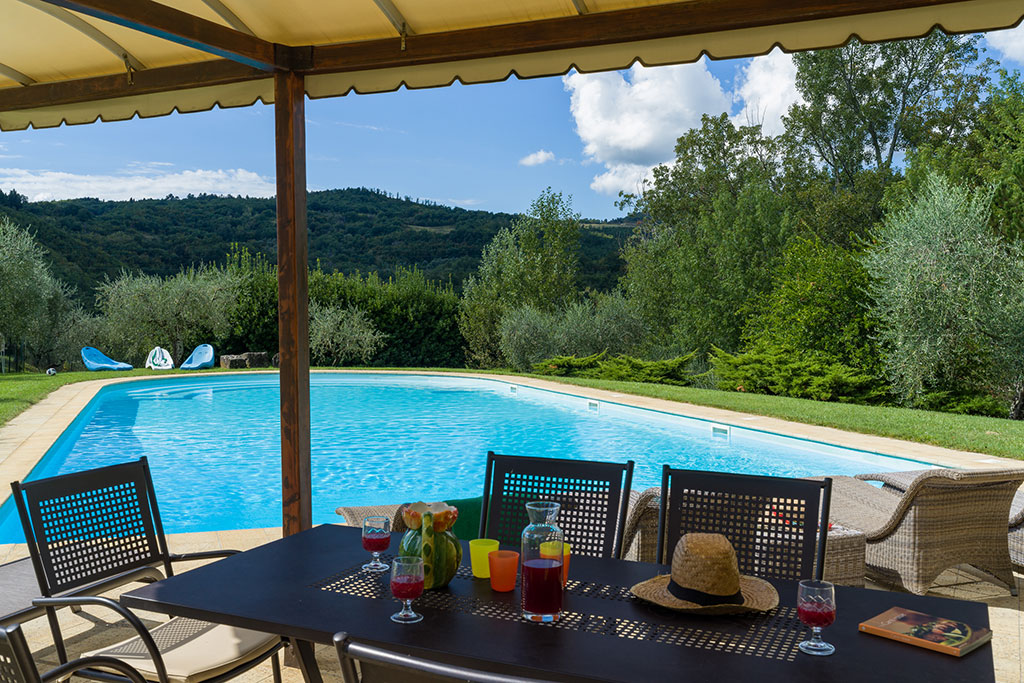 The two large private swimming pools are fenced and child-friendly, while the football/soccer pitch and tennis court ensure afternoons at your catered villa will be well-spent. After a little friendly competition, wind down with an evening walk through the estate's woodland and unspoilt countryside. Then drink in the sunset with a glass of wine and soak in the outdoor Jacuzzi.
Enjoy the villa's luxury facilities
The main villa and two farmhouses have been sympathetically restored, seamlessly blending traditional Tuscan beamed ceilings, terracotta floors and warm interiors with luxury modern comforts, including a professional kitchen for your private chef and spacious air-conditioned bedrooms.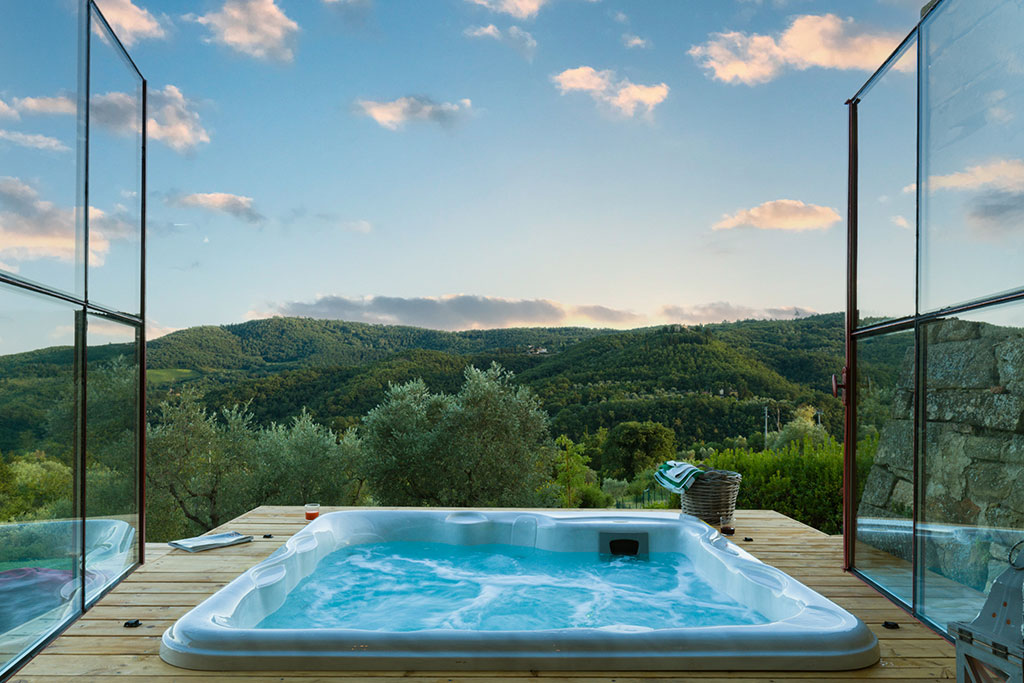 Keep active in the estate's gym and unwind in the private spa, equipped with a massage table, infrared sauna and hydro LED shower.
Dine-in decadence with your in-villa cook
When you rent The Estate of Petroio with staff and cook included, you get to enjoy the full flavours of Tuscany without ever leaving the villa. Wake up to the smell of freshly brewed coffee and breakfast served each morning by your waiter and sit down for a three-course dinner six evenings a week. Dinners are intimate and tailored to your tastes. Enjoy an al fresco barbecue evening, classic Tuscan cuisine, and the chance to make pizzas or watch a professional pizzaiolo work their magic with the dough.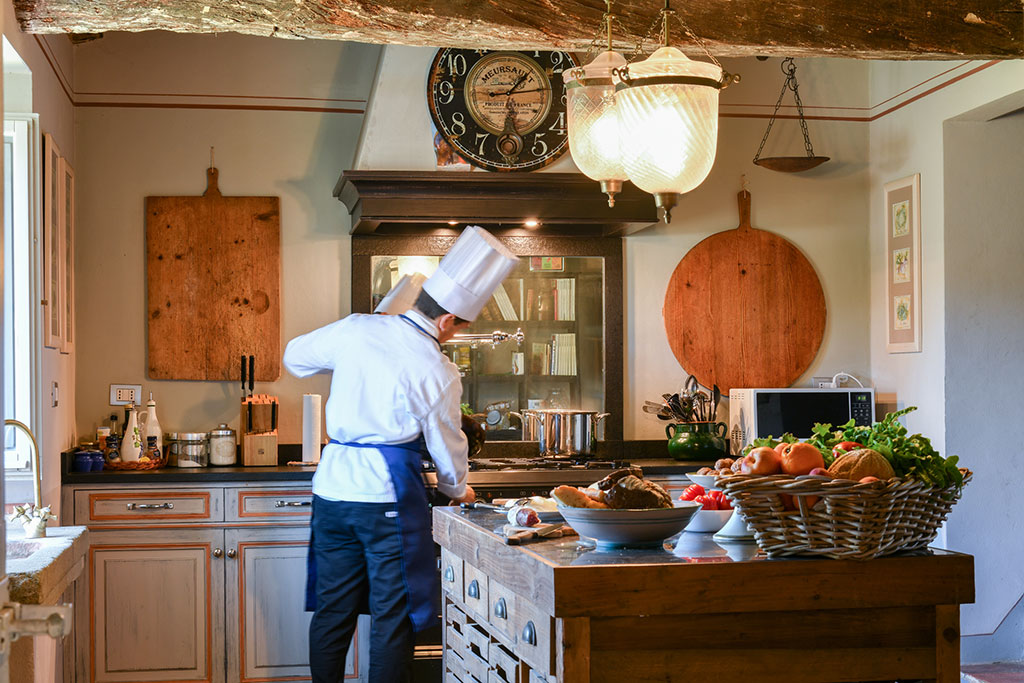 Meet the chef, Francesco
The resident chef Francesco is a genius in the kitchen, particularly when it comes to fresh pasta-making, local truffles and traditional Tuscan cuisine. Francesco has worked in Florence, London and America, as well with Michelin-star celebrity chef, Tom Aikens in the Estate's kitchen!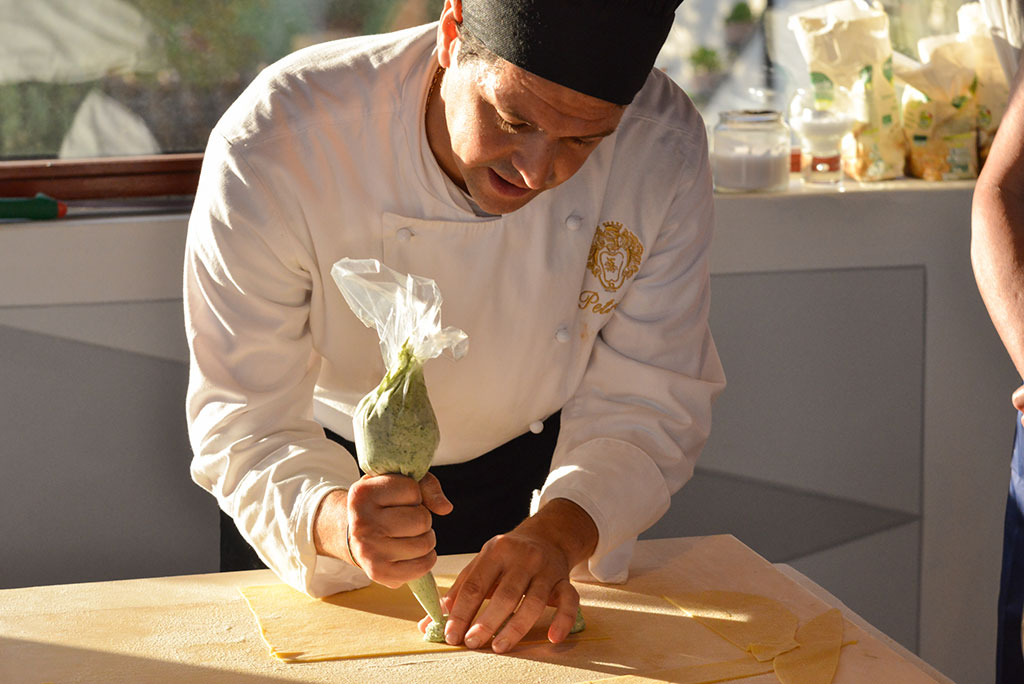 You can read about his many talents here.
Learn to cook the Tuscan way
Francesco isn't just a fantastic chef, he's a brilliant mentor. Immerse yourself in the culinary traditions of Tuscany with in-house cooking lessons in your villa kitchen. Learn from an expert the secrets behind your favourite dishes before savouring the fruits of your labour from the peace of your dining terrace.
Savour local Chianti wine produced on the 900-acre estate
The Estate of Petroio is also a working farm, producing red wine, extra-virgin olive oil and golden Vin Santo Chianti dessert wine. Why not have our complimentary Concierge arrange private sommelier-led wine tastings at your villa with the 0km labels produced on your doorstep?
In the summer months, you can even savour the quality seasonal produce, like tomatoes, green beans and zucchini ("courgette") from the estate's vegetable garden.
Discover Florence and the Chianti hills
Just 4 miles from Rufina, The Estate of Petroio is ideally placed to follow the Chianti wine road and sample world-class local labels. If you can peel yourself away from the peace and seclusion of your catered villa for the day, Florence is just 40-minutes away by car. Spend an afternoon in the birthplace of the Renaissance and return to your home-away-from-home to dinner served by your in-villa chef. This is just one of the stress-free perks of staying in a fully staffed villa with a cook.
And that's not all…
Our fully staffed villas in Italy also include daily maid services so you can truly focus on making the most of your vacation. The owner and manager of Petroio is also a professional caterer and event planner who is happy to assist you with any special requests you may have during your stay. From 2023, the Estate will also include a colourful outdoor bar in the villa garden, where a barman can serve an evening aperitivo before dinner.
And, there's plenty more where that came from too. Should you wish to discover Chianti from the front seat of a red Ferrari? We can arrange it. If you'd like to go truffle hunting in the surrounding hills followed by a cooking class with Francesco, we can make it happen. Do you need a trusted babysitter for an evening or two? No problem. Just speak to our award-winning Concierge Team.