Cortona travel guide
Cortona clings to a hillside high above the Valdichiana, towering over the plains below like a lookout. This valley is Tuscany's breadbasket, drained and turned into fertile farmland under Duke Cosimo I de'Medici. Beef from its native white Chianina breed of cattle is the essential ingredient in a bistecca alla fiorentina, Tuscany's giant, T-bone like, flamegrilled steak.
The town is also a place to feed your mind, with paintings by local artist Luca Signorelli and Florentine Fra' Angelico, as well as one of provincial Tuscany's best museums.
Cortona shot to fame as the unwitting star of Frances Mayes' "Under the Tuscan Sun", a travelogue bestseller turned 2003 Hollywood film. Visitor numbers ratcheted up in the aftermath.
But it kept its soul: there is nothing forced or false about the rhythms of life here. The action revolves around its only flat street, Via Nazionale, and the monumental stone steps outside its Palazzo Comunale (town hall) in Piazza della Repubblica. Its grocers are still visited by local shoppers, Saturday market stalls are still piled high with seasonal produce, and the town's famous ceramics are still manufactured and painted by hand using methods handed down through generations.
In the Beginning...
Cortona is one of many Tuscan cities with a history that stretches back to the Etruscan era. The surrounding countryside is dotted with ancient burial sites, notably the tombs of Melone I and II. Many Etruscan relics are displayed in the town museum, the Museo dell'Accademia Etrusca e della Città (see below).
The town also has a fine pedigree when it comes to painters. Luca Signorelli — who painted a "Last Judgement" fresco cycle in Orvieto that Michelangelo studied closely before he painted the Sistine Chapel — was born here in the 1440s. Sassetta, a painter of the Sienese Renaissance, is (probably) another local, born a half-century before Signorelli. Pietro da Cortona was a leading painter and architect of the Roman baroque, and born here in 1596. Futurist artist Gino Severini (1883–1966) was also a native Cortonese.
Visit This
The Museo dell'Accademia Etrusca e della Città (MAEC, pronounced "Mike", for short) is probably the best museum in southern Tuscany. The lower floor traces the ancient history and archaeology of the town, from Villanovan settlement through the Etruscan and Roman ages. Upstairs, in an old palazzo, it gets very eclectic, from Gino Severini paintings and an Egyptian mummy to the museum's prize exhibit, an ornate, bronze Etruscan lamp or chandelier dating to the middle of 4th century BC. It was dug up by chance in 1840.
The painting collection around the corner at the Museo Diocesano is equally enticing. There are only a few rooms, so you will have no trouble hunting down a "Lamentation" by local painter Luca Signorelli, with a background rich in surreal narrative detail. You could stare at it for hours and still wonder what on earth is going on in some of the scenes. The museum's other blockbuster is an "Annunciation" by Florentine painter of the International Gothic style, Fra' Angelico.
At Cortona's highest point, the town's 16th-century castle, the Fortezza Medicea Girifalco, has views from its crumbling walls stretching for miles over the plains of the Valdichiana and into Umbria.
Eat & Drink This
Cortona's produce market runs every Saturday morning in Piazza Signorelli. Unusually for Tuscany, the local signature wine is white: Bianco Vergine Valdichiana is light and dry, and makes a perfect aperitivo drink.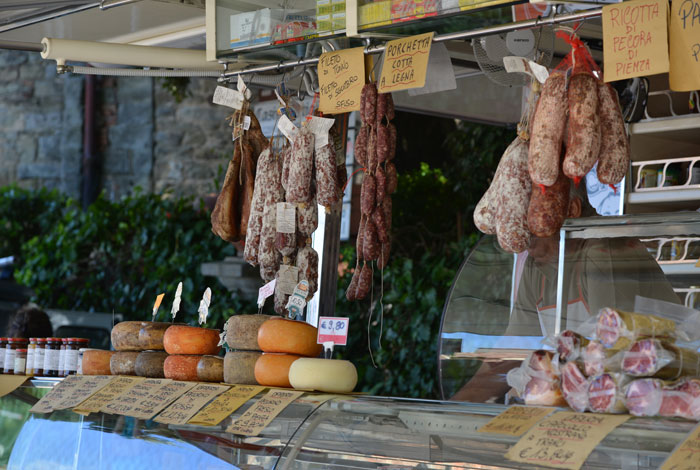 The Great Outdoors
For spiritual inspiration, or just to walk off a hearty lunch, you can make Cortona's steepest climb up Via Santa Margherita, otherwise known as the Via Crucis. The road tracks the old walls, passing the gate where (in the 13th century) Margaret of Cortona entered town, on her way to sainthood as St. Margaret. At regular intervals you will pass 15 mosaic panels representing the Stations of the Cross, made by local artist Gino Severini in 1947. (The climb is very steep; only the fit should attempt it.)
Cortona has kept its soul: there's nothing forced or false about the rhythms of life here
Out of Town
Just outside the walls, poking its octagonal cupola (dome) above the olive groves, is the Renaissance church of Santa Maria delle Grazie al Calcinaio. It was designed by Francesco di Giorgio Martini, a polymath who was a kind-of "Sienese Leonardo da Vinci" and dabbled in everything from painting to engineering military defences. This, however, is his only known church, and was built to mark the site of a miraculous appearance by the Virgin Mary at a limekiln (a calcinaio). The church's rose window is by stained-glass master Guillaume de Marcillat, who also worked on Arezzo's cathedral.
Castiglion Fiorentino — 7 miles north-west of Cortona — is also visible for miles around, with its distinctive tower (the Cassero or fortress) sticking above its rooftops. The town's painting gallery, the Pinacoteca Comunale, is inside the deconsecrated shell of Sant'Angelo al Cassero church, where you can also explore the crypt. Inside are several medieval panels, plus a couple of paintings by Florentine Renaissance artist Bartolomeo della Gatta.
Buy This
Cortonese fired ceramics have cultivated a well-deserved rep for quality. At L'Antico Cocciaio, the painted pots are piled high, and hung floor to ceiling — vases and plates, dinner services, oil and vinegar bottles, and pocket-sized souvenirs.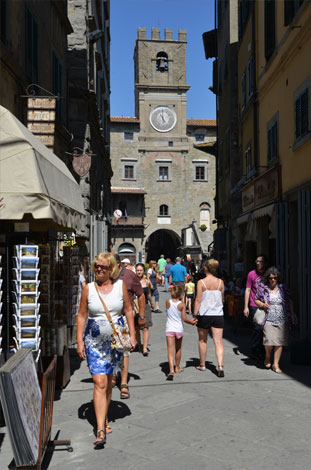 The classic designs on kitchenware and tableware at Terrabruga are based around a stylized daisy on a yellow background, a design typical to Cortona. The ceramics are made by hand in a studio just below the town wall.
Three Excursions from Cortona
Arezzo: the provincial capital is a former home of architect and art historian Giorgio Vasari, and where you will find one of Italy's great art treasures, the "Legend of the True Cross" fresco cycle by Piero della Francesca
Monte San Savino: the birthplace of High Renaissance sculptor and architect Andrea Sansovino has a fine Loggia dei Mercanti (1520), attributed to its native son, as is Piazza di Monte; fellow Renaissance architect Antonio da Sangallo helped shape the town's handsome streets and palaces
Lucignano: a peculiar layout of concentric ellipses has the Museo Comunale at its centre, with the "Tree of Lucignano", an elaborate gold reliquary that Sienese goldsmiths took more than a century to create between 1350 and around 1470 (and the 5-mile stretch of road between Lucignano and Monte San Savino is one of Tuscany's prettiest drives)