September in Italy is arguably one of the country's best-kept secrets. The summer crowds have subsided, but the golden hues of autumn have not yet arrived. Italy is alive with vibrant festivals, from historic regattas to celebrations of all things pecorino. This is the time for countryside escapes; vineyards are abuzz with the annual grape harvest ("vendemmia"), truffle season is just beginning, and the first extra-virgin olive oils are fresh off the press and seductively smooth. Days are still long and loyally sunny, evenings light but romantically so, temperatures balmy and your private pool still enticingly refreshing.
To help you find the perfect September stay in Italy, here is our pick of the finest luxury villa rentals for all our guests in the (late-summer)-know.
La Palazzo nel Cielo
Tuscany gloriously off-the-beaten-path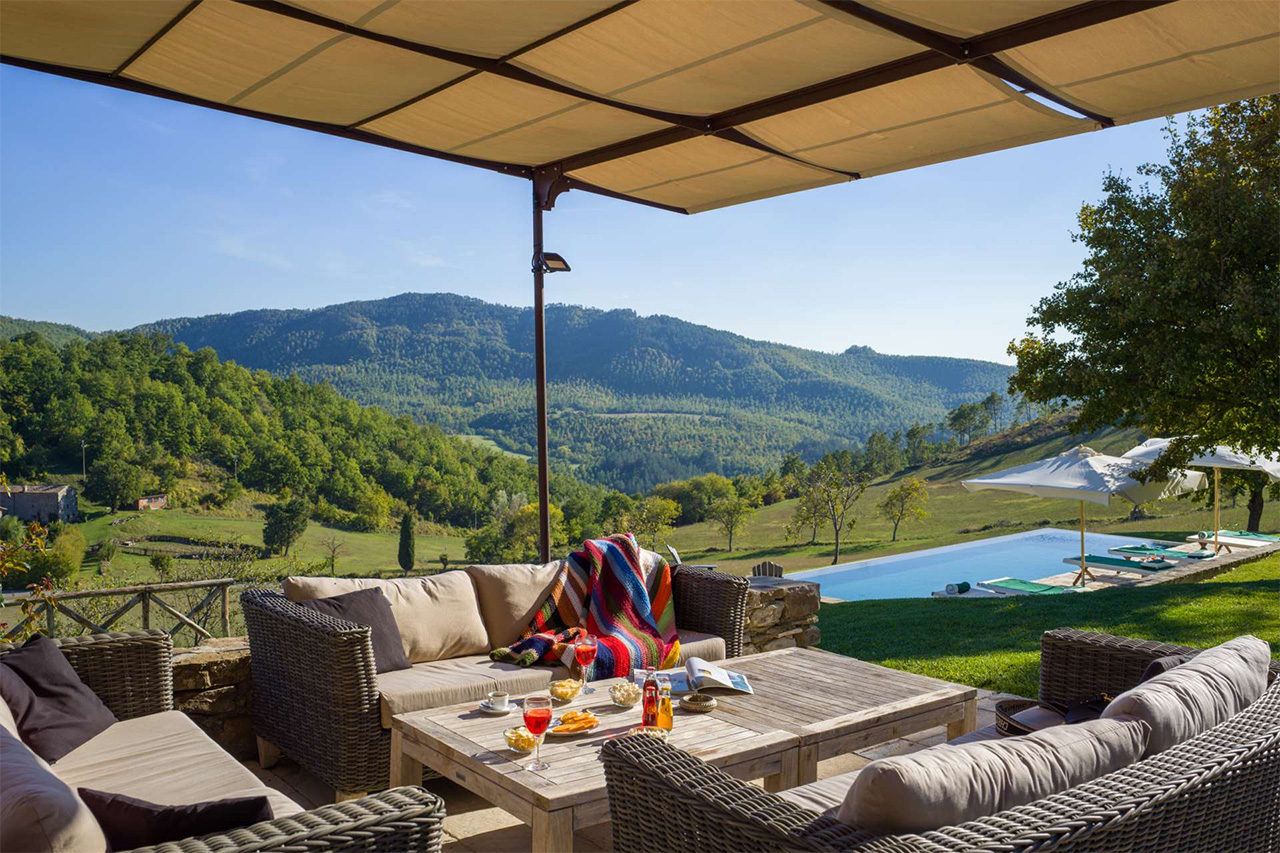 There is a reason La Palazzo nel Cielo is called "The Palace in the Sky". Set serenely in the foothills of the Apennine Mountains, it exudes a quiet grandeur, with warm and sophisticated interiors and a heated infinity-edge swimming pool. The flagstone courtyard is satisfyingly sun-soaked well into the autumn months, with all-weather living areas for dining outdoors and enjoying the breathtaking views. The large games room is perfect for family days at the villa and cosy nights indoors with a bottle or two of Chianti.
This quieter corner of Tuscany is made for living at a slower, more authentic pace. The villa's more remote location is part of its undeniable appeal. Outdoor lovers will thrive here in September when the weather isn't too hot, with stunning hiking trails leading straight from the villa's doorstep. Truffles are the local speciality, aptly in-season and found on the estate. Have our Concierge arrange truffle hunting on the doorstep followed by a truffle-themed dinner served by a local chef. With the option of seasonal in-villa cooking classes and wine tastings with a local sommelier, why would you ever want to leave?

Ca' di Lista
Venetian opulence off-peak and at its best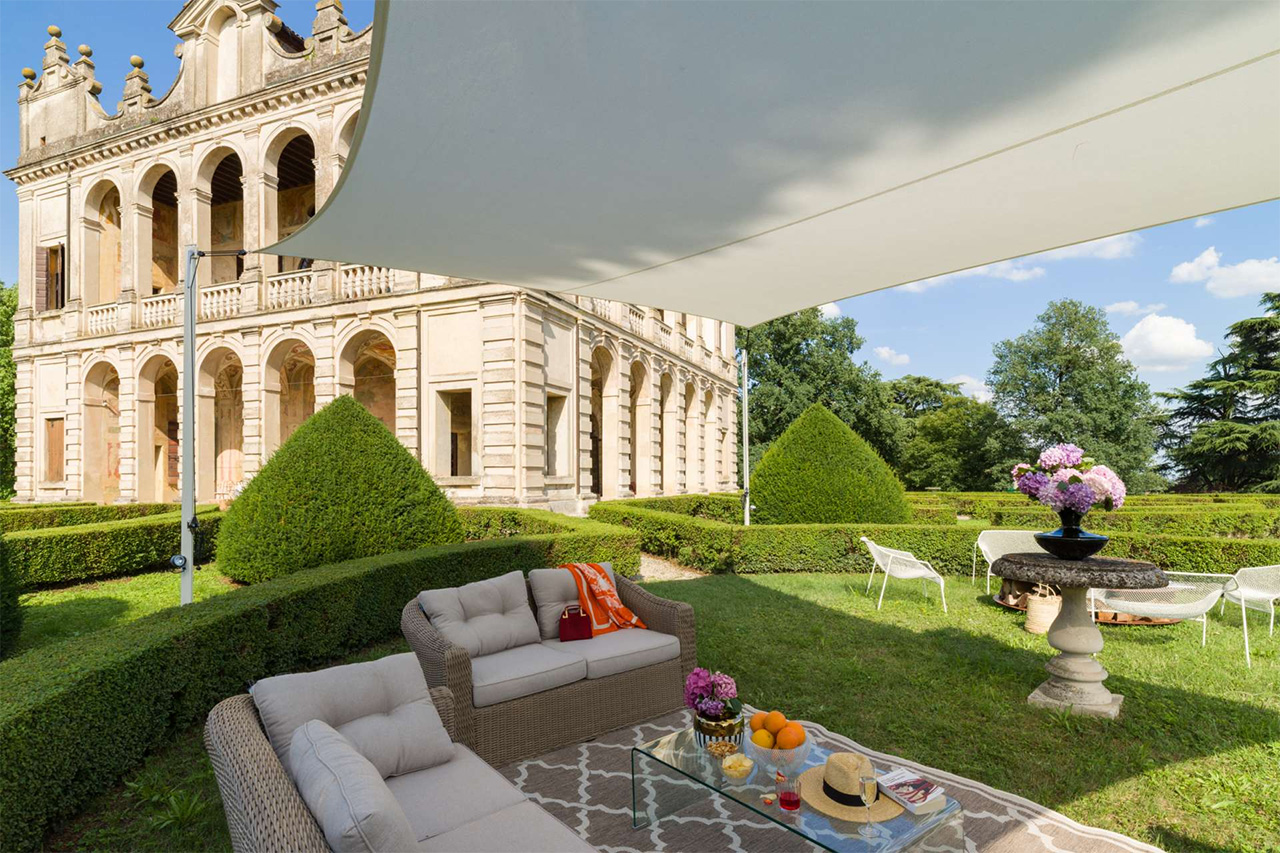 Once the summer crowds die down, Venice and Verona take on a completely different atmosphere. This is the time for exploring the region's iconic landmarks and art museums at a more deliberate pace and immersing yourself in the rituals of the wine harvest. There couldn't be a better setting to do so than Ca' di Lista, a breathtaking 16th-century Venetian hunting lodge, and one of our most exclusive heritage villas. Complete with frescoed loggias, Italianate gardens and a private heated pool, autumn days at the villa are just as indulgent as days exploring the region's rich cultural scene.
Set on an award-winning wine estate in the Colli Euganei hills, you'll have a front-row seat to the grape harvest and can visit the winery to experience it in full action. Enjoy exclusive in-villa wine tastings of the 0km wines with one of the estate's sommeliers. With chef services included for three dinners and six breakfasts a week, make the most of the region's cuisine from the villa as well. And, if golf is the name of the game for you, a warm September afternoon is best spent at the 27-hole Golf Club della Montecchia, just a few minutes walk away.

The Estate of Petroio
The gourmet-group-getaway at the heart of Chianti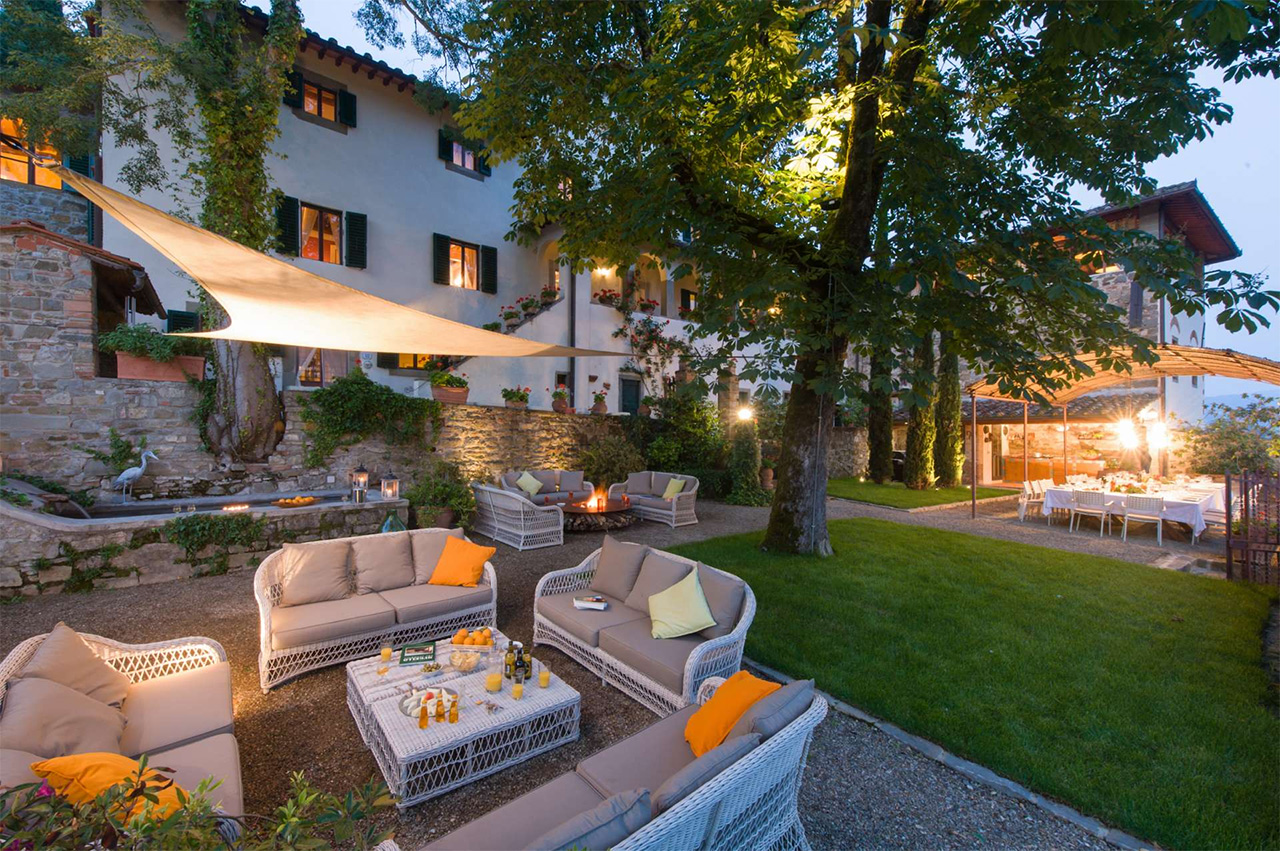 Set within a 900-acre Chianti wine and olive oil estate, it doesn't get much more thrilling than September at The Estate of Petroio when the grape and olive harvest are underway. With chef services included for breakfast each morning and a three-course dinner six evenings a week, Petroio is every gourmand's paradise. The resident chef, Francesco is a genius in the kitchen, particularly when it comes to fresh pasta-making and local truffles. It is well worth experiencing first-hand with an in-villa cooking class.
The estate comprises an elegant 12th-century villa, two stone farmhouses, two private fenced and heated swimming pools, a football pitch, a tennis court, a gym and spa facilities. Enjoy walking trails in the warm Tuscan weather, cycling tours and truffle hunting, all available on the estate. In other words, everything you and your family could need to unwind, reconnect and get under the skin of Chianti, without ever having to leave the villa grounds…

Palazzo Cheto
Bespoke luxury experiences at the heart of the Crete Senesi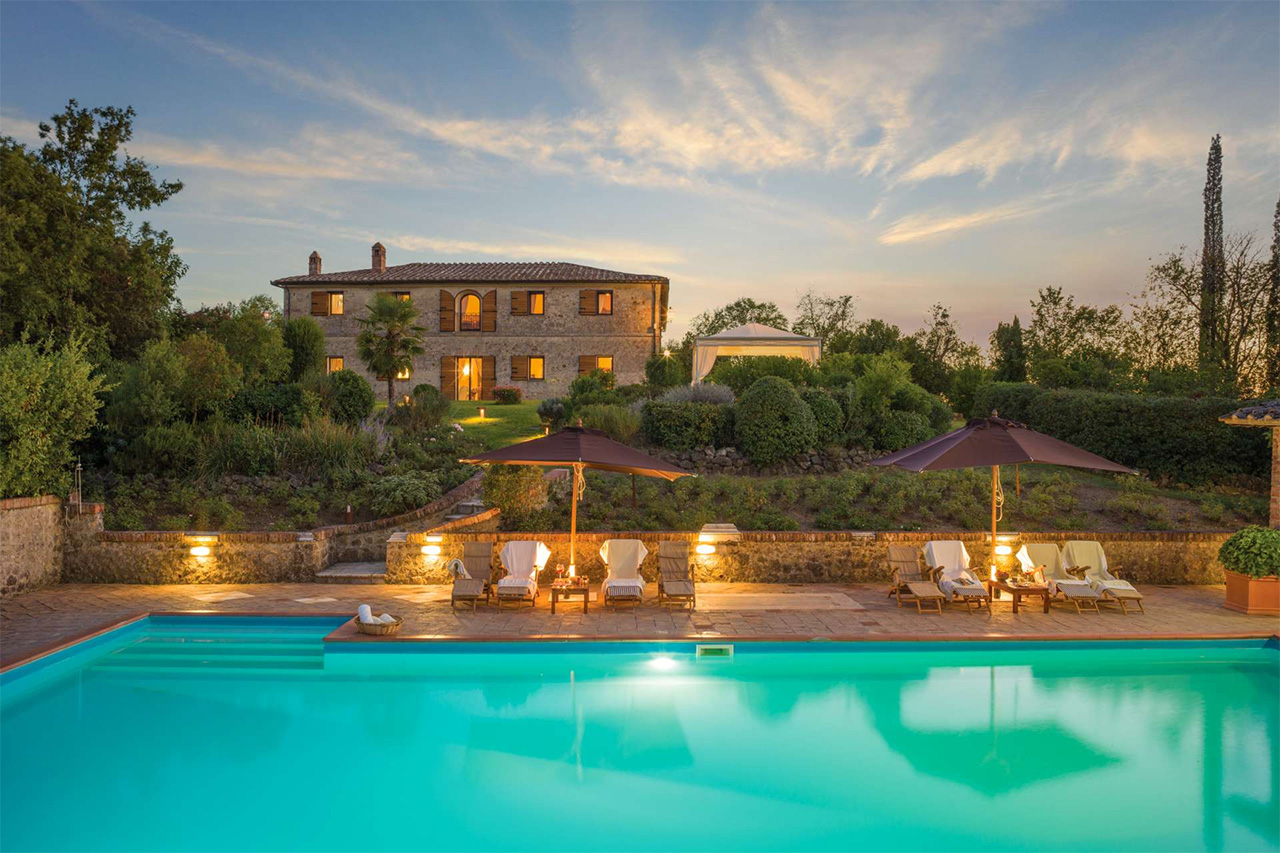 Originally a 13th-century monastery, Palazzo Cheto has retained its tranquil and otherworldly charm with all the added comforts of contemporary living. This fully staffed villa with chef is set on a hilltop overlooking the rolling Tuscan countryside and nearby Siena, where the service is second to none. With staff on-hand to cater to your every need, you can focus on enjoying a range of bespoke luxury experiences perfect for a September getaway in Tuscany.
September at Palazzo Cheto is made for truffle hunting in the estate's private tartufaia ("truffle grounds"), tranquil walks and porcini foraging through the estate's woodland and excursions into nearby Siena. Balance daily dips in your private pool with private wine tastings in the villa's cantina. From pizza evenings to fresh pasta-making classes and guided tours of the best local Chianti markets, enjoy the very best of the region's seasonal cuisine from your villa doorstep. From early September mornings in a hot-air balloon in the hills to exclusive jazz concerts in the sun-soaked courtyard, Palazzo Cheto is a dreamy late-summer escape where bespoke experiences are just a simple request away.

I Corbezzoli
5-star service and farm-to-table cuisine in the Valdarno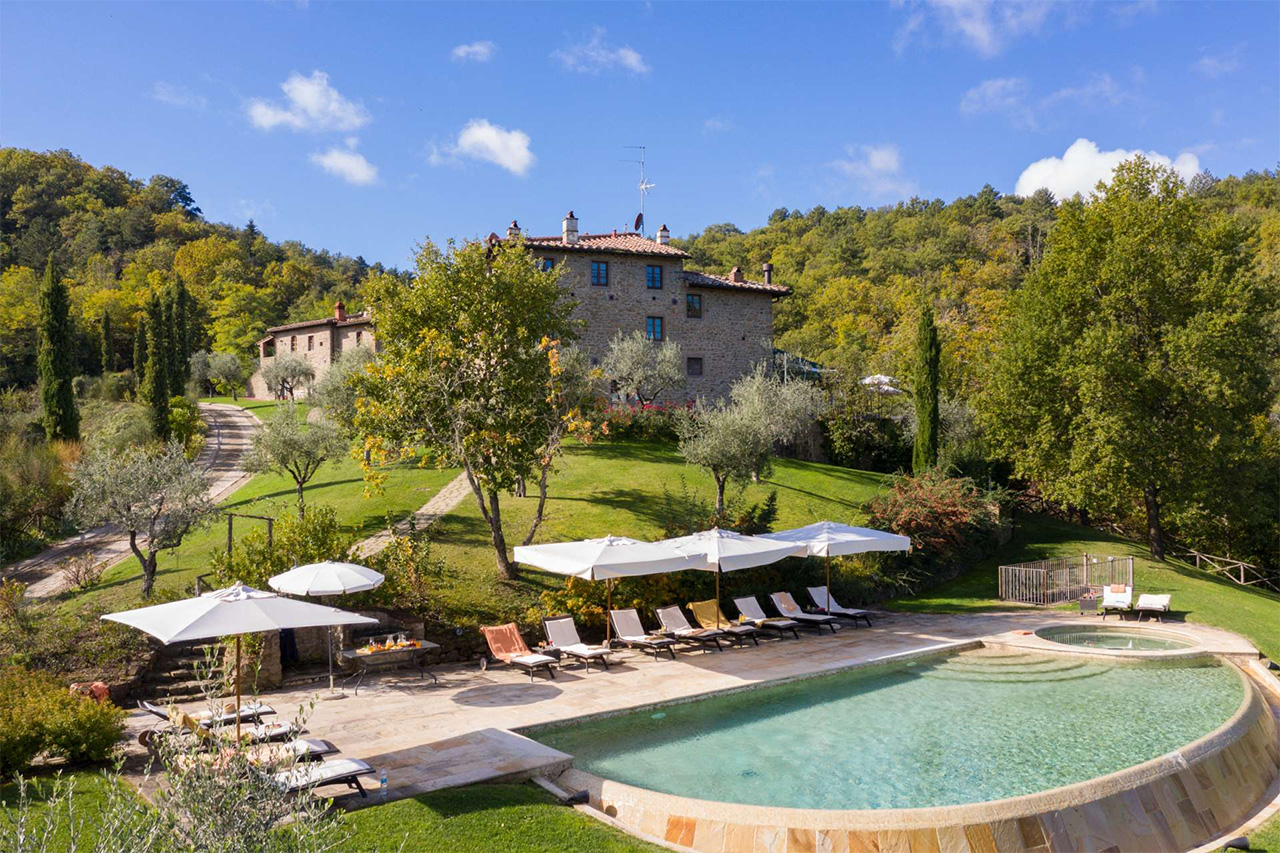 With all the amenities of a five-star hotel on a purely exclusive level, service and comfort will shape your luxury September getaway at I Corbezzoli. Sitting at the heart of a 100-acre estate in the Valdarno, you are just as close to Florence as the wine routes winding through Chianti and the towers of San Gimignano.
The villa is staffed by a team of 11 — including chefs, waiters, maids, gardeners and a Reception Manager. Breakfast, lunch and dinner are prepared from scratch for you each day by your in-villa cook, so you can truly immerse yourself in the local late-summer cuisine. From bespoke luxury experiences, like farm-to-table cooking classes and sommelier-led wine tastings, to the simple satisfaction of aperitivo served for you by your private pool, all you have to do is ask.
The dedicated on-site concierge can arrange everything from morning yoga classes to afternoon truffle hunting excursions on the villa's vast estate. If you'd like to keep active in the warm September weather, there is an equestrian centre and private tennis court on the wider estate. At the end of your stay, you will also be treated to a complimentary tasting of the organic extra-virgin olive oil produced on the villa estate. It doesn't get more blissful than this.

Villa Albizi
An indulgent spa and wine escape in Chianti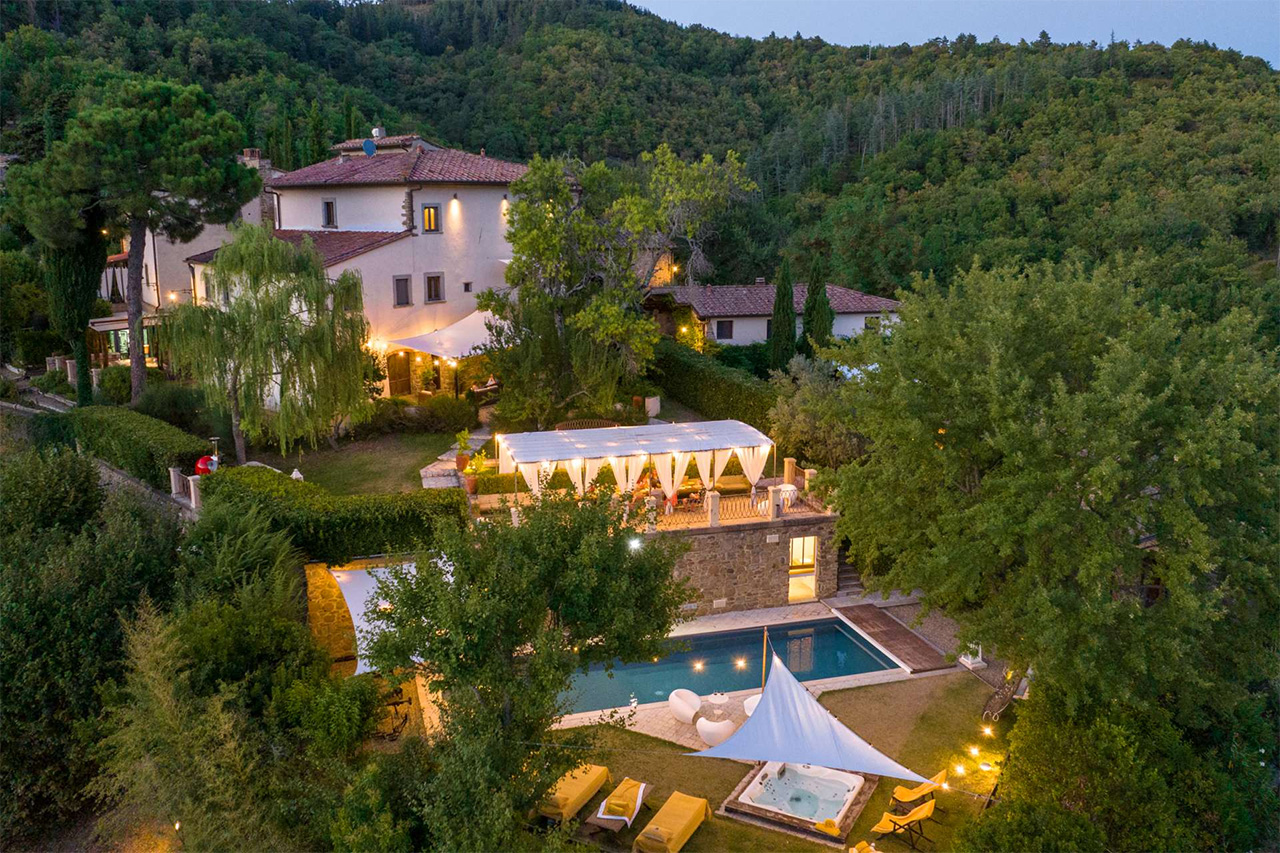 Late-summer getaways at Villa Albizi are made for balancing balmy days out in the Chianti hills with private wine tastings and full relaxation in the on-site luxury spa. This elegant 16th-century villa offers the full service of a luxury hotel, complete with an in-villa chef and housekeeping, but with added privacy and peace.
In-villa experiences make connecting with the local territory a breeze; from hiking trails through Chianti's thick woodland and picnics prepared by your in-villa chef, best enjoyed in the vineyards of a local winery. Enjoy e-bike tours with a local guide, when Chianti is transformed by the wine harvest, and discover the seasonal delights of the best local farmer's markets. And while the best Chianti wine estates are just a stone's-throw away, the villa cellar also stocks over 100 bottles from 26 unique wineries.
Book yourself onto a collection of unique wellness programs tailored to healing the body, mind and spirit and prolong your summer of relaxation at the villa's wellness suite. September dips in your private pool are best chased with a pamper in the sauna and massage.

Poggio ai Grilli
A truffle-lovers paradise near Pisa and San Miniato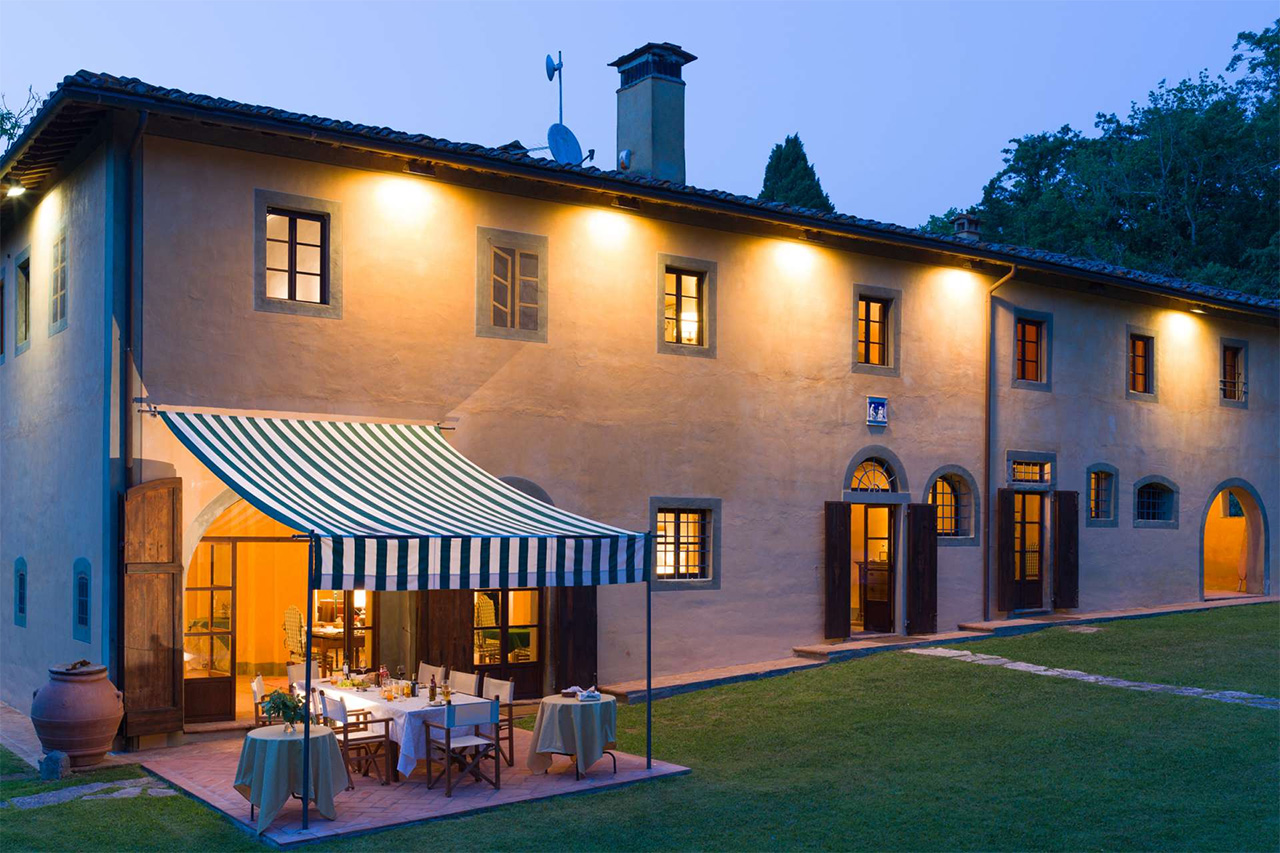 From late September, as summer gives way to autumn, the highly-coveted white truffle takes centre stage in Tuscany. For lovers of this haute-cuisine fungi, Poggio ai Grilli is a veritable paradise. This fully-staffed luxury villa rental includes chef services for six breakfasts and six dinners a week, so you can focus on making the most of the great Tuscan outdoors. Think of morning laps in your private pool and afternoons keeping active on your private tennis court.
Situated at the heart of the historic Medici Camugliano Estate, guests can roam 1000 acres of private woodland and beautiful Tuscan countryside. The estate houses a private tartufaia, an exclusive setting for truffle hunting experiences, followed by lunch or dinner with a local chef. The pretty hill town of San Miniato is just a short drive away, which is so renowned for its truffles that it hosts a white truffle festival here each autumn.

Gugliaie
The best of Florence and Chianti without the high-summer crowds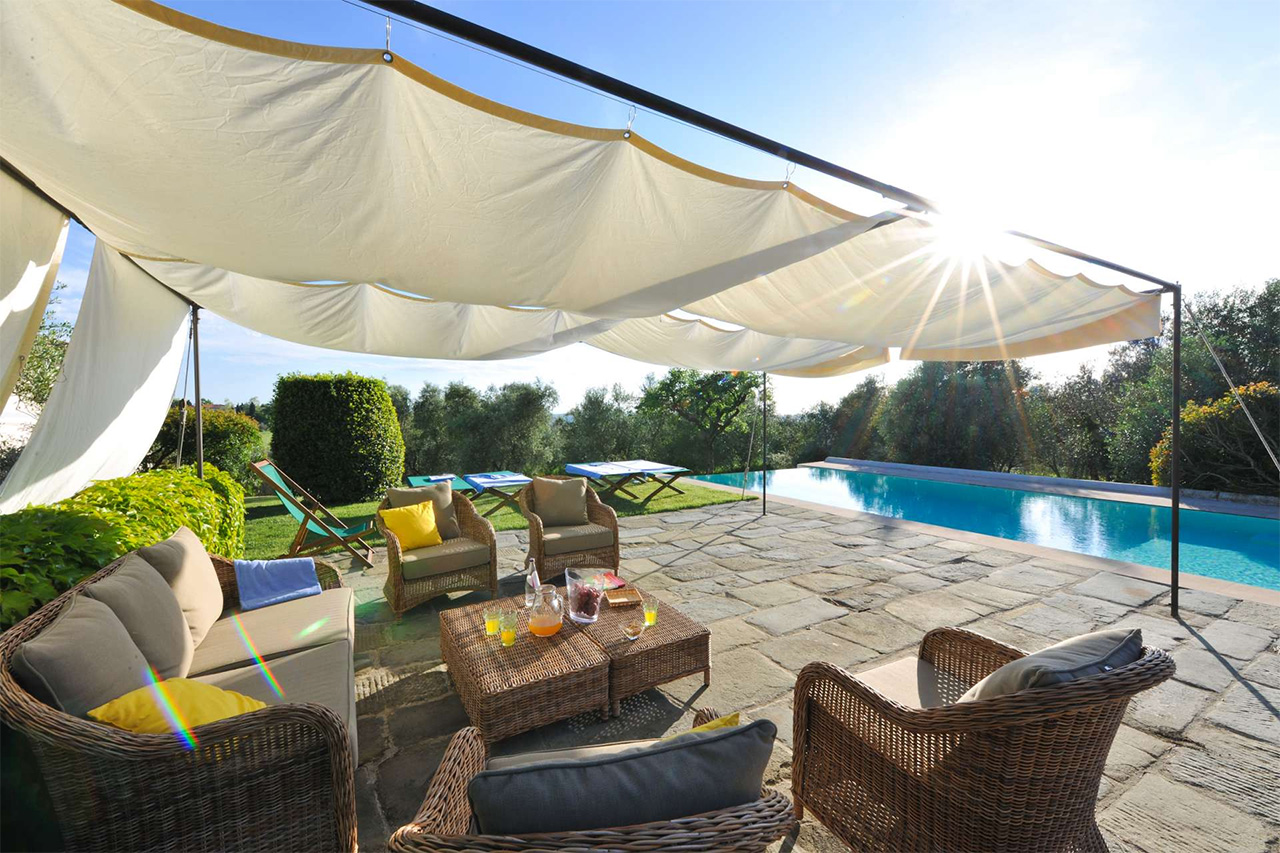 Oozing original Tuscan features, Gugliaie is a beautifully restored farmhouse set on the Villa Le Corti wine estate in Chianti. Surrounded by romantic olive groves and sprawling vineyards, you'll have a front-row seat of the grape harvest from your private swimming pool when you stay in September.
Enjoy lunches at the estate's restaurant within walking distance, Osteria le Corti, and bespoke wine tastings and tours at the winery's enoteca. The charming Chianti town of San Casciano is just 2km from the villa's doorstep, with its shops, bars and restaurants within a short drive. And with the centre of Florence just 15 minutes by car, you can experience the region's iconic art and history without the summer crowds.
For an even more immersive experience of the Chianti cuisine, opt to rent Gugliaie with staff and cook and completely unwind knowing breakfasts, dinner and daily housekeeping are taken care of.

Santa Dieci
A front-row seat of Siena from a biodynamic winery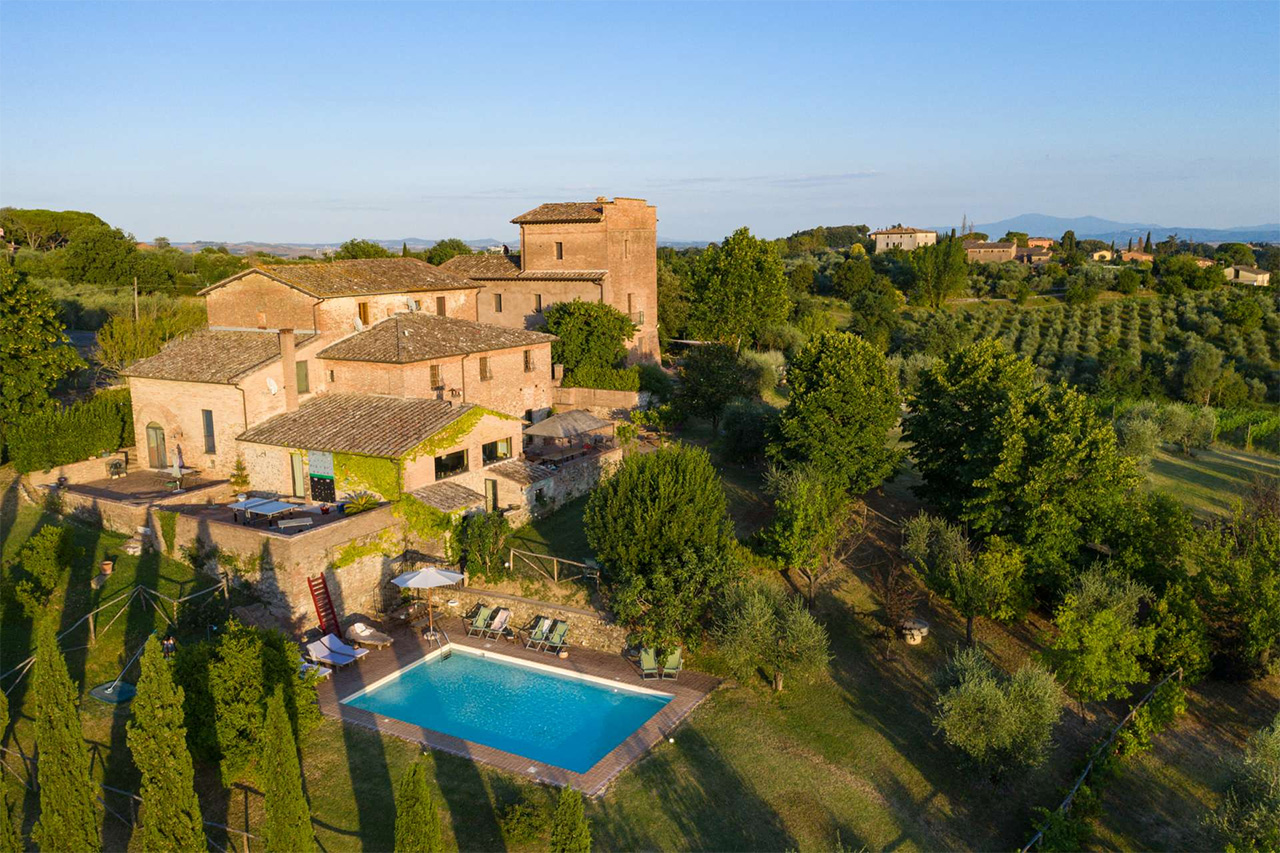 Set on a private organic wine estate with sweeping vistas of nearby Siena, you'll never tire of the view at Santa Dieci. The beautiful one-thousand-year-old tower is surrounded by olive trees and vines best enjoyed from the sun-soaked terrace and private hot tub.
The villa owners are committed to sustainable, seasonal produce, from quality fruit and vegetables to extra-virgin olive oil. Get to know the region on a more intimate level with cooking classes using the 0-km produce and in-villa wine tastings from the estate with the villa owners.
Get to the heart of Siena, without the summer crowds and enjoy exclusive experiences like dinner on an idyllic rooftop in the historic centre. See the town from a unique point of view, meet an important Sienese family and get to know the city through their eyes.

Podere Celli
Picture-perfect Tuscany within easy reach of the region's cultural hotspots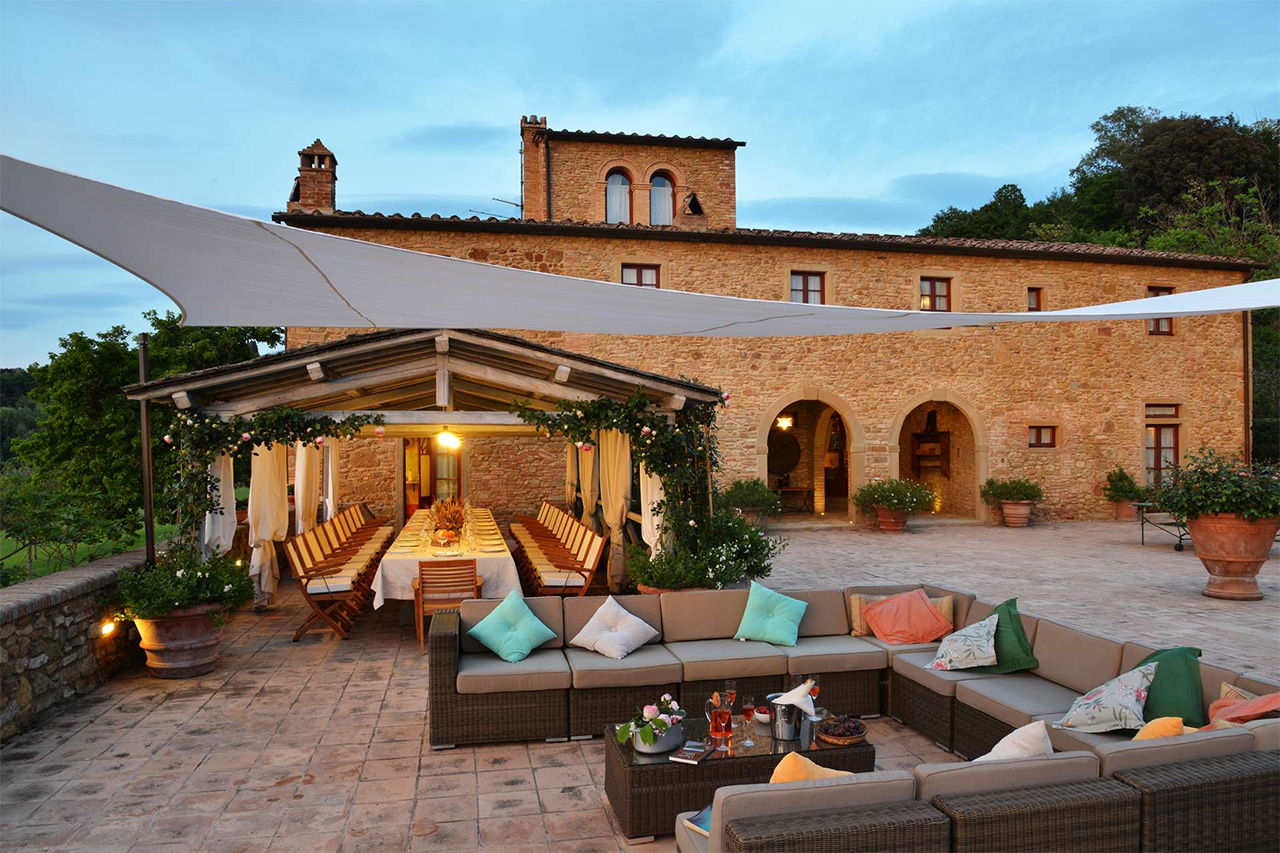 Podere Celli is the dream luxury villa rental for large group getaways that balance relaxation with cultural excursions. In September the weather is still warm enough to keep you glued to the incredible 52ft swimming pool, and the centres of Florence and Siena are both under an hour's drive away.
Get outdoors and enjoy cycling tours around San Gimignano, winery tours in surrounding Chianti and truffle hunting at the villa's private tartufaia. Unwind with evening sauna sessions and private wine tastings from the villa's stunning paved terrace.
When you rent Podere Celli fully-staffed, the region's best cuisine is brought to you, with six breakfasts, four dinners, and an immersive cooking class included in the rental price. Whether a fresh pasta-making workshop or pizza-making party, the region's rich culinary traditions are the perfect way to bring the whole family together.