Siena travel guide
Siena is a small city frozen in time, with steep, winding streets hardly changed since the 1300s. From a distance, it looks like a fairytale of red brick snaking along and around several high ridges, the turret of its Torre del Mangia visible for miles around.

And those first impressions are right: a time-traveller from medieval Tuscany could probably still find their way around the centre, and would quickly recognize the scalloped-shaped Campo. This is the heart of the town, one of Europe's most photogenic squares, and twice each summer host to the Palio, a breakneck-speed horserace in medieval garb.

This city is stuffed with Gothic palaces, ethereal art, and locals who love their cakes and other sweet treats.
In the Beginning…
Sienese painters had a style all their own, quite separate from the Renaissance "solidity" popularized by its northern rival, Florence. Painter Duccio di Buoninsegna (c. 1255–1318) is the acknowledged founder of the Sienese School. His iconic Maestà was echoed by a similar painting of the "Virgin in Majesty" painted on the walls of the Palazzo Pubblico in 1315 by his follower, Simone Martini.
Siena's medieval city government met in the adjoining room: painter Ambrogio Lorenzetti was commissioned to cover it in frescoes, to remind them of the civic virtues and warn against vice. Known as "The Allegories of Good and Bad Government" (1338), it remains the greatest secular artwork of the Italian Middle Ages. As well as its message (received loud and clear), it is scattered with minute details from everyday Sienese life in the 14th century.
With its countless Madonnas, sinuous figures, and flamboyant gold-leaf decoration, Sienese art can be a little daunting to the first-time visitor. Before your trip, it's worth reading "Sienese Painting: The Art of a City Republic" by Timothy Hyman. It is written in an accessible style and will help you understand and enjoy Siena's peculiar painting traditions.
Visit This
Siena's streets tunnel around and below a succession of Gothic palaces, most built from local burnt-sienna brick. Its scallop-shaped central square, Piazza del Campo (or simply "Il Campo") was laid out in the 12th century. It was later divided into nine herringbone-brick segments, to represent the wise government of the Nine, who ruled Siena in its medieval heyday.
The Palazzo Pubblico has more than just the frescoes of Lorenzetti and Simone Martini. It is also Siena's Museo Civico, with sculpture by Giovanni Dupré and Jacopo della Quercia, and walls painted by Siena's other fine medieval and Renaissance artists, including Vecchietta, Taddeo di Bartolo, and Matteo di Giovanni.
Behind its massive (and massively elaborate) Gothic façade, Siena's Duomo (cathedral) is also stuffed with art treasures. Umbrian painter Pinturicchio frescoed the Libreria Piccolomini in the early 1500s. Its scenes tell the life story of Pius II, a Sienese humanist scholar who became pope.
The cathedral floor is decorated with elaborate Biblical scenes in inlaid marble by Sienese artists like Domenico Beccafumi and Matteo di Giovanni; the whole thing took two centuries to complete.
Opposite the cathedral, Santa Maria della Scala is a museum complex built inside the city's medieval hospital, which remained open to patients until the 1990s. The lunettes of its Pellegrinaio ("Pilgrims' Ward") were decorated in the 1440s with frescoes depicting medieval hospital life. Downstairs is a spooky chapel known as the Oratory of St. Catherine of the Night. It was here that Siena's fervent patron, Saint Catherine, use to pray and sleep overnight when she was in the city.
To dig deeper still into Sienese art history, the Pinacoteca Nazionale showcases some of the back catalogue of the city's great painters, including Duccio, the Lorenzetti brothers and Francesco di Giorgio Martini. Among the exhibits are Domenico Beccafumi's original "cartoons" (or sketches) for his contributions to the cathedral floor.
If the Museo dell'Opera del Duomo exhibited only one painting, it would still be worth visiting: Duccio di Buoninsegna's massive Maestà shows the Madonna and child with saints gathered in adoration — it is easy to spot St. Paul (with sword) and St. John the Baptist (pointing at the child and wearing animal skins). On the rear, a series of enchanting small paintings recount stories from the Bible, cartoon-strip style.
The Maestà is Siena's most important artwork and, on the day Duccio finished it, was carried in triumph from his studio on Via Stalloreggi to its place on the cathedral high altar, where it remained for 200 years.
The museum also gives access to the top of the Facciatone, the façade of a planned, never-completed extension to Siena's cathedral. It's not one for vertigo sufferers or claustrophobes… but once you have navigated the steep, narrow climb, views down into the Campo and across the red rooftops to the hills beyond are epic.
A time-traveller from medieval Tuscany could probably still find their way around Siena's centre
Eat & Drink This
The Sienese keep their bakers busy. This city has a deadly sweet tooth. Cantuccini (hard, almond-flour biscuits) are traditionally served after dinner with a bottle of sticky-sweet Vin Santo wine. But cantuccini hail originally from the city of Prato; Siena's authentic equivalent are ricciarelli, made in the city for six or seven centuries.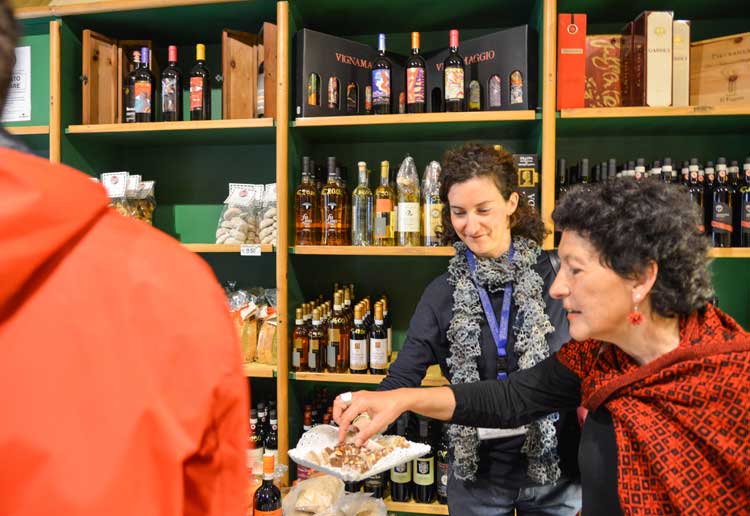 Sweeter still is the dense honey, fruit, and nut cake called Panforte (a small piece is usually enough). Panpepato is similar, but dusted with ground black pepper and other warming spices.
Savoury cooking is simple and hearty, and makes plentiful use of Cinta Senese, a local breed of pig prized for its sweet, succulent meat. Even a simple grilled "steak" of Cinta is a taste experience.
If you plan to eat on the move, deli Gino Cacino, behind the Palazzo Pubblico, will load a roll with carefully chosen Tuscan produce.
The Great Outdoors
South-east of the city, the hills of the Crete Senesi form one of Tuscany's most recognizable landscapes. Roads twist and wind along ridges, ducking around cypress trees and lonely farmsteads, suddenly jerking left or right to avoid deep scars in the clay cut by millennia of erosion.
For cyclists, this is a magical place to spend a day in the saddle: the SS438 to Asciano is especially photogenic — particularly in the early morning or late afternoon light — as is the road south from there towards San Giovanni d'Asso.
Shopping
Siena's centuries-old tradition of craftsmanship survives; Via Stalloreggi houses many artisans still working within the old city walls, just as it did when Duccio's studio was here.
Sator Print sells hand-painted cards, bespoke calligraphy and stationery, and small pieces of art created using medieval techniques and materials, including egg tempera painting.
Festivals: The Palio di Siena
Siena hosts Italy's most thrilling medieval pageant. Twice a year — on July 2 and August 16 — jockeys representing ten of the city's 16 contrade (neighbourhoods) race horses bareback, and at breakneck speeds, around the Campo. The prize is the famous Palio (a banner).
First place heralds a weeklong party all over the neighbourhood. Second is nowhere.
Three Excursions from Siena
Asciano: a drive of jaw-dropping views ends at this small town with its Palazzo Corboli, housing a museum that focuses on local archaeological finds and artworks, including a room covered in allegorical frescoes representing the seasons
Monte Oliveto Maggiore: painters Luca Signorelli and Sodoma frescoed the Great Cloister at this lonely abbey with scenes that narrate the life story of St. Benedict
Florence: bus links are quick and regular, and there's enough art and culture here to keep you busy for a year, including Renaissance painting in a style that's almost the polar opposite of Siena's ethereal Gothic works