If you are looking to shake up your everyday office environment to work on new projects, connect with colleagues or simply celebrate business milestones, discover our luxury villas in Italy perfect for team-building retreats, company reunions and corporate conferences. Bring your team together surrounded by some of Italy's most beautiful scenery, host conferences in elegant historic villas and conduct strategy meetings al fresco.
Our fully-staffed villas in Tuscany, Umbria and near Venice offer some of the best settings in Italy for corporate retreats; dinner is prepared by in-villa chefs, while maids, gardeners and service staff are on hand to take care of all the finer details. If you have a specific event in mind, whether a reunion, conference or product launch, our complimentary concierge can help you plan your days efficiently and arrange rewarding local experiences in your downtime.
5 Luxury Villas in Italy for Team Building Retreats, Company Reunions & Corporate Conferences
Sleeping up to 30 guests and available to rent fully staffed with a private chef, the Estate of Petroio is one of our most exclusive villas near Florence and the perfect setting for mixing business and pleasure. Set at the heart of a 900-acre Chianti wine and olive-oil estate, Petroio is made up of three residences; an elegant 12th-century villa and two accompanying stone farmhouses, Borgo of Petroio and Casa Arianna.
Find your dream work-life balance with morning meetings on your al fresco dining terrace, where the coffee can be freshly brewed and served for you, and evening group yoga sessions on the manicured lawns. Two large private swimming pools will keep everyone cool between strategy sessions, while the estate's football/soccer pitch and tennis court will help you polish up your team-building skills!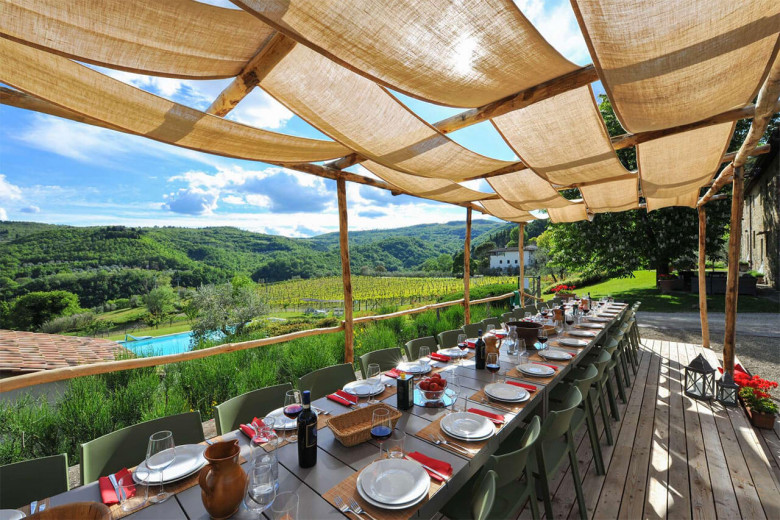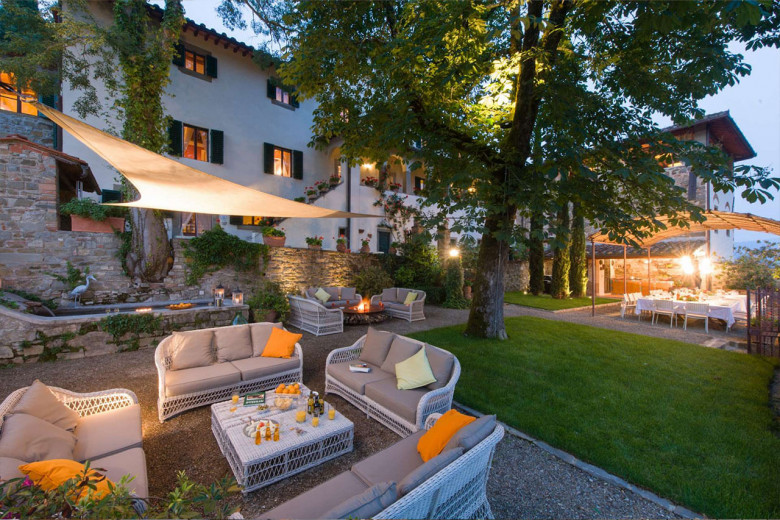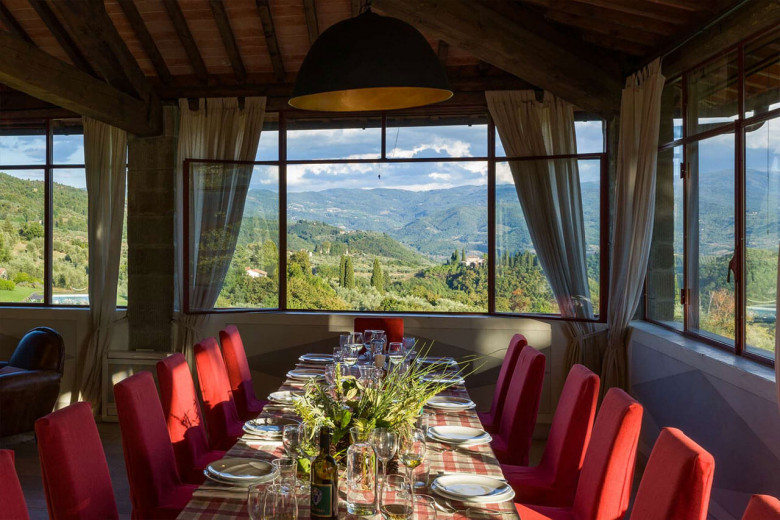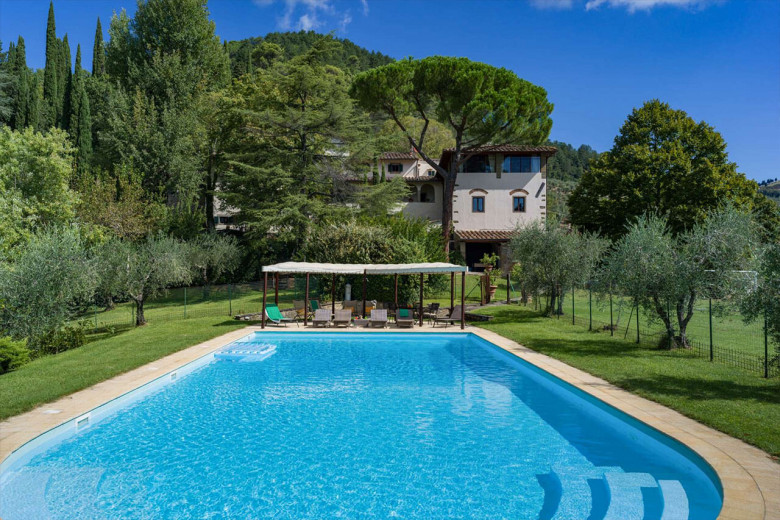 The Estate's multi-functional space — equipped with a projector and Bluetooth sound system — will ensure that the delivery of presentations is always seamless and professional. You'll also find a gym, a small spa and a Jacuzzi here, perfect for unwinding at the end of a busy day.
When you opt for the fully-staffed experience, wake up to breakfast served for you each morning, and sit down for a three-course dinner six evenings a week. Socialise over an al fresco barbecue evening, enjoy local Tuscan cuisine, and bond over a hands-on pizza-making workshop. Contact our complimentary Concierge about other fantastic local team-building opportunities, like truffle hunting in the Chianti hills or an in-villa, sommelier-led wine tasting.
From 2023, the Estate will also be equipped with a colourful outdoor bar with the option of a barman service two hours before dinner. The manager is a professional caterer and event planner who can help you bring your vision, whether a corporate reunion or conference, to life.
Villa di Masseto is a classic 16th-century villa that is a firm favourite among our clients for events. Villa di Masseto oozes a stately Tuscan elegance combined seamlessly with bright, contemporary interiors and complete with a private pool and air-conditioned ensuite bedrooms. Just 15 minutes from the breezy Fiesole hills surrounding Florence, the villa is easily accessible from Tuscany's major airports, with everything you could need on the doorstep.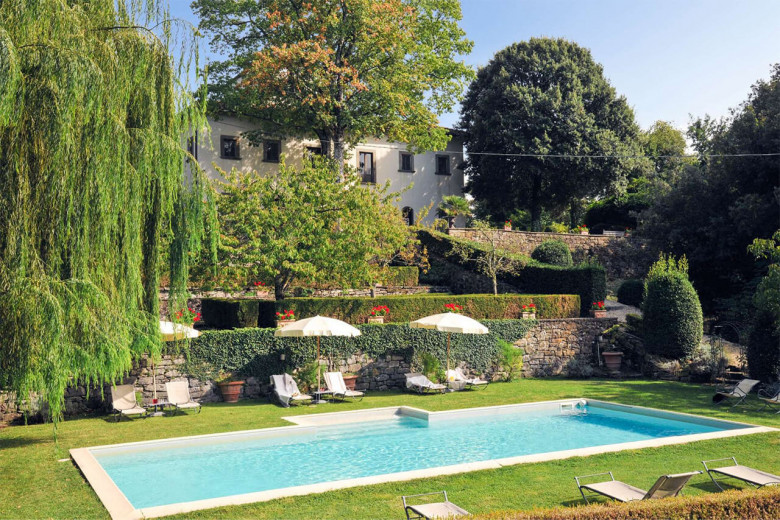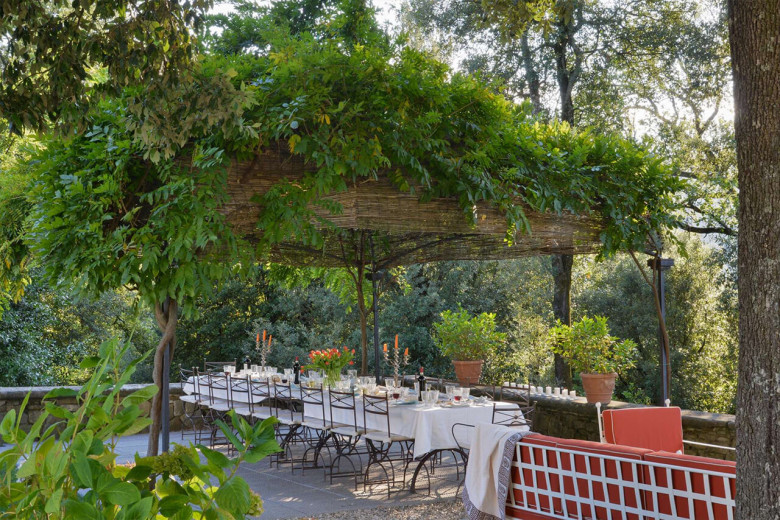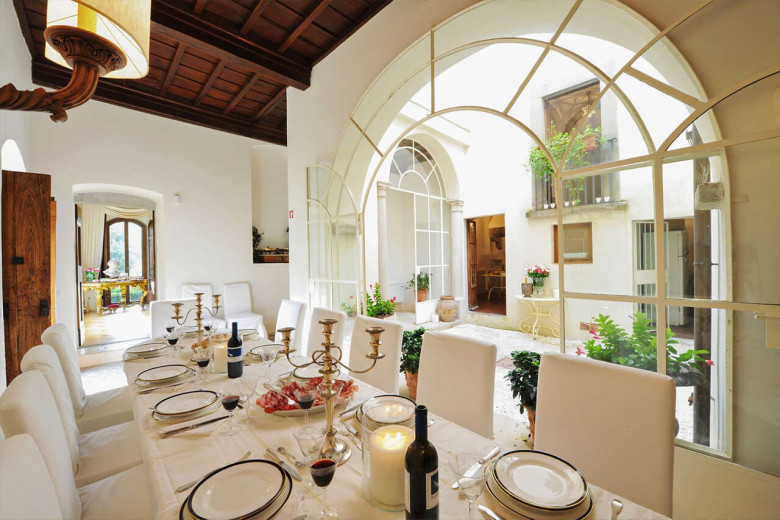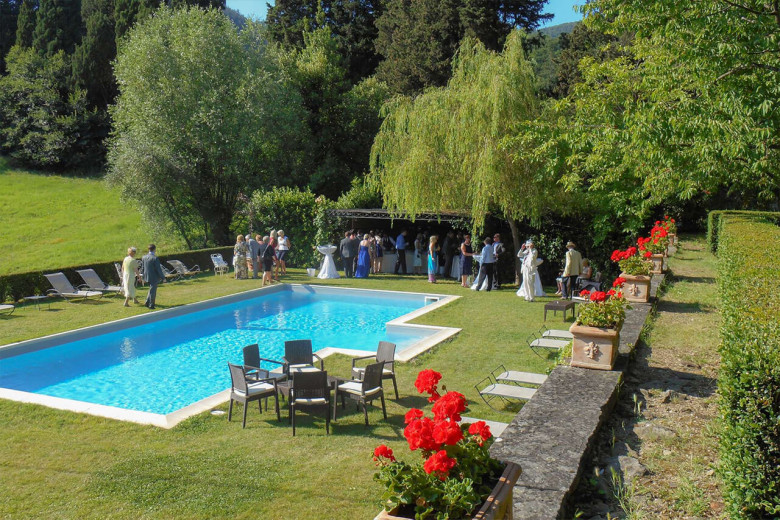 Two spacious sitting rooms and loggias provide ample space to organise various events or meetings, making it the ideal setting for a business conference. Divide your working day between the lower shady seating terrace and the large al fresco dining terrace. If you are planning a corporate celebration, the elegant pool area with its sweeping views provides the dream Tuscan setting sure to make your colleagues swoon. The local manager is on hand to help organise events you may have planned and provide expert local advice.
Our Concierge team can arrange an in-villa cook or a chef to prepare your evening meals, breakfasts, and lunches, as well as local experiences that will ensure you all are equally well rested and relaxed.
Treat your staff to all the amenities of a five-star hotel on a purely exclusive level at I Corbezzoli, one of our finest properties available for rent in Tuscany. I Corbezzoli is a luxurious 17th-century farmhouse and adjacent guesthouse with chef services for breakfast, lunch and dinner. Fully staffed by a team of 11 including chefs, waiters, maids, gardeners and a highly experienced Reception Manager, service and comfort are at the heart of I Corbezzoli, making it the ideal venue for a business retreat.
Hospitality at I Corbezzoli means having a team of experts at your disposal from 7:00am to 10:30pm so you can focus on strategy meetings while relishing the simple pleasure of having drinks brought to you poolside and climbing into a freshly-made bed at night. Each air-conditioned bedroom is equipped with a minibar and, for an extra cost, enjoy the room service option when you'd like a moment of peace and privacy.
With Valentina, the Reception Manager at your disposal six days a week, organise fun team-building activities like pasta-making workshops, horseback riding through the Tuscan countryside or a private tour of a local vineyard. If you prefer discussing business over a round of golf, why not make use of the 9-hole training golf course at Golf Club Le Miniere which is free to I Corbezzoli guests, or have Valentina arrange an afternoon tee time at the 18-hole course at Circolo del Golf dell'Ugolino. On the final Friday of your stay, enjoy a complimentary tasting of the organic extra-virgin olive oil produced on the villa estate with your colleagues.
Santa Gelsa is a classic 18th-century Tuscan villa, fully air-conditioned and staffed, with chef services included for six breakfasts and three dinners per week. Positioned on a private estate near Montepulciano, plan your company reunion in the heart of Tuscan wine country with some of the region's most beautiful scenery on the doorstep.
This spacious luxury villa is complete with a myriad of charming living and dining areas so there will be plenty of space for the whole team to network, catch up and discuss new projects. All twelve bedrooms have their en-suite bathroom and can be arranged as queens or singles so you can make the most of the flexible sleeping arrangements.
Balance all business meetings with a dip in your private swimming pool and make the most of the Chianti, Merlot and Syrah wines produced on the private Santa Gelsa estate. Our Concierge can help arrange uplifting experiences for the whole team, whether an Extra Virgin Olive Oil tasting or even a Pecorino cheese tasting.
Torre Palazzone is a beautifully restored medieval castle, with a private heated pool nestled in the hills near Siena. Centred around a magical stone courtyard complete with shaded seating, dining loggia and a large barn, Torre Palazzone is perfect for corporate events and parties. Both indoor and outdoor spaces provide a versatile canvas for tailored whole-staff experiences, like morning yoga sessions or even a painting workshop.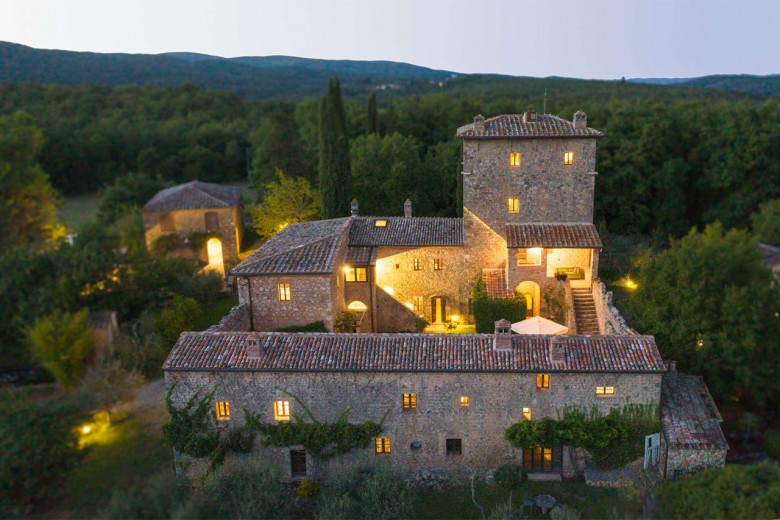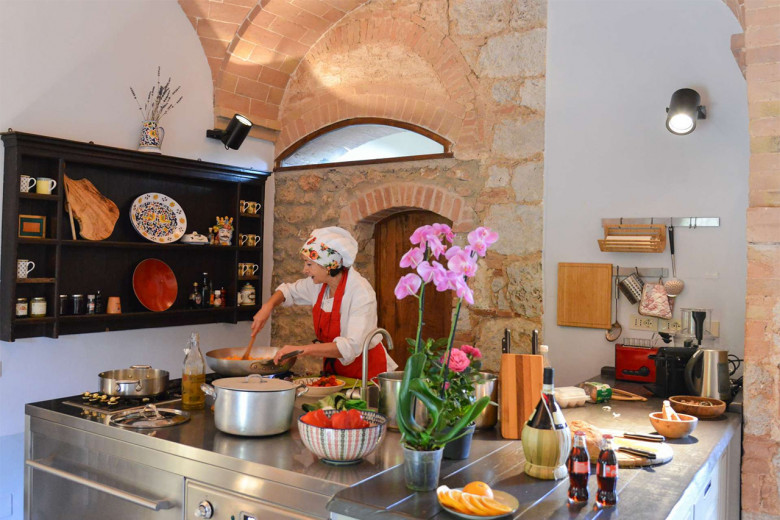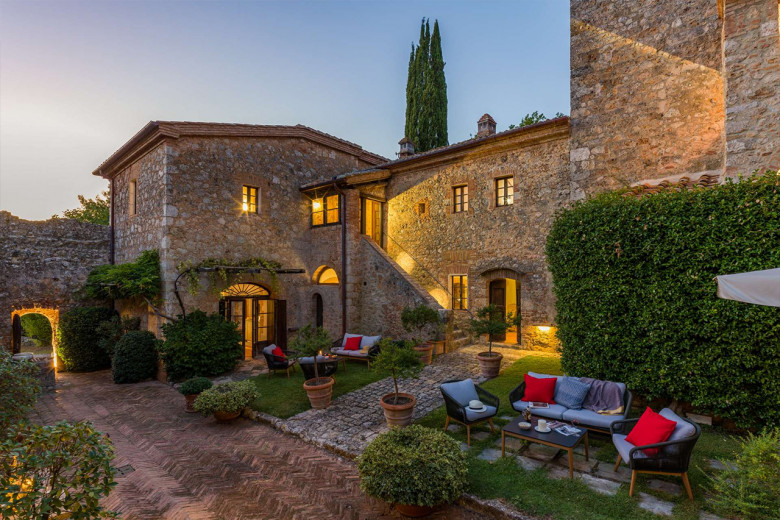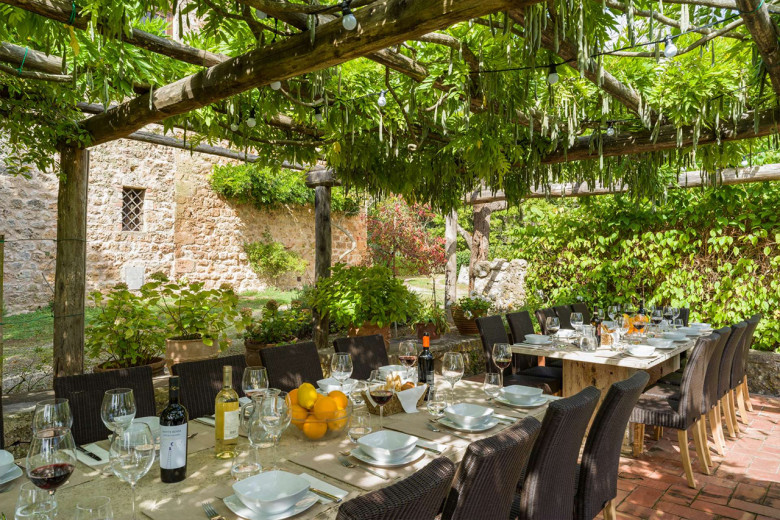 The villa is fully-staffed with a buffet breakfast prepared each morning and dinner service included four nights a week. Our Concierge can arrange any extra meals for your colleagues so you can rest easy knowing mealtimes and individual dietary requirements are taken care of. The onsite house manager, along with our concierge team, can help arrange any extra service you may require, whether that is planning a staff party or staff outings like hot air ballooning over the Crete Senese and cycling through the Tuscan hills.
Let our experts help you plan your company retreat in Italy
Our Villa Specialists visit and stay at every villa rental in our carefully curated portfolio. They know the local area fluently and understand all the special details that will help match you to your perfect villa in Italy. Contact them today and let them in on your plans. Whether a company reunion, a business conference, a team-building retreat or a whole-staff celebration, they will help you find the perfect villa for you and your team.