Lucca travel guide
You only need roam around the centre of Lucca to gauge its atmosphere. The home city of composer Puccini has some of northern Tuscany's most elegant streets. The locals have a reputation for politeness and self-assuredness; this tiny city wrapped in a mighty ring of walls survived as an independent republic until 1847.
The city's characteristic churches, including San Michele in Foro and the Duomo, have towering facades with ornate, multi-storey Romanesque arcades. Its understated museums house collections that span the archaeological remains of the Etruscan period to baroque portraiture.
Lucca is compact and flat enough to walk or cycle pretty much everywhere. And right on the doorstep lie some of Tuscany's great wilderness, the Garfagnana and Apuan Alps.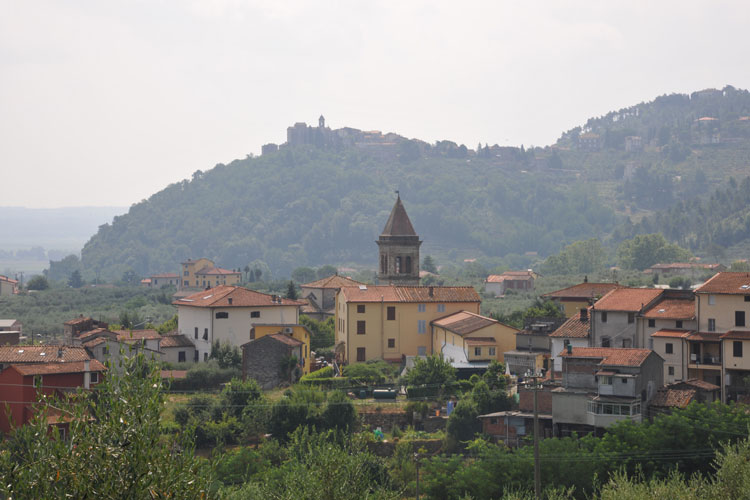 In the Beginning...
Lucca was originally laid out by the Romans; its central streets still form a grid, and the town's most impressive church, San Michele in Foro, stands on top of the old Forum (hence the name).

You can explore its distant past below the church of Santi Giovanni e Reparata: an open excavated area under the nave has remains of a Paleochristian church, as well as ruins of a Roman dwelling and bath house, the earliest dating almost to Lucca's founding as a Roman colony in 180 BC.

Like in its traditional rival city of Pisa, 10 miles to the south, building here reached a peak of innovation and elegance in the Romanesque period, particularly between the 11th and 12th centuries. The so-called "Luccan-Romanesque" style is characterized by tall, ornate arcades decorating a church façade.
Traditional Luccan cuisine has a flavour of the Apennines, whose peaks are visible on the northern horizon
Visit this

The most photographed façade in Lucca is on San Michele in Foro — built during the 1100s over the former Roman Forum, now (as then) Lucca's main square. Its four decks of turned and carved polychrome stone columns are crowned with a statue of St. Michael Archangel, wielding his avenging sword.

Nearby San Frediano was named after an Irish Bishop of Lucca who died in 588 AD, according to legend. It is dazzling when watery morning light hits a giant "Ascension of Christ" mosaic on its gold façade. Inside is a Gothic baptismal font decorated with scenes from the life of Moses, and a chapel frescoed with tales and local myths, by Amico Aspertini.

Lucca's cathedral, the Duomo di San Martino, also has an intricate Romanesque façade. Under its Gothic portico are carvings by Nicola Pisano and Guidetto da Como showing scenes from the life of St. Martin and from daily life during the various months of the year in 13th-century Lucca.

Its Sacristy houses the carved "Tomb of Ilaria Carretto", a masterpiece in marble by Sienese sculptor Jacopo della Quercia. It was made to commemorate a young bride who married into the powerful Guinigi family, but died aged 26. (The dog at her feet is a popular Renaissance symbol for fidelity.)

The peculiar wood carving of Christ, displayed inside its own little temple, is the "Volto Santo". Legend says it was carved by Nicodemus, who witnessed Christ's crucifixion; academic dating says otherwise (perhaps the 13th century).

The Museo Nazionale di Villa Guinigi houses an eclectic collection of treasures from around Lucca. The oldest archaeological exhibits date from the Bronze Age onwards, including booty from Etruscan tombs. Among many paintings and sculptures are reliefs by local artist Matteo Civitali (1436–1502).

The Museo Nazionale di Palazzo Mansi is housed inside a palace decorated to satisfy the over-the-top tastes of Lucchese nobility between the 16th and 19th centuries. However, there is no arguing with the quality of its painting collection, which includes panels by Luca Giordano, Pontormo, and Tintoretto.

To get a sense of the terrain surrounding Lucca, down an espresso in preparation for the climb to the top of the 45m Torre Guinigi. This medieval tower was once the stronghold of the local Guinigi family. You will easily spot its crenelated summit; it has a clutch of holm oaks sprouting from the top.
Eat & Drink This
Traditional Luccan cuisine has a strong flavour of the Apennines, whose peaks are visible on the northern horizon from pretty much anywhere in the city. Farro (a spelt wheat) is a mountain pulse typically found in local dishes, including soups and risotto-like primi (the first, usually carbohydrate, courses).

The best restaurant for miles around is north of Lucca at Ponte a Moriano: the Antica Locanda di Sesto. There has been an inn on the site for almost 650 years, and cooking in the present, family-run restaurant sticks to tradition: pasta made fresh each morning; carefully sourced meat; pulses and grains from the Garfagnana; seasonal and foraged vegetables; fish dishes made with baccalà (preserved then reconstituted "salt cod"). There's nothing flash, bar the impeccable, friendly service and crisp, white tablecloths.

Lucca is also known for its bakers. Taddeucci is home to the buccellato — a sweet, dense, spiced-bread invented by Jacopo Taddeucci in 1881. Their historic premises in Lucca's main piazza are a great place to pause for morning caffè.

Lucca is close to the wine area of Montecarlo. This small DOC growing area is just east of the city and produces fine whites with a mineral bite, usually from a blend of typically Tuscan Trebbiano grapes with Semillon, Sauvignon, or Pinot Bianco.

Artisan beers are increasingly popular in Italy, especially among young drinkers, and the Lucca area has a couple of Tuscany's best microbreweries. At Bruton, brewers use typical Tuscan ingredients in Momus (with honey) and Bianca (with spelt) brews. Beers across the Bruton range are German and Belgian in style.
Out of Town: Beaches & More
For opera fans, the Villa Museo Puccini demands a pilgrimage. The composer of "La Bohème", "Tosca", "Madama Butterfly", and "Turandot" is one of opera's greats. His former home in Torre del Lago is a relatively modest, colonial mansion by the side of Lake Massaciuccoli, and is still owned by the Puccini family. Recently restored, it is stuffed with mementoes relating to Puccini's life and works.

It is only a short journey to one of Tuscany's most popular coastlines, the Riviera della Versilia. A long strip of golden sand stretches north-west from Torre del Lago most of the way to Marina di Carrara. It is a largely flat, not especially dramatic stretch of coast — and gets very busy with young Florentines on summer weekends — but its beaches are superb.

The boardwalk at Viareggio has Art Deco character, as well as sands tended by private bathing establishments.
The Great Outdoors: Cycle Lucca's Walls
There's a fine view of Lucca from the saddle. The city's brick defensive walls and bastions, built between 1520 and 1650, were converted in the 19th century into a public park and promenade. The Lucchese make good use of them: everyone from joggers and rollerbladers to strolling families and the elderly takes a regular constitutional up there.

It's easy to rent a bike in the centre at several places, including Cicli Bizzarri. A full circuit of the walls takes around half an hour, and there are several opportunities to pause and admire the scenery. The walls also give a great angle down into the statues and manicured hedges in the garden of the Palazzo Pfanner, laid out in the baroque style for immigrant German brewer Felix Pfanner.
Buy This
Via Fillungo snakes through the centre, splitting Lucca in two from north to south. It is Lucca's swishest shopping street, lined with jewellery shops, fashion boutiques, and cafes, many behind shopfronts that have original "Liberty" (or Art Nouveau) styling intact. Neighbouring streets (especially Via Buia) offer more window-shopping heaven.

Enoteca Vanni is the best place to stock up on wine and Lucca's excellent DOP olive oil, plus you can check out the shop's subterranean cellars.
Festivals: Puccini's Operas
Lucca was the birthplace of opera composer Giacomo Puccini (1858–1924), and is still a very musical city. Puccini's music plays somewhere every week of the year. Puccini e la sua Lucca runs a series of opera recitals and concerts at the church of San Giovanni and elsewhere.

The annual summer Puccini Festival airs the great composer's arias at a purpose-built outdoor venue beside Lake Massaciuccoli.
Three Excursions from Lucca
Pisa: the world's most famous piece of botched architecture, the Leaning Tower, is just one of the Romanesque architectural masterpieces in this city beside the Arno, which also has a lively student population
Montecatini: Tuscany's famous spa resort still buzzes between spring and autumn, when you can soak up the neoclassical grandeur of Terme Tettuccio then ride a century-old funicular up to the old town of Montecatini Alto.
The Garfagnana: the outdoors is on Lucca's doorstep, with high-alpine hiking, spelunking and miles of chestnut-clad hillsides to explore