Italy is renowned for its landscapes and exquisite cuisines. It also takes pride in lots of perfect soil for growing grapes.
Italy has some of the oldest wine-producing regions in the world, and represents roughly a third of global wine production volume. With more than one million vineyards under cultivation, even a Sommelier takes years to learn everything. You could stay every week of the year in a different one of our Italian villas for rent and still only scratch the surface of this country's wine.
Grapes grow in almost every region, and create wine that is exported around the world. Among the most famous areas for red wine is Chianti in Tuscany, one major reason our villas in Chianti are so popular.
Chianti wine zones
There are 8 main sub-zones within Chianti, all of which make their own wine. The most popular districts for variants of Chianti wine are Classico and Rufina.

Chianti Classico is perhaps the best-known Tuscan wine, having been produced for more than 2,000 years. What makes it unique is not only its quality, but the traditional wine production process, signified by a pink label with a black rooster seal.

Whether you are planning to visit Chianti on a romantic break, or are staying in one of our Chianti villas with a group of friends, there are many different wine experiences you can choose. If you have a taste for the finer things in life, you're in for a treat.
Rules, grapes and colour
The majority of Chianti wines are made from 100% Sangiovese grapes. Some contain a mixture of grapes such as Canaiolo, Colorino and even Merlot. However, they must contain at least 80% Sangiovese in order to earn the title "Chianti wine".

Sangiovese grapes are thin-skinned, ensuring that this wine is translucent and a deep ruby-red.

In order to uphold Italy's reputation for quality wine, the government creates rules producers must respect.

There are three main associations that rule on how wine should be made; they state any wine that does not belong to one of these associations is considered to be a "table wine". This doesn't necessarily signify the wine in question is "bad"; it just means it cannot claim a specific title on its label, like "Chianti".

In fact, the process grapes go through to create Chianti wine is very particular.
A perfect Chianti harvest
"Vendemmia", the harvesting of the wine grapes, is one of the most crucial stages in Chianti wine-making. The harvest begins at the end of August or early September across Tuscany, because this is when grapes are at their most ripe.


Although manual labour brings increased costs, grapes are hand-picked by seasonal workers. The need for gentle handling and the selection of only healthy grapes make this an easy decision for wine producers.

Grapes are whisked off to the cellars, where they start the next stage: removal of the stems. The grapes cannot be stored, because they start to ferment, causing the quality of wine to deteriorate. Stems are removed by hand or with a machine designed to avoid damaging the fruit.
Secrets of fermentation
Chianti's fermentation stage is crucial. In your mind, you may picture wizened Italian farmers stomping in wooden vats to crush their grapes; this did indeed happen in an earlier era. Modern Chianti producers, however, use stainless steel machines to chemically control the fermentation process.

These machines house pistons which prompt continuous mixing of the crushed grapes to ensure constant oxygenation. The process also pulls down the grape skins, so they don't just float on top. This ensures the precious liquid gets the best natural colouration.

Each grape variety is fermented separately; the process takes 3 to 4 weeks. During this time, natural sugars transform into alcohol with help from natural yeast in the skins.
Ageing and blending a Chianti wine
The next (and longest) stage is the ageing. This happens in oak barrels; the typical Tuscan barrel or "botte" is large, with the capacity to hold thousands of litres of wine. The barrels give tannins and flavour to the wine very slowly over time, although the wine preserves a fruity taste. Grapes continue to ferment within the barrel.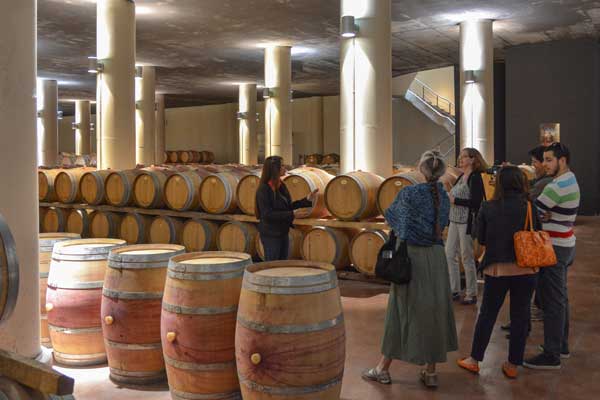 Usual ageing timescales for the different sub-zones within the Chianti region are...
Colli Senesi: 6 months
Colline Pisane: 6 months
Colli Aretini: 6 months
Montalbano: 6 months
Montespertoli: 9 months
Classico: at least a year
Rùfina: at least a year
Colli Fiorentini: at least a year


Varieties are always aged separately, with the final combination of grapes blended right at the end of the process. Once aged for the ideal period of time, this Chianti wine is ready to be filtered, bottled and exported around the globe.