You know springtime in Italy has arrived when local bakeries begin to line their window displays with Colomba di Pasqua. This Milanese sweet bread is the Easter equivalent of Panettone, served up at Christmas time. It is rich and airy and a jovial yellow colour, adorned with almonds and pearl sugar. Baked in a special dove shape (Colomba means dove in Italian), this delightful dolce is truly emblematic of Easter in Italy and a delicious way to celebrate.
When it comes to baking this traditional Easter bread, it is much harder to perfect than it looks. This is why Tuscany Now and More spent our morning at Rigacci 48 in Florence, the kings of Panettone and Le Colombe.
In conversation with the experts: a date with Fratelli di Rigacci
Fratelli Rigacci '48 is a pastry shop in Cerbaia, just 30 minutes south of Florence, specialising in the precise art of Panettone, Pandoro and Colombe. Run by two brothers, Roberto and Francesco, to say pastry is in their blood would be an understatement. Three generations after the bakery first opened, the family are as committed as ever to their passion for Italian pastry.
TN&M: Where did the vision for Fratelli di Rigacci first begin?
Back in 1948, our grandfather, Renzo, decided to open his bakery with his friend and business partner. In 1973 his son (and our father), Andrea also dedicated himself to the bakery, particularly the art of pastry. Andrea was known in the village as "Il pasticcere della merenda" — "the pastry chef of merenda" or, in English, elevenses or the afternoon snack. This was because, at 20 years old, he had a hard time getting up early and so the pastries would not come out of the oven before 10 or 11am!
This is not the case for Francesco and Roberto, who invited us into their kitchen early this morning so we could see them hard at work. The brothers opened Fratelli Rigacci in 2009 when they decided to specialise in Panettone, Pandoro and Colombo.
It was tiring business just to witness how much energy and craft went into each stage of baking. By the time we arrived at 7:50am, they were already taking the Panettone, prepared fresh the day before, out of the ovens ready to glaze. They had been working since 4 - 5am!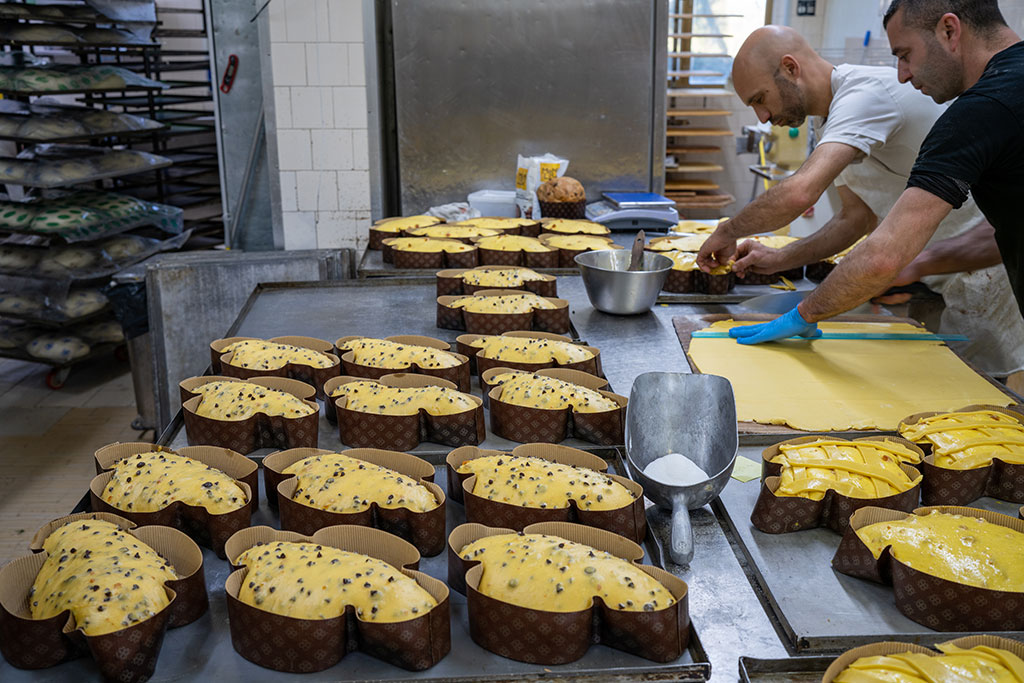 TN&M: What is the difference between Colombe and Panettone?
The main difference is the shape of Colomba, which is baked in the shape of a dove. Colomba is also made with less butter, which makes it a much lighter cake than Panettone. This is what makes Colomba the ideal Easter Cake and Panettone a more festive Christmas bake.
TN&M: Baking Colombe is harder than it looks. What is the key to making the perfect Colomba di Pasqua? Or are we best leaving it to the experts?
At Fratelli di Rigacci we leave our Colombe to leaven/rise and proof for over 100 hours, using three different doughs!
Did you know that you can only see the Colomba ("dove") shape when the dolce is turned upside down? As soon as the Colombe comes out of the oven they must be turned and hung upside down to dry, otherwise, the cakes will collapse in on themselves. After this process is complete, they will be left for a further 12-14 hours.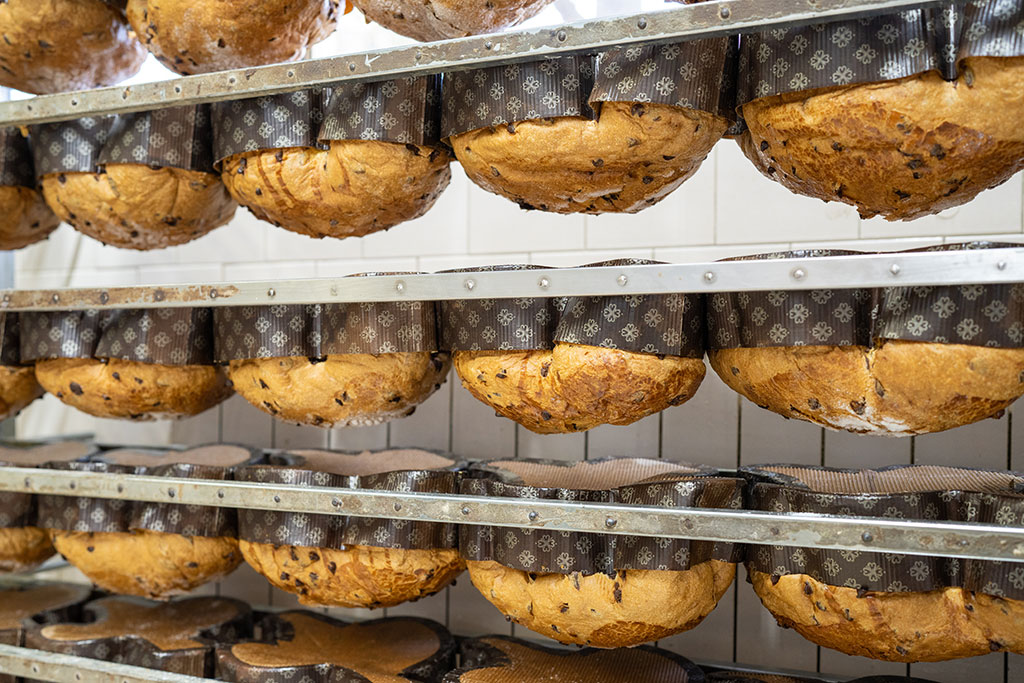 TN&M: It sounds like a process that is best left to the experts. Can you tell us a bit more about your Colombe — what makes it so special and unique?
Our Colombe recipe has been passed down over three generations, so we've each in a way left our unique mark on the way that it is made. Our Colombe are made with mother yeast, without the use of preservatives or dyes, and the reason it remains so soft and moist is because of the three different doughs we use to make it. That is one more dough than you will find in your typical Italian school of pastry.
We also produce all of our candied fruit, pistachio, chocolate, everything. All the canditi you will find in our different Colombe recipes have been prepared by us. A commitment to quality and patience and passion for what we do — that is the real secret.
TN&M: What is the best way to serve Colombe?
Well, traditionally Colomba di Pasqua is served with breakfast at Easter or lunch di Pasquetta. It is custom to close Easter lunch with a Colomba and chocolate eggs here in Italy. But, in short, there isn't a 'best' way or even time to enjoy Colomba, just as long as you enjoy it!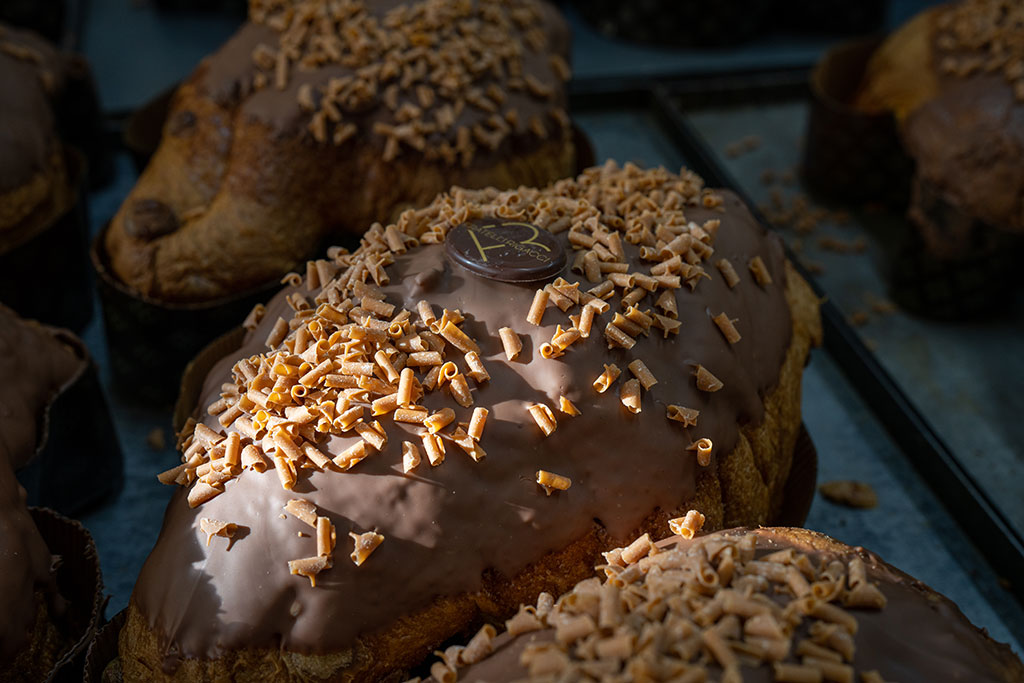 TN&M: You serve around 20 different styles of Colombe, from pistachio, limoncello and grappa, to chocolate and salted caramel. If you had to recommend just two or three, which would they be?
If you are new to Colomba di Pasqua, then you absolutely must try the Albicocca first. This is our classic recipe and will best acquaint you with the traditional flavours of La Colomba.
Our second recommendation has to be Cioccolato e Rhum ("Chocolate and Rum"). This won the prize for 'Best Panettone' in 2020, so it was only natural that we recreate the award-winning combination as a Colomba.
Our newest creation is the Colomba Pastiera, which is inspired by the Pastiera Napoletana, an Easter tart traditional to Campania made with ricotta and orange blossom water.