Visit San Gimignano travel guide
Guarded by a ring of fortified walls, Tuscany's "Medieval Manhattan" is a small town of gnarled stone palaces and narrow, winding lanes. Its preserved Gothic centre is a magnet for visitors, certainly, but in its backstreets and frescoed churches, you will still find a corner to yourself.
Twenty-five miles north-west of Siena, this is one of Italy's most spectacular hill-towns, known for its standing medieval towers, the frescoed interior of its Collegiata, and the fine white wine made from grapes picked on the surrounding hills: Vernaccia di San Gimignano.
If you can fit it into your itinerary, try to visit San Gimignano early in the morning or at dusk. Without the day-trippers, the place takes on an entirely different atmosphere: secretive, silent, even a little spooky. Standing alone, in Piazza della Cisterna, the town suddenly feels every one of its 800 or so years of age.
In the Beginning...: San Gimignano History
The towers and stone streets have hardly changed since the Middle Ages: San Gimignano is a tiny town where time has stood still.
At least, this is how it appears, with a medieval street-plan almost entirely unaltered. Gothic palaces that once housed squabbling noble families have scarcely a brick out of place.
The town's most famous feature — which earned it the nickname "San Gimignano delle belle torri" — are its towers. Only 13 remain, from a total of over 70 at its peak of wealth and influence in the 1300s.
San Gimignano has many legends associated with it — notably those relating to the death, on March 12, 1253, of local child-saint, Fina. Supposedly, every year on her saint day, violets sprout from the town walls. And not just any violets: these are the "Viole di Santa Fina," which reputedly only grow in San Gimignano.
The wall paintings of a namesake chapel in the Collegiata (see below) tell her tale.
What to see in San Gimignano
Twin central squares — Piazza della Cisterna and Piazza del Duomo — are the heart of the town.
Dominating the latter is the Collegiata (a "collegiate church", essentially a cathedral without a bishop's seat), whose interior walls are covered in frescoes. The earliest art here dates to the medieval period, and is in the Sienese–Gothic style. It recounts narratives from the Old and New Testaments, including a lurid "Last Judgement" by Sienese painter Taddeo di Bartolo above the main door that's reminiscent of "The Walking Dead".
At the far end of the nave, the Cappella di Santa Fina is a harmonious Renaissance collaboration between sculptor Benedetto di Maiano, architect Giuliano da Maiano, and painter Domenico Ghirlandaio.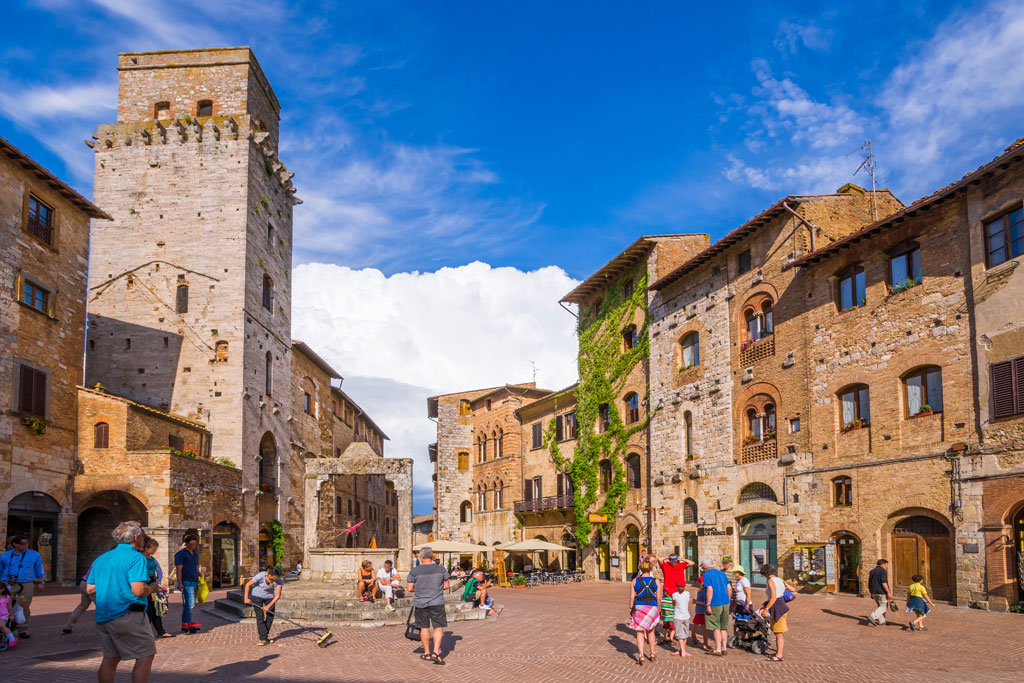 The latter's pair of frescoes include fascinating detail relating to the town and the legend of its saint, Fina. As she is dying, flowers spontaneously bloom on the plank where she lies. On the left-hand wall, angels hover around the city's towers ringing bells in her memory. A few town sights still close, to remember their little saint, each March 12.
Nearby, the painting collection at the Museo Civico is fairly small, but its quality testifies to the calibre of artist who passed through San Gimignano in its heyday. The centrepiece is a "Maestà" (Virgin Mary surrounded by saints) painted in 1317 by Lippo Memmi, and finished 50 years later by Bartolo di Fredi. Upstairs are works by Coppo di Marcovaldo, Benozzo Gozzoli, Filippo Lippi, and Pinturicchio. After you have seen the art, you can climb the 54m Torre Grossa for views that stretch for miles.
Moving way along the historical timeline, San Gimignano has a growing reputation for contemporary art. The Galleria Continua is a disorientating, warren-like space that often showcases the work of major names such as Antony Gormley. Galleria Gagliardi has a large collection of sculptures by local and international artists.
Florentine International Gothic painter Benozzo Gozzoli worked on several projects in San Gimignano. He was commissioned in 1464 to paint an allegorical fresco on the walls of Sant'Agostino, celebrating St. Sebastian (the traditional saintly protector against plague, which was a regular and devastating visitor to the town during the Middle Ages).
The Augustinian monks liked his work so much that Gozzoli returned to the church to paint the apse chapel with "Scenes from the Life of St. Augustine".
The Pieve di Cellole is another ancient parish church, and just 5 minutes' drive from the centre. You can tour the monastery here or simply find a quiet spot to read a book amid nothing but nature.
San Gimignano has many legends associated with it — and a growing reputation for contemporary art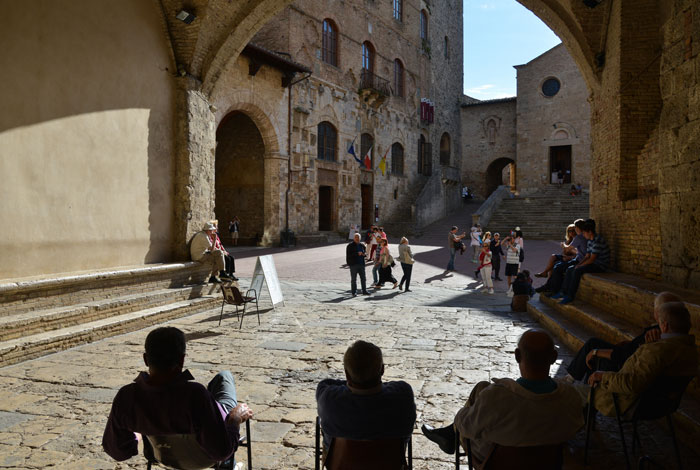 Food & Drink in San Gimignano
The longest queues in San Gimignano aren't for a church or museum, but for the modern artisans at Gelateria Dondoli, more often known as Gelateria "di Piazza" after its location on San Gim's prettiest square.
Ice-cream flavours here range from the traditional to weird and wonderful combos, like "Rosemary's Baby" (raspberry and rosemary), crema di Santa Fina (made with saffron), blackberries and lavender, or zabaione con vin santo (custard with Tuscan sweet wine).
San Gimignano is the centre of a growing zone for Tuscany's only dry white DOCG wine, Vernaccia di San Gimignano. This straw-coloured, light white wine has a provenance that dates at least to the 1200s. The Museo del Vino Vernaccia di San Gimignano offers tastings and displays on the wine's history.
La Mangiatoia ("The Manger") is a traditional Tuscan restaurant in the heart of San Gimignano, located in former stables (hence the name). The space now feeds hungry visitors from a traditional menu: pappardelle (wide pasta ribbons) with wild-boar, tagliatelle with porcini mushrooms, and venison cooked in sweet Vin Santo wine.
Thursday morning is market day, with fresh produce and other items on sale in San Gimignano's main squares.
San Gimignano Outdoor Activities: Wildflower Walks & Cycling
There are several fine rural walks around San Gimignano, through the vines and olive groves that approach the town on all sides, or among the wildflowers in spring and early summer.



The ancient pilgrim route Via Francigena passes through San Gimignano on its way to Monteriggioni. This 19-mile leg of the trail is among its most beautiful stretches. Take a good trail map, or contact the San Gimignano tourist office to book a guide.
San Gimignano by Bike is an alternative way to discover the town and surrounding countryside. The tour lasts a half-day, ending with a well-deserved gelato in Piazza Cisterna.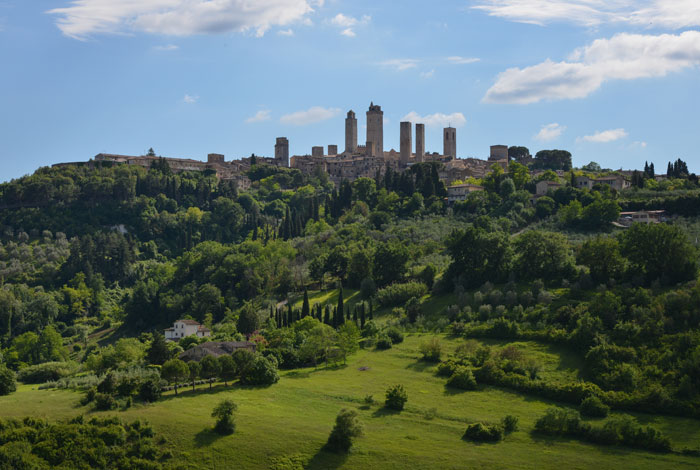 Three Excursions from San Gimignano
Florence

:

it is easily accessible by car, and has enough art and culture to keep you busy for a year
Colle Val d'Elsa

:

for a quiet, Gothic Old Town and fine hand-painted ceramics
Monteriggioni

:

for its perfect, intact ring of 13

th

-century defensive walls, which even warranted a mention in Dante's "Inferno"