Pretty much everything you have heard or read about the Uffizi (or more accurately, the Gallerie degli Uffizi) is true. This Florence museum is the planet's greatest collection of Renaissance art. Room after room reveals masterpieces by all the big hitters, many of which would be the star exhibit almost anywhere else.
In fact, there's so much to see, it's impossible to take everything in in a single trip.
Can you sense a "But…" coming? Alas, there is one: for all the Uffizi's riches, actually visiting it can be a challenge.
Queues here are often epic, and the chance you'll get time alone with Botticelli's "Birth of Venus" is slim. What you need is a bit of insider knowledge before you go.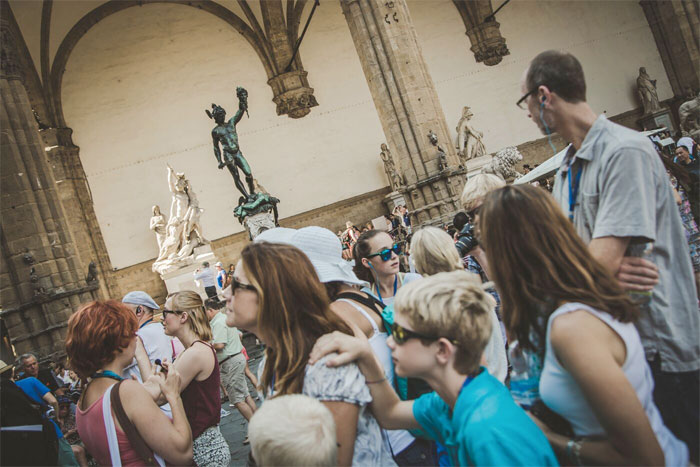 Skip the Uffizi line
Book, book, book. Seriously, don't even think about going to the Uffizi in high season without a pre-booked ticket.
Reserving your time slot is easy. Firenze Musei handle Uffizi ticketing via an online portal. If you get stuck, you can phone them in Florence on (+39) 055/294-883 (operators speak English). There is a small booking fee, but it's money well spent, unless you enjoy wasting a half-day queueing in a crowded, noisy (tho' beautiful) courtyard in 35-degree heat.
If you are staying in the city, or in one of our villas near Florence, it's worth also considering the Firenze Card. It is a multi-sight ticket which also removes the need to book at the Uffizi and other popular museums.
Note: neither of these options gets you out of queueing altogether. But they do get you a slot in a much shorter line.
Art in peace
The truth is, you have little chance of time to yourself in any but the most obscure rooms (although those can be rewarding). The Uffizi is not an off-the-beaten-path secret; this is one of the world's great museums.
However, over the course of countless visits, we have developed a few strategies of our own that work.
Arrive early. The 8:15am slot gives you a shot at alone-time with the art. Of course, this may not be practical if you're staying well outside Florence, say in one of our villas in Chianti.


Arrive late. Cruise passengers head straight here from the quayside in Livorno, over 50 miles away, even though their daytrip may only allow an hour or two with the paintings. You can take them out of the equation by booking the final slot of the day. That's generally 5:15pm, but in summer there's often one night a week of late opening (usually Tuesdays). Book at 8pm slot and you get to tour the art when everyone else in Florence is eating dinner.


Be a bit military. If you can't manage (1) or (2), you must accept your Uffizi trip is going to be busy. That doesn't mean it won't be fun, especially if you focus on the unmissables, rather than getting towed around at the back of a crowd ambling gallery to gallery in numerical order. My top-6 for a first timer?
Giotto's "Madonna", which pre-dates the Renaissance (Room 2)
the octagonal Tribuna with the "Medici Venus" (Room 18)
a new Leonardo room inaugurated in time for the 500th anniversary of his death in 2019 (Room 35)
Room 83 for Titian's racy "Venus of Urbino"
a monumental "Procession of the Magi" by Gentile da Fabriano, which I can look at 20 times and still find something new (Room 7)
spectacular, revamped Botticelli rooms (10 to 14), with "Primavera" and "The Birth of Venus", complete with the goddess on her giant scallop shell

You'll have only scratched the surface. But, wow, what a surface.