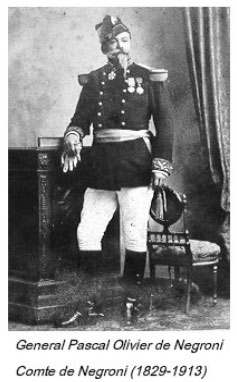 It is heartening to learn the origin of the Negroni is disputed. Aren't all things worthwhile? As soon as something becomes fabulously successful, many lay claim to have been the inspiration.
One such claimant was the family of General Pascal Olivier de Negroni, who say he invented the drink in Senegal in 1857. Prove that one Pascal!
Far more convincing a claim supports Italian playboy Count Camillo Negroni, who was seated in his usual spot at the bar of Cafe Casoni in Florence in 1919.
His normal cocktail was an Americano, ½ of mildly bitter Campari and ½ sweet vermouth, and then a popular and refreshing drink.
The Count wanted it pepped up, and asked bartender Fosco Scarselli to add a shot of gin rather than the normal soda water. Fosco also added an orange garnish, rather than the typical lemon of an Americano, to signify this was a different drink.
That story sounds much more believable, and was supported by the owners of the cafe on Via Tornabuoni — later called Cafe Giacosa, "birthplace of the Negroni," until it closed in 2017. The Negroni story goes on, of course. It has become a classic aperitif, a drink to help expand the stomach before eating.
According to Wikipedia, the Negroni Family later founded Negroni Distillerie in Treviso, Italy, and produced a ready-made version of the drink, sold as Antico Negroni 1919. Orson Welles became a big fan: "The bitters are excellent for you, the gin is bad. They balance each other out."
Variations on a theme of Negroni
As is the want of a bartender or publication looking to make their name, many believe they can tweak, modify, or even improve the classic recipe. There's even a website dedicated to 100 hybrid Negronis.


Luca, Head Bartender at the Four Seasons, Florence
Luca was also Italian Barman of the Year 2012, and in an interview/tasting session with blogger Lola's Travels, he produced not one but three small variations on the Negroni.
The Old Style Negroni: a variation using the oldest products out there: Beefeater Gin from 1820, Carpano Antica Formula Vermouth from 1786 and China Clementi Bitter from 1884, garnished with an orange peel.
The Valentino, a combination of Hendricks Gin, Carpano Antica Formula Vermouth and Campari, garnished with a cucumber slice and an orange peel.
The Camillo, namesake of the inventor, made with gin, white port & Prato Vermouth, garnished with an orange slice and caper berries.
The Modern Rogue, vloggers, Boston
The Modern Rogue: This Boston-based, how-to-make-a-Negroni video has been watched over 225,000 times on YouTube. It's quite entertaining. Their take: coat a coupe glass with Pernod absinthe; add Moody June dry Texan gin, plus one fluid ounce of sweet vermouth and Campari; stir over ice; dump the absinthe; coat the glass rim with lemon; and serve.
Tom Ross, Purchasing Manager, Polpo Restaurants, London
Polpo serves up Venetian bacaro, the Italian tapas. Former bar manager at Polpo, Tom explained to the BBC how to make the perfect Negroni:
"Start with your three spirits. Campari is simple enough (or the more subdued, sweeter Aperol) but there's a whole world of gin and vermouth to choose from. Try sweet Cinzano rosso (red) vermouth, or Punt e Mes — or a combination of both.
"Go for a clean, classic London dry or navy strength gin, one with a strong finish to take on the forceful Campari. Fill a short rocks glass with ice, then layer up the three components. Add gin first to enjoy the colour change as the darker spirits are added. Then a quick spin using a thin bar straw or spoon, add a slice of orange and serve, with a bowl of marinated olives and herby focaccia."