The word aperitivo originates from the Latin aperire which means "to open". This popular Italian tradition intends to open your stomach and stimulate your appetite before your main meal.
Legend states that the origins of this ritual date back to ancient Greece. Hippocrates — Greek father of medicine — would recommend aromatised, bitter wine to his patients without appetite. There are however, many ancient civilisations that used bitter, light alcoholic drinks for the same purpose: from Assyrians to Native Americans and Egyptians to Tatars.
Where does aperitivo come from?
It was not until the end of the 18th century that aperitivo became popular. Cities in Italy began emerging with their own liqueurs: Vermouth from Torino, Ramazzotti from Martini from Piemonte and Campari from Milan.
These famous Italian brands for aperitif would become worldwide names, eventually giving birth to popular aperitifs and cocktails such as Spritz, Negroni, Bellini and Americano.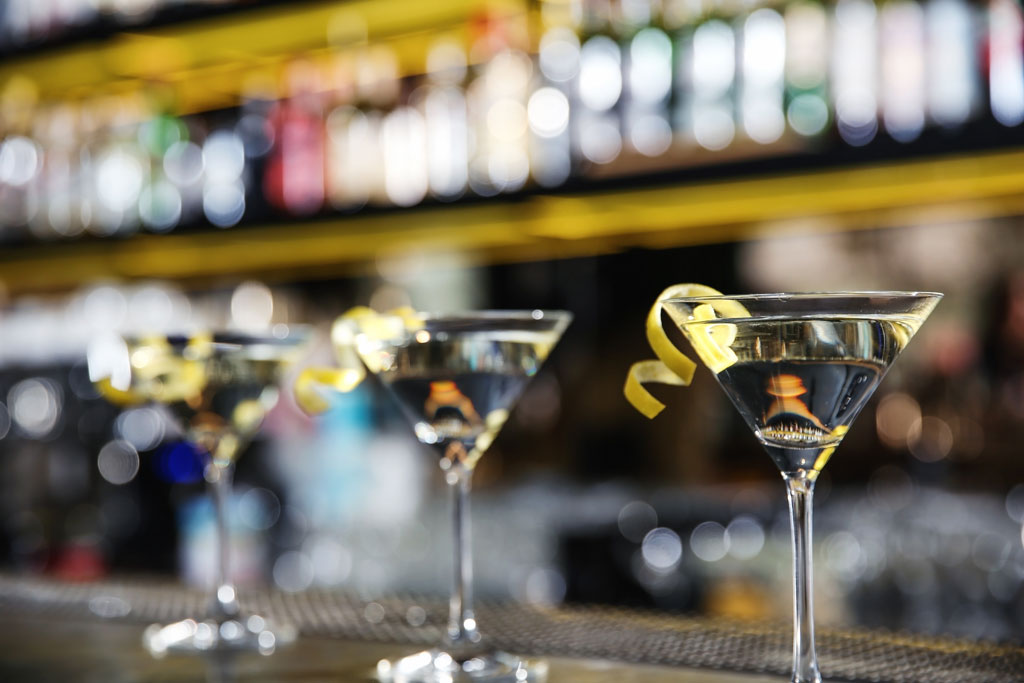 How to prepare the perfect aperitivo at home
Aperitivo was born as a social phenomenon — a light drink to end one's work day and begin the evening. To this day, aperitivo is still an integral part of Italian culture. With the right company and atmosphere, you're guaranteed a great aperitivo.
Aperitivo hour is generally from 18:00 to 20:00, although it's always 6 o'clock somewhere! Enjoyed in company of a sunset, or from your villa with stunning views, picking the right time and place is an important part of this ritual. Have a swanky playlist on standby, or opt for some 50's and 60s' Italian classics. For more contemporary Italian Jazz, check out our Aperitivo playlist on Spotify.
Every party is more fun with a theme. If you're in the mood to get creative, pick a theme for your aperitivo. This could be a colour (red), flavour (bitter-sweet) or favourite Italian city (Portofino).
What to drink for Aperitivo
Picking the right drink can be difficult. We recommend keeping your choice of aperitivo light, therefore try to avoid cocktails with high alcohol content.
In Italy we distinguish aperitivo into two categories, non-alcoholic and alcoholic drinks. Non-alcoholic drinks can either be: alla frutta, with a base made of fruit juice; or non-alcoholic bitter aperitif made from herbs and syrups, such as Crodino (Note: you can find alcoholic and non-alcoholic (Crodino).
Alcoholic drinks can range from a glass of wine (most often white or rosé in the summer and red in the winter), to Italian classics such as Aperol Spritz, Negroni or Bellini. You can also opt for simple aperitivi bitters such as Sanbitter.
If you're in the mood to experiment, have a go at making our exclusive cocktail created in celebration of World Cocktail Day 2020. We teamed up with Florence's star barman Julian Biondi, to create "Renaissance / Waste of Thyme". Using ingredients of a traditional Negroni, this refreshing summery (and red!) drink, is a firm tribute to our hometown, Florence.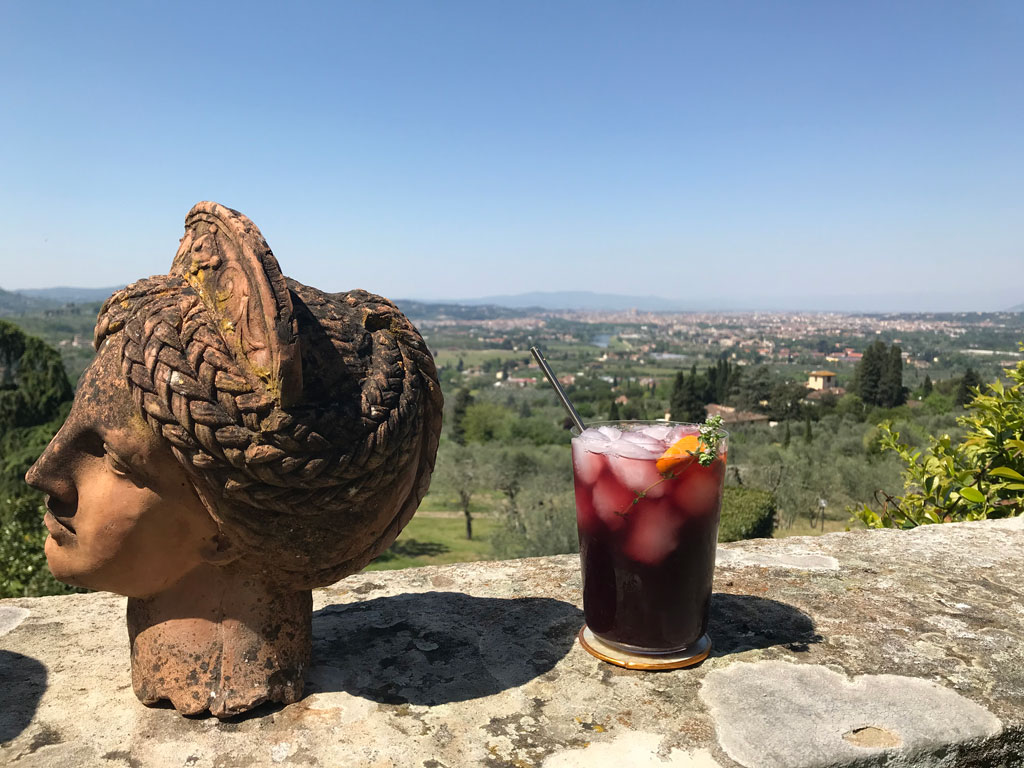 To eat or not to eat?
A common question among lovers of aperitivo, is how much to eat with your drink. Typically aperitivo is served with small nibbles such as cheese, cold cuts, and crostini — enough to indulge, without ruining your appetite for dinner.
With the growing popularity of aperitivo, the selection and quantity of small nibbles that accompany your drink, are growing too. Nowadays, aperitivo is becoming aperi-cena, a mix of aperitivo and dinner. You'll find most Italian bars serving a buffet of antipasti, pizza and pasta to accompany your drink. This is a convenient way to enjoy dinner at a small price, an average of €10 for an open buffet and drinks. In other words, aperitivo in Italy is becoming more and more similar to the Spanish tapas tradition.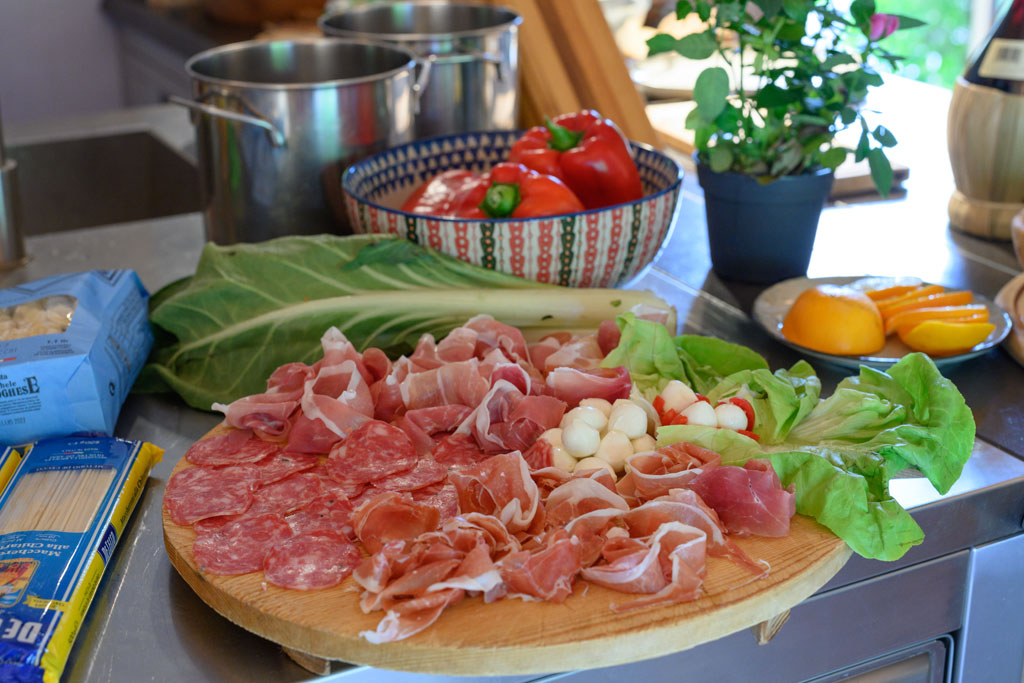 However, let's not forget that this relaxing and social ritual is intended to open and prepare your stomach and palate before a dinner. If you are planning to prepare an aperitivo at home, try to stick to traditional stuzzichini (nibbles) rather than full meals. For a rustic Tuscan aperitivo, we recommend a few slices of Schiacciata, Taggiasche olives, sun-dried tomatoes and pecorino cheese.