Chianti is one of the most common Italian words, much like pizza, pasta, Versace and Valentino. More than one million tourists visit Chianti each year, and let's not even begin to talk about how many bottles of Chianti Classico are sold (between 35-40 million bottles a year).
Despite its fame, the word Chianti also generates some confusion. Our beginners guide to Chianti will touch on the geographical region known as Chianti, to then explain the difference between Chianti and Chianti Classico, unveiling the legend behind the famous Black rooster label.
Where is Chianti?
Chianti sits in the North-East of Tuscany, with Florence to its north, Siena to its south, Pisa to its west, and Arezzo to its east. From a political-historical point of view, Chianti was first defined in 1384, when the Lega Militare Fiorentina Del Chianti ("Chianti League") was founded to protect the region from the continuous attacks of neighbouring towns. The league included villages of Gaiole, Radda and Castellina in Chianti, which to this day make up the heartland of Chianti.
If you want to spend time exploring Chianti, there is no better place to start than with our villa rentals in Chianti.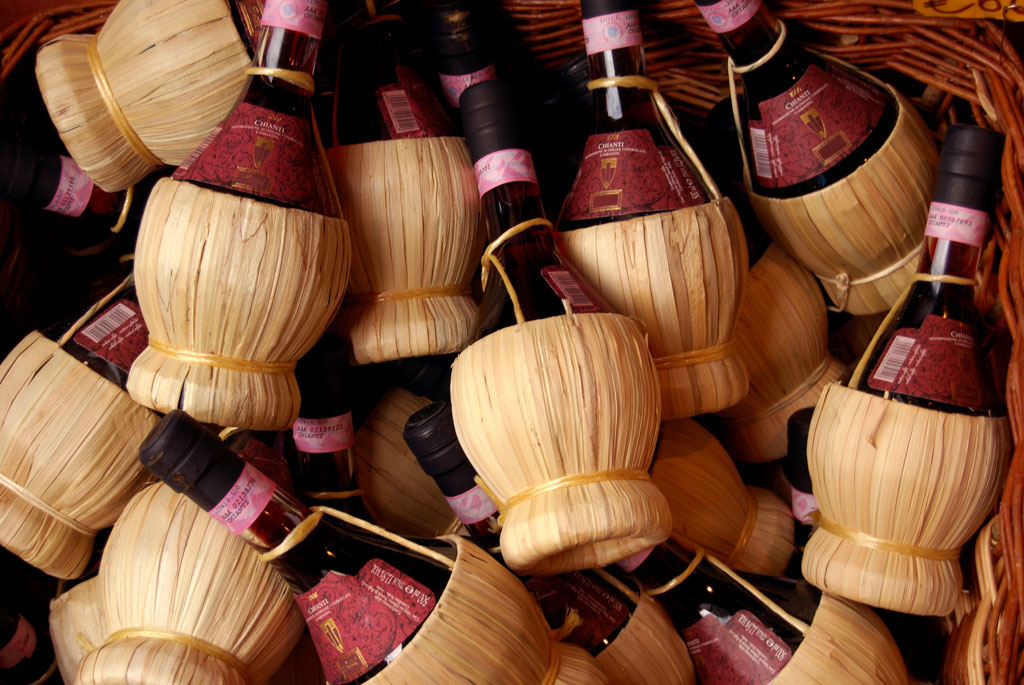 Chianti vs. Chianti Classico
When it comes to defining the area of production of the famous Chianti wine, things get a bit more complicated. When you buy Chianti wine you have to distinguish between Chianti and Chianti Classico, both DOCG.
Chianti DOCG refers to a larger area of production, more or less the whole geographical area of Chianti. It has less rigorous regulations when it comes to wine making: less ageing time (minimum of 6 months), less alcohol (minimum 10%) and only 70% of the blend is required to be Sangiovese. Sangiovese is a noble great variety, the lifeblood of red wine production in central Italy.
Chianti Classico DOCG refers to wine produced exclusively around the heart of Chianti: Greve, Castellina, Gaiole and Radda in Chianti, as well as parts of Barberino Val d'Elsa, San Casciano in Val di Pesa, Tavarnelle Val di Pesa, Castelnuovo Berardenga and Poggibonsi. The regulations are stricter, with a minimum ageing time of 12 months. The blend has to be at least 80% Sangiovese, the other 20% can be other red grape varieties such as Canaiolo. The alcoholic content is minimum 12%.
The Black Rooster Label
You can easily distinguish a Chianti Classico from a Chianti by the unmistakable pink label with a black rooster on the neck of the bottle. You're probably asking yourself why the black rooster?
Legend says that to stop the ongoing battle for Chianti territories between Florence and Siena, the two towns decided to solve the matter once and for all with a challenge. The challenge required that two knights from Siena and Florence galloped from their individual cities at sunrise, when the first rooster crowed. The point where the two knights met, would become the official border. It was clear that to win this challenge and obtain more territory, both towns had to choose, not their knights and horses wisely, but their roosters.
Siena opted for a white rooster. They treated it like a king, feeding it at dawn every day, so that on the morning of the race it would crow at the sight of light, eager for food. Florence instead chose a black rooster. They locked the rooster in a dark room without food for many days. On the day of the race, the black rooster was set free. Nervous, hungry and finally free, he crowed much earlier than sunrise, allowing the Florentine knight to ride earlier and further. The two knights met only 12 km from Siena. Florence, despite their heartless methods, obtained nearly all of the Chianti region.