Greve in Chianti travel guide
Greve is a gastronome's paradise. The best-known stop on the "Chianti Road" is just 18 miles of easy, astonishingly pretty driving south from Florence. But it's like another world compared to the bustle and museums of the Tuscan capital.
Greve is surrounded by miles of Chianti Classico vineyards. Butchers around the town are famed for their beef, wild boar, cured pork and more. Round almost every new bend in the road is a panorama that will have you reaching for your DSLR or smartphone.
This is classic Chianti country — just like you've seen in photos, Renaissance paintings and your dreams.
In the Beginning…
The hillsides around Greve have long been a farming country, and were for centuries populated by smallholders. The landscape is still dotted with their case coloniche, stone farmsteads which would house a family (on the upper floor), their animals (downstairs) and pigeons in the dovecote (a source of food and fertiliser).
Greve itself was a simple market town... until the 20th-century wine boom turned it into the unofficial HQ of the Chianti Classico wine zone.
Visit This
Life in Greve revolves around the Sangiovese grape. This is the heart of Chianti country, and the main town on the Chiantigiana road between Florence and Siena.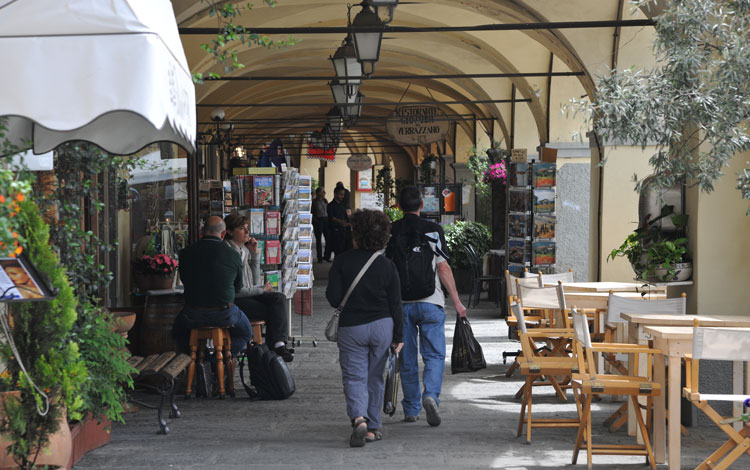 Its main square is an unusual triangular shape, with a statue of Giovanni da Verrazzano (1485–1528) at its centre. This local boy made good served the King of France, became the first European to explore the North American east coast, and left his name to a New York suspension bridge connecting Brooklyn with Staten Island.
The adjacent Church of Santa Croce was built in a neo-Renaissance style, complete with portico, in the 1830s. Inside is an altarpiece by Florentine "International Gothic" painter Bicci di Lorenzo (1368–1452), which originally hung in the church of San Martino a Uzzano, and a detached 14th-century fresco brought inside from Greve's market square.

Some of Tuscany's best sunset views are from the hills above Greve to the east, along empty strade bianche (unpaved "white roads") towards Lucolena.
Falorni is Greve's long-standing butcher shop, selling top-quality fresh and cured meats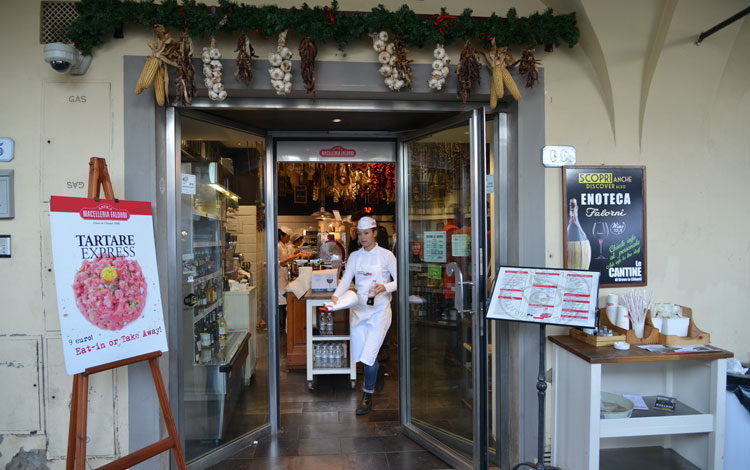 Eat & Drink This
The Chianti law passed by Grand Duke Cosimo III was the first legal classification for wine grapes, and celebrated its 300th birthday in 2016. Nowadays wines from the historic heart of the Chianti are labelled Chianti Classico, a DOCG status wine, i.e. one of Italy's greats. The red Sangiovese grape is the main (sometimes only) ingredient in Chianti Classico.

Several top local estates organize tours and wine tastings. In summer, it's always worth booking ahead at Vicchiomaggio, Verrazzano, Vignamaggio or any of several others.

In the centre, Falorni is Greve's long-standing butcher shop, selling top-quality fresh and cured meats. Falorni also have table seating with simple dishes based around their famous meat, including a range of classic and modern tartare — raw beef garnished with the likes of truffle oil and tapenade, or lardo (seasoned pork fat) and rosemary, or just plain with a raw egg.

For a special meal, the terrace at L'Antica Scuderia is one of the most romantic spots in the Chianti. The setting — above a sea of vines and across the street from cypresses huddled around the Badia a Passignano — is as memorable as the food, which is a refined take on Chianti classics like pappa al pomodoro (puree-like thick tomato soup, that tastes like Tuscan sunshine) and tagliata (sliced steak) served with juniper or thin-sliced Colonnata lard or truffle shavings.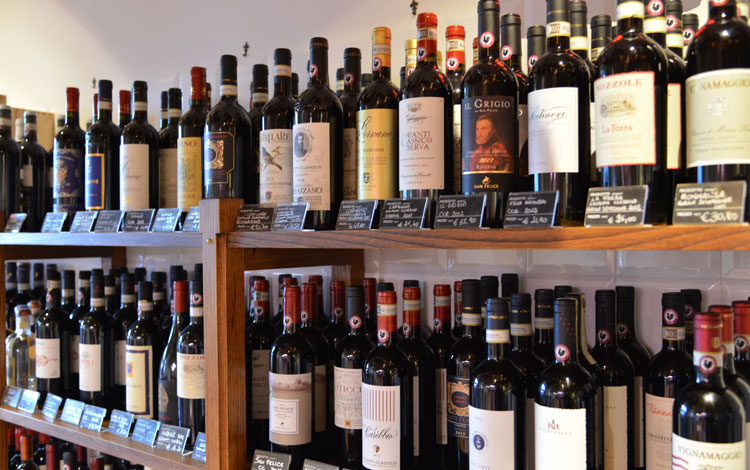 The cellars below the 9th- to 13th-century Vallombrosan Passignano abbey are put to good use by the illustrious Antinori wine group: it's here they age their Badia a Passignano Chianti Classico Riserva in French oak. Surrounding vineyards produce Antinori's iconic Super-Tuscan, Tignanello. (You can also book a customised visit and tasting at the Tignanello cellars.)

A couple of miles to the south, the Cantinetta di Rignana also has a spectacular outdoor terrace overlooking empty Chianti country. Carefully sourced produce infuses their classic Tuscan dishes with intense flavour.

Another pretty drive 6 miles south-east from Greve climbs to the village of Lamole, where the Ristoro di Lamole serves up another memorable Tuscan meal. Dishes are of intense flavour, and typical Tuscan simplicity.
Out of Town: Panzano & Montefioralle
Panzano, 5 miles south of Greve, overlooks the Conca d'Oro, a "Golden Bowl" of sunbaked, south-facing Sangiovese vines that produce some of the region's most sought-after red wines.
The Fontodi winery, at the roadside just outside the village, sells wine from Conca d'Oro grapes, as well as sublime DOP organic olive oil.
Panzano is home to Chianti's most famous butcher, Dario Cecchini. He quotes Dante while chopping some of Tuscany's best meat — though most of it comes from Catalonia — not just the famous bistecca fiorentina cut, but also tonno del chianti (pork marinated with multiple local aromatics until melt-in-the-mouth tender), fennel-spiked salami and a whole lot more.
You can taste Dario's meat cooked, too, at a trio of Cecchini-owned restaurants: Dario DOC (for informal lunch at communal tables), Solociccia (for hungry meat-lovers) and Officina Della Bistecca (for the very hungry carnivore).
Panzano's Accademia del Buon Gusto offers up one of the best wine-tasting experiences in the Chianti — in fact, anywhere. Learned and charming host Stefano Salvadori is guaranteed to keep you there longer than you intended. Stefano's selection is strong on niche Tuscan labels.

A mile west of Greve, the crumbling medieval hamlet of Montefioralle looks every bit its 1,000 years of age. Still wonderfully romantic with intact walls, shuttered stone houses and narrow cobbled lanes, this was the home of the Vespucci family. Famous Vespuccis include Amerigo (an explorer who lent his name to a continent) and Simonetta. She became a Vespucci by marriage and is often suggested as the model for Botticelli's "Birth of Venus", which hangs in Florence's Uffizi.
Views from outside its Gothic Church of St. Stephen are sublime. The interior was remodelled in the 17th and 19th centuries and houses artworks from the 13th and 14th.
Festivals: Wine & Food
Greve hosts the Chianti's busiest and best-known grape harvest festival, the Expo del Chianti Classico. Over a long weekend in September, there's guided outdoor tastings plus live music and other events.
For most of the year, Il Pagliaio market fills Piazza Matteotti on the 4th Sunday of the month with stalls selling seasonal organic produce direct from farms, conserves, wine, cheese, bread, craftwares and more.
Saturday morning is market time in Panzano.
Three Excursions from Greve
Florence: it's close, easy to reach by bus, car or even bike, and has enough art and culture to keep you busy for a year
Castellina: the unofficial capital of the Sienese Chianti was fortified by rival Florentines — who erected defences you can still explore, including an underground street — plus there's an Etruscan burial mound close by
Impruneta: Chianti's sedate terracotta centre has craft workshops, a formidable basilica, and a popular autumn festival schedule