If you've just booked one of our luxury villas in Tuscany, you'll soon be wondering, "what wines should I drink when I'm there?" To help you decide, we spoke to Gary White about the range of wonderful wines available in one of Italy's most culturally and gastronomically rich regions: Tuscany.

Gary gives any budding oenologist a guided tour through this region, giving a brief overview of Tuscan wine history before revealing which grapes you should hunt out during a stay in one of our Tuscany rentals.
Or let us do the driving for you on a private Chianti Wine Tour led by a renowned winemaker.
Tuscany is famous for many things — the glorious art, architecture and culture of Florence and Siena, the photogenic countryside, its beautiful rolling hills and, of course, its food and wine.

In terms of wine, "Tuscany" and "Chianti" are synonymous to many people. Not only is this incorrect, but the region's wine landscape is far more complex and dynamic.
The central core of Tuscany produces fine red wine, based almost entirely on the noble Sangiovese grape. Towards the Tuscan coast, a very different style of wine — the so-called "Super Tuscan" — may be produced, usually made by blending a little Sangiovese with non-native grapes such as Cabernet Sauvignon and Syrah. These wines command some of the highest retail prices.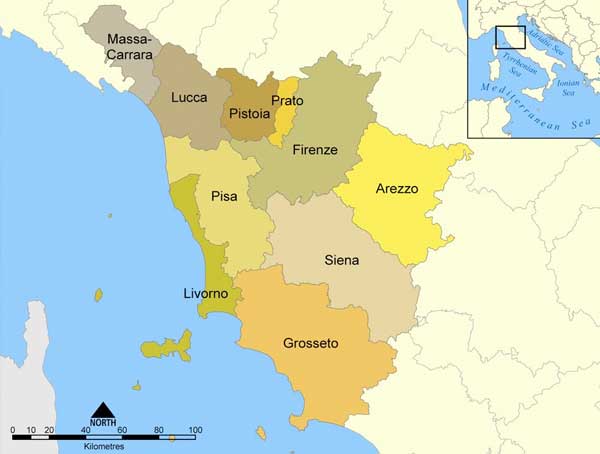 Tuscany produces about 5 percent of Italian wine production by volume, but more than 10 percent of total value.
A Tuscan wine can be bought for well under €10 a bottle for a basic Chianti blend (some of which may actually be quite good), up to many €100s for the best single estate Tuscan or Super Tuscans. Despite the stellar reputation of the very top producers (with stratospheric prices), in the middle there is incredibly good value — arguably far more so than the fine wines of France, for example. If you are lucky enough to visit Italy and dine in a Tuscan restaurant, even the most exclusive establishment with a long wine list will offer very good value compared to the restaurant scene back home.
Characteristics and style of Tuscan wine
The Sangiovese grape is king in Tuscany and, in the best locations with the best winemakers, produces sublime wine that is second to none in the global pecking order. The Sangiovese does particularly well in its native terroirs and microclimates, and unlike some other famous Old World noble grapes, such as Cabernet Sauvignon, Merlot, Pinot Noir and Chardonnay, has rarely done well outside its home. Attempts to produce fine wine with Sangiovese in California, Chile and Australia have not met with critical acclaim.

Sangiovese is a late ripening, tannic grape that needs plenty of sunshine.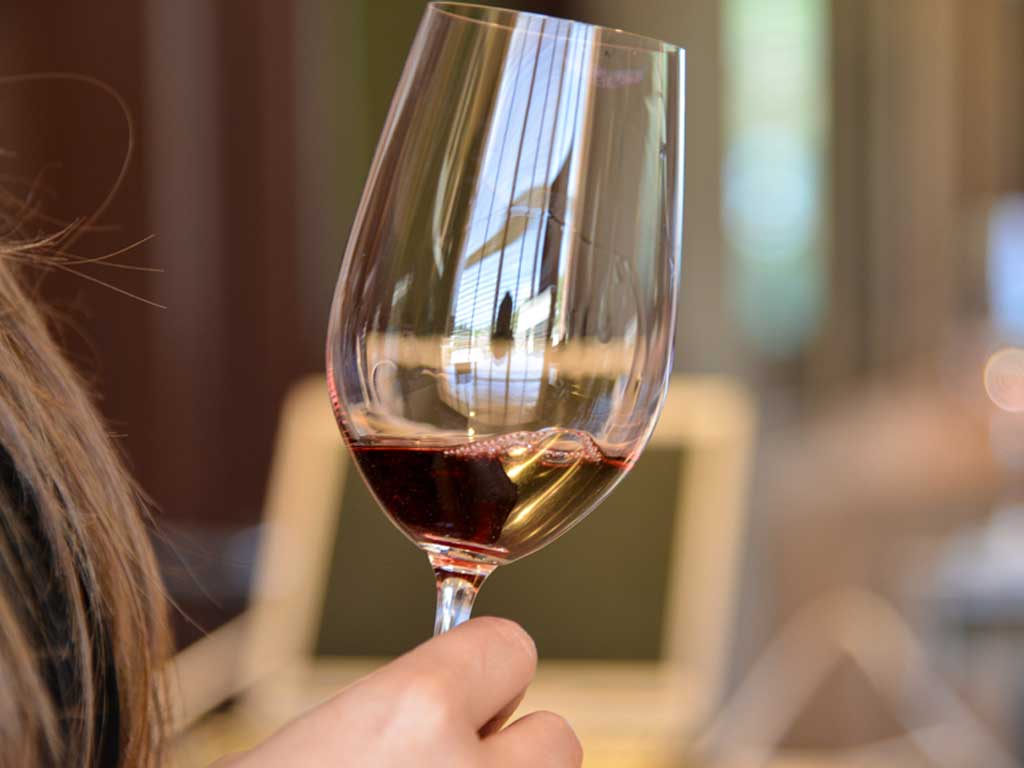 It generally is not grown north of Tuscany, because overcast and rainy days are more common creating a lack of ripening hours. It typically produces dry wines which may appear rather light in body.
Upon opening a bottle of Tuscan red, one is often struck by a very strong smell of cherries (some say Morello cherries) and redcurrants. The mouthfeel is often a little acidic with young wines, with red berry fruits and an occasional herbaceous character to the fore (some say oregano or thyme). More concentrated wines are produced with the mid-range Chiantis and above, and with the best Brunellos and Vino Nobile riservas, darker, fuller and richer wines are common.

Fermentation commonly takes place in stainless steel tanks or glass-lined cement vats. Oak is used to age the wine in almost all cases and as a general rule, riservas have had more time in oak than more humble wines (but the system is not as rigid as, say, in Rioja, Spain).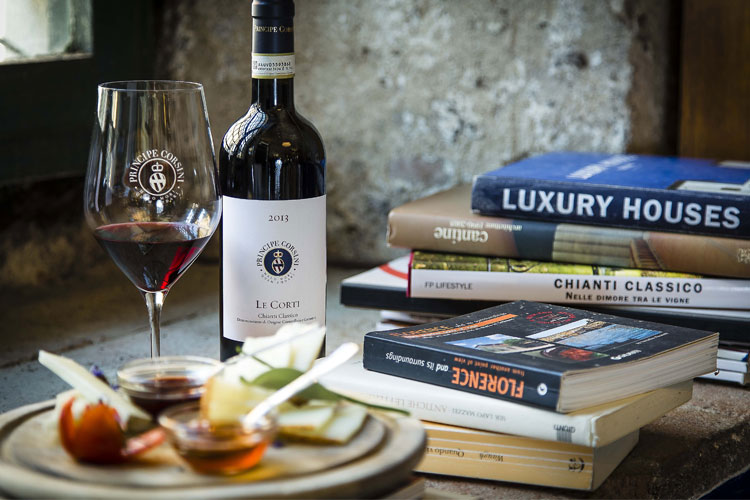 Oak barrels of varying sizes and origin are used to age the wine. Tuscany has recently added the "Gran Selezione" grouping above riserva in an attempt to demarcate the top estates. This is proving a controversial exercise, as the Tuscan plutocrats attempt to create some daylight between their estates and the domestiques in the peleton, so to speak.
Tuscan wine classification and sub-regions

The classification and nuances of Italian wine are complex. In essence, there are three levels that we should be concerned with vis-a-vis Tuscany.
DOC (or controlled origin) is similar to AOC in France. It's the fundamental quality mark of Italian wine, relating to a specific growing area.
IGT (or indication of geographical type) is a classification above table wine (VdT) but "below" DOC, and allows non-native grapes to a greater extent than DOC wines. IGT wines are considered to be regional in character, rather than the quality you would expect from a single estate wine.
However, Super Tuscan wines were classified as IGT until recently, as they used a large proportion of non-native grapes. They also commanded very high prices in many cases.

DOCG is one notch higher than DOC and adds "guaranteed". This is the highest tier of Italian wine. Like many things in the wine world, DOCG classification alone is no guarantee of a superb glass of wine. But it should generally be more reliable than a DOC, and will command a higher price.

Tuscany is far from homogenous in terms of soil, rock type and climate (what the French call "terroir"). The coastal zone is more humid; away from the coast it is warmer and drier with longer spells without rain in the summer. Soil varies from sandy and gravelly at the coast, to deposits of clay and marl in the central zone. Calcareous soil is preferred by Sangiovese.

Tuscany is divided into various DOC regions or communes. The main quality ones are:
Chianti Classico

Chianti Rufina

Brunello di

Montalcino
Vino Nobile di

Montelpulciano

San Gimignano

Bolgheri
All these sub-regions can produce absolutely outstanding wines based on the Sangiovese varietal. Most use mainly Sangiovese but in Bolgheri, the Super Tuscan trend has seen Sangiovese blended with large proportions of Cabernet Sauvignon, Malbec and Syrah to great effect.
Some recommended buys

A personal selection and some names to look out for:
Chianti Classico – Antinori, Felsini, Fonterutoli, Fontodi, Panzanello, Poggerino, Querciabella, Mazzei
Brunello – Barbi, Biondi-Santi, Il Poggione, Piancornello
Vino Nobile – Poliziano, Boscarelli, Il Macchione, Palazzo Vecchio
Bolgheri Super Tuscans (save up for these!) – Antinori, Frescobaldi, Sassicaia