Impruneta travel guide
This small town with a huge main square is at the point when the Chianti hills begin their gentle shuffle down towards the River Arno and Florence. Strictly speaking, it's not part of the Chianti Road — the "Chiantigiana", or SS222 — which runs a few miles to the east. Yet Impruneta is often the first stop on a Chianti trail for anyone heading south from Florence by bike, bus or car.
A strategic location put it in the way of the Allies' march north in 1944, when Impruneta sustained significant damage. It was rebuilt an architectural hodgepodge, a mix of faithful historic re-creations interspersed with modern additions. This is no bad thing; it only adds to Impruneta's unique charm — lending an air of authenticity that many of Tuscany's busiest hotspots should envy.
In the Beginning…
Impruneta's origins are shrouded in legend. Various settlements occupied the area from at least Etruscan times, but the current location dates to the Middle Ages. The site was chosen, so the story goes, where two oxen working the fields abruptly fell to their knees. Digging where they knelt, a farmer uncovered a painting of the Virgin Mary by Saint Luke himself (the patron of painters). The spot was chosen for Impruneta's church.

This miraculous Marian relic was a source of much wealth in the following centuries. Pilgrims from all over Italy (and Europe) came to pray to it, and illustrious visitors left valuable offerings at Impruneta's church.

Later medieval history is intertwined with the Buondelmonti family, powerful Florentines who were already "old money" by the 1100s. The Buondelmonti were protagonists in Florence's protracted, bloody Guelph–Ghibelline schism, during which warring clans all over central Italy faced off in support of the Pope (Guelphs) or Holy Roman Emperor (Ghibelline).

The story goes that a young Buondelmonti beau — first name, Buondelmonte — jilted his Amidei fiancée in favour of the noble daughter of a rival family. On Easter Day 1216, on his way to be married, the Amidei family had him murdered as he crossed the Ponte Vecchio, sparking bloodshed that lasted a century.
Visit This
Impruneta's centrepiece is a vast main square, Piazza Buondelmonti. This grand, unsymmetrical space (with plenty of parking) was sized to fit a much larger town or even a small city.

Its jewel is the church, a major Marian shrine that has drawn so many pilgrims over the centuries: the Basilica di Santa Maria all' Impruneta. The exact site has been used for devotion since Etruscan times, in all probability, but the basilica was first consecrated as a pieve, a parish church, in 1060 (the crypt and bell tower date from this period). It was altered and embellished in both Renaissance and later Baroque styles by leading architects, including Michelozzo. Much of what's there is a reconstruction of the Renaissance church after the original was destroyed by bombing in July 1944.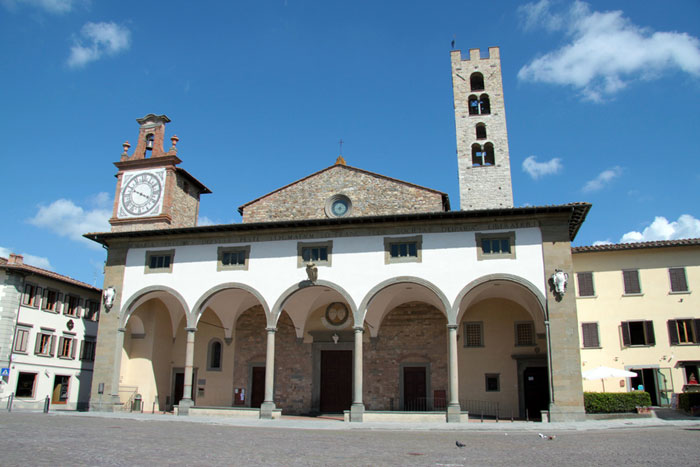 Inside are several artworks, including by Mannerist painter Cristofano Allori, Matteo Rosselli, Empoli, and Della Robbia (Luca and Andrea) painted ceramics.

For centuries, the basilica's Treasury (now a mini-museum) was stuffed by pilgrims' offerings to Impruneta's miraculous image of the Virgin. Highlights include illuminated manuscripts and silverwork attributed to Lorenzo Ghiberti, who cast the "Gates of Paradise" on Florence's Baptistery.
Peposo was originally made by terracotta craftsmen, who cooked it in a corner of their working kilns
Buy This: Impruneta Terracotta
Local terracotta — Cotto dell' Impruneta — is made from a porous, iron oxide-rich clay and has been famous throughout Tuscany and farther afield since at least the 11th century. Impruneta terracotta tiles adorn Brunelleschi's famous dome in Florence, and countless other Tuscan churches. It's also a favourite choice for floor tiles and terrace pots for growing dwarf citrus trees.

Workshops generally welcome visitors. Renowned local artisans include M.I.T.A.L. Mariani (www.terrecottemital.it) and Fornace Masini (www.fornacemasini.it).
Eat & Drink This
Peposo all' Impruneta is a staple of any "traditional Tuscan" menu. Originally this hearty stew was made by terracotta craftsmen, who cooked it in a corner of their working kilns, giving the dish its alternative name: peposo alla fornacina.

It's relatively simple to prepare. Beef chuck steak is cooked until falling apart and its sauce of Chianti wine, garlic and peppercorns turns viscous and silky. The dish is usually served with a hunk of rustic bread.

Hills around Impruneta are dotted with smallholdings set amid olive groves, where pressing houses squeeze the fruit to produce some of Tuscany's best olive oil. Rich in phenols, Impruneta's extra virgin oil is made immediately after harvest, in October and November.

The local red wine is part of the Chianti Colli Fiorentini DOCG grape zone. Based on the Sangiovese grape, it's a fiery, robust partner for a bowl of peposo.
Out of Town
Just 5km north-west of Impruneta, the Florence American Cemetery at Tavarnuzze is the final resting place of over 4,000 soldiers killed during the WW2 liberation of Italy. Most interred here were members of the U.S. Fifth Army who died around Rome in June 1944 or during heavy fighting in the Apennine Mountains.

The Villa Corsini a Mezzomonte, 4 km north of town, was a Buondelmonti residence, and later owned (and spectacularly decorated) by Medici nobles including Lorenzo the Magnificent. It's now a privately owned reception and wedding venue with restored 17th-century frescoes.
Festivals
Autumn is festival season in Impruneta. September's Festa dell' Uva (Grape Festival) has been running since the 1920s. There are floats and grape-themed folk arts and communal dining outdoors in Piazza Buondelmonti. And, of course, plenty of red wine from the Chianti region.

The town's buzzing for the Fiera di San Luca (St. Luke's Fair), one of Europe's longest-running agricultural markets. It was first documented officially in the early 1600s, but is certainly much older than that. These days the mid-October event includes craft and food stalls, tastings and a fireworks display, as well as the traditional livestock sales. Terracotta, of course, is a big deal.

St. Luke's Fair became so famous, it was immortalized in paint by Filippo Napoletano (1618; now in Florence's Palazzo Pitti); and in an etching by Jacques Callot (1620; in France's National Library, Paris), made while Callot was working in Florence for Duke Cosimo II de' Medici.
Three Excursions from Impruneta
Florence: it's close, easily accessible by bus, bike or car, and has enough art and culture to keep you busy for a year
The Chianti countryside: for classic Tuscan food and wine, plus endless panoramas over the hills and vines around Greve and Radda
San Gimignano: a beautiful drive through cypress-topped hills and vineyards ends at this preserved medieval town, complete with hidden alleys, Gothic towers and fine frescoes.