Visit Gubbio travel guide
Medieval Gubbio lies on the fringes of the Apennine Mountains, about 25 miles north-east of Umbria's capital, Perugia. North and east of the town there's pretty much nothing till you hit the border with the neighbouring region of Le Marche.
The land here decorated with squares and stone palaces has been inhabited for tens of thousands of years, including by Neanderthal tribes. Most of what we know about the ancient Umbri people lives on in Gubbio's museums, including a "Rosetta Stone" for their now-lost language.
Its medieval skyline marks Gubbio out as one of Umbria's classic hill-towns. It is also a major draw for those who love to hunt — or eat — truffles.
In the Beginning: Gubbio History
Gubbio's roots are ancient. It was a centre for the pre-Roman Umbri civilisation — contemporaries of the Etruscans, who ruled over Tuscany, Lazio and western Umbria. From around the 7th century BC, Umbri culture held sway over east and central Umbria and Le Marche as far as the Adriatic Sea.
Eugubium (or Iguvium) became an ally of the Roman Republic by the 3rd century BC until its culture was assimilated by Rome sometime during the 1st century BC.
During Gubbio's pomp, for two-and-a-half centuries spanning the medieval and Renaissance periods, successive Dukes of Urbino called the shots. Like almost all of Umbria, it was eventually annexed by the Papal States — in the 1630s — where it largely remained until Italian Unification in the 1860s.
Gubbio has a significant place in Christian, especially Franciscan, mythology. The legend of "St. Francis and the Wolf of Gubbio" is recounted in the "Little Flowers of St. Francis" which appeared in the late 1300s.
While living in Gubbio in the 1220s, Francis supposedly tamed a wolf who was terrorizing locals and livestock. He negotiated a truce on their behalf in return for a pledge to feed and live side-by-side with the wolf. The tale became a popular allegory for forgiveness.
This legend has been represented in Tuscan and Umbrian art many times.
The whole town goes crazy for May 15th's Corsa dei Ceri
What to See in Gubbio
Gubbio is steep. Thankfully, a system of escalators terraced into the hill helps you move to the two upper levels of the town.
The first stop is Piazza Grande. This 3-sided square keeps one side open, balcony-style, with a view across terracotta rooftops and the vast Loggia Dei Tiratori — once used for making rope — to the hills beyond.
Gubbio's major museum collection(s) are inside the Palazzo Consoli, built as the town's civic and administrative heart in the 1300s. You enter through a towering hall with a barrel-vault ceiling.
The palace's prize exhibit are the Iguvine Tablets. These engraved bronze sheets have become a Rosetta Stone for interpreting ancient Umbri language. Much of what historians know about the Umbri stems from these inscriptions. Aside from their name, the Umbri left little behind.
Like much of Umbria, Gubbio has centuries-old traditions of majolica — a technique for glazed pottery painting. Local production boomed from the late 15th century. The leading local exponent was Mastro Giorgio Andreoli, a collection of whose works are displayed in the palace.
At the very summit of the Palazzo Consoli, an eyrie-like loggia rewards you with views for miles in three directions.
Among Umbria's parochial school of early Renaissance painters, the best known is Ottaviano Nelli. At Gubbio's Sant'Agostino Church, Nelli decorated the apse with frescoes recounting stories from the life of St. Augustine — the son of St. Monica who is now celebrated as a Doctor of the Church.
The "Death of St. Monica" is shown on the left wall of the apse; Augustine's own death is one panel down and to the right. The lower-right of the right-hand wall shows a prison break in Pavia attributed miraculously to St. Augustine after he died. A "Universal Judgement" scowls at parishioners from directly above the altar.
At the highest point of town — reached by another elevator if you wish — is the Palazzo Ducale. In the Renaissance era, this was home to Federico da Montefeltro, Duke of Urbino. Anyone who has been to Florence may remember his portrait by Piero Della Francesca exhibited in the Uffizi.
Directly opposite is Gubbio's 13th-century Duomo. Its unusual hall-church structure is held up by 10 mighty brick arches spanning the single nave. Two saints martyred by Romans in Numidia are buried under the altar — and left their name to the cathedral.
You can ride some of the way up Monte Ingino (908m/2,979 ft.) in a 2-person cage on the Funivia Colle Eletto. This little cableway drops you close to the Basilica di Sant'Ubaldo, where the giant "Candles" for Gubbio's massive May festival (see below) are stored. You can follow marked trails further uphill to a ruined fort and vast Apennine views.
The Funivia usually runs all day in summer. If you fancy a hike… walk down, not up!
Food & Drink in Gubbio
The aroma of truffles races straight at you when you enter almost any restaurant or deli. For an upscale meal centred on seasonal truffles, the Taverna del Lupo is the best spot for a refined take on local culinary traditions. Wall paintings depict (of course) the legend of Francis and his wolf.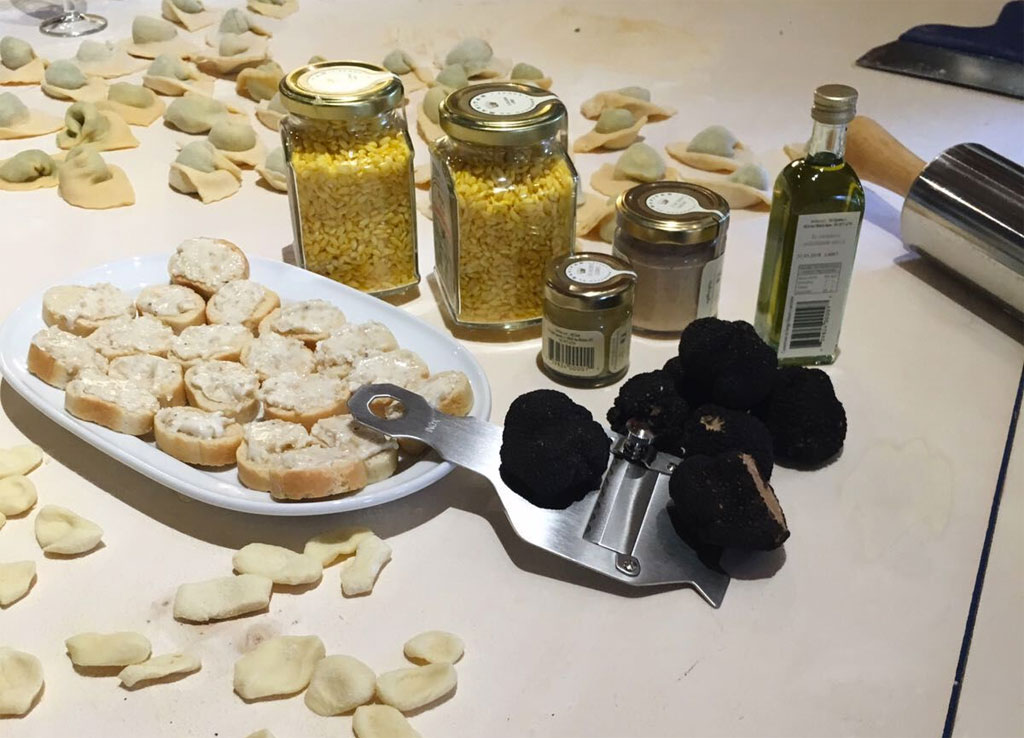 At the Locanda del Tartufo, lunchtime specialties are huge cold cut plates, washed down with one of Umbria's underrated wines, rustic red Torgiano DOC. Shaved truffle comes in generous portions.
Papa Tartufi, off Piazza 40 Martiri, is a one-stop shop for all things truffle. You can take home sauces, truffle oils, dried pasta infused with truffle, truffled hams and even fresh truffles (in season).
Besides truffles, Gubbio's local delicacies include boar prosciutto (cured ham from wild woodland boars); deer salami; and crescia, little doughy flatbreads cooked on a griddle.
Gubbio Festivals
May is party month in Gubbio, for the Corso Dei Ceri (May 15th) and Palio Della Balestra (final Sunday). The latter is a crossbow competition in Piazza Grande, with competitors in medieval dress.
The whole town goes crazy — and swells to bursting point — for the Corsa Dei Ceri. Held on the feast day of local saint Ubaldo (May 15), the event sees teams race huge wooden "candles" up Monte Ingino to the Basilica.
The refined, delicate, prized — and yes, expensive — white truffle thrives in woodland around Gubbio. White truffle season is celebrated with an autumn food festival. It's held in late October through early November.
Three Excursions from Gubbio
Città di Castello

:

for the world's most important collection of Alberto Burri art, street cafes and tours of a historic printworks

Urbino:

for a ducal palace stuffed with art treasures including Piero Della Francesca's "Flagellation," Raphael's birthplace, and organic produce in abundance

Montone

:

for the ruined castle of a medieval mercenary and the quaintest outpost of the Umbria Film Festival