Gaiole in Chianti travel guide
A giant Black Rooster guards the entrance to Gaiole's small historic centre. Which can mean only one thing: this is wine country. The Chianti Classico winemaking consortium adopted the Black Rooster as their symbol, just as the military Chianti League had done more than 500 years earlier.
Gaiole is the main market town of south-eastern Chianti, and is 20 miles north-east of Siena. Grapes for some of Italy's most prestigious red wines grow in the hills in almost every direction.
In the Beginning…
Florentines and the Sienese, Guelphs and Ghibellines, fought over the terrain around Gaiole for centuries. Castles that once controlled access to trade or pilgrimage routes, or even produce markets, crown almost every high vantage point. Several are now ruined, their stones poking above the wild holm oak forests typical of this part of Tuscany. A few have been taken over by modern wineries. They're linked on the so-called Strada dei Castelli di Chianti (Chianti Castle Road).
Barbischio (2 miles south-east of Gaiole) and Vertine (a mile west) are mentioned in records of Coltibuono Abbey dating to the early 11th century. Meleto Castle, 2 miles south, is probably even older. It was reckoned virtually impregnable, until an invading Aragonese army stormed it in 1478. You can see inside, including the ancient cellars, on daily tours. The Castello di Meleto estate produces wine, olive oil and cured pork from the Cinta Senese (a prized local breed of pig).
Fortified Romanesque parish churches at Spaltenna and San Polo in Rosso date to the same volatile period of Tuscan history. It all feels so peaceful now, but there's a very good reason all those fortifications were built.
Visit This
Gaiole's main drag, Via Ricasoli is a pedestrian street lined with pleasant pavement cafes and wine bars. It's named after Baron Bettino Ricasoli, united Italy's second prime minister in the 1860s and a pioneering winemaker who developed the modern recipe for blending Chianti wine at his nearby estate, Brolio (see below).
Enoteca Montagnani is one of Chianti's best wine shops (and doubles as a wine bar). They also offer guided tastings. Gaiole also has one of Chianti's top butchers: Macelleria Chini on Via Roma has been in business since the 1600s.
In almost every direction, these hills produce the grapes for some of central Italy's most prestigious red wines.
Out of Town: Two Stellar Wineries
In a stunning location in remote countryside between Gaiole and Radda, Castello di Ama occupies the stone houses and chapel of a 12th-century hamlet. The estate's 185-acre vineyards produce renowned Chianti Classico Gran Selezione, as well as outstanding Super-Tuscan "Haiku", a blend of Sangiovese, Merlot and Cabernet Franc.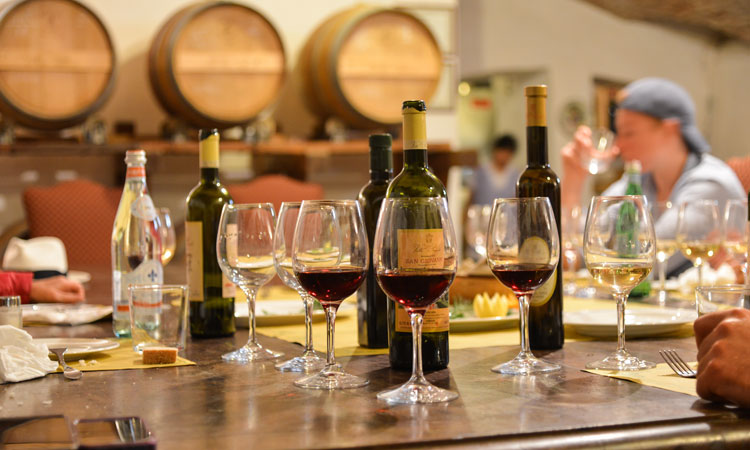 The estate has a wine shop. They also operate a tour of Ama's extensive site-specific contemporary art installations. The collection has been 20 years in the making and includes works by Anish Kapoor, Louise Bourgeois and Daniel Buren that speak to and interact with the landscape.
Seven miles south of Gaiole, Castello di Brolio owes its distinctive, hybrid appearance to centuries spent on the front line: between Florence and Siena, between Tuscany and the Spanish, and between the Allies and retreating German forces during World War II.
Parts of the original structure date to at least the 1000s, and embellishments continued until 19th-century, with additions in the neo-Gothic style. Parts of the castle and its historic Ricasoli wine cellars — where Chianti wine was first blended in its "modern" recipe — are open to public view on a guided tour and tasting.
If you just want to taste Castello di Brolio's wine, you can pull up at its roadside Enoteca, which stocks the full range. Tasting usually costs a few euros, reimbursed if you buy a bottle.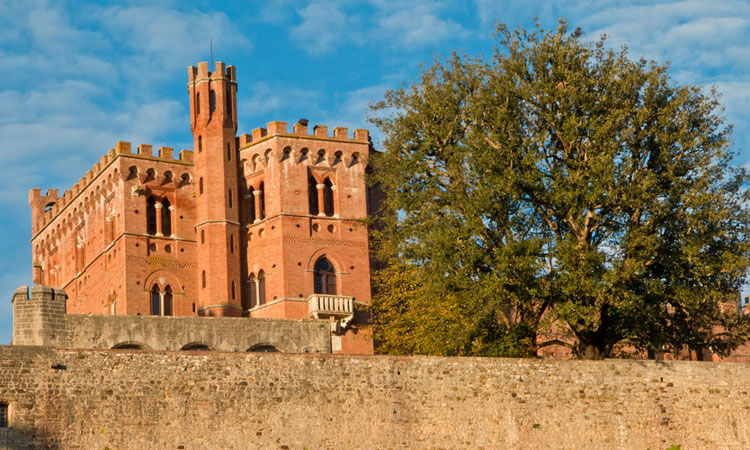 Brolio Castle
Buy This
It may not look it from the outside, but a roadside house between Radda and Gaiole is home to one of Tuscany's most celebrated ceramics workshops. At Rampini everything sold by the family business is modeled, fired, glazed, and hand-painted on the premises. Designs typically feature bold colours and motifs inspired by the Tuscan countryside.
They can arrange shipping; quality is first-rate.
Three Excursions from Gaiole
Siena: a labyrinthine mini-city of red-brick palaces and ethereal art, also site of the world-famous Palio horseraces in July and August

Castellina in Chianti: medieval Florentines erected defenses you can still explore, including an underground street, plus there's an Etruscan burial mound close by

Badia a Coltibuono: this deconsecrated Benedictine abbey with a Romanesque church, 3 miles north of Gaiole, oversees production of its own excellent Chianti Classico and has a famous cooking school founded by Lorenza De' Medici