Italian comfort food at its finest, Carbonara is a simple, intensely creamy and rich pasta dish from Rome. The Eternal City is home to several of Italy's favourite traditional pasta dishes — just think Cacio e Pepe and All'Amatriciana — but neither can compete with the international popularity of Carbonara.
For pasta-lovers staying in one of our luxury villas near Rome, this guide will introduce you to the history and traditions behind Carbonara, and our favourite restaurants serving this hearty primo in Lazio.
A guide to Carbonara and where to eat the beloved pasta dish in Rome
The secret's in the yolk: how to perfect an authentic Carbonara
There are just 5 ingredients in a classic Carbonara sauce: guanciale ("pig's cheek"), egg yolk, pecorino, salt and pepper. The likes of cream, pancetta, garlic and chilli are absolute no-gos for Carbonara purists — even the use of parmesan in the place of pecorino is dubious. The only room for compromise is in the type of pasta used; tonnarelli is the traditional shape, but Carbonara is also often made with fettuccine, spaghetti, rigatoni and mezze maniche.
Up until the 60s, pancetta was a fine alternative to guanciale, and even now you'll find many recipes recommending the former rather than the latter. Although they are both cured pig meats, they are very different in texture and taste — pancetta comes from the belly, while guanciale comes from the jowl. Guanciale has a harder texture and more distinctive flavour than pancetta and is cured with salt, black pepper and — in Lazio — garlic as well.
While Carbonara uses very simple ingredients, it isn't always as straightforward to perfect. An authentic Carbonara will be rich, smooth and creamy to the taste with the right ratio of pecorino and egg yolks alone — no added cream necessary. They are stirred quickly off the heat into the pan with the pasta and fried guanciale before seasoning with fresh black pepper.
Less coal more pepper: the history of Pasta alla Carbonara
It is generally accepted that Pasta alla Carbonara is a traditional dish of Rome and Lazio. Yet even with regional favourites like Cacio e Pepe and All'Amatriciana — which undoubtedly prove that the Roman's know a thing or two about rich pasta dishes — the origins of Carbonara are still uncertain.
Some say that Carbonara is an adaptation of Cacio e Uova, a Neapolitan pasta dish made with melted lard, beaten eggs, pecorino and Parmigiano, that dates back to at least the 1800s. It certainly sounds a lot like a meatless carbonara — and given the proximity of Rome to Naples — it is a plausible source of inspiration behind the beloved pasta dish.
However, a more popular tale traces Carbonara's origins back to the liberation of Rome in 1944 when food was still scarce. American troops supposedly supplied local cooks with their military rations of eggs and bacon, who then created the recipe. But even if Carbonara was prized by American GI's, there are a fair few Roman's who'll grimace at the thought of this pasta dish ever being made with powdered eggs.
The name itself comes from the word "carbonaro", meaning " coal burner", which has led some to believe that it was the dish of coal miners working deep in the Apennine mountains. Carbonara's simplicity and versatility makes perfect sense within the Italian culinary tradition of cucina povera as well. The ingredients could easily be sourced from local farms, stored, transported and prepared over a hot wood fire.
The consensus is that as far as "traditional" Italian recipes go, Carbonara is still relatively young. While the matter of who invented Carbonara is still disputed, there is genuine agreement that it first appeared in Rome in the 1940s, with a healthy sprinkling of black pepper. And, perhaps that's just it — the final theory — that "Carbonaro" has less to do with actual coal and more to do with the black pepper, like flecks of charcoal, that seasons the dish.
Our favourite restaurants serving Carbonara in Lazio
From the outside, Taverna Trilussa looks like something straight out of a postcard of Rome, spilling out onto a cobbled street in the historic Trastevere district. Inside, this rustic, high-end tavern is minimally decorated, with dark beamed ceilings adorned with legs of prosciutto. The restaurant is famed for its take on classic Roman pasta dishes, which are served up in the steel pans they are cooked in. We highly recommend the Bombolotti alla Carbonara with fresh truffle, but the Tonnarelli Cacio e Pepe and Fettuccine with butter and parmesan are equally special. It can get very busy, so book well in advance, particularly if you want a seat on the candlelit terrace outside.
Situated in the Flaminio district, just across from the MAXXI, this is contemporary Rome at its finest. Michelin-star Chef, Kotaro Noda fuses Italian cuisine with the flavours of Japan at Bistrot64. The interior is chic with marble tables and a minimal colour palette which contrasts with the vibrancy of the food served here. Bistrot64 is excellent value for money and while you'll find some experimental flavours on the menu, you'll also find traditional heartwarmers like Carbonara too.
Fratelli Mori is a family-run osteria opened by two brothers, Alessandro and Francesco Mori and their mother Giuliana. It is situated on the outskirts of the historic centre of Rome near the Pyramid of Caius Cestius. The brothers are inspired by Roman cuisine, serving up honest, unpretentious classics like Cacio e Pepe, Polpette di Bollito and, of course, Rigatoni alla Carbonara. The restaurant is light and modern with a rustic edge and the atmosphere very relaxed. All ingredients are sourced from trusted local supplies and the nearby Testaccio Market, while the wine list is dedicated to natural, organic and biodynamic labels from Lazio.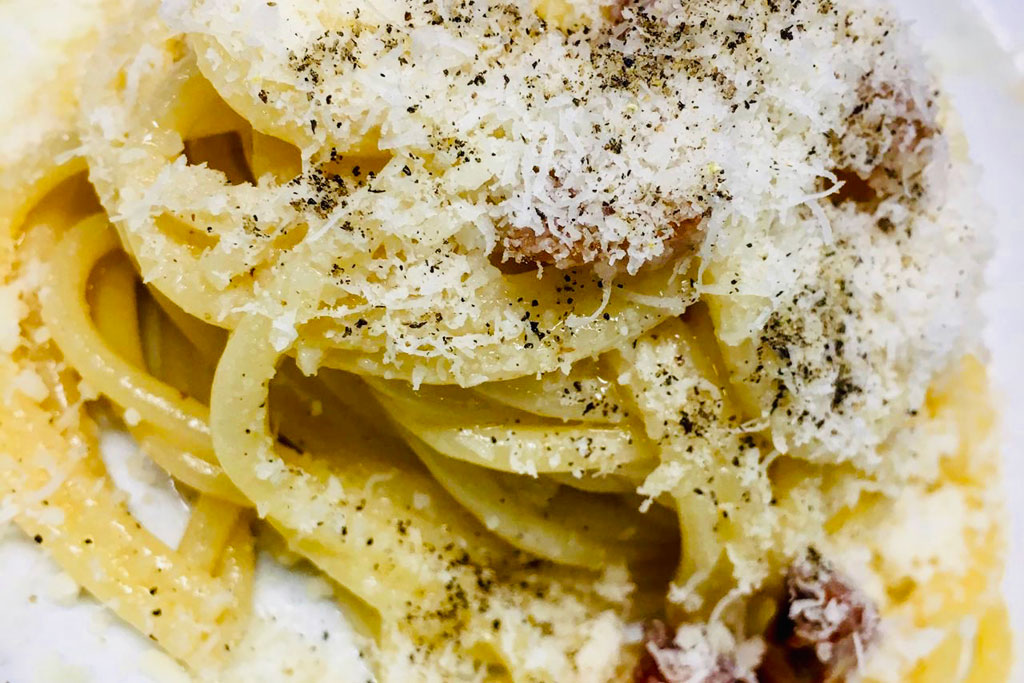 Armando Gargioli opened this cosy trattoria right next to the Pantheon in 1961 and it is now run by his two sons. There are just 14 tables inside this classic Italian trattoria, with its wood-panelled walls, tiled floors and marigold, Art Deco windows. The menu includes traditional Roman dishes including Spaghetti all'Amatriciana and Carbonara, which attracts a mix of local and international clientele.
Just a short walk from the Campo de'Fiori, in the heart of Rome's historic centre, the delicatessen and Roman eatery walls are lined with wines and local preserves, olive oils, pasta and pickles. A casual, bustling atmosphere, you'll pass the cheese and cured meat counter before taking a seat in the sleek dining area. The family business began with the Antico Forno in 1824, so you can trust the Carbonara here is completely authentic.
These Roman restaurants serving up creamy Carbonara are easily accessible from our luxury villas near Rome.