Bagno Vignoni travel guide
For millennia, the small hillside settlement of Bagno Vignoni, 8 miles south-west of Pienza, has been renowned for its volcanic springs. The Romans (who else?) built baths and villas in the area.
However, it was during the Middle Ages that the village took on its current, unique shape. Its centrepiece is a deep, steaming pool of hot water — sitting right where its main square ought to be.
In the Beginning…
The Etruscans were probably the first to exploit the area's thermal waters. Their reputed health benefits include soothing arthritis, rheumatism and skin complaints.
But Bagno Vignoni really boomed as a rest stop for weary Christian pilgrims treading the Via Francigena to Rome. Among them, in the mid-1300s, St. Catherine of Siena soaked her joints in the village's magnesium and calcium sulphate–rich 52˚C pools.
Visit This
Visitors can no longer bathe in Bagno Vignoni's main 49m x 29m tank. Built around the spot where hot water bubbles to the surface from 1,000m below-ground, it is now just a photo opportunity: Piazza delle Sorgenti, a giant stone bath with a simple open loggia at one end, surrounded by immaculate stone houses.

Bagno Vignoni was also a mill town; just downhill, at the Parco dei Mulini (Park of the Mills) four are partly preserved. You can bathe here for free in a former mill water tank (though water temperature has cooled somewhat by this point... a warm-weather pastime only).
The village is on the edge of the UNESCO-recognised Parco della Val d'Orcia, and the whole area is perfect for exploring on foot (though perhaps not in the fierce heat of midsummer). You can contact the Parco della Val d'Orcia tourist office (info@parcodellavaldorcia.com) and ask for the English pdf of their booklet, "Trekking Itineraries in Val d'Orcia", which lays out 8 scenic routes in detail.
Out of Town: San Quirico d'Orcia
It's very easy to fritter away an afternoon roaming the (mercifully flat) streets of San Quirico d'Orcia, 3 miles to the north. It, too, grew as a rest stop beside the Via Francigena pilgrims' route to Rome.

Holy Roman Emperor Frederick Barbarossa was one notable pilgrim. He met emissaries of the pope at San Quirico in 1155, ahead of his formal coronation at St. Peter's Basilica in Rome.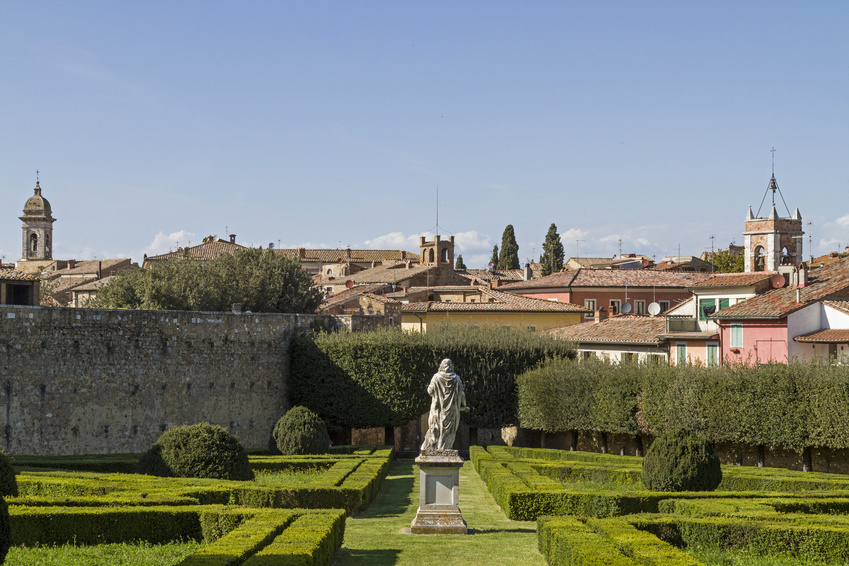 San Quirico d'Orcia
San Quirico's Romanesque-era Collegiate Church is built from honey-coloured travertine (a type of limestone), and partly dates to the 11th century. (It's dedicated to 2 local saints, Quirico and Giulitta.) Just off the tranquil main square are geometric gardens known as the Horti Leonini, designed around 1580.
You can bathe for free in magnesium and calcium sulphate–rich waters
Festivals & Markets
Un Bagno di Birra celebrates Tuscan craft beer, with outdoor tastings, cookery classes and live music each July.

September's I Colori del Libro is a literary festival with author talks and a rare book market.

Frederick's stay in San Quirico is remembered each June at the medieval Festa del Barbarossa. The town's market is held on the second and fourth Tuesdays of the month, where you'll find seasonal produce including extra-virgin olive oil and the area's DOC Orcia wine.

Bagno Vignoni itself hosts occasional organic food markets.
Three Excursions from Bagno Vignoni
Montalcino: for still more spectacular Val d'Orcia panoramas, a lonely abbey founded by Charlemagne and Tuscany's mightiest red wine
Castiglione d'Orcia: panoramas from a fortified garrison town that grew as a medieval stronghold of the Aldobrandeschi family, surrounded by castles and centred on a square dedicated to Sienese Renaissance painter Vecchietta
Bagni San Filippo: there's more open-air thermal waters and mud here at the foot of Monte Amiata, amid gnarled, white rocks formed by millennia of calcium deposits