Saturnia & Manciano travel guide
It's named after the Roman god Saturn and is reputed to be the oldest "Italic" town in the peninsula: Saturnia, 35 miles south-east of Grosseto amid the gentle agricultural hills of the Alta Maremma.
The source for Saturnia's impressive claim to fame is Dionysius of Halicarnassus. The same writer also believed Rome was literally founded by Romulus and Remus, so perhaps we should take him with a pinch of salt. Certainly, though, the area has been inhabited for a very long time, since way before the rise of the Etruscans.
Near-neighbour Manciano is a medieval hilltop town with views stretching across the Maremman countryside.
In the Beginning...
Like much of the Maremma, Saturnia blossomed as an Etruscan settlement, but was later assimilated by Romans. It sits directly on the ancient Via Clodia, which connected Rome with rural Etruria. In fact, the road passes through the town gate, still known as the Porta Romana (although its ancient bits are mostly gone). Close by are scant remains of a spa building, also built (surprise, surprise) by the Romans.

Saturnia's medieval history saw a struggle for dominance between the Aldobrandeschi feudal lords, the Sienese and Orvieto, just 46 miles to the east. It finally fell to Siena in 1410, when its castle was fortified.
Every second, 800 litres of sulphurous water rise to the surface at 37°C
Visit This

Saturnia is known for its hot water: every second, 800 litres rise to the surface at 37°C. You can soak outdoors in thermal waters for free, 2 miles south of Saturnia's small centre at the Cascate del Mulino (aka Cascate del Gorello). At this photogenic spot beside an old mill, a waterfall has formed a series of shallow, cobalt-blue pools.

If you don't spot the parked cars, follow your nose: Saturnia's spring waters are great for soft skin; less good for anyone with an aversion to strong smells. The water is rich in sulphur (dioxide and hydrogen sulphide) plus CO2, calcium and magnesium. Skin, joints and respiration are said to benefit from a soak.

There's a more luxurious take on the waters at the nearby Hotel Terme di Saturnia. The actual thermal spring bubbles to the surface at a natural crater within hotel grounds. You can swim in the crater or at four different thermal pools, and book spa treatments.

Piazza Vittorio Veneto is the heart of social life in Saturnia's small, pretty centre, with public gardens, street cafes, restaurants and a couple of surviving Roman inscriptions.
Out of Town: Manciano
In Manciano, 9 miles south of Saturnia, the Museo di Preistoria e Protostoria has exhibits from the area's rich pre-Etruscan era, including Stone Age, Copper Age and Bronze Age tools. Its hilltop old centre has views across the Alta Maremma.

Manciano's 12th-century Cassero (Fort) was strengthened by usurping Sienese, then neglected until it became the town hall in the 1770s.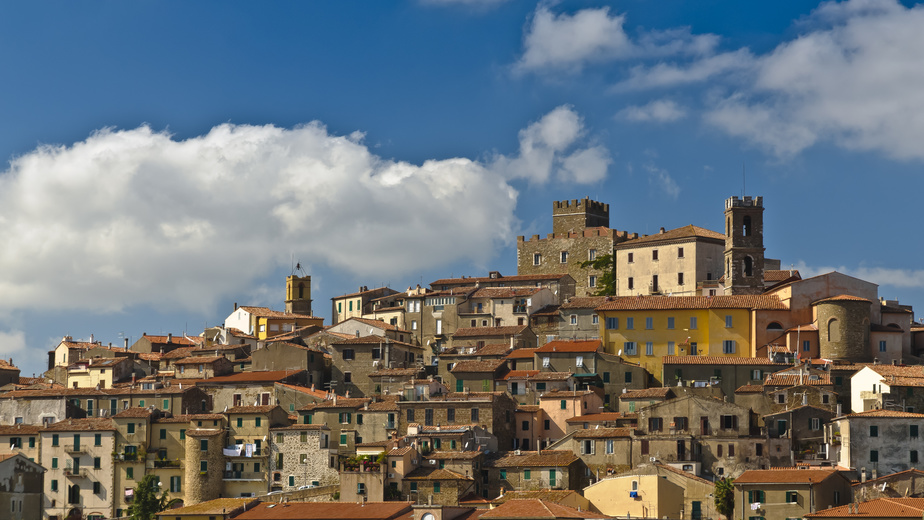 Three Excursions from Saturnia
Montemerano: the Maremma's foodie hotspot has Michelin-starred Da Caino and the sublime little church of San Giorgio, consecrated in 1430 and stuffed with Sienese art
Pitigliano: once nicknamed "Little Jerusalem" for its Jewish community, the town is spectacularly sited on a plug of volcanic rock, and retains its abandoned Ghetto as a living museum
Scansano: the home of red Morellino wine is surrounded by gentle hills clad in vines and deciduous woodland