If you are pressed for time and are craving a short getaway, Florence makes for the perfect city break. The historic centre is compact, its outer neighbourhoods full of energy and the rolling hills of Fiesole and Chianti are right on the doorstep. It is a city that calls to be visited and revisited again and again. Despite its size, you'll always find something new and exciting to draw you back in. Florence has a way of getting under your skin like that.
If you are staying in one of our villas in Tuscany, read this guide on how best to spend three days in Florence like a local. Trust us — it's a tried and tested itinerary. Get away from the main tourist hotspots and balance exploring cultural attractions with more meaningful and authentic experiences…with plenty of fine local food and wine to wash everything down.
Arrival dinner at Alla Vecchia Bettola
After arriving in Florence in the early evening, we headed straight for dinner at Alla Vecchia Bettola. Overlooking the Porta Romana, the city's southernmost gate, Alla Vecchia Bettola is still a favoured haunt among local Florentines. This classic Tuscan restaurant is so popular, they opened up a delicatessen, Alla Bettolina, right across the street.
There is a cosy feel and welcoming buzz here, even outside in the summer months. Other parties were still arriving and waiting to be seated well after 10.30pm. We started with pear and pecorino and a platter of Florentine salumi, followed by a comforting primi of rice with black truffles. The house favourite — and a must-try when in Florence — is Penne alla Bettola, a rich and creamy pasta dish made with fresh tomatoes, lots of parmesan and lashings of vodka.
If you are travelling from further afield and it's not such a simple hop over the border, keep it simple and have dinner brought to you. One of our private chefs can rustle up an arrival three-course dinner so you enjoy Tuscan specialities from the peace and quiet of your luxury villa.
Day 1: Wine tasting, tour & lunch at Colle Bereto
The magic of mornings in Florence
The early morning is a beautiful time to experience Florence in the summer months before it gets too hot and tourists begin to crowd the historic centre.
Wander over the Ponte Vecchio, through the Piazza della Signoria, pausing to admire the sculptures in the Loggia dei Lanzi and Neptune's fountain, before making your way on to the Duomo. If you haven't been inside, book tickets here and arrive for the opening at 10.00am. The views over Florence from the Campanile di Giotto are breathtaking. I opted instead for a quieter first morning of freshly brewed cappuccino to go, perfectly ripe apricots, and people-watching on the steps of the Museo degli Innocenti in the Piazza della Santissima Annunziata.
An afternoon wine tasting in Chianti
After a leisurely morning, we headed to Radda in Chianti for an immersive tour, wine tasting and Bistecca lunch at Colle Bereto. We arrived just in time to watch the bottling of Chianti before touring the cellar and learning about the fermentation and ageing process of the estate's organic wines.
Lunch was a glorious alfresco affair, seated under a shady pergola with classic Chianti views across the Colle Bereto vineyards in the valley below Radda. Fresh pasta with seasonal vegetables was prepared with produce from the estate, including their flour, which paired beautifully with the Colle B Rose. We savoured bruschetta with extra virgin olive oil and tomatoes from the estate, washed down with a glass of Chianti. This was followed by an impressively thick-cut Bistecca alla Fiorentina, prepared in the traditional way over an open wood fire and paired with a glass of Il Tocco, an elegant 100% Pinot Noir.
It isn't just the peaceful surroundings, but Bernardo, the estate manager's passion and knowledge of the land that makes this such a rounded experience. We got to see the vines up close and understand the terroir that produces such a niche variety of wines at Colle Bereto. We left just as the light was starting to glow golden with a car full of sparkling Brut Rosé. After a restorative day in the sunshine, a light dinner al fresco in our luxury villa near Florence and a dip in our private swimming pool was the perfect way to end the day.

Book a wine tasting
Day 2: The Artisans of Florence: Textile Experience at La Serra MK Atelier, single-origin coffee and shopping in Oltrarno
Textile Experience at La Serra MK Atelier
One of the best ways to experience Florence on a local level is to spend more time with… well… locals. We began the second day of our getaway with Florentine painter and textile artist, Margherita Pandolfini in her beautiful studio just minutes from the Duomo. La Serra MK Textile Atelier is housed in an elegant 19th-century greenhouse overlooking a hidden garden, oozing colour, creative quirks and plenty of sunlight.
In this 2-hour workshop, Margherita will demonstrate several different textile printing techniques, including silk screen printing, stencil and block printing. She will then invite you to choose your favourite medium to experiment with and come up with your design. The morning workshop is a really special way to see some of Florence's hidden corners and step away from the stresses of everyday life. Plus, you'll come away with your unique artwork.
The artisans of Florence
The artisans of Florence don't just deal in textiles, antiques, handmade paper and leather. After a visit to the atelier, we wandered down to Ditta Artigianale for authentic Italian coffee and a spot of light lunch. The barista's here really know their coffee and run several short, welcoming workshops. If you have time, hang around for an espresso-tasting or Coffee Extraction Experience.
After lunch, we stopped at La Strega Nocciola Gelateria Artigianale, just behind the Duomo for an obligatory mid-afternoon Gelato. It was only right that we should then head over to the Ponte Vecchio into the heart of authentic Florence, Oltrarno. This is the district of artisans and was our chance to find some quality souvenirs. Stop at Il Papiro for gorgeous hand-marbled Florentine paper and stationery, and admire the luxury leather bags at Cuoiofficine. Oltrarno is the neighbourhood to visit for elegant antique shops and designer vintage as well.
Aperitivo and dinner in Oltrarno
A blissful way to end the day in Oltrarno is with aperitivo at Fermento 1889. This beautifully designed bistro with exposed concrete walls and sumptuous velvet furnishings has just opened a small wine bar next door to their main restaurant. You can stop for handmade pizza, but we opted on this occasion for drinks. The Negroni Spritz is a fitting Florentine take on the classic Venetian Spritz… and too good to just have one.
Book well in advance for a table at Trattoria Camillo — a classic Italian restaurant with an understated 1940s glamour to its interior. The food is just as unpretentious; think melt-in-the-mouth zucchini flowers, veal and porcini mushrooms, and ultra-comforting Tiramisu for dessert. As CNTraveler says, Camillo is "something of a Florentine institution." If you only have three days in the city, then there couldn't be a better place to start than here.
Day 3: Art in Florence - Donatello at Palazzo Strozzi and Fra Angelico at Museo San Marco
You'll notice that the Ufizzi wasn't on our three-day agenda. Instead, we opted for a quieter gallery off the beaten path. The Palazzo Strozzi is a magnificent Renaissance palace just a 3-minute walk from the Piazza Repubblica. The exhibitions here are constantly rotating, mixing classical art exhibitions with contemporary shows.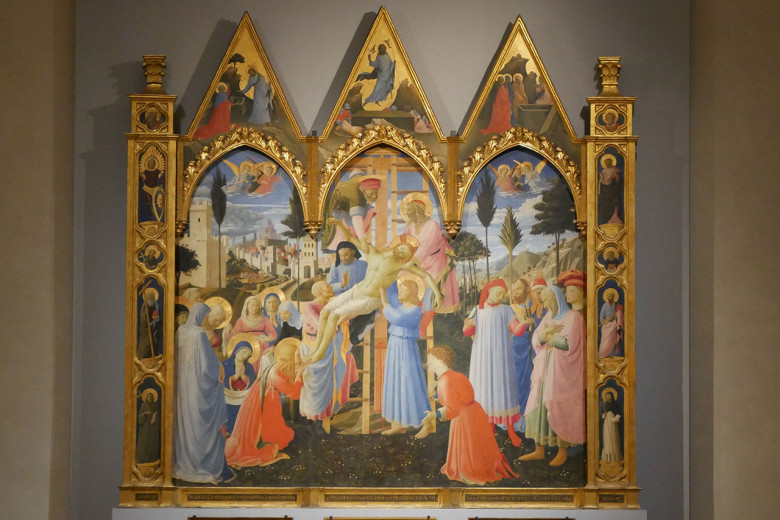 Deposizione di S. Trinita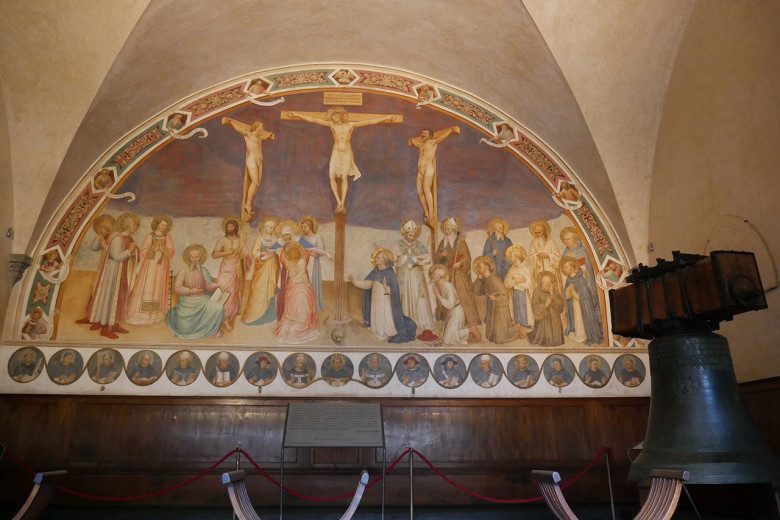 Crocifissione del Capitolo
Annunciazione ex-Dormitorio
Thanks to our impeccable — albeit accidental — timing, we made it to the Donatello exhibition just before it closed. Donatello is one of the fathers of the Renaissance and had a resounding influence on masters like Michelangelo. It is well worth visiting his permanent collection at the Bargello if the temporary exhibitions at Palazzo Strozzi aren't to your taste when you visit.
Our final stop in Florence was a visit to the Museo San Marco, a real hidden gem of a museum. Housed in a Renaissance church and convent, it is home to the most complete collection of artworks by Fra Angelico in the world.
Of course, there is so much more to Florence that cannot be seen or felt in just three days, but who are we kidding, we both know this won't be our last trip!