If the Negroni were a person he'd be our beloved anti-hero; bitter yet sweet, a stickler for tradition with a contemporary edge, and just complex enough to keep us on our toes. An icon of popular culture, the Negroni has been the go-to drink for gentlemen spies and womanisers like James Bond, who preferred this aperitivo "stirred not shaken". It was the kind of cocktail the likes of Ernest Hemingway and Orson Welles could ruminate over in a cosmopolitan cafe.
If you are staying in one of our villas near Florence, read this guide to the Negroni, for the history of this cult Italian cocktail, our favourite places in the Renaissance city to try it, as well as variations on the classic recipe.
A cocktail fit for a count
Like plenty of classic Italian cocktails, the origins of the Negroni are passionately disputed by many who have found a special place in their hearts for the drink.
One popular tale suggests that the Negroni was first invented in Florence in 1919 by Count Camillo Negroni. The Negroni is a variation of another classic cocktail, the Americano (Milano-Torino), which is made from Campari, Sweet Vermouth and Soda Water served with a lemon slice. Not one to shy away from gambling, the count — who had just returned to Italy to avoid prohibition in America — invented the Negroni on an experimental whim. He was a regular at the Caffe Casoni (Caffe Giacosa) where he one day asked the bartender, Fosco Scarselli, to stiffen his Americano by replacing the soda water with Gin and the lemon with an orange slice.
This glamourous jazz age anecdote has successfully captured the imaginations of many, however, Count Negroni is not the first person to share his family name with the drink. There are some suggestions that he never existed at all. Another theory traces the cocktail's origins back to an evening soiree in 1870s Senegal, where General Pascal Oliver Comte de Negroni first introduced his signature tipple to the Lunéville Officer's Club.
A truly legendary cocktail, there have been suggestions that the Negroni first emerged on the socialite scene at Harry's Bar in Venice alongside the Bellini. Another rumour places the Negroni's origins at the Orum Bar at the Excelsior Hotel in Rome in the 1950s. Whichever tale you choose to believe, we are convinced that the Negroni is truly Florentine at heart.
How to make a Negroni
As well as being a sophisticated aperitivo, the Negroni couldn't be more straightforward to make. This intense ruby-red cocktail is made from equal parts Gin, Campari and Sweet Vermouth, stirred together over ice in an old-fashioned glass and garnished with a twist of orange peel. A strong juniper forward gin cuts perfectly through the bitter Campari, while also tempering the sweetness of the Vermouth.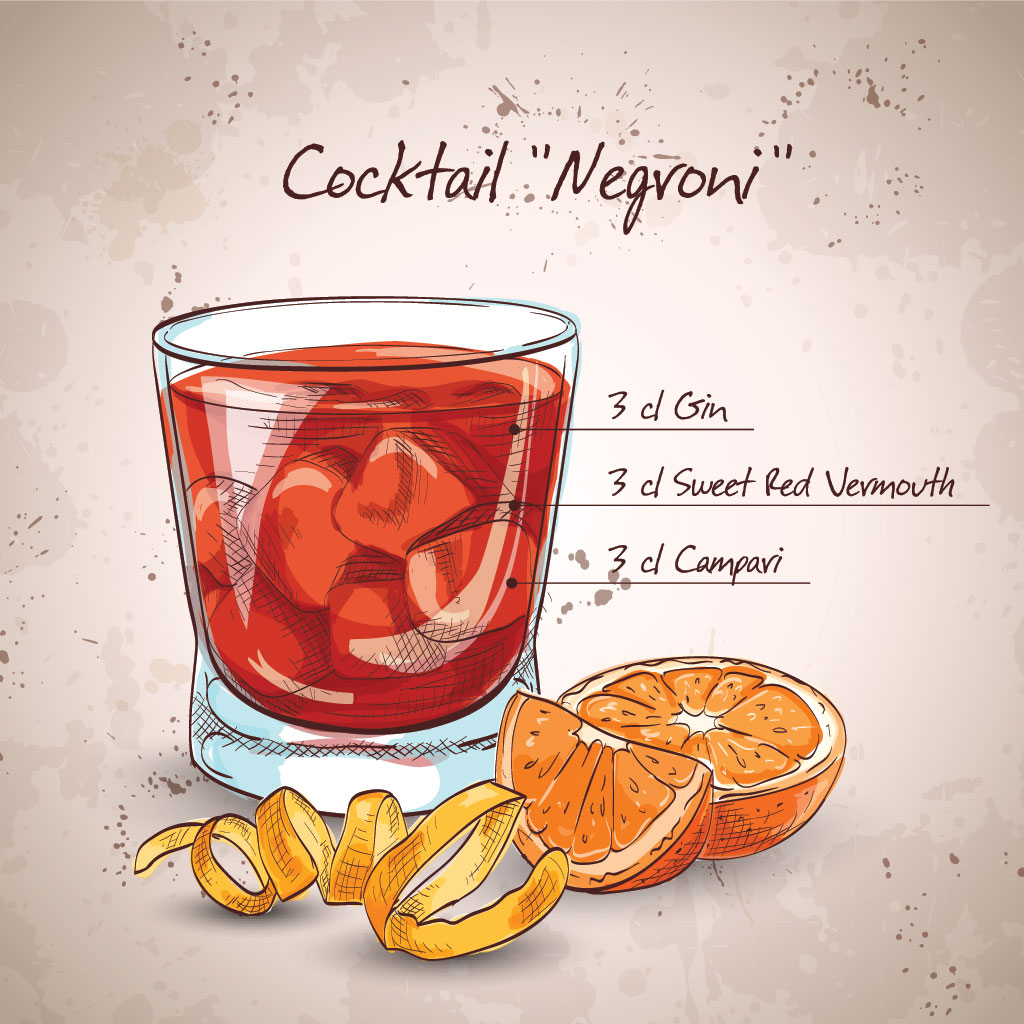 It is thought to be a variation on the Americano or Milano-Torino, which was supposedly invented by the father of Campari himself at his bar in Milan. Since then, the Negroni has been reimagined so many times, the cocktail has assumed many different personas. First, there is the Cardinale, a lighter crisper aperitivo, which swaps Sweet Vermouth for Extra Dry. Then there is the Boulevardier which replaces gin with bourbon whiskey for a heavier flavour. We could go on — the Negroni truly is that versatile and beloved a drink, which is probably why there is now a Negroni Week dedicated to all the possible variations and flavours this cocktail inspires.
Our favourite places to drink Negroni in Florence
Manifattura is a retro yet elegant cocktail bar near Piazza della Repubblica that celebrates all things made-in-Italy, from the Italian spirits and liqueurs on the menu and classic cocktails served by waiters dressed in suits and ties, to the old-school Italian music which completes the ambience. Even the tables are made from Tuscan wood. There couldn't be a classier place to try the Negroni in Florence — each drink is served with olives and toasted chickpeas as well as other small plates. If you are visiting in the summer months head to their outdoor bar at Vele Sull'Arno.
Possibly the most beautiful venue to try a well-balanced, ruby-red Negroni in Florence, La Ménagère is not just a caffè-bistrot, it is also a flower shop and live music venue. It can get busy in the summer months but makes for a fragrant spot for aperitivo before dining in the restaurant or even for a light lunch.
For Negroni in a more casual setting, head to the Mercato Centrale, housed on the first floor of the historic 19th-century San Lorenzo Market. All the stalls here are run by local artisan traders where you can find vegetarian and vegan dishes, fresh fish, hand-made pasta, fruit and vegetables, as well as charcuterie, mozzarella, wine and truffles. Drop by the coffee shop/bar for a cappuccino or contemporary cocktail; there are several variations of the Negroni on the menu here.
Three Negroni cocktails variations to try
It's safe to say the Negroni can be an acquired taste. If you aren't so keen on this bitter cocktail, why not try one of these variations:
Aperol Negroni: Try swapping out Campari for its sister liquor, Aperol, which is sweeter and slightly lower in alcohol. Pour one part Aperol in with one part gin and sweet vermouth over ice and garnish with an orange wedge. This alternative cocktail tempers the bitterness and zestiness of Negroni with Campari.
Negroni Sbagliato: This bubbly take on the classic Negroni was invented in 1968 at Bar Basso in Milan when a bartender accidentally added sparkling wine instead of gin to the cocktail. It takes its name from this mixology mishap — sbagliato translates as "mistake". Simply replace the gin in your Negroni with a good measure of Prosecco and garnish with an orange peel for a lighter, more elegant tipple.
Pink Negroni: For a more floral, less fruity take on the Negroni, trade standard gin for pink gin and mix with sweet vermouth and Campari. It also tastes great with an added squeeze of lemon juice, or for something slightly sharper, try garnishing with a slice of pink grapefruit.