Valpolicella, the 'pearl of Verona' is a wine region east of Lake Garda that has produced some of Italy's most famous reds, including the full-bodied, rich, and seductive Amarone. The king of Valpolicella wines has somewhat eclipsed the lighter-bodied, fruitier Classico and Superiore styles, and while they can't hope to compete with Amarone's prestige, each has its own merits and occasion for drinking. This guide will introduce you to the different Valpolicella variations, what makes their flavours and aromas unique, as well as the best wineries and wine bars to visit in Verona.
If you are staying in one of our luxury villas near Venice or Verona, the picturesque Valpolicella region is well worth a visit. Beyond its sprawling vineyards are classic hill-top villages like San Giorgio di Valpolicella, grand Venetian villas, and, of course, world-class wineries.
Where is Valpolicella: an ancient winemaking region
The Valpolicella region, with its mild climate, has been producing prestigious wines in Italy since the time of Ancient Greece. It was favoured for its sweet wines amongst the courts of the Italian Ostrogoths and revered for its rich reds that were frequently traded through the ports of Venice at the height of the Republic. The tradition of drying grapes is an Ancient Greek style of winemaking used to produce premium Valpolicella wines like Amarone.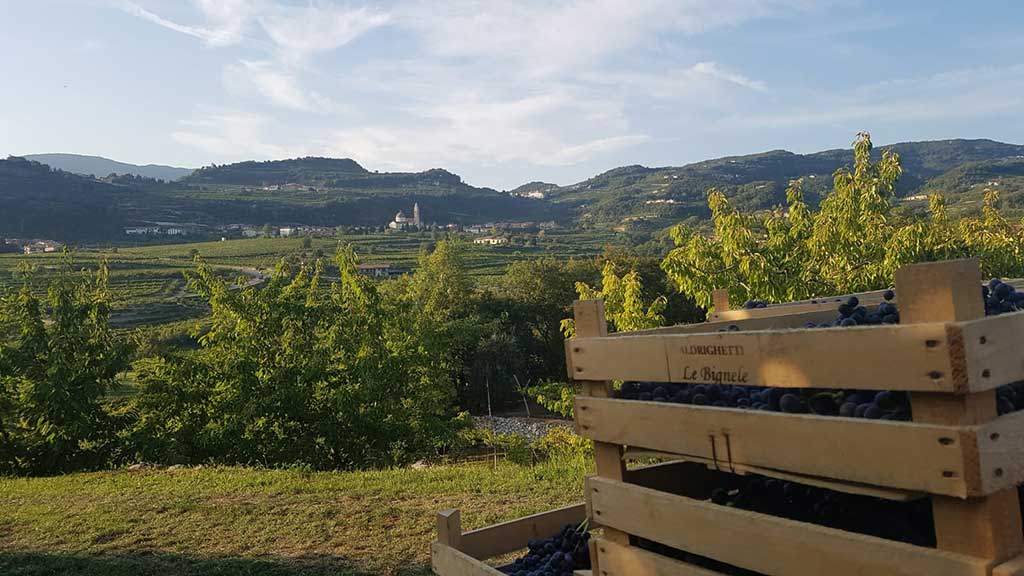 The Valpolicella wine region is made up of three geographical subzones; Classica and Valpantena, which border the Bardolino DOC vineyards on the banks of Lake Garda to the west, and Eastern Valpolicella, which extends towards the Soave DOC zone and Po River. The Classica zone is the original heart of the Valpolicella winegrowing terroir, with its terraced vineyards climbing the Monti Lessini foothills north of Verona. Eastern Valpolicella, on the other hand, is a more recent extension of the region, which took place after the Italian red received DOC status in 1968 and demand for the wine increased. It wasn't until the end of 2009, that both Amarone and Recioto Valpolicella wines were designated DOCG status.
The ideal grape blend
For a red wine to be classified as Valpolicella DOC it must be made up of at least 45-90% of the elegant, peppery Corvina grape, while the more aromatic Rondinella grape tends to make up between 5-30%. Many winemakers will also add Molinara grapes to their blend, although this is not a compulsory addition.
The more distinguished Amarone della Valpolicella tends to also include a blend of Corvinone grapes, which are deeper in colour and higher in tannins, with a more earthy, tobacco aroma.
Follow your nose: the various styles of Valpolicella
A widely produced red wine: Valpolicella Classico & Superiore DOC
While Valpolicella della Amarone is certainly the finer wine, there is plenty to love about the lighter-bodied Valpolicella Classico as well. This novello ("young") red is a perfect summer wine with dry, spicy, tart yet sweet flavours, and sour cherry notes. Unlike other red wines, it doesn't hurt to serve this up slightly chilled either and has a lower alcohol content than other higher-end variants.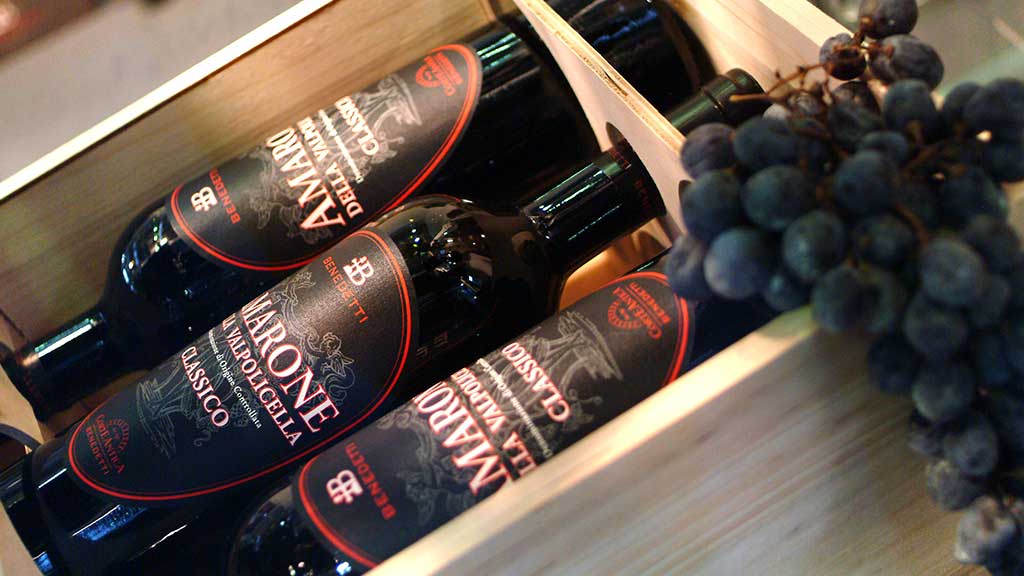 For a red wine to be classified as Valpolicella Superiore, it must be aged for at least one year in a wooden barrel and have a minimum alcohol level of 12%. This creates a more concentrated and deeper red wine than Valpolicella Classico and is spicy and smooth to the taste.
The forefather of Veronese red wine: Recioto della Valpolicella DOCG
Recioto della Valpolicella is a rare Italian dessert wine that is full-bodied like the Amarone, but sweet rather than dry in taste. It is one of the oldest wines in Europe and, like Amarone, is produced by drying out harvested grapes to concentrate sugars and fruit flavours (appassimento method). The difference in the overall taste and body of these two Italian red wines lies in the fermentation process; it is thought that Amarone was first created by accident when a Recioto fermentation was left too long!
Recioto wines must be at least 12% ABV and are also available in sparkling 'spumante' variations. Gloriously complex, and highly concentrated, Reciotio tends to be rich in flavour with high tannins and great acidity. While younger wines have intensely fruity profiles with hints of cherry and blackberry, an aged Recioto will often be sweeter, with hints of spice like cinnamon and liquorice. A quality Recioto della Valpolicella can be left to age in the bottle for up to 20 to 30 years.
One of the best value wines in Italy: Ripasso di Valpolicella DOC
Valpolicella Ripasso ("repassed") is made from the dried grape pomace that is leftover from the fermentation of Amarone and Recioto wines. The grape pomace is added to Classico or Superiore wines for an extended period of maceration, resulting in a Valpolicella that is fuller-bodied, richer in flavour and colour, and higher in alcohol content and tannins without the eye-watering price tag. Ripasso is a complex red that is becoming increasingly popular and is a great value alternative to more expensive wines like Amarone.
One of Italy's most prestigious red wines: Amarone della Valpolicella DOCG
The secret to quality, full-bodied Amarone is in the treatment of the Corvina and Corvinone grape. The grapes destined to become Amarone are the last grapes to be harvested in Valpolicella and are left as long as possible to ripen before they begin to rot. Like Recioto wines, the grapes are then left until they are dry, shrivelled and rich in concentrated sugars before fermentation.
An Amarone wine can be aged from anywhere between 2 and 10 years, typically in barrels made from French or Slavonian Oak. Many winemakers will wait as long as 5 years for a quality Amarone Riserva, with its high acidity, earthy flavours and notes of bittersweet chocolate and dried fig.
Amarone also makes an excellent Grappa, which is light and woody in aroma with spicy oak and sweet nutmeg aftertaste.
Where to taste the popular Italian red in Valpolicella: our favourite wineries
At Valentina Cubi's eight-hectare wine estate near Lake Garda, all grapes are harvested by hand. She relies on biodynamic and organic winemaking principles to create each of her natural Valpolicella wines. This is one of few places in Valpolicella where you can buy Amarone vintages without having to pay extra the older the wine is. Valentina also produces organic extra-virgin olive oil and grappa from leftover Amarone and Recioto grape pomace.
The Bertani family wine estate is located in Negrar, at the heart of the historic Valpolicella Classica zone and is one of the oldest wineries in Italy. The extensive wine cellar here dates back to the 16th-century, which is where the family's love affair with high-end wine production began. Alongside tours of the historic wine cellar and vineyards, it is also possible to explore the frescoed interiors of the family's stately neoclassical villa and the romantic English garden.
The Aldrighetti family have been producing Veronese red wines using Corvina, Corvinone, Rondinella and Molinare grapes from their nine-hectare vineyard since 1818. There are several world-class wine estates in Valpolicella like Zenato and Allegrini, but at the rustic Le Bignele estate in Marano, the experience is much more personal and rooted in family tradition. You'll find equally high-quality vintages here and at great value too.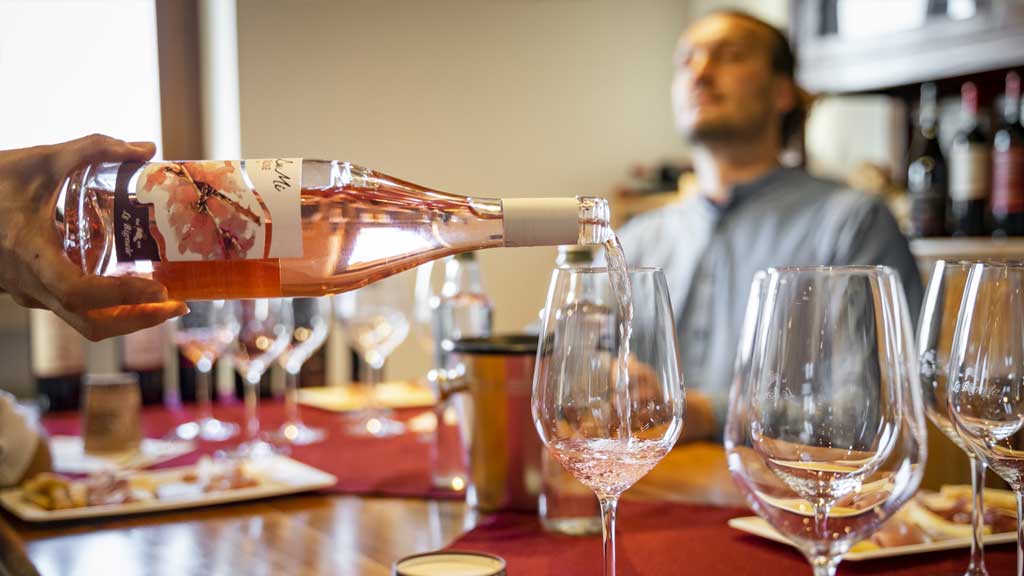 Our award-winning concierge can arrange wine tours and tastings for you at any one of these wineries and cantine. Alternatively, for a more personal experience, you can take part in a private wine tasting with our sommeliers at your villa near Verona.
Best wine bars serving Valpolicella in Verona
This atmospheric wine bar near Piazza delle Erbe is managed by the top ten Amarone families in Valpolicella and has garnered quite a reputation in Verona. The seemingly endless wine list here includes local Veneto labels as well as other Italian and European wines. The section dedicated to Valpolicella alone is fifteen pages long — so, for quality food and wine — you are in expert hands.
Not far from Casa di Giulietta in the heart of Verona's historic centre, is a sleek and contemporary wine tasting room. The owner of Symposio wine bar has worked with oenologist and sommelier, Elena Turri to handpick 48 wines that are available to taste by the glass. Over half of these are local, Veronese labels from small, family-run wineries. The owner himself is from the Valpolicella Classica wine region, so it is only natural that he also has four prized Amarone reds on the menu.
At Terazza Bar Al Ponte a glass of Valpolicella is best enjoyed with a view. This wine bar sits alongside the picturesque Adige river in Verona's historic centre, overlooking the ancient Ponte Pietra. The quiet terrace is a peaceful place to sit back, relax and while away the afternoon with a waiter to hand to keep the vino flowing.