Best known as one of Italy's leading regions for wine production, from Prosecco in the hills north of Treviso to the sprawling vineyards of Valpolicella and Soave east of Lake Garda, Veneto is also the country's largest producer of Grappa.
The frequently misunderstood spirit is often written off by many for having too intense a taste without appreciating the variety of grappa styles there are to try, each with their own distinct flavour. In fact the grappa of today is a trendy and sophisticated digestivo that is very much integral to any Northern Italian dining experience. The spirit is traditionally enjoyed as a palate cleanser at the end of a meal or as an amazzacaffé ("coffee-killer"). The latter is when an espresso is drunk first, followed by grappa served in its own unique stemmed glass with a narrow fluted top and a bowl-shaped base.
If you are staying in one of our luxury villas near Venice and Verona, this guide is the perfect introduction to Bassano del Grappa, the region's capital of the distillate's production. Read on for the history of the popular Italian digestivo, how it is made, as well as our favourite creative cocktails that incorporate the drink.
How grappa is made
Perhaps one of the thriftiest of Italian traditions, grappa is made from pomace or vinaccia, the grape's skin and pressed seeds left over from winemaking. Since pomace is naturally high in residual sugars, it is fermented without the addition of alcohol or sugar before it is distilled. Just like wine, the flavour of grappa depends on its age, distillation process and the type and quality of the grapes used. Some distilleries favour a varied blend of grapes whilst others will use just one type.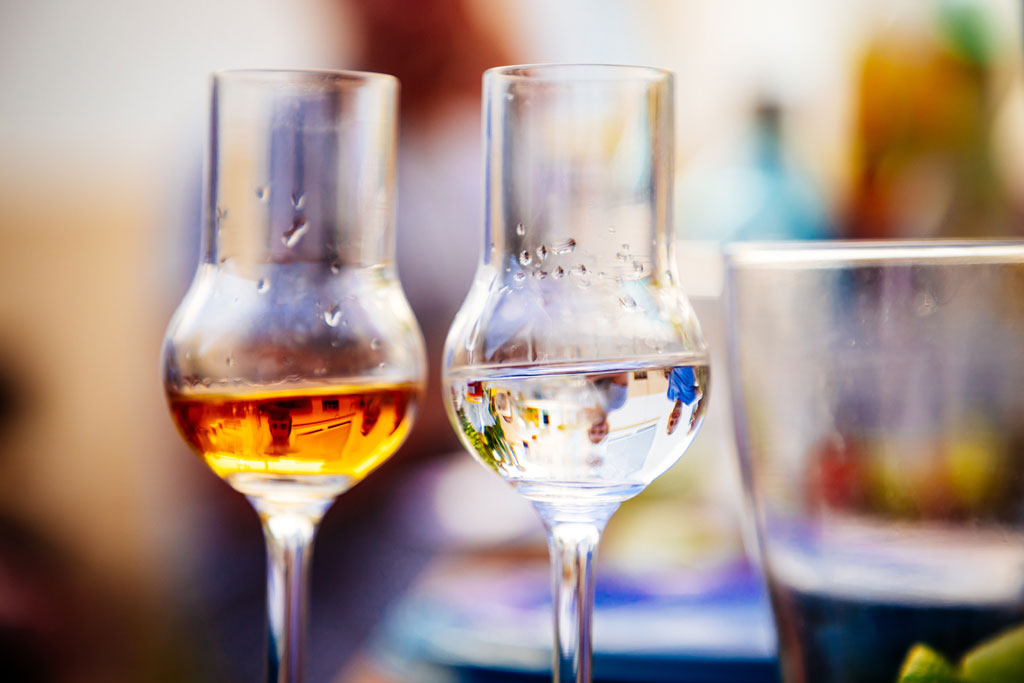 Long considered the "poor man's drink", it was originally made to prevent unnecessary waste from wine production, but exactly when grappa was first distilled is unknown. The spirit's ancient roots can at least be traced back to the Middle East in the 8th century before arriving with alchemists in Europe as early as the 11th and 12th centuries. At the height of the Venetian Republic, the city became an important centre for exporting grappa as a cure for plague and gout.
It is safe to say that this dry, intense and complex drink has come a long way since it was first created, now protected and regulated by the European Union. It is almost exclusively distilled in the northern alpine region of Italy, with Veneto, Piedmont, Lombardy, Trentino and Valle d'Aosta the officially recognised centres for its production.
A trendy digestivo
There might not be a DOC protection system in the world of grappa like there is with wine, but there are still clear guidelines you can follow to ensure the best quality. The modernisation of grappa production in the 70s and 80s has led to superior artisanal methods such as steam distillation and bain-marie, where alembic stills are heated gently and indirectly with hot water, ensuring a much better product.
Besides geographical location, the spirit also comes in a variety of styles and ages. Its youngest range from Grappa Giovane to Grappa Aromatica, which is made from semi-aromatic or aromatic grapes like Muscat, and Affinata which is aged in wood for less than a year. Grappa Vecchia is aged for more than 12 months and Riserva for 18 months, whilst other variations mature for much longer.
The trend for oak-aged grappas is becoming increasingly popular of late, with more expensive varieties aged in acacia, ash and cherry-wood. If you are less accustomed to the intensity of the spirit, an older grappa is well worth trying for its mellower taste and depth of flavour. For something sweeter, grappa also comes in a variety of different flavours like pear or hazelnut.
Where to drink the digestivo in Bassano del Grappa
Whether you are a fan of the famous Italian spirit or not, a visit to the distillate's capital Bassano del Grappa is a must whilst you are in Veneto. North of Padua and Vicenza, the town is best symbolised by the Ponte Vecchio, which was designed by Andrea Palladio. It reaches across the river Brenta that winds through Bassano's historic centre and offers unrivalled views across the Monte Grappa and the Venetian Prealps.
It is here, at the entrance to the bridge that you will find the oldest grappa distillery in Italy, first opened by Bortolo Nardini in 1779. He called his grappa "Acquavite di Vinaccia", which played upon the Latin spelling so that it could mean both "water of life" and "water from the vine". Visit the Nardini Grapperia on the Ponte Vecchio for some of Italy's finest grappa in an enchanting, crisp, alpine setting, away from the more tourist-packed cities in Veneto.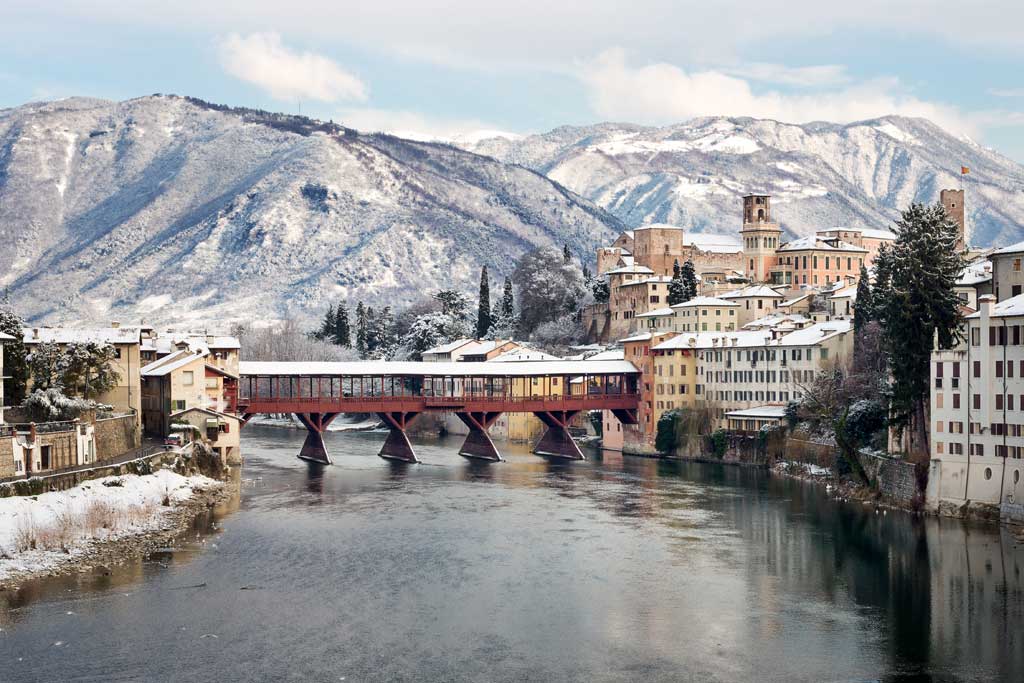 Bassano's Poli Distillery is another leading producer of grappa in Veneto, which first opened in 1898. The Poli family have also founded a museum dedicated to all things grappa, from the spirit's origins and evolution to the intricacies of its distillation. The distillery is unique in that it combines both steam and bain-marie methods for a greater variety of quality grappa. Buy and taste their produce whilst visiting Bassano or visit the Poli Distillery shop in Campiello Feltrina in Venice.
Visit the Garage Nardini Osteria for a chic take on the signature cuisine of Veneto as well as classic cocktails like a Negroni, Manhattan and Old Fashioned, but all with a playful grappa twist. Don't forget to try a resentin whilst in Veneto as well, the ritual is exclusive to the region and is when grappa is added to the final sip of an espresso served with sugar.
Three grappa based cocktails you need to try
Grappacino: the digestivo is practically synonymous with coffee since both are often enjoyed together at the end of a meal. It is only right then that this first cocktail made up of Grappa Bianca, Amaretto and Espresso combines the best of the two flavours. For your own playful take on an Espresso Martini why not replace the amaretto with a coffee liqueur.
Mezzo e Mezzo: this cocktail is a Bassano del Grappa speciality, made with the oldest distillery's Nardini Rosso, Nardini Rabarbaro (a rhubarb liqueur) and a twist of lemon served in an old-fashioned glass.
Bassano Mule: this refreshing take on the classic Moscow Mule is a simple blend of Grappa Bianca, ginger beer, lemon juice and fresh mint.
Other top grappa producers in Veneto
Andrea da Ponte: north of Treviso, in the picturesque Conegliano hills, the distillery has been using the same system of stills for over four generations and also produces a fine range of Prosecco.
Capo Villa: based near Vicenza, they produce some of the finest and richest grappas, which are all bottled and labeled by hand.