Alongside Friuli Venezia Giulia, Veneto is Italy's exclusive producer of Prosecco with sprawling vineyards flourishing between the Dolomites and the Adriatic Sea. Having rapidly grown in popularity in the past few years, it is now one the world's best selling sparkling wines.
If you are staying in one of our luxury villas near Venice and Verona, this guide offers the perfect introduction to the stunning Prosecco regions of Veneto and advice on where to find the finest wines. Read on for the history of this popular drink as well as some of our favourite Prosecco based cocktails, including the iconic Bellini and Aperol Spritz, the Veneto aperitivi on everyone's lips.
How Prosecco gets its bubbles
Much of Prosecco's success owes to the fact that it offers a cheaper, but equally delicious alternative to Champagne. What gives these iconic sparkling wines their bubbles is a second fermentation process, but unlike the expensive traditional method used to produce Champagne, which is fermented inside each individual bottle, for most Prosecco this happens in a large pressure chamber. This is often called the Italian or Martinotti Method and is much quicker and less labour intensive.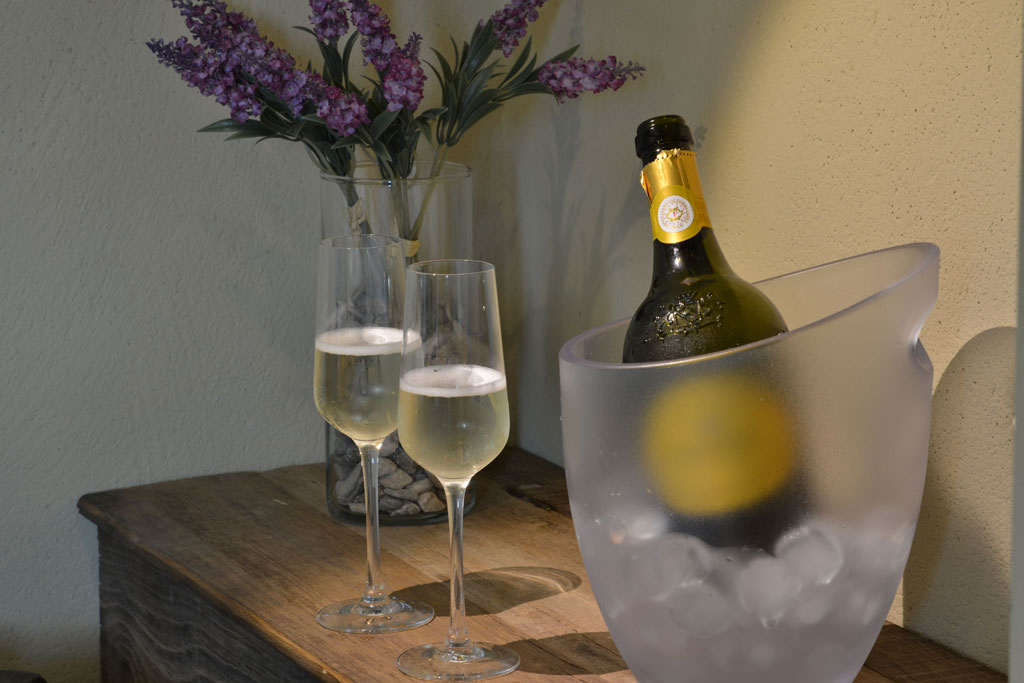 Where is Prosecco?
Prosecco may not have been formally named until the 1700s, but its vineyards have deep and ancient roots. Like much of Italy, the viticulture of Veneto can be traced back to the Romans. Since the mid-13th century, the name 'Proseco' or 'Prosech' referred to a small town off the coast of the Gulf of Trieste. This town still exists today and is widely considered the namesake of the popular sparkling wine.
Produced across four provinces in Friuli Venezia Giulia and five provinces in Veneto, the Prosecco regions of Belluno, Padua, Treviso, Venice and Vicenza are easily amongst the most beautiful wine territories in Italy.
In fact, the bucolic hills of Conegliano and Valdobbiadene in the province of Treviso (less than an hour from Venice) recently became a world heritage site. Characterized by its forests, historic villages and small plots of vines that line the slopes of its 'hogback' hills, it is one of just two regions that produce DOCG, the 'Grand Cru' of Prosecco. It is here that you will find the 47km Strada del Vino or Prosecco wine route winding through the ancient landscape, which was inaugurated in 1966 and is the first of its kind in Italy.
Know your fizz: the different types of Prosecco
For a sparkling wine to be classified as Prosecco DOC it must be made from at least 85% Glera grapes. Much like France's Champagne region, it must also be grown and produced in the recognised Prosecco territories of North-Eastern Italy.
The wines harvested and bottled exclusively within the provinces of Treviso and Trieste also enjoy a protected designation of origin, owing to their fundamental historic role in the evolution of Prosecco production. Wines entirely produced in these regions are given the privileged titles of Prosecco DOC Treviso and DOC Trieste.
The most widespread and famous of the Prosecco types is Spumante; characterised by its fine and long-lasting bubbles, it can be Brut, Extra Dry, Dry or Demi-sec. The Prosecco Superiore wines that are produced in the DOCG areas of Conegliano and Valdobbiadene are always spumante.
Prosecco Frizzante tends to have lighter and less persistent bubbles and can be sweeter to taste. Unlike the fruitier notes of the popular spumante variations, try Frizzante for its more citrusy scents.
Some producers also offer Prosecco Liscio or Tranquilo which is a flat variation worth stocking up on whilst you are in Veneto, as this delightful wine can be difficult to source outside of Italy.
Where to drink Prosecco in Conegliano Valdobbiadene
If you are going to taste just one type of Prosecco make it a DOCG brut from Conegliano. This superior region offers some of Veneto's best sparkling wines, breathtaking scenery as well as fine art, architecture and food. In short, the Conegliano hills are to Veneto what Chianti Classico is to Tuscany.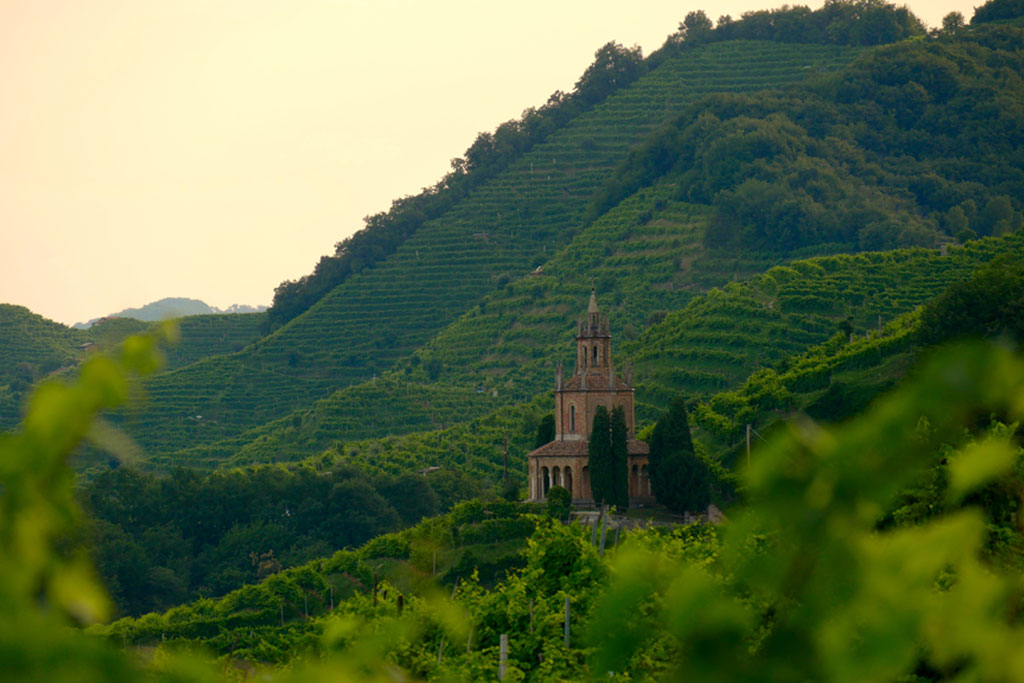 The Primavera del Prosecco is a wine festival that takes place in the area between March and June, offering the perfect occasion to explore the region's hilltop villages and local produce from its wineries and vineyards.
It is almost impossible to narrow down our favourite wine-growers in the region, but Merotto is well worth a visit. Their bright and modern tasting room offers spectacular views across the countryside and their award-winning Gran Cuvée Rosé Brut is a must try. Alternatively, why not combine two of Veneto's most iconic drinks with a visit to the Da Ponte distillery. The leading producer of Grappa also bottle a fine variety of DOCG Brut Prosecco and sparkling rose. Our award-winning concierge service can help organise a wine tour for you and offer advice on the best wineries to visit, specifically tailored to your party and individual tastes.
Cross the Piave River south to Asolo for the only other Prosecco DOCG region in Veneto. Here you will find the architectural Palladian masterpiece of Villa di Maser replete with frescoes by Paolo Veronese and a historic 230-hectare wine estate.
Our favourite Prosecco cocktails that you need to try
This versatile wine is the perfect base for a cocktail and is an essential ingredient in many world famous favourites.
The Aperol Spritz is another celebrated Veneto drink; in fact Aperol was first invented by two brothers from Padua. It is the aperitivo of choice in Venice, consisting of Aperol, Prosecco and soda water, served with a slice of orange and a Nocellara olive.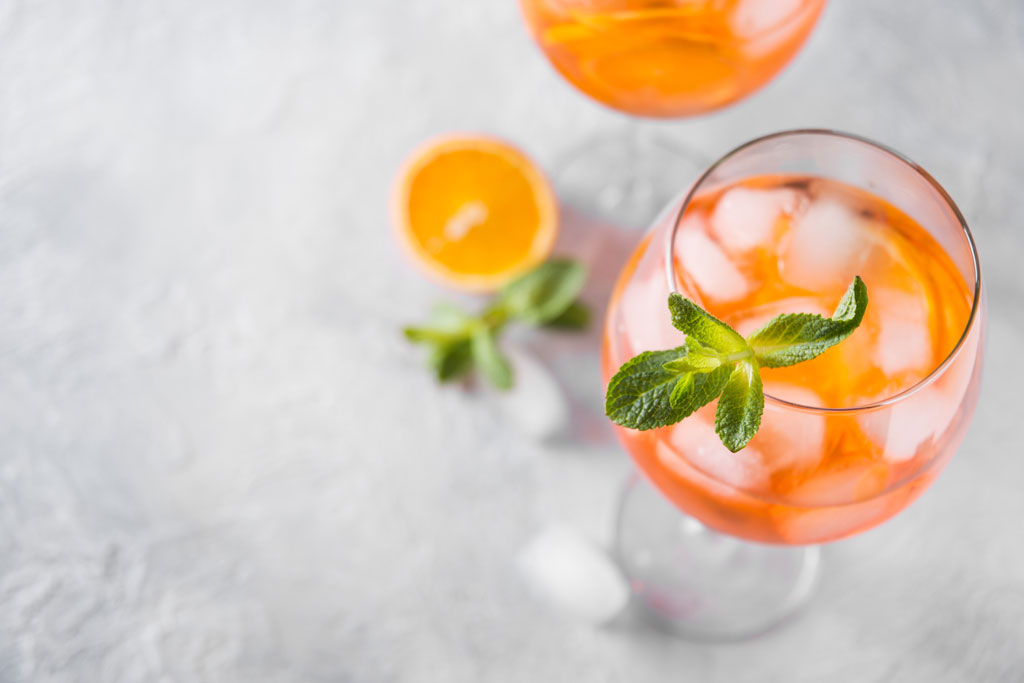 You will not be out of place sipping a simple yet iconic Bellini in a classy bar on the Grand Canal. This cocktail epitomises Venetian glamour, invented by Giuseppe Cipriani, the founder of the famous Harry's Bar near Piazza San Marco. It is a succulent blend of peach puree and Prosecco.
The Limoncello Spritz is a perfect summer cocktail to refresh yourself with over a light lunch and combines the best of Italian flavours. Add a little zest to your day with the perfect balance of Prosecco, Limoncello and soda water, garnished with an orange slice.