Anyone who has had the pleasure of staying in Italy over Easter knows that chocolate is taken seriously here, perhaps nowhere more than Perugia, the capital of Umbria. Indeed, each October nearly one million people turn up in this hilltop city with this shared goal: to eat chocolate.
While France, Austria, Germany, Belgium or Switzerland might each lay claim to fine chocolate traditions, it seems logical that Eurochocolate — the continent's largest celebration of this gooiest of confections — should be held in Perugia. For this cultural capital, which sits about equidistant from Florence and Rome, is also the birthplace of the world's most romantic cocoa-infused bonbons: the blue-foil-wrapped Baci Perugina. These dark chocolates envelope a heart of gianduia, speckled with chopped hazelnuts and crowned with a whole hazelnut.
Tour the Perugina factory
Get your chocolate bearings with a tour of the Perugina factory, on the outskirts of the city, where these treats are still made today. Here at the Casa del Cioccolato, you will start with a tour of the museum, learning how a cocoa bean is transformed into rich chocolate, and also about the early days of Italy's most famous chocolatier.
In early 20th century Italy, the odds were stacked against women entrepreneurs, but Luisa Spagnoli created not only her eponymous clothing company but also the Perugina chocolate factory. Walking through the factory today, you'll see the workshop and production line in action, watching tiny chocolates fly by at 1,500 per minute. In a setting far lovelier than any Willy Wonka dreamed up, and with no sign of Oompa Loompas, you'll learn how the Baci — Italian for kisses — have been made for the past 98 years.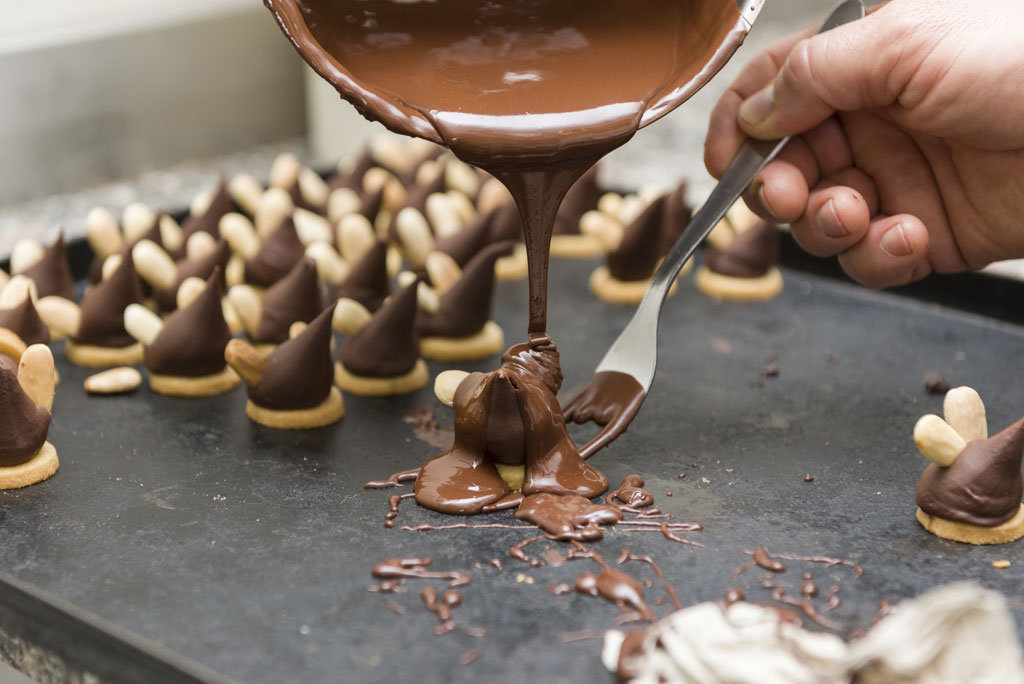 The company itself has been making chocolate in Perugia since 1907. And while Perugina was acquired by Nestle in 1988, the hazelnut-surrounded chocolates, wrapped in their multi-lingual love poems, are as tasty and charming as ever. Rest assured that there is a tasting at the end of the tour.
Visit Eurochocolate
Of course, Perugia has many other chocolate experiences to test, particularly during Eurochocolate. Less a competition than a celebration, this October festival champions the history of the world's favourite sweet. There are summits of the biggest cocoa-producing countries to strategise about the environmental impact of manufacturing. But most importantly, there are tastings.
True aficionados may wish to visit in October, to sample the widest range of artisanal delights at the chocolate festival, and to admire giant statues made of the stuff. For a hint of that, visit the elegant Caffè Sandri, on the central artery, Corso Vannucci. This coffee house, in business since 1860, is easily identifiable by the chocolate sculptures in its window. While Perugia has enough pasticceria to suit even the sweetest of teeth, Sandri is the most famous, with its gloriously frescoed cavernous interior and delicious cakes.
The chocolate coma is inevitable, but with our fast recoveries, you'll be back in the holiday mood in no time. Take a walk in the hills surrounding your villa in Umbria, or have our concierge team organise a fun workout or Ayurvedic massage at your villa.