While Umbria's hilltop towns and villages are home to some of the most sophisticated architecture and art in Italian history, its most celebrated culinary delights are a legacy of "cucina povera" (peasant cookery). Over the centuries, farmers have developed clever ways of taking what was available from the land — meat off-cuts, seasonal local produce — and working magic.
Also known as Italy's "green heart", this landlocked region benefits from local produce harvested and meat grazed on its gently sloping hills. It is also an area well-known for hunting: of wild boar, pigeon and truffles.
Eat here
If we had to pick two particular destinations for gastronomes, we'd recommend Perugia and Norcia.
Perugia, the region's capital, has a buzzing, youthful vibe and some of the most dressed-up restaurants in Umbria. This is the place to come for aperitivo after a day spent browsing shops and the city's museums.
Norcia, the ancient town 100km south-east of Perugia, is the ultimate Umbrian destination for anyone interested in food. Here you'll find truffles, cured hams and cheeses.
Eat this
Prosciutto
Italy has myriad types of air-dried mountain ham. Prosciutto di Norcia is listed as one of the best.
There are particular rules covering everything from the breed and size of pig, to the manner in which the meat is cured and aged. The end product is savoury (but not salty), with a slightly spicy fragrance.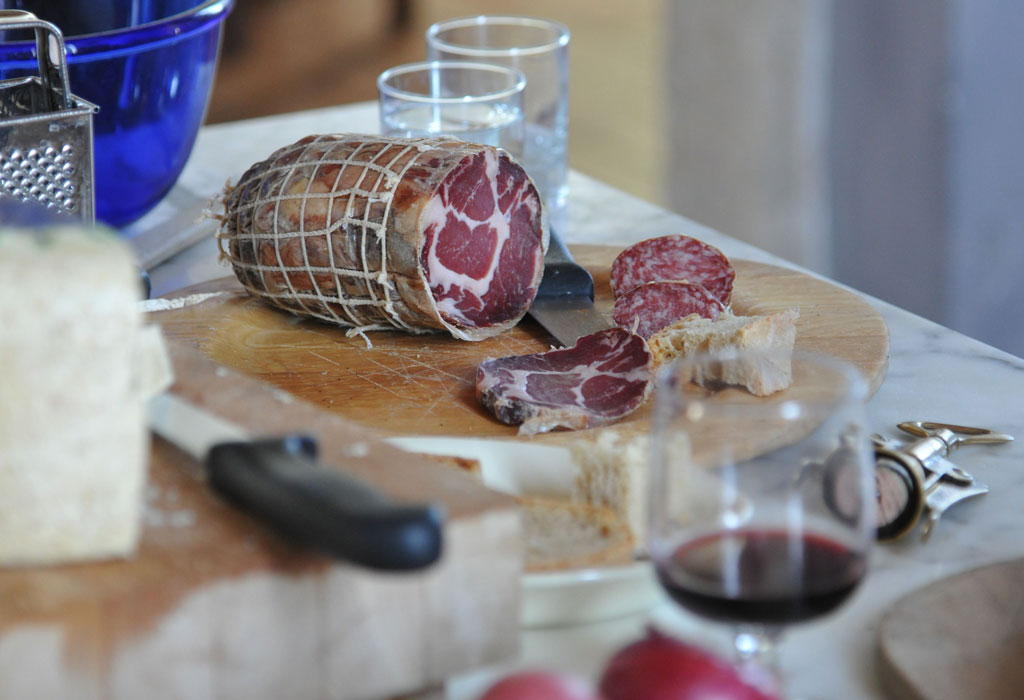 Porchetta
Pigs, as you can see, are big in Umbria. Lamb and pigeon are also popular, but pig reigns supreme.
While you can find Porchetta (roast suckling pig with its stuffing) all over Italy, it comes from Umbria. Here you'll find market trucks selling it in white rolls. It is sweet, savoury, substantial and delicious. (Note that you're usually asked whether you'd like a fatty or leaner cut of meat. We recommend ordering half and half).
Legumes
Do not assume from the preponderance of indigenous meat specialties, that Umbria is a bad place for vegetarians.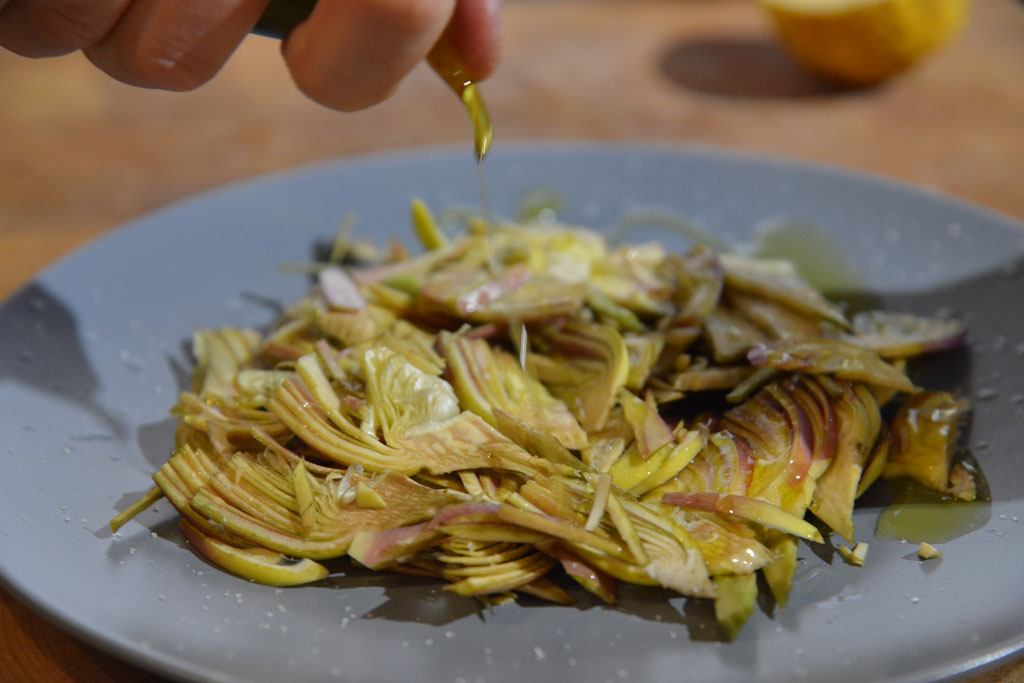 The Fagiolina del Trasimeno, for example, is a rare, delicate white bean unique to this region. It served as an important staple food as far back as the Etruscans. While it no longer forms a central part of most diets (other produce has proven easier and more lucrative to grow), it is easily found in farmers' markets.
Serve these beans, and other great legumes of the region (Lenticchie di Castelluccio, for example), in salads and soups, or simply on their own, dressed in olive oil. Zuppa di Farro, made from grains of a particular kind of wheat (often mistakenly identified as spelt; NB this has wheat and is not for the gluten intolerant!) is served with vegetables, ham bone and cheese for a rich, comforting bowl of soup.
Truffles
Seasonal varieties of truffles are typically served fresh on top of tagliolini or scrambled eggs. They might also be served as antipasti, on crostini, or with cream over meat.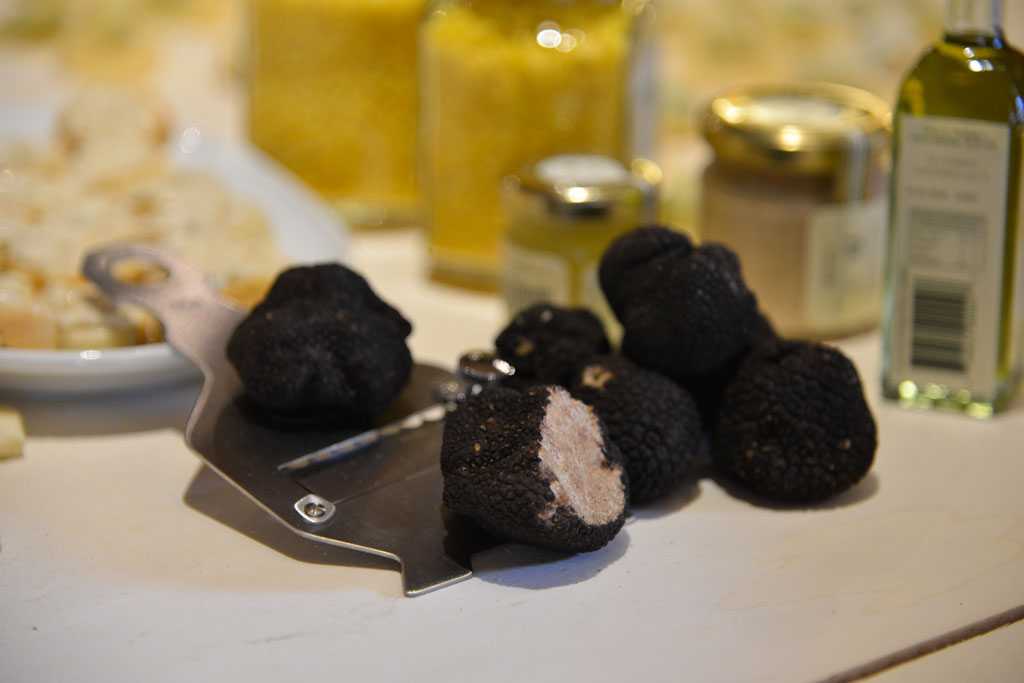 The most prized truffle in the region is the white truffle, found between November and January.
Umbricelli
The region's most ubiquitous pasta, similar to the Sienese pici, is distinguished by being made from flour and water rather than flour and egg.
The shape of this pasta makes it easy to combine with sauces — the perfect recipe for a dinner party.
Learn how to make pasta from your own private kitchen in your villa in Umbria. Our award-winning concierge team can arrange for a professional chef to come and teach you the secrets of Umbrian cuisine.
Chocolate Kisses
Since 1907 Perugina has been making chocolate in Perugia; it introduced its popular hazelnut-filled Baci ("kiss") confections in 1922.
And while the company was bought by Nestle in 1988, the blue foil-wrapped chocolate-covered hazelnuts, with little love poems, have lost none of their charm. You can even visit the factory in Perugia, for a chocolate lesson.
Drink this
Umbrian wine, like its cuisine, was long characterised by its straight-forward simplicity, and was primarily known for easy-drinking whites.
But the region has grown hugely in sophistication in recent years, and this is a great moment to explore its evolving wine. Wine critic Jancis Robinson, recently called Umbria "potentially the most interesting region in central Italy".
Head to Montefalco in the hills north of Spoleto, to sample Sagrantino di Montefalco; or to Antinori for Cervara, a finely oaked white from another local grape, the Grechetto.