If Florence is Tuscany's Renaissance capital, its compact, walkable palace-filled centre is also home to the region's most famous restaurants.
Sure, you can find an excellent panino and gelato on many a corner. But if you want to enjoy a meal in one of the city's temples of gastronomic delight, consider one of these 5 restaurants in Florence.
When eating out in Tuscany you will come across the words "Trattoria" and "Osteria". The line between the two has become very blurred. Originally, a Trattoria was a family-owned casual restaurant serving regional cuisine; an Osteria a wine bar that serves simple food. They're used almost interchangeably these days.
Our favourite restaurants in Florence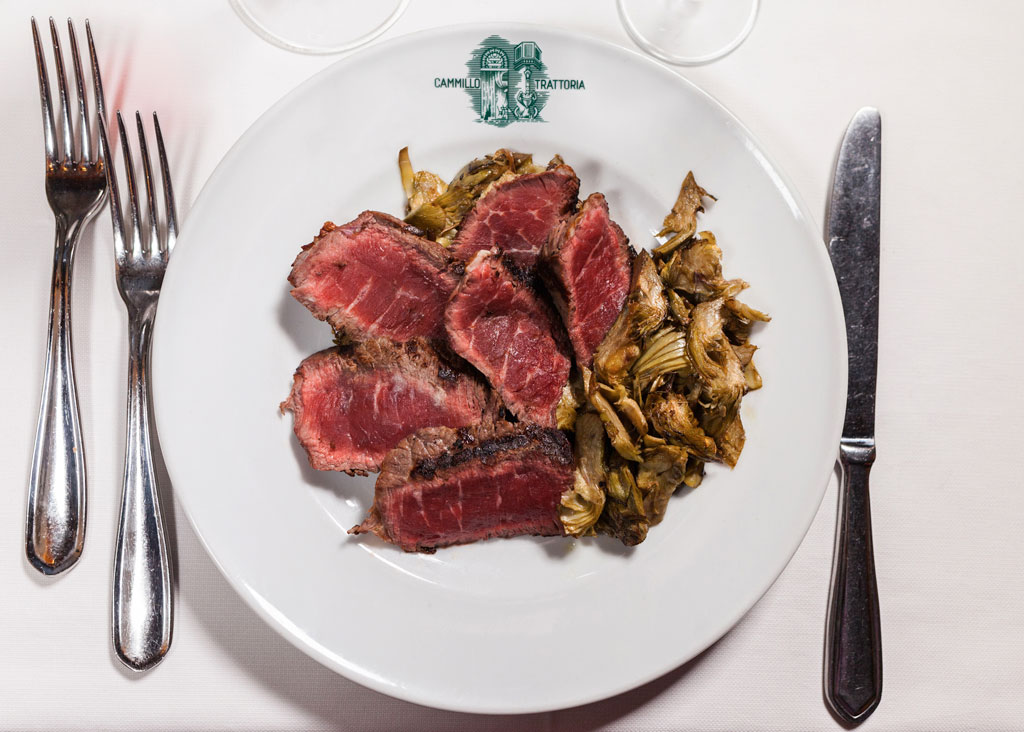 Celebrating its 75th birthday in 2020, Cammillo continues to serve the best of seasonal Tuscan cooking. White tablecloths, walls lined with photos of friends and friendly and intimate service: this is the ideal spot for dinner on a Thursday or a Sunday lunch.
Due to its location and fame, this restaurant is popular with tourists as well as locals. It closes in the summer, as well as on Tuesdays and Wednesdays: this is a classic place operating under its own rules.
What to order
To start, try burro e acciughe ("butter and anchovies'), fritto misto ("mix of fried seasonal vegetables") or the restaurant's special insalata di sedano, rape e bottarga ("salad of celery, turnips and cured fish roe").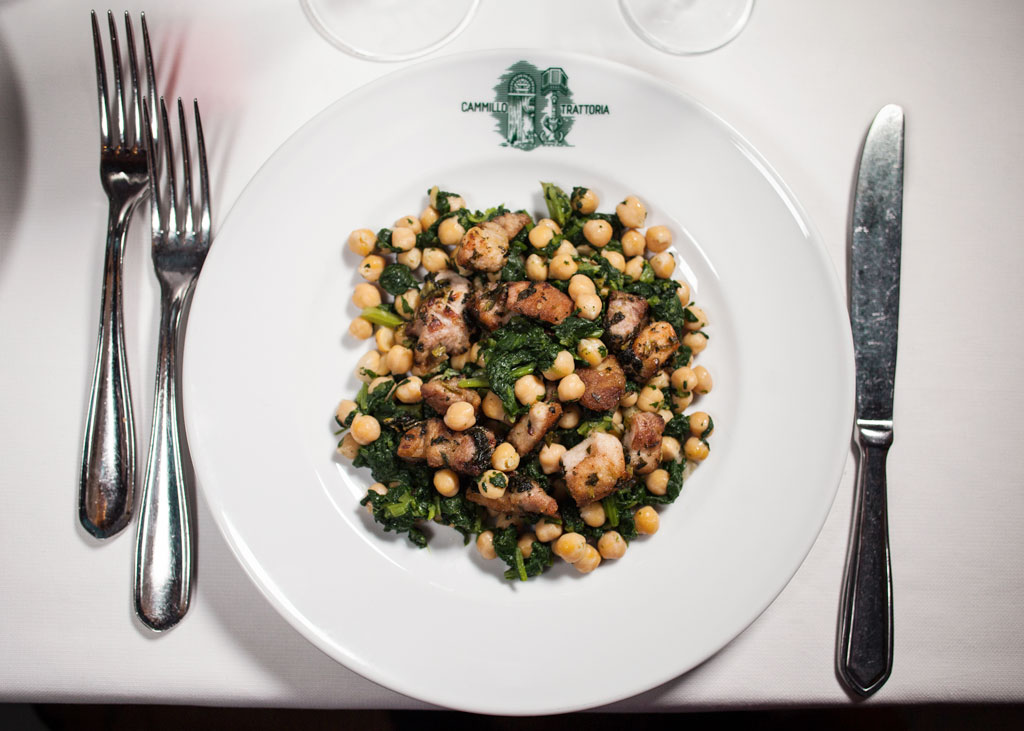 For your pasta course, order either the spaghetti alla bottarga or tagliarini con piselli freschi ("fresh peas") — simple but unbeatable in season.
Traditional second courses include cervello fritto ("fried brain") or one from a collection of scaloppine ("escalope of veal") with lemon or Marsala. You might wish to sample the porcini frittata ("buttery mushroom-filled omelette"). Unusually for Italy's often purist restaurants, it also serves an outstanding curry (prawn or chicken) with homemade chutney.
Classic desserts include vin santo ice cream or cantucci e vin santo ("almond biscuits served with sweet wine").
Decorated with garlic, prosciutto and all sorts hanging from the walls, Trattoria 13 Gobbi offers a traditional rustic experience.
Its name ("13 hunchbacks") is a promise of excellence. According to Italian custom, 13 brings good fortune, and touching Il Gobbo (hunchback) banishes evil forces and brings luck.
Note, this restaurant is in the heart of Florence, right on the tourist track. You should book in summer months.
What to order
For a primo you must try the rigatoni with tomato sauce, which comes with heaps of melted cheese. It's divine. For secondo, the iconic Bistecca alla Fiorentina ("Florentine-style T-bone steak"), with a side of fiori fritti ("fried zucchini or courgette flowers").
This place is in Piazza Tasso, so there is no need to struggle with the ZTL (restricted traffic zone) or parking restrictions.
A three generation family-run restaurant, it is particularly lovely in the summer months, as there's an attractive outdoor seating area. A small menu changes with the seasons.
What to order
Alla Vecchia Bettola is famous for its signature pasta dish, Penne alla Bettola. The secret ingredients: vodka, tomato and cream sauce.
For your second course, order rosticciana ("Tuscan grilled pork ribs"), piccione ("roast pigeon") or carpaccio ("raw beef"). Wash it all down with a nice glass of limoncello.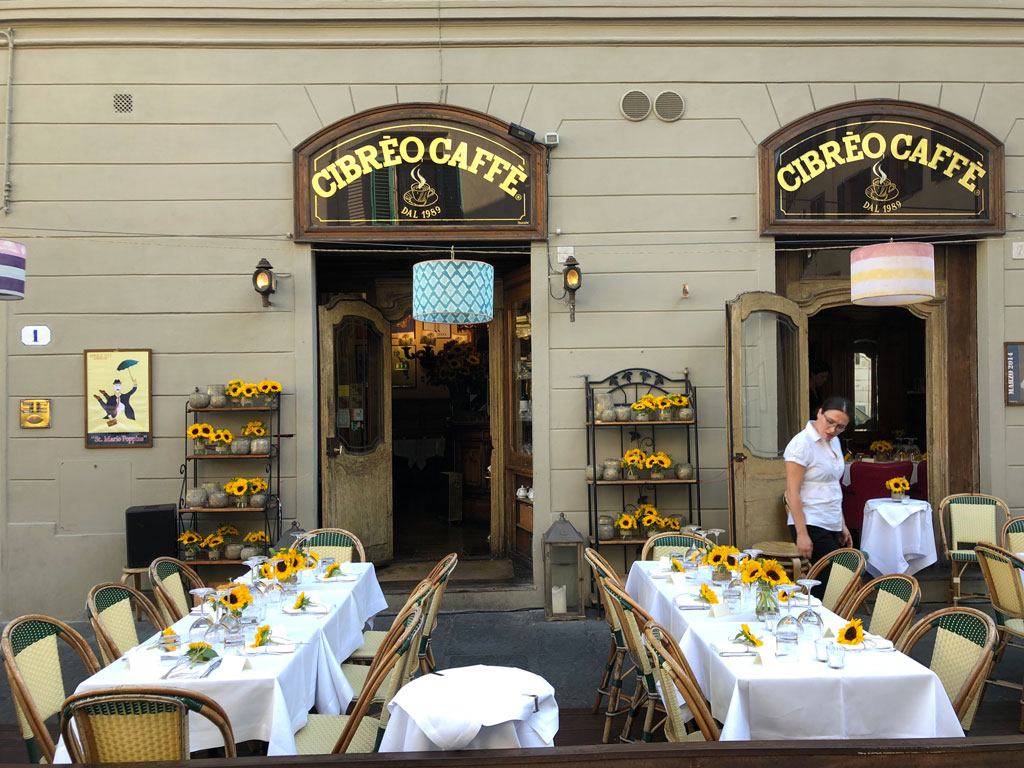 The name "Cibreo" originates from a Tuscan stew made with chicken offal, typical within Florentine cooking. In honour of family and heritage, Cibreo was founded to carry on traditions, recipes and flavours passed from one generation to the next.
Such is its popularity, Cibreo now consists of 4 different places to eat, each one serving a different menu using only seasonal products. This elegant all-day cafe, has the advantage of long opening hours: 8am till 1am.
What to order
For antipasto it's nice to order the mix: little plates inspired by seasonal produce. During the summer, this may include budino al pomodoro ("tomato jelly") or budino al curcuma ("turmeric pudding").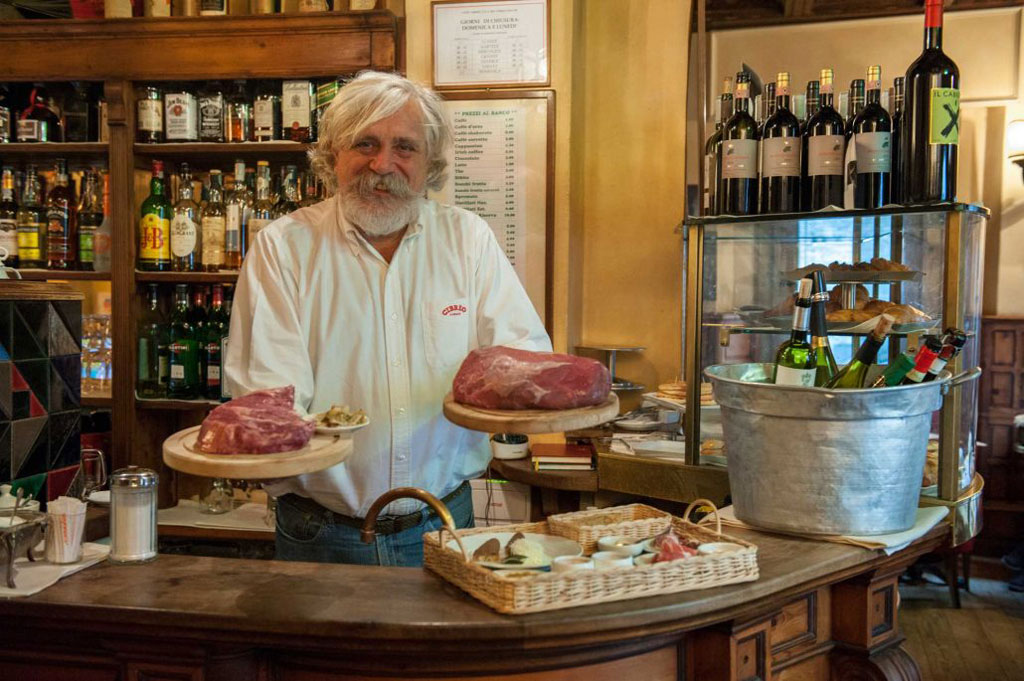 For primo the tagliolini cacio e burro — this, the simplest of pastas, is dressed in cheese and butter. For secondo, the cafe has a perfectly cooked steak in butter.

Finish your meal with their sweet speciality: cheesecake with orange marmalade.
This cavernous restaurant decorated with vintage tourism posters is the oldest in Florence. Founded in 1880 in the 15th-century cellars of Palazzo Antinori, it serves up a uniquely Florentine experience.
What to order
For primo, pappardelle al cinghiale ("ribbons of pasta with a wild boar ragu") and cannelloni gratinati ("pasta crepes stuffed with cheese or meat") are go-to dishes. Buca Lapi serves a renowned Bistecca alla Fiorentina.
For dessert, the torta al cioccolato ("chocolate cake") is made without eggs, butter or flour. By our reckoning, that makes it almost good for you.
Buon appetito!