Among the vineyards, hilltowns and medieval cities, Tuscany boasts a flourishing tradition of artisan crafts that have been passed down through generations. From handcrafted ceramics and textile arts to exquisite gold jewellery and leather goods, Tuscany's artisan crafts reflect the region's rich cultural heritage and unwavering commitment to craftsmanship.
When you stay at one of our luxury villas in Tuscany, there is a wealth of authentic craft traditions to explore. From intimate tours around artisan ateliers and day trips to the region's iconic cities to bespoke arts experiences arranged by our Concierge — read this guide for everything you need to know about Tuscany's unique artisan crafts.
The Art of Tuscan Ceramics
Tuscan Maiolica from Montelupo Fiorentino
Pottery and ceramic traditions date back to the Etruscan period in Tuscany — highly skilled artisans mould clay into intricate shapes, creating colourful vases, plates and one-of-a-kind pieces. The pretty medieval hilltown of Montelupo Fiorentino, in particular, is a hub for ceramic production, with streets lined with artisan studios. Ever since the 14th century, local artisans have devoted themselves to the craft of majolica, a Moorish-Spanish style of ceramic, known for its rich colour and decorative motifs.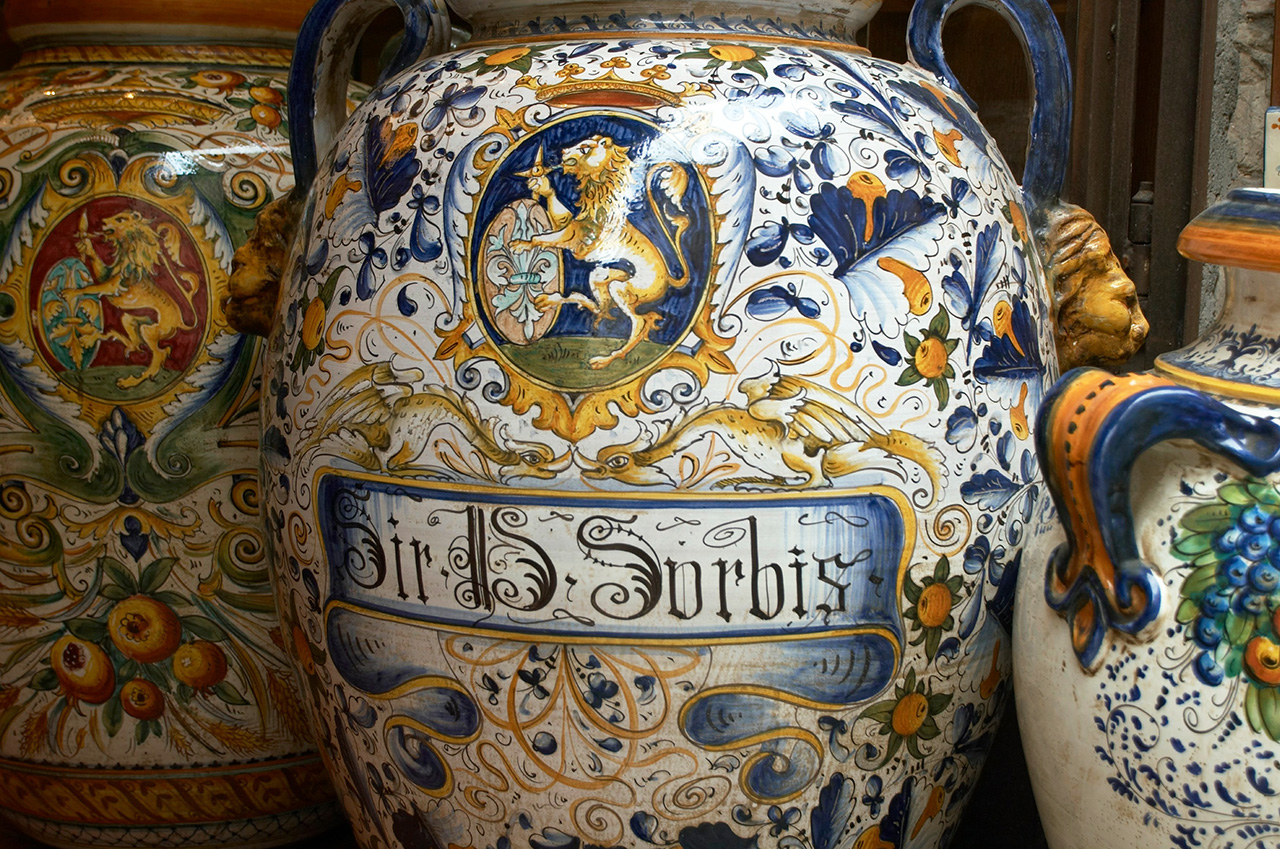 Montelupo Fiorentino is home to a fascinating Museo della Ceramica, which is home to 5,500 works of art and will immerse you in the history of the craft. Pay a visit to the museum and wander the town's main streets, which are lined with vibrant hand-painted pottery. Interested in trying your hand at the craft? You can even book an exclusive ceramics workshop in Tuscany.
Tuscan Terracotta from Impruneta
Impruneta may not officially be part of the famous Chiantigiana, but it is the first stop for many embarking on the Chianti wine road. Sangiovese red wine isn't all Impruneta is known for though. Thanks to its clay-rich soil, it also has a long history of terracotta production ("Cotto dell'Impruneta") that dates back to at least the 11th century. It is Impruneta terracotta tiles that adorn the famous Duomo in Florence, as well as countless other Tuscan churches and many of our villas near Florence.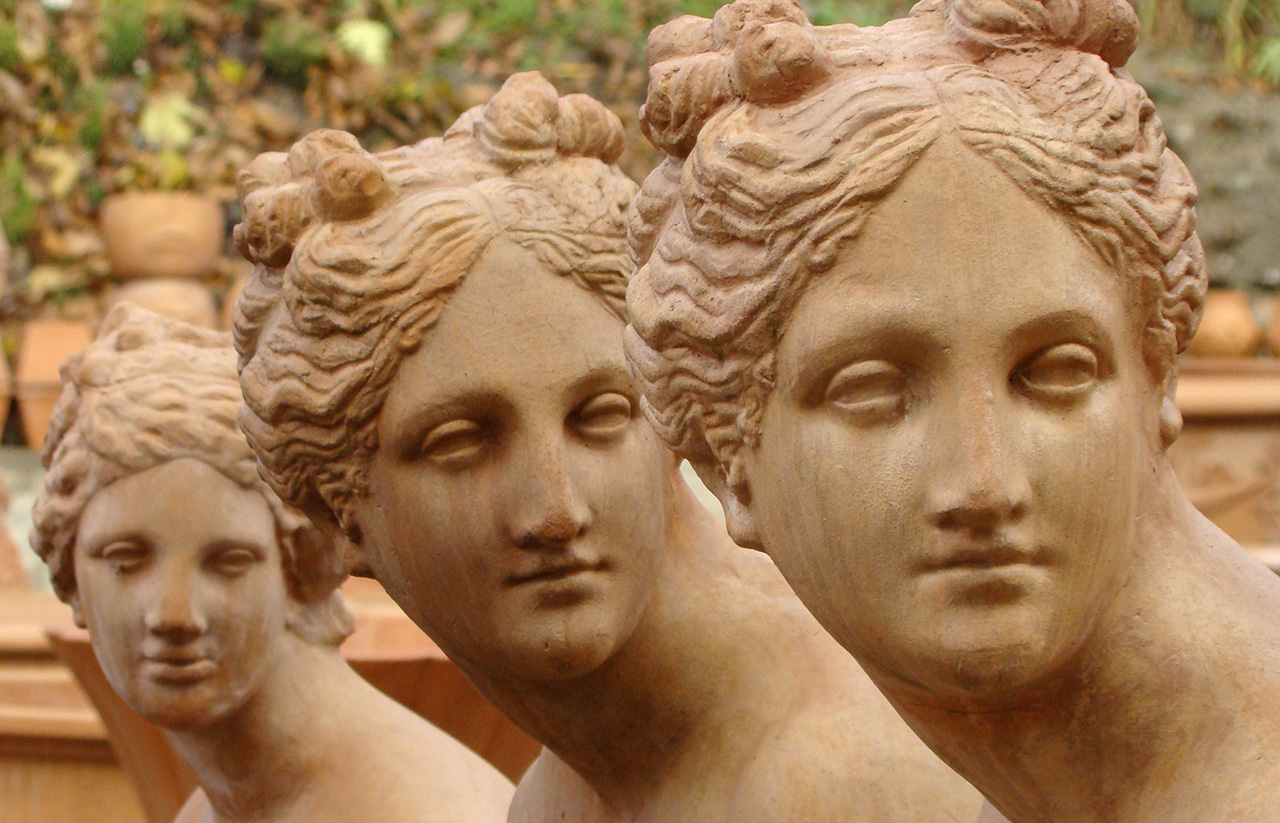 Head to Impruneta for handmade tiles and pots and to visit local artisan workshops, like the renowned Antica Fornace Mariani.
The Allure of Tuscan Jewellery Making
Jewellery-making in Tuscany is a centuries-old tradition that continues to shine brightly. Florence and Arezzo are two Tuscan cities renowned for their goldsmiths and jewellery workshops.
Jewellery making in Arezzo dates back to the Etruscans and it has remained at the centre of Italy's gold trade to this day. The city has built its economy around goldsmithing. Step inside a jeweller off any street in the medieval town centre and you can observe how they work the gold to make intricate works of art. It also hosts one of the most important jewellery trade shows in Italy — 'The Arezzo Gold Fair'.
Shopping for gold on the Ponte Vecchio in Florence
While there are still artisan goldsmiths in Arezzo, it is much more commercial than Florence. Florence has been an artisanal centre for handcrafted jewellery since the 12th-13th century. When we think of shopping for gold in Florence, we think of the Ponte Vecchio. The famous bridge is brimming with gold jewellery shops and has been the home to goldsmiths and jewel merchants since the time of Ferdinando I de' Medici.
There are plenty of artisan workshops and studios in the Renaissance city that produce refined and unmistakably Florentine gold jewellery. Have our Concierge arrange a private tour of the Artisan district of Florence and enjoy an expert insight into the most authentic studios in the city. If you are planning to go shopping for gold in Florence, this is a great way to discover real artisan gems that are the best value for money.
The Fragrance of Florentine Perfume Making
One of the more unique artisan crafts in Tuscany — Florence also has a rich history in the world of fragrances. Dating back to the Renaissance and the time of Caterina de' Medici, Florence has been a prominent hub for perfumers and apothecaries with artisan perfumers continuing this legacy to this day.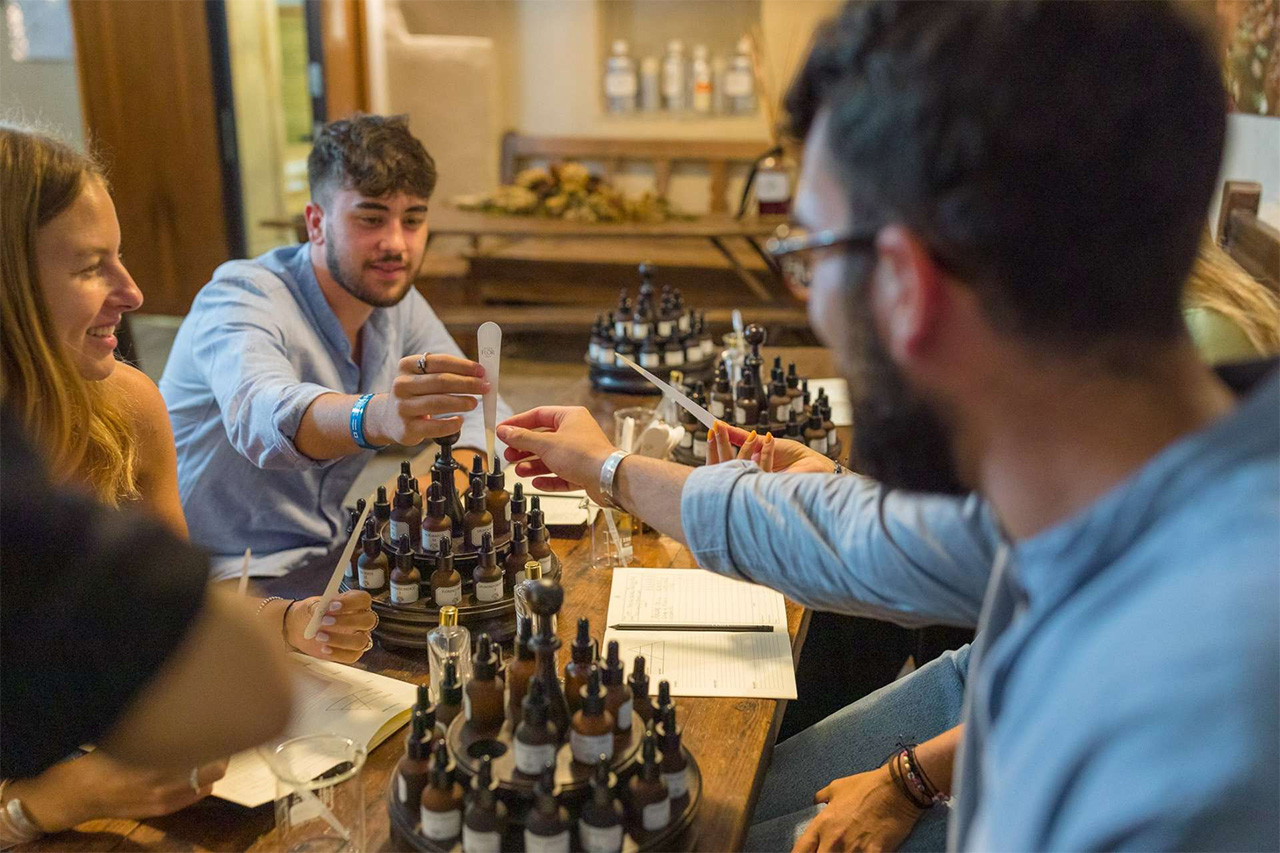 Using traditional techniques and modern innovations, Florentine perfume makers blend aromatic essences from local flowers, herbs, and fruits to create unique and captivating fragrances. With each bottle, Florentine perfumes tell stories of the region's cultural heritage, captivating the senses and leaving an indelible impression on those who experience them.
For fragrance enthusiasts, one of the best ways to experience the artisanal heritage of Tuscany is in an immersive perfume-making workshop. Nestled in the cellars of a Renaissance palazzo in Santa Croce, discover the on-site laboratories of an exclusive Maison de Parfum and create your very own perfume to take home.
The Craftsmanship of Tuscany's Leather Goods
It wouldn't be a guide to Tuscany's artisan crafts without a mention of leather. Florence in particular is renowned for its luxurious leather goods, ranging from shoes to belts and bags. The city has a longstanding history of leather craftsmanship and Oltrarno is still known for its leather district, home to numerous workshops and boutiques. Tuscan leather goods are made using traditional artisanal techniques from quality leather sourced from the finest local tanneries.
You can buy genuine Tuscan leather from the San Lorenzo and Mercato Nuovo markets in Florence. Alternatively, read our guide to buying leather in Florence for the best places to buy leather, tips on recognising high-quality souvenirs and more!
Tuscan Textile Arts: A Tapestry of Heritage
Tuscany's textile arts are an authentic tapestry of heritage. From the silk weaving legacy in Lucca to the woollen textiles of Prato, Tuscany offers a diverse range of fabrics crafted using traditional techniques. Handwoven textiles, hand-dyed fabrics, and exquisite embroidery are the hallmarks of Tuscan textile craftsmanship.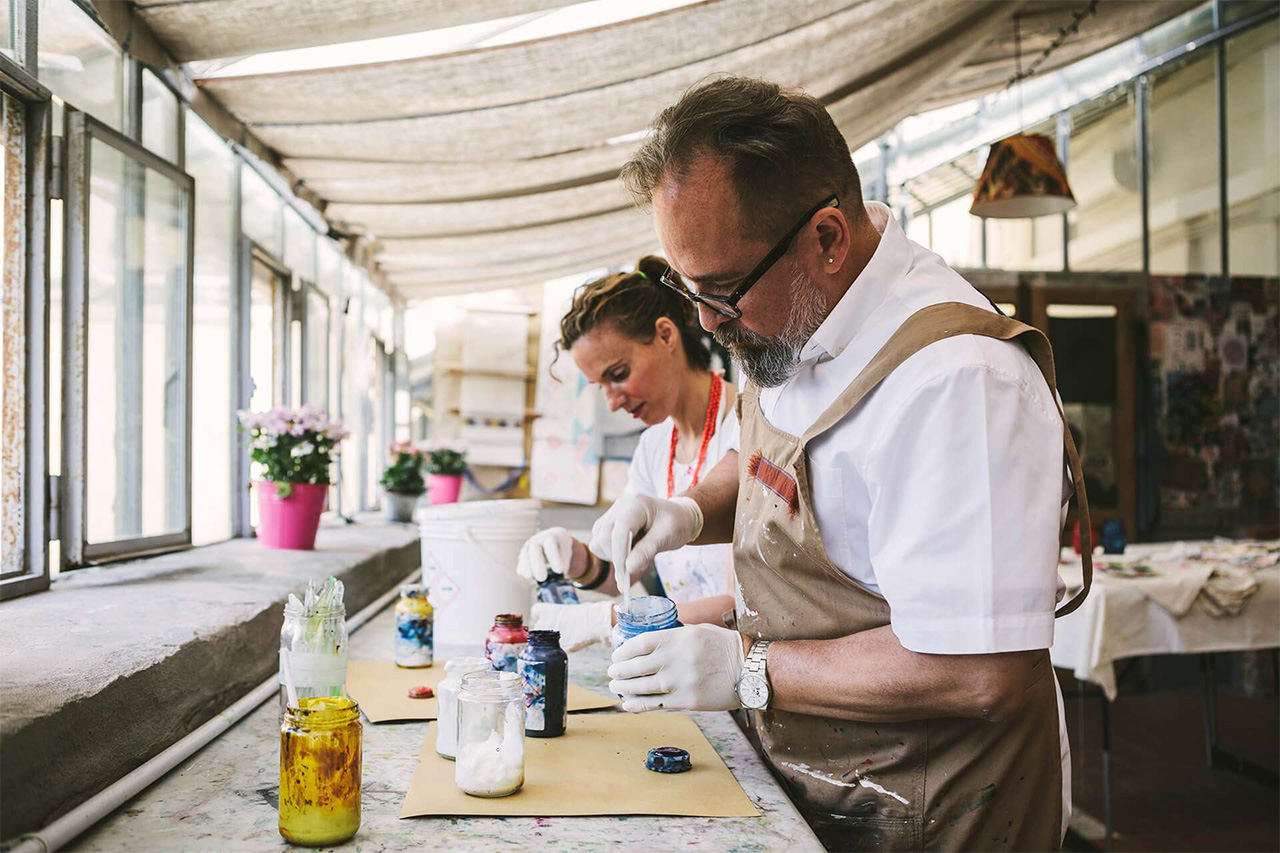 Contemporary artists have taken to placing their spin on the tradition of textile arts in Tuscany. One of the most authentic ways to immerse yourself in this creative art form is in a hands-on workshop with a local artisan. La Serra MK is a textile atelier housed in a light-filled, elegant, 19th-century greenhouse overlooking a hidden garden, just minutes from the Duomo in Florence. It was founded by Florentine painter, textile and conceptual artist, Margherita Pandolfini, and textile designer, Karl Jorns. Channel your inner creativity and print your special textile design, while catching a glimpse of a working studio.
The Intricacy of Tuscan Glassblowing
While it may not be as famous as Venice, Tuscany's glassblowing tradition is an art form that exudes elegance and craftsmanship. Lucca and Florence are renowned for their glass workshops where skilled artisans breathe life into molten glass, creating exquisite glassware, sculptures, and decorative pieces. Visitors can witness mesmerising glass-blowing demonstrations and acquire unique glass treasures to bring home.
Uncover the secrets of Colle Val d'Elsa Crystal
Nicknamed Città di Cristallo ("City of Crystal") for its many glassworks, Colle Val d'Elsa, near Siena, has a long tradition of artisan craftsmanship. It still produces 95% of Italy's crystal.
If you are staying in one of our luxury villas near Siena, a visit to the Museo del Cristallo is a must. Housed in an abandoned underground furnace from the 18th century, the museum charts Colle's glassmaking history. You'll also find artisanal workshops nearby offering glassmaking demonstrations.
From crafting glass mosaics to the fascinating world of Tuscan crystal, our luxury Concierge can arrange private workshops that explore these unique artisan crafts and provide you with unique keepsakes to take home.
The Thrilling Craftsmanship of Carrara Marble
Carrara is not just a stone, it is the dazzling white marble that we have to thank for masterpieces by the likes of Michelangelo and Canova. For centuries it has been used by artists to sculpt statues and monuments of unparalleled vision. It is also a luxury material of choice for contemporary homes and local marble masters.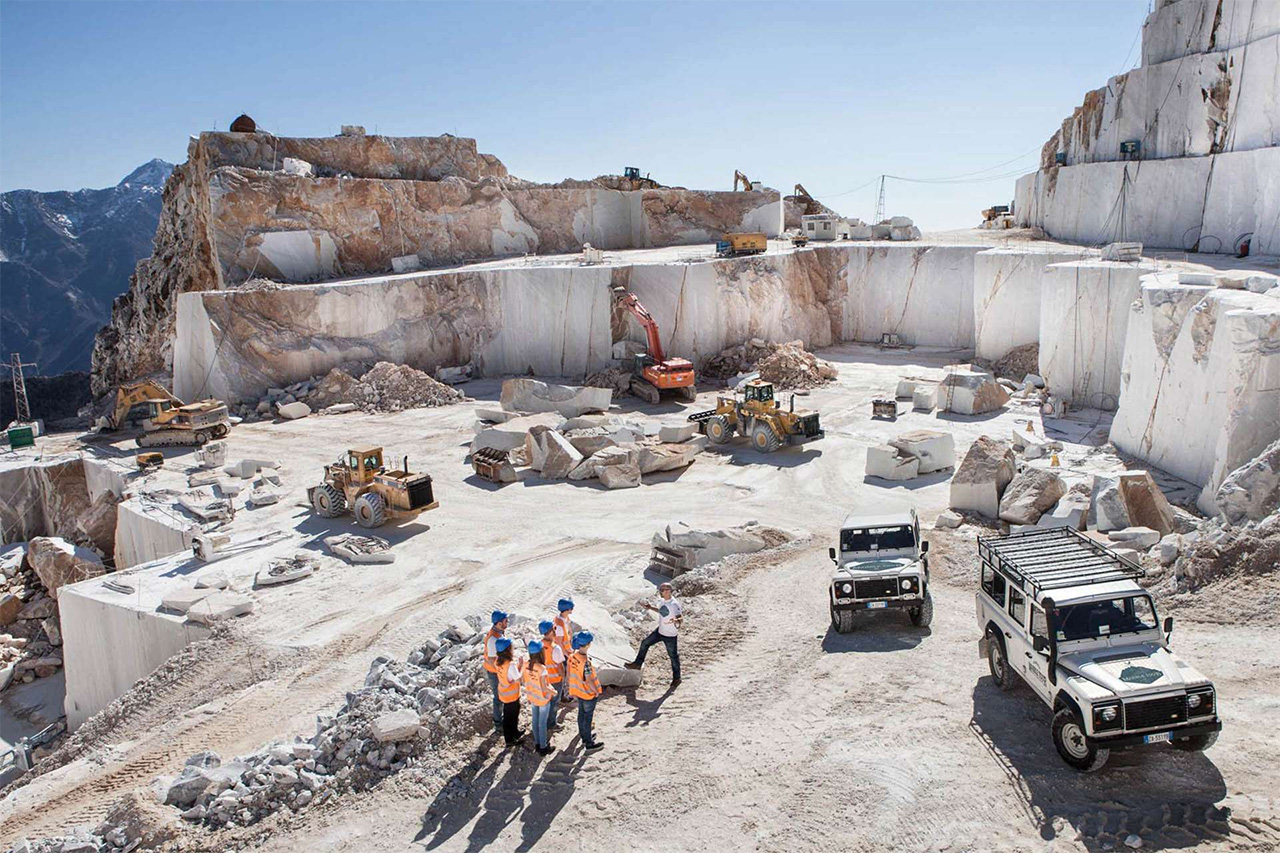 In a true luxury off-road experience, visit the quarries of Carrara in a Land Rover Defender, take in the workshops, sawmills, and laboratories that embody this ancient craft and finish your day with prosecco and a picnic. Outdoor lovers, thrill seekers and culture buffs alike will love this tailored day out. And, if you are interested in Carrara, don't forget to head to Volterra too, the home of Tuscan alabaster…
There is a vast wealth of exquisite artisan crafts and traditions to explore in Tuscany. This guide only just begins to scratch the surface. If you would like to immerse yourself in the artistic heritage of this unique region, explore our luxury villas in Tuscany and then choose from a wealth of customisable arts and cultural experiences to perfect your holiday.