Like many traditional antipasti dishes, the beauty of Bruschetta is its simplicity and versatility. The more popular Bruschetta al Pomodoro marries two of the great gastronomic symbols of Italy too — extra-virgin olive oil and the beloved tomato. It is synonymous with Italian resourcefulness, the culinary custom of cucina povera — that fine attention to seasonal produce, wasting nothing and making the best of the ingredients you have to hand. You see, in Tuscany, Bruschetta was always traditionally a way of making something delicious from stale bread or soaking up the first olive oil of the harvest, fresh off the press. Yes, Bruschetta; simple, resourceful, divine.
If you are staying in one of our luxury villas in Tuscany, this guide will introduce you to the history and traditions behind Bruschetta and our favourite places to try the perfect accompaniment to your evening aperitivo in Florence.
A guide to Bruschetta and where to enjoy the antipasto in Florence
"Day-Old Bread, Month-Old Oil, Year-Old Wine:" Authentic Tuscan Bruschetta
There's an expression here in Italy, "Day-old bread, month-old oil, year-old wine" — it might not be a precise recipe, but if you are going to enjoy authentic bruschetta, it's about as close as you can get. Forget tomatoes; at its simplest and most traditional, Tuscan bruschetta makes use of day-old bread, grilled over a fire to give it that exquisite crunch, before it is rubbed with a fresh garlic clove and drizzled with the new extra-virgin olive oil of the season. The garlic will practically melt into the warm bruschetta and is far less overpowering than using it crushed and raw. A young bottle of wine, like Chianti, to wash it down is optional of course.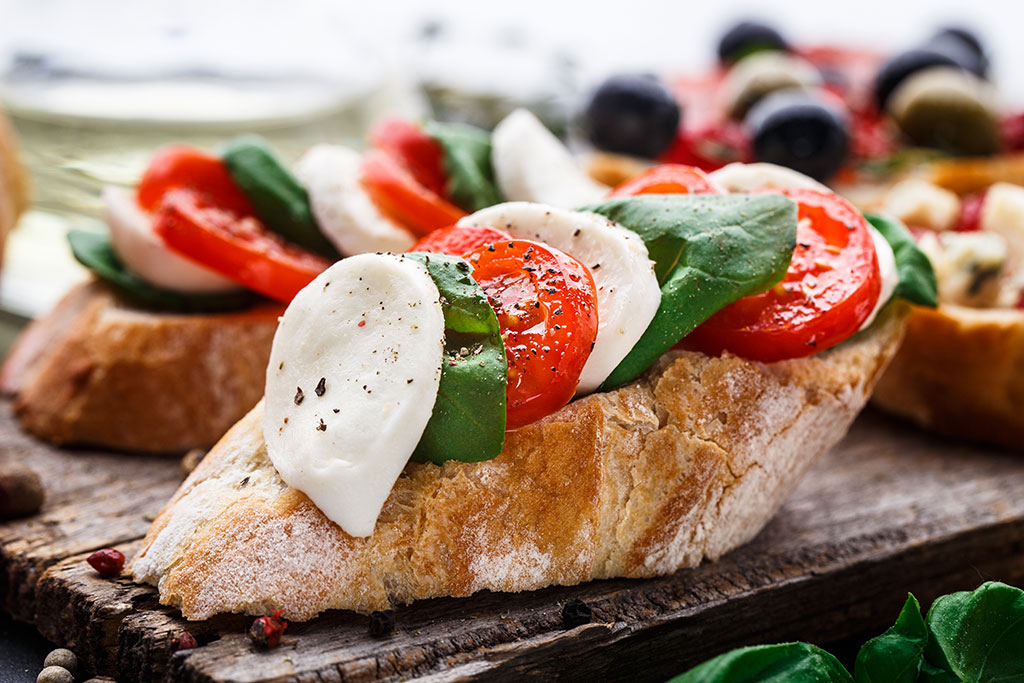 This unpretentious take on the Italian hors d'oeuvre goes by another name in Tuscany; "fettunta" literally translates as "oily slice" and is one of life's simple pleasures. The perfect fettunta or bruschetta should be made using il pane Toscano ("Tuscan bread"). An unmistakable regional staple, pane toscano is a saltless, white, dense and soft crumbed bread. You'll easily find a loaf in your villa's local bakery, or why not even have a local cook prepare their favourite variation of this classic antipasto for you in one of our fully staffed villas with chefs? However, if you can't get your hands on this traditional Tuscan bread, then you can use lightly toasted ciabatta or sourdough instead.
Now, you might still be thinking, "what about tomatoes"? Bruschetta al Pomodoro has become so popular outside of Italy, for many, it's become synonymous with the starter. To make bruschetta with tomatoes, simply follow the steps for a traditional fettunta; grill the bread and rub it with garlic. Then, chop and season the tomatoes with salt and pepper before drizzling the mix with extra virgin olive oil and adding a little torn basil.
Top tip: use a variety of tomato types to get a blend of sweet and tart flavours and only the best quality extra-virgin olive oil will do!
Bruschette vs. Crostini
Crostini ("little toasts") is another Italian appetizer very similar to bruschetta, made from toasted or grilled bread brushed with olive oil. The main difference between crostini and bruschetta is the type of bread used. Crostini tend to be thinly-sliced baguette style loaves, while bruschetta is cut thicker and rubbed with garlic.
It is typical for crostini to be topped with different ingredients like cheese, cured meats, pâté, seafood and vegetables. Why not try our recipes for Crostini di Baccalà Mantecato or Crostini with Vin Santo Chicken Liver. Like crostini, there isn't a right or wrong way to enjoy bruschetta, which can be enjoyed with equally creative toppings.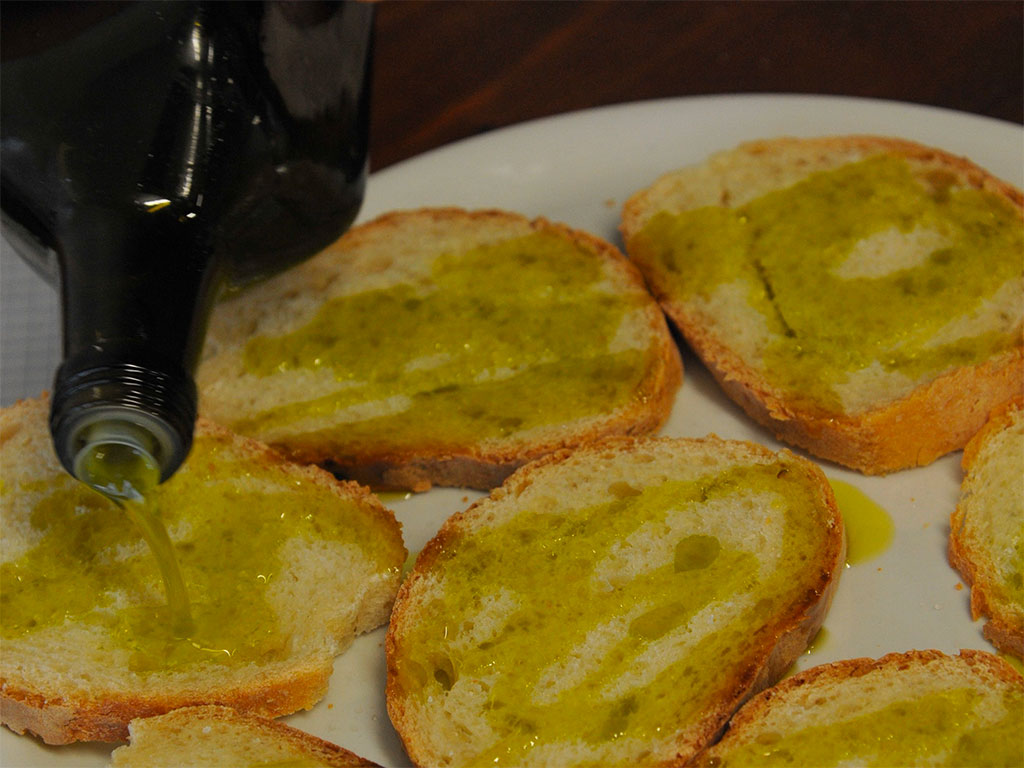 When old meets new: a history of bruschetta… and the tomato
It is said that soaking lightly toasted bread in freshly pressed olive oil is a tradition that dates back to ancient Rome. We think it's fairly safe to assume that as long as there has been olive oil, there has been bread to soak and savour it. Although, historically, olive oil was used primarily for fuel rather than for its nutritional benefits.
However, the bruschetta recipe with tomatoes that we know and love today is not that old at all. Mostly, because tomatoes didn't arrive in Italy until the 16th-century and even then they were regarded with suspicion and relegated to the realm of other horrible, inedible foods like the truffle… yeah, we know right! The first record of tomatoes in Italy can be traced back to one October day in 1548, when Cosimo di Medici was presented with a basket from one of his Tuscany estates. The Pomi d'Oro was first named by the Italians in Europe but was introduced to the continent by the Spanish via South America.
At first, tomatoes were a curiosity grown in the gardens of the elite. Cosimo di Medici even grew them in the Botanical Gardens in Pisa. While the aristocracy marvelled at them, they were widely considered inedible, "cold" food, which was very bad according to widely accepted galenic medicine of the time. Even so, a recipe of black pepper, salt and olive oil was posited in the 16th-century as a way to counteract the "cold." It was just one step shy of a perfect Bruschetta al Pomodoro, we think!
It would take another 300 years before the tomato was widely cultivated and consumed though. They most likely belonged first to the tradition of cucina povera in Tuscany, since the vegetables that were generally avoided by the aristocracy were readily available to the poor. The classic Pasta al Pomodoro wasn't created until the 1800s either, so while bruschetta — or fettunta — may be as old as ancient Rome, it would take the unification of Italy before the tomato became an icon in its own right.
Our favourite wine bars and restaurants serving Bruschetta and Crostini in Florence:
This cosy osteria near the Piazza della Signoria and Duomo in Florence is a great place to try bruschetta with the more popular pomodoro ("tomato") topping. It is very narrow inside with Tuscan yellow walls, exposed brick archways and an open kitchen so you can see the chefs at work as they prepare your food. I Buongustai is run by two Tuscan women and is only open for lunch. Try the bruschetta platter with original twists on their toppings like Tuscan white beans with truffle cream.
This trendy wine bar in central Florence is just minutes away from the Duomo. With bright decor and rustic wooden tables, it is certainly easy on the eye. You might not find traditional bruschetta here, but the crostini options on the menu here are worth your while. Try goat's cheese with fig and mint or a simple mushroom crostini; there are plenty of creative takes on this classic antipasto to pair with a local label from their extensive wine list.
Better yet, why not head to their second bistrot in Fiesole — just as light and modern as their inner-city wine bar, but with an outdoor terrace that boasts breathtaking views over the Florentine hills.
Cross the river into Florence's Oltrarno district and enjoy an evening aperitivo at Il Santino near Santo Spirito. At this cosy wine bar and deli, you'll find several small plates serving Tuscan bread dishes like panini and crostini, as well as platters of cheeses and cured meats. Choose from around 200 bottles of wine — many from Tuscany — or try a select label by the glass which comes with an antipasto dish included in the price. Il Santino also has a sister restaurant in Oltrarno as well as a bakery, should you wish to make your bruschetta in your villa kitchen.
Extra-Virgin Olive Oil Tasting
According to tradition, the most authentic way to try bruschetta is in an extra-virgin olive oil tasting. After all, bruschetta was a way of soaking up the first olive oil of the harvest. To start your gastronomic exploration, contact our Travel Concierge Specialists so we can help you organise a visit to one of Tuscany's finest olive mills to sample the region's best liquid green-gold alongside an expert.