By far one of the most expensive foods in the world, there are, in fact, countless species of truffle but not many you'd want to eat. The value of truffles depends on their rarity, flavour and aromatic quality, with the very best scattering the woodlands of Northern Spain, France and Italy. Among the most delectable and prized of this subterranean fungi, the winter white and winter black truffle flourish among the trees in Piedmont, Tuscany and Umbria, three of the best-known regions for hunting the earthy tuber.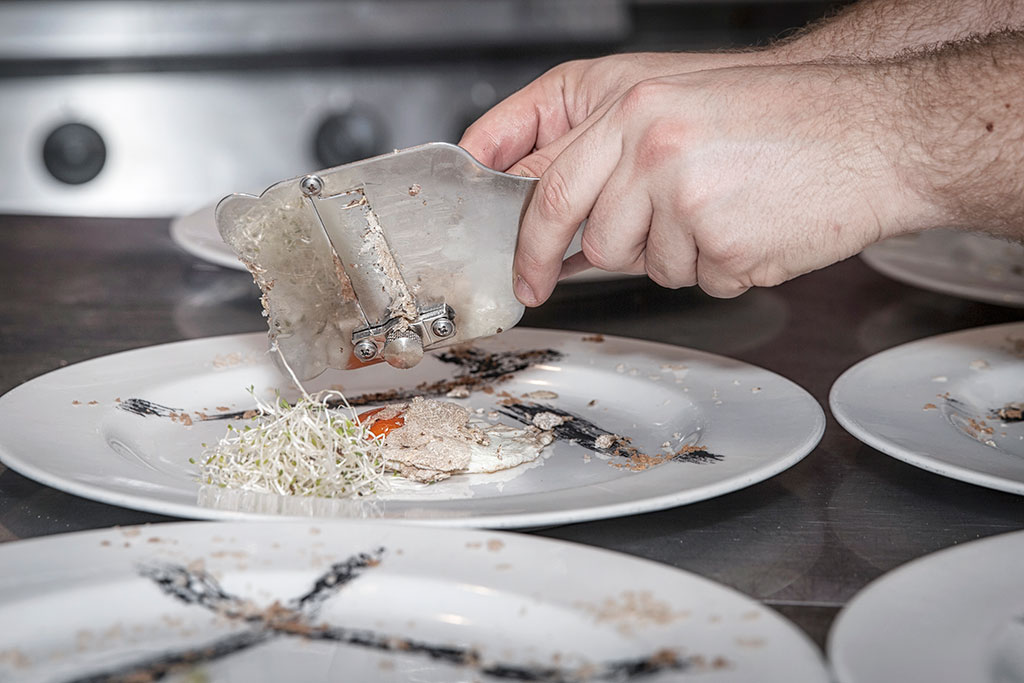 Black truffles are the most common to grow throughout Italy, whether you find yourself in the hills north of Verona or the walled town of Norcia, but for the precious, elusive white truffle, you'll have to refine your search even further. The Truffle Handbook is the ultimate guide to the Tuscany and Umbria truffle scene, which varieties grow in the regions, where to hunt them and our favourite restaurants serving this haute cuisine delicacy.
A Guide to Italian Truffles and Where to Eat the Haute Cuisine Fungi in Tuscany and Umbria
The art of patience: growing and hunting truffles in Italy
Truffles are obstinate subterranean fungi that thrive best in open woodland and well-drained calcareous soil. They can be difficult to harvest and are even trickier to cultivate or farm, which is one of the reasons these haute cuisine treasures are so rare.
Growing symbiotically with trees, truffles mesh to the roots as part of a delicate ecosystem; the tree provides the truffle with much-needed sugars, while the fungus provides the tree with nutrients and water from the soil. In Italy, you are most likely to find truffles among the roots of trees like oak, hazel, beech and pine.
Since the tuber flourishes among the roots of trees, they are often found beneath 5 to 30cm of earth, which can make them tricky to spot to an untrained eye or even the most sensitive of noses. This is why truffles are often hunted and harvested with the help of a trusty canine companion like a Retriever or, in Italy, a Lagotto Romagnolo — these dogs are bred specifically to sniff out the potent, precious fungi. Historically, trained hogs or pigs were used to hunt truffles as their sense of smell is even more sensitive than dogs, however, they were banned in Italy in the 1970s because they caused irreparable damage to the woodland habitats and often even the truffles themselves. The less damage to the soil the better too, since this is one of the most important factors influencing truffles growth, flavour and colour!
The best time to go truffle hunting in Tuscany and Umbria
A seasonal fungus, different varieties of truffle grow at different times of the year throughout Italy. The most precious species are the winter black truffle and the elusive winter white truffle, which can be found around San Miniato and Mugello in Tuscany, or Perugia, Orvieto and Norcia in Umbria from December.
If you are staying in one of our villas near Pisa and Lucca or even further south in Siena, why not join one of our truffle hunting tours. You will be accompanied by an expert guide and a Lagotto Romagnolo, discovering the fascinating history of truffle hunting and in-depth knowledge of the different varieties while you search.


The Main Varieties of Truffles in Tuscany and Umbria:
Autumn/Winter Black Truffle ("Tartufo Nero Pregiato")
This grey-brown truffle with white veins on its inside has an intense aroma and delicate peppery taste. Also referred to as Tartufo di Norcia, the walled town in Umbria is a gastronomic haven and a centre for some of Italy's best authentic black truffles.
The winter truffle is the most sought-after of the black truffle varieties and is generally harvested between November and March.
Summer Black Truffle ("Tartufo Estivo o Scorzone")
Although it looks similar to the winter black truffle on the outside, the summer black truffle has a more burgundy hue and yellow colouring inside. It has a less intense aroma than the winter variety, but still has that captivating, earthy, truffle flavour and offers a more affordable alternative.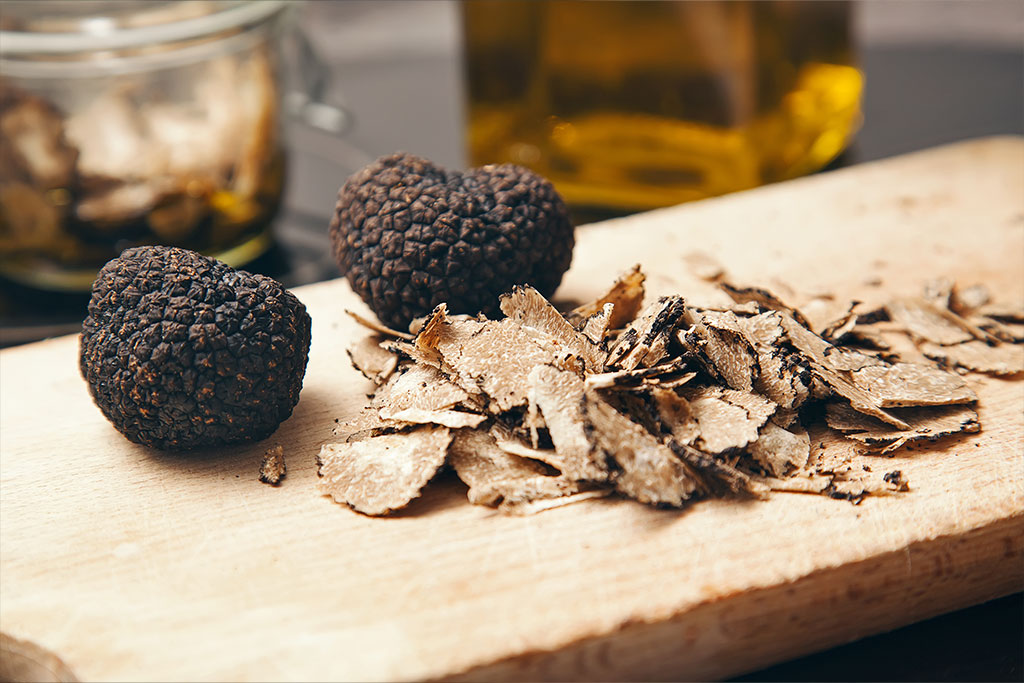 The summer black truffle is harvested between May and August, but they are usually at their best in July.
White Truffle ("Tartufo Bianco")
The most expensive type of truffle, this highly prized fungus varies from marbled-white beige to deep pink depending on where it grows. It is the most fragrant of the truffle varieties with a more garlicky, earthy flavour. While black truffles can be lightly cooked to enhance their flavour, white truffles should always be served raw.
The winter white truffle is harvested from the end of September, reaching peak season in October and November.
Always alluring, always a luxury: a brief history of truffles
Truffles have been enjoyed by us, mere mortals for centuries. The Ancient Greeks and Romans are said to have ascribed the potent fungi semi-divine, healing powers. They also believed in the aphrodisiac quality of truffles, which perhaps explains why they were considered 'dark and dangerous' by the Catholic Church in Medieval Europe.
This didn't prevent elite society from the seduction of truffles in Italy however. In the 16th-century Tuscan Grand-Duchy, Medici family members exchanged courtly gifts of truffles with one another. They even became a diplomatic tool for the Dukes of Savoy who presented truffles as an exotic gift to other European courts. They, therefore, became something of a paradox, a sign of the devil, on the one hand, a prized luxury on the other. At least the latter has stood the test of time and if indulgence is a sin, we'll take our chances.
Our favourite restaurants serving seasonal truffle dishes in Tuscany and Umbria
The Tuscan territory and its prized truffles inspire the dishes served at Tre Panche in Florence, nearly every dish features them in some way. Traditional pasta dishes like ravioli and lasagne and mouthwatering secondi like beef tartare and veal Milanese are given the truffle treatment. The magical atmosphere in this elegant osteria overlooking the Ponte Vecchio is just a bonus.
Taverna di San Giuseppe is housed in an ancient Etruscan cellar, with original Roman walls and is committed to authentic, unpretentious Siennese cuisine. The restaurant specialises in beef, truffles, boar and porcini mushrooms with an impressive wine list to pair with any meal.
Tar-Tufo in Siena; where the truffles are so good they named the entire restaurant after the star ingredient. The menu may be seasonal but you'll always find a fresh take on this flavoursome fungus to try. Just a five-minute walk from Il Campo, the atmosphere at Tar-Tufo is intimate and romantic, with red brick walls, an exposed wine cellar and a cosy terrace looking out across Siena.
A Michelin star restaurant in the heart of Umbria's truffle country — Norcia is a gastronomic paradise — this is haute cuisine at its best. Nothing says fine dining quite like a braised veal shank with black truffle in an old Renaissance palazzo. The focus at Vespasia is on sustainability and reducing waste so you must reserve a table and choose a menu at least 24 hours in advance. Choose from a tasting, four or five-course menu or tailor your own; all the produce, including their prized truffles, come from local farms in the Sibillini Mountains.
Housed in a former Franciscan convent, Apollinare is an intimate restaurant with exposed stone walls and beamed ceilings. The food at Apollinare charts head chef Giuseppe Sinisi's love affair with traditional Umbrian cuisine; fresh hand-made pasta, black truffles from Norcia, locally sourced meat and fish all with a creative, contemporary twist.
Our top 3 truffle recipes
Truffles are the perfect accompaniment to unpretentious dishes like scrambled egg and fettuccine, or even served simply with a slice of bread and olive oil. The recipes are endless, but if you want a dish that brings out the full flavour of truffles then here are the resident chef of the Estate of Petroio, Francesco Marucelli's, top 3 recommendations:
Tagliatelle al Tartufo
Serves 4 — Cook in 45 minutes
Ingredients for fresh pasta:
400g flour and semolina
4 large eggs
½ tsp salt
1 tsp Extra Virgin Olive Oil (EVOO)

Ingredients for the sauce:
Truffle, thinly sliced
40g EVOO
40g butter
Preparation:
Step 1: For the pasta: mix all the ingredients until the dough is smooth.
Step 2: While the pasta dough is resting, heat the oil in a pan with the butter over low heat until the butter is melted.
Step 3: Turn off the heat and add the sliced truffle flakes. Leave the sauce to flavour over the cooling hob while gently stirring the truffle flakes.
Step 4: Meanwhile, roll and slice the pasta dough into thin strips, then cook the fettuccine in plenty of salted water. Drain when al dente.
Step 5: Add the pasta to the sauce and return to the heat with a little of the pasta water to bind, while mixing thoroughly.
Step 6: Serve the dish with plenty of truffle shavings on top.
Faraona al Tartufo (Truffle-stuffed Guinea Fowl)
Serves 4 — Cook in 2 ½ hours
Ingredients:
1 boneless guinea fowl
300g minced beef
3 sausages
150g grated parmesan
2 boiled potatoes
Black truffle
150g salt, pepper, nutmeg mix
Ample white wine
Preparation:
Step 1: Mix the minced beef, sliced sausages, grated parmesan, boiled potatoes, black truffle and salt, pepper and nutmeg seasoning in a large mixing bowl. Place the guinea fowl on a sheet of grease-proof paper.
Step 2: Wrap the bird in the grease-proof paper and bake in the oven at 170°C for 2 hours, when half-cooked, baste with white wine.
Panna Cotta al Rosmarino e Tartufo (Panna Cotta with Rosemary & Truffles)
Serves 6 — Cook in 30 minutes
Ingredients:
500ml fresh single cream
Sprig of rosemary
6g gelatine sheets
60g sugar
Truffle
6 125ml moulds or ramekins
Preparation:
Step 1: Leave the leaf gelatine in cold water to soften for 10-15 minutes.
Step 2: Place the cream and a sprig of rosemary in a pan before adding the sugar. Gently heat until the cream starts to boil, then turn off the heat and remove the rosemary sprig.
Step 3: When the gelatine has softened, carefully add it — without squeezing too much — to the pan of hot cream. Stir with a spoon or hand whisk until the gelatin has completely dissolved and there are no lumps in the mixture.
Step 4: Pour the whipped cream and gelatin mix in 6 125ml ramekin dishes and leave to set. Serve with a garnish of truffle shavings.
When you stay in one of our fully-staffed villas with chefs, professional cooks like Francesco can prepare delectable dishes like this for you and your travel party, or even show you how to make them yourself in a private cooking class.