Montepulciano travel guide
Fine wine, a rare steak and a Renaissance palace: that's Montepulciano in a single phrase.
Southern Tuscany's highest hill-town (at 664m/2,178 ft.) snakes along a ridge overlooking vineyards and the fertile Valdichiana — food and wine are a highlight, of course. With its perch above a sea of Sangiovese vines, among the most prized in Italy, nature has been the town's best friend.
But humans played a role in shaping Montepulciano, too. Reminders of the boom-time line its most prestigious streets and main square, Piazza Grande. Palazzo architects working here during the 1400s and 1500s read like a who's who of Tuscan Renaissance architecture: Michelozzo, Sangallo, Vignola, and several others. Florence's finest architects left several palaces, giving the place a refined air that has lasted to this day.
Visit This
The stiff, uphill walk from the Porta al Prato along the length of Montepulciano's Corso (main street) is among the most genteel of any Tuscan town. Following a truce with Florence, which followed years of conflict, some of the Renaissance's finest architects came here to build for local notables.
Vignola designed the Palazzo Avignonesi in High Renaissance symmetry. Right opposite is a column topped with the Marzocco, traditional symbol of Florence. Andrea Pozzo, Michelozzo and Giuliano da Sangallo (Antonio's nephew) also contributed to Montepulciano's handsome main drag. It is a treat for architecture fans.
At Montepulciano's highest point, standing right in the middle of Piazza Grande allows you to soak up a 360-degree architectural panorama. On the west side of the square, the Palazzo Comunale was built in the late 1300s then revamped in 1424 by one of the Medici's favourite architects, Michelozzo, in homage to Florence's Palazzo Vecchio.
Its roof is the best perch for seeing the lie of the land around Montepulciano. Views stretch as far as Monte Amiata. This 1,738m/5,702-ft. mountain, an extinct lava dome, looms over much of southern Tuscany.
The name most associated with Montepulciano's appearance is Antonio da Sangallo the Elder. The Florentine architect settled here for the last 15 years of his life, designing several buildings and palaces before his death in 1534. The porticoed building on the north side, with a façade of honey-coloured travertine (a type of limestone), is Sangallo's Palazzo Nobili-Tarugi. The adjacent well, with the gryphon (symbol of Montepulciano) and the Marzocco (representing Florence), is also by Sangallo.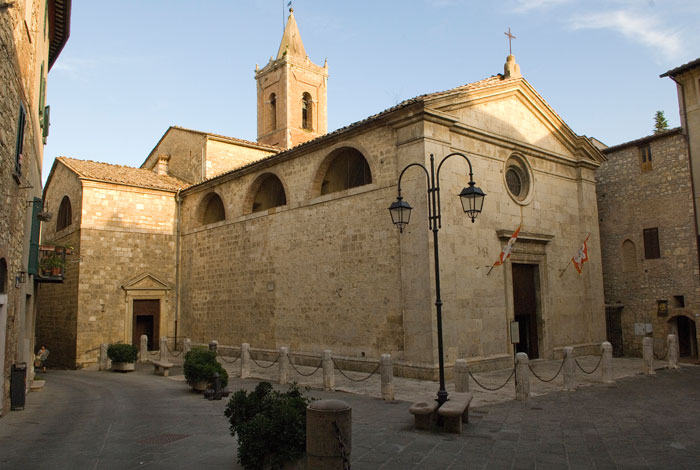 On the east side of the piazza is the Palazzo Contucci, occupied by a famous wine-making family (there's a tasting cantina in the basement).
On the south side is the never-finished façade of the Cattedrale di Santa Maria Assunta, Montepulciano's 16th-century cathedral. The dark interior is illuminated (literally) by a dazzling gold altarpiece in the Sienese style, by Taddeo di Bartolo (1401). It shows the Assumption (raising to heaven) of the Virgin Mary.
Montepulciano's small Museo Civico has painted terracottas by Andrea della Robbia, archaeological remains left by the Etruscans, and paintings dating to the medieval period (mostly Sienese in style). The collection is housed inside the Palazzo Neri Orselli, a Sienese-style palazzo from the 14th century.
Catch San Biagio as the afternoon shadows begin to lengthen and the whole church appears to glow gold
Eat & Drink This
If you like to eat — and especially if you have a passion for great ingredients served simply, rather than elaborate "cuisine" — then this is the right part of Tuscany for you.
Meat is the main event on most menus, typically beef. Nowhere is it treated with more reverence than at Osteria Acquacheta. The raw flesh is brought to your table for approval, then cooked (briefly… it's rare or nothing here) over the flamegrill. The real magic is the produce: all locally sourced, all seasonal, and all prepared in-house every morning. Seating is cramped, essentially communal, so this isn't a place for a romantic meal. But it is a food experience you won't forget.
Out in the sticks, in Monticchiello, pole position is the panoramic terrace at Osteria La Porta. The menu is classic Tuscan all the way, with regional speciality pasta pici (thick, uneven, hand-rolled spaghetti) sure to feature in Tuscan ragù sauces made with duck or boar. Mains are big on meat, too (guinea fowl, beef, and Impruneta's traditional spicy stew, peposo), plus there are usually truffles and porcini mushrooms in season.
Then there's the wine: the Sangiovese grape really put Montepulciano on the map. Vino Nobile di Montepulciano is one of Tuscany's great red wines, rich and soft and grown mainly on the lands east and north-east of the town. It is recognized by DOCG status — Denominazione di Origine Controllata e Garantita — the highest grade of Italian wine.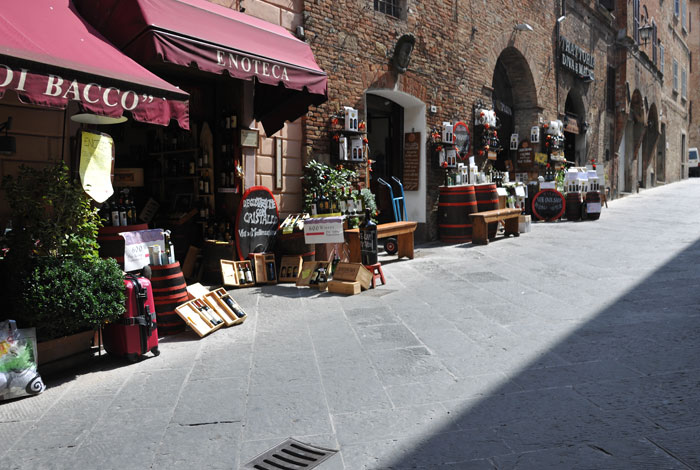 In Montepulciano itself, Gattavecchi sells a range of wines from everyday drinking reds to small-batch, concentrated Vino Nobile labels such as their Parceto, from its tasting room next to the church of Santa Maria Dei Servi. In the cellar, a simple, tiny underground chapel has been carved out of the tufa rock. Intriguingly, this little room sits right below the neighbouring church, which used to be a Servite convent.
Gattavecchi's cool, vaulted dining room and outdoor terrace also host La Cucina di Lilian, an informal kitchen that zeroes in on ingredients from the surrounding hills. Expect well-prepared Tuscan standards when it comes to pasta courses and secondi that get to the heart of la cucina poliziana, with dishes such as roast pork with almond cream.
The countryside is dotted with boutique wine cantinas that are happy to see visitors and offer tours and tastings. The best way to organize a wine-tasting day out is to visit or contact the Strada del Vino Nobile. Staff can advise on producers and routes to suit your taste and budget.
Out of Town
Just outside the town gates, a stiff downhill walk from Piazza Grande, is Sangallo the Elder's masterpiece, and one of the most photographed churches in Tuscany. Fronted entirely in travertine, San Biagio is designed on a perfect Greek cross pattern, and dedicated to St. Blaise, an Armenian doctor martyred in the 4th century.
If you approach Montepulciano from Pienza, there's a memorable view of San Biagio. As you round the final bend before the town, there it is: set away from Montepulciano's walls, with not a single other building to pollute a view of Renaissance perfection. Catch it as the afternoon shadows begin to lengthen and the whole church appears to glow gold.
Chianciano Terme, south of Montepulciano, is known for its thermal waters, said to be beneficial for the liver. ("Spas" in Chianciano are medicinal, rather than for pampering.)
The town is also linked with novelist and Nobel Laureate Luigi Pirandello, who set two novellas here. You can follow a marked trail of sites relating to his time in the area in the tiny, atmospheric medieval village of Chianciano Vecchia, just north of the main 20th-century spa development.
A balcony by the medieval Torre dell' Orologio (clock tower) is a fine place to pause and admire the view.
Buy This
Craftsmanship is alive and well at workshops strung along Montepulciano's Corso. At the Laboratorio Mosaici Artistici, mosaic artist Albo Mazzetti creates elaborate landscapes, portraits, and local street scenes by hand. Nothing is cheap (think of the patience needed!), but they make stunning souvenirs.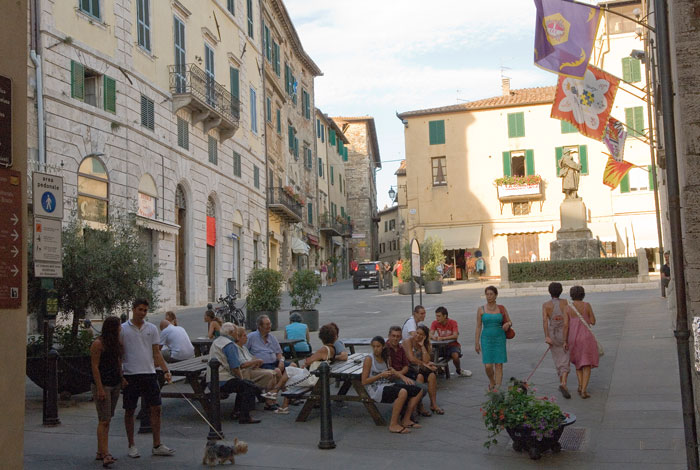 Elsewhere on the Corso, you can browse leather shops, ceramics, olive oils, local honey, and wine in abundance, local painters and intarsia artists, and more.
Festivals
In late August, the Bravio delle Botti sees teams from Montepulciano's eight contrade (neighborhoods) race giant wine barrels for a mile or so up the steep Corso. It's all carried out in medieval garb.
Three Excursions from Montepulciano
Pienza

:

like a tiny Renaissance matchbox film set, with sublime views over the Val d'Orcia and a rep for its sheep-milk cheese, pecorino di Pienza

Montalcino

: the home of southern Tuscany's other great red wine (Brunello) has an intact fortress, a fine art and archaeology museum and among the olive groves just outside town, a perfect 12th

-century abbey

Sarteano

:

this small but lively market town is well off the main tourist trail, but has some of the most precious Etruscan remains in central Italy