Todi travel guide
Todi is at the centre of Italy's only region without a coastline or international border: Umbria. It's a delightfully stranded place; a tranquil town with fine views from high on its hill above the River Tiber, across hills dotted with isolated hamlets, olive groves, sunflower fields and rolling farmland.
Life here is lived among tumbling streets and tiny alleys that are stuck in the Middle Ages. Despite a steady stream of visitors and day-trippers, it seems unruffled by the bustle of modern tourism.
In the Beginning…
Todi sits at a crossroads — halfway between Perugia and Terni, or Orvieto and Spoleto. And it has always been that way.
An eagle is the star of the town's unusual founding myth. He stole a picnic blanket and dropped it here, on this strategically sited hilltop.
More certain is that several centuries before Christ, the original settlement was on a border between the Etruscans and Ancient Umbri people. Later, Rome used Todi (then called "Tuder") as an ally and outpost against both, and granted its people Roman citizenship.
During the Dark Ages, Goths, Byzantines and Spoleto's dukes occupied the growing city. In the 1300s, it was annexed into the Papal States — the Pope's personal fiefdom — and stayed there, almost unchanged, until Italian unification.
Dark and powerful, Sagrantino di Montefalco is a blockbuster red wine that can age for a decade or more
Visit This
Relaxation is the watchword here, at the heart of one of Italy's most spiritual regions.
Todi has one of central Italy's most photogenic piazzas. There is nothing showy about Piazza del Popolo, just an understated serenity enclosed by the 13th-century Palazzo del Capitano and Palazzo dei Priori. Surveying it from one end is the minimalist façade and rose window of Todi's Romanesque–Gothic Cathedral.
Below the square are vast Roman cisterns, built in the 1st century BC and over 80m/262 ft. long. The cisterns were part of a rainwater storage and drainage system that carried water from the Forum—then, as now, the main square overhead—to the valley below.
The town's most photographed building is just downhill from the town walls: the church of Santa Maria della Consolazione was designed by Cola da Caprarola (or maybe even Bramante), with geometry that follows a classic Greek Cross pattern that became fashionable during the High Renaissance.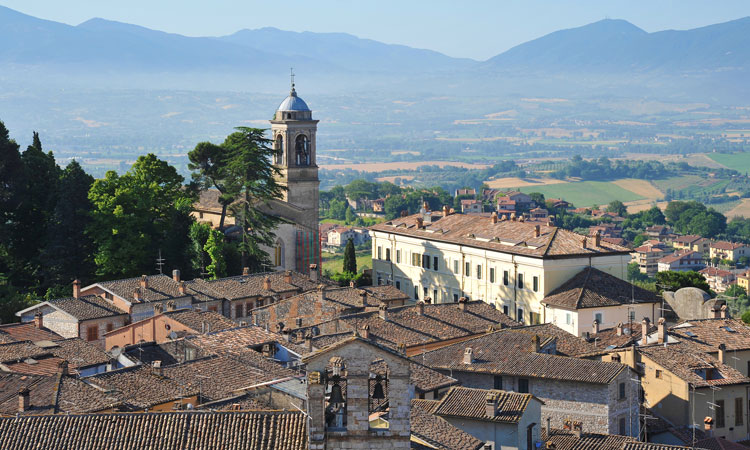 To get the best view of it — and the hills that form its backdrop — you can climb 150 steps to the top of the campanile (bell tower) of San Fortunato church.
This Gothic church also houses the tomb of Jacopone of Todi (1230–1306). Nicknamed "God's Jester", Jacopone was a wandering Franciscan friar and an outspoken opponent of Pope Boniface VIII. He also wrote poetry in the local dialect. (And before Dante did the same thing in neighbouring Tuscany; locals are proud Jacopone got there first.)
Eat & Drink This
The flavours of Todi (and all over Umbria) are simple and bold: a wild boar stew; a glass of blood-red Sagrantino di Montefalco wine; something — pretty much anything — dusted with truffle.
Like many Umbrian markets, Todi's Saturday market is a great place to stock up on produce or chow down on a hot porchetta (rolled, and often herbed, pork) sandwich.
Umbrian specialities include delicate Castelluccio lentils, which grow in the Monti Sibillini (great with pork); DOP olive oil from the Colli Assisi-Spoleto zone; and formaggio di fossa (literally, "ditch cheese"), a sheep's milk cheese wrapped and traditionally aged underground. Foraging — woodland vegetables, wild herbs, fruits, fungus — is common practice, and foraged ingredients often appear on menus.
Umbria's best wines come from gentle hills north-east of Todi. Dark and powerful, Sagrantino di Montefalco is a blockbuster that can age for a decade or more. It partners strong, gamey meats like boar perfectly. Rosso di Montefalco is still full-bodied, but a little gentler (and more affordable).
In nearby Torgiano, the Museo del Vino has ethnographic displays dedicated to the history, science and culture of winemaking in Umbria, and Europe generally. The museum is run by the Lungarotti wine-making family. (And, yes, there's a shop just down the road...)
Out of Town: Monte Castello di Vibio
Six miles north-west of Todi, Monte Castello di Vibio is a small town with yet more sublime views over farmland, woods and olive groves. The atmosphere and architecture are thoroughly medieval, though "di Vibio" was only added in the 1860s, after a royal decree aimed at towns with common names. "Monte Castello" just means "castle mount" — Italy has several.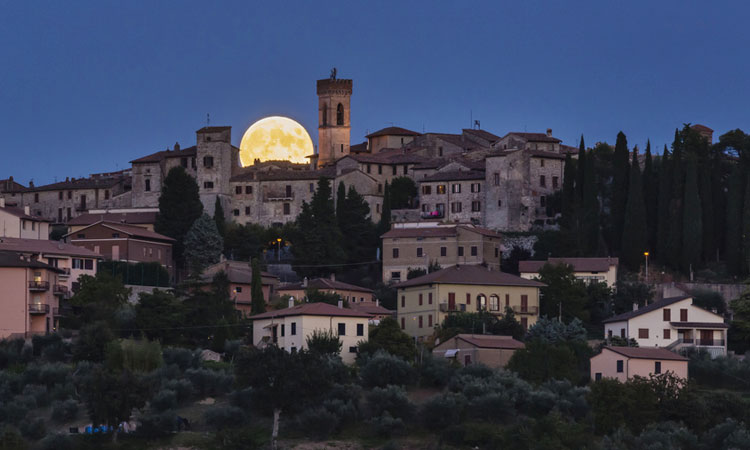 Monte Castello di Vibio also claims the "world's smallest theatre", the 99-seat Teatro della Concordia, inaugurated in 1808, restored in the 1990s, and complete with stalls, 2 decks of boxes and a stage.
Buy This
Deruta, 15 miles north of Todi, has been a centre for majolica ceramic production for centuries. Streets are lined with small shops selling glazed, brightly-painted pottery in useful (and souvenir-friendly) shapes and sizes.
Festivals
In early July, the Sagra Agnello Scottadito celebrates Monte Castello di Vibio's traditional dish: lamb chops whisked straight off the hot grill, for eating with your hands (scottadito translates as "finger searing").
Three Excursions from Todi
Bevagna: Umbria's foodie hotspot has several top-notch restaurants crammed into its small, walkable centre
Perugia:

the regional capital is kept lively by a large student population; its Galleria Nazionale has a stellar Renaissance art collection; and in Piazza IV Novembre, the Fontana Maggiore was decorated in the 1270s by Gothic sculptors Nicola and Giovanni Pisano

Spoleto: for 3 weeks in June and July, it hosts one of Europe's most prestigious classical music festivals, staged around town including outdoors in a Roman theatre; all year, inside the cathedral, you can see famous apse frescoes by Florentine painter Filippo Lippi