Wine plays a major role in Italy's economy… and a big part in Italian identity, including as the focus of many Italian festivals and celebrations.
One of many annual May festivals in Italy, the annual Mostra del Chianti educates visitors about the traditions, practices and culture of this region's famous wine. The fair takes place in Montespertoli — a village with top producers of wine and olive oil, such as Castello Sonnino.
It's just one event among many: visiting Italy in May is lots of fun.
Festa della Sensa: May 12–13
The Feast of the Ascension celebrates the bond between Venice and the sea.
This festival re-enacts a traditional ceremony dating to 1000 AD, beginning with a water parade from San Marco to Lido. The city mayor leads the way on the Serenissima boat, and once in the Port of Nicolo, throws a gold ring into the water to complete the ceremony. This rite unites the city and sea in "marriage".
A special mass in the Church of San Nicolo al Lido follows, as well as a rowing competition across the Lido. Spectators are welcome.
Sagra del Pesce: 2nd Sunday
Each May the townspeople of Camogli (near Portofino) honour the protector of fishermen, San Fortunato.
On the eve of this fish festival, two neighbourhoods organise a bonfire competition. The following morning, fisherman bring out blessed fish plus some 28-ton frying pans. Any hungry local or visitor gets to enjoy their fry-up. From one of our villas in Portofino, Camogli is only a 13km drive.
Barberino in Fiore: 2nd weekend
The fortified town of Barberino Val'd Elsa — half-way between Florence and Siena — hosts this annual "Barberino in Bloom" event.
This colourful festival is dedicated to the skills, traditions and creativity of the Chianti. All weekend, Barberino's historic centre fills with stalls hawking local flowers, food and wine, art, craftwares and more.
Night of the Museums: May 19
Don't confuse this with the Ben Stiller movie… Every year in mid-May, Night of the Museums takes place across Italy and Europe.
Museums in many cities remain open past midnight, offering free admission or reduced prices as well as temporary art shows, dance, theatre, music or one-off guided tours.
Pinocchio's Birthday: May 25
Fictional icon Pinocchio celebrates his birthday this month.
Collodi, east of Lucca, is the birthplace of Pinocchio's author, Carlo Collodi, and home to a vintage theme park created in honour of Italy's favourite wooden puppet. On his special day, the town hosts a festival of family-oriented activities.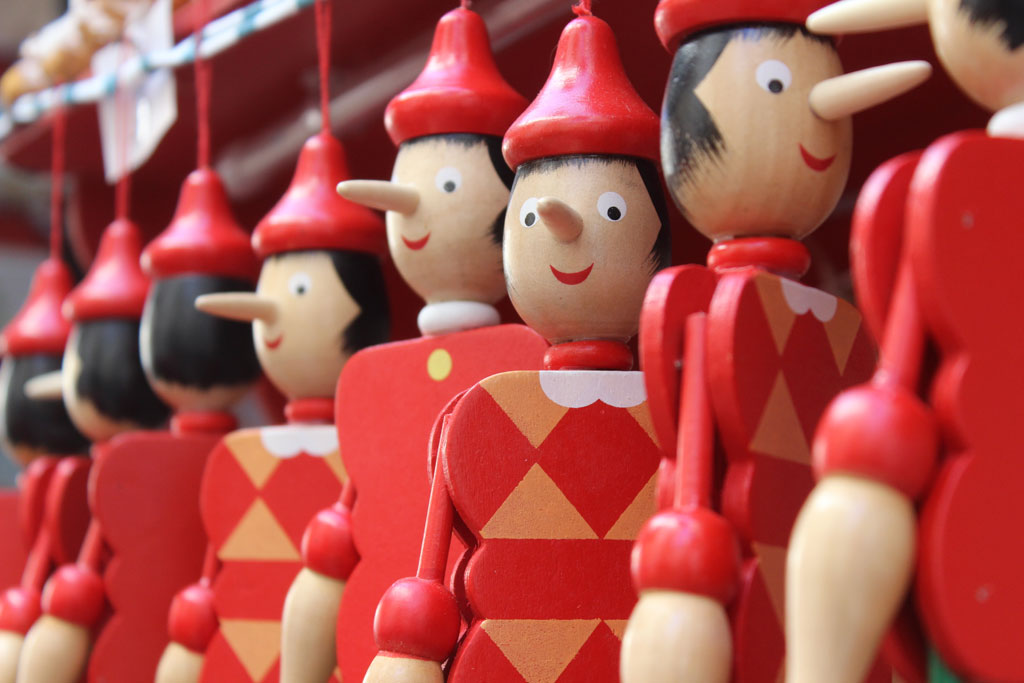 Maggio Musicale Fiorentino: all month
Inaugurated in 1937, Maggio Musicale Fiorentino is one of the oldest and most famous classical music festivals in Italy (and Europe).
Every year Florence welcomes lovers of the arts to more than a month of concertos, opera and ballet (this "Musical May" actually extends into June). Events are staged around the historic centre, but the principal focus is Florence's daring contemporary opera house.
Apply for tickets online ahead of arrival: big-name shows are a sell-out.
Cantine Aperte: last weekend
"Cantine Aperte" — Open Cellars — is one of Italy's most important wine tourism events.
Wineries from the Alps to Mt. Etna open their cellar doors to the public. Enthusiasts can taste and buy, and even learn some of the secrets and traditions behind the final product.