The largest of the Italian lakes, Garda is nestled into the base of the blue snow-tipped Dolomites. Its picturesque shoreline stretches over 90 miles and is divided between the provinces of Verona, Brescia and Trento. Whilst the narrower northern end of Lake Garda is defined by its mountainous landscapes, hilltop villages and windier climate, making it ideal for sailing, its southern shores are wider, milder and far calmer, with tranquil beaches and harbour towns. Owing to its mild, Mediterranean microclimate, olive trees, vineyards and lemon groves flourish along its shores, bringing Garda renown for its DOP Extra-virgin olive oil and fine red wines like Bardolino and Valpolicella.
From action-packed watersports and scenic boat trips to the best beaches for sunbathing, our favourite towns to visit around Lake Garda will make for the perfect day trip from your very own luxury villa near Verona or Venice.
Sirmione: the prettiest town on Lake Garda
Sirmione is situated on a serene and picturesque peninsula protruding from the southern shores of Lake Garda. This popular lakeside town is famous for its thermal springs, which have been attracting visitors since Roman times. If you are looking for a day of complete calm and relaxation then Sirmione is the town for you. Bathe in the hot springs, pamper yourself at one of the town's lakeside spas, sunbathe on one of Sirmione's beaches and swim in crystal clear waters.
Warm buildings, frescoed churches, narrow cobbled streets and luscious parks and gardens define Sirmione's historical centre, which is also brimming with cafes and shops. At the heart of the old town is the Rocca Scaligera, a well-preserved 13th-century fortress, built by a powerful Veronese family who presided over the neighbouring city for over 200 years. It is worth climbing the castle's tower for unrivalled views across Lake Garda and the mountains beyond. At the peninsula's northernmost edge is the Grotte di Catullo, an immense ruined 1st-century Roman villa, which is surrounded by olive trees.
Malcesine: the best town for windsurfing and sailing
From Riva del Garda to Malcesine along the lake's north shore, the northern Pelèr and southern Ora winds blow regularly throughout the day, making this the best place for sailing, windsurfing and regattas.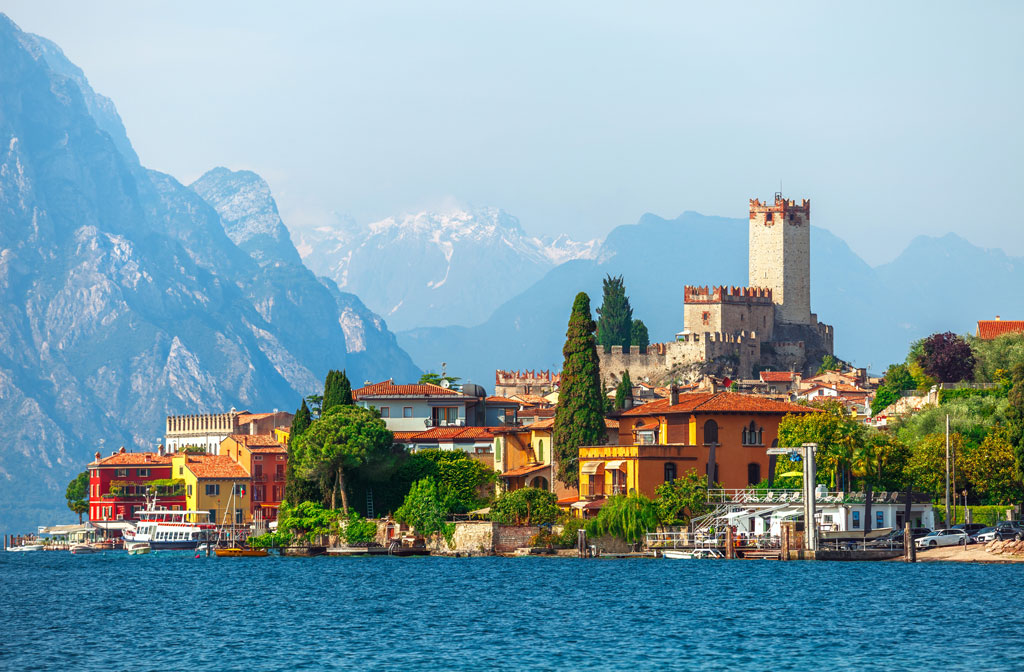 Situated at the foot of the immense Monte Baldo, it is possible to take a cable car from Malcesine to the top of the mountain, offering the most breathtaking views across Lake Garda. The proximity of this resort town to Monte Baldo also makes it a haven for outdoor lovers, who flock here for hiking, cycling and paragliding.
Excellent ferry links make Malcesine an ideal base for exploring other picturesque towns along Garda's shoreline, like Riva and Limone. The latter, renowned for its lemon groves, is cut into the mountainside and until the 1930s could only be accessed by boat. It is arguably still the best way to approach the town.
Categorised by the historic Castello Scaligero and Palazzo dei Capitani, with its pretty landscaped garden, stone-paved streets and ancient harbour, Malcesine is also a serene spot for a day of relaxation. Explore the town's boutique shops and enjoy a leisurely lunch at one of its many cafès or restaurants, before heading to the pebbled beach for an afternoon siesta.
Bardolino: the town famous for its red wine and olive oil
Like Malcesine, Bardolino is set beneath the Monte Baldo, making it an attractive destination for hikers and mountain bikers. This quiet lakeside town gives its name to Bardolino Classico, the light red DOC wine produced on the eastern shores of Garda. Like its famous neighbour, Valpolicella, Bardolino is primarily made from a blend of Corvina and Rondinella grapes. It is possible to walk or cycle further inland to explore local vineyards and taste the fruity red wine, with its notes of cherry and raspberry.
However, Bardolino also makes an excellent lunchtime wine, so why not spend the morning water skiing or swimming followed by a leisurely afternoon in a shady lakeside restaurant. Along the waterfront is a marina and airy promenade which truly comes to life on a summer evening, with plenty of live music, street entertainment and cocktails bars to pass the time.
The promenade also connects Bardolino to the nearby village of Cisano, which is home to Lake Garda's Olive Oil Museum. Garda's shores have a centuries-old history of Extra-virgin olive oil (DOP) production and the museum is dedicated to these ancient processes. It would be a tragedy to visit the region without sampling the liquid gold of Garda.
Lazise: the town of sandy beaches
Lazise is a unique and popular spot for its soft, golden, sandy beaches since many of those around Lake Garda are pebbled or grassy. With its brightly-coloured picturesque harbour, Lazise could pass for a miniature Portofino from the water. Situated in the heart of the town's historic centre, the vibrant harbour is lined with the 14th-century Venetian customs office, the Romanesque Chiesa di San Nicolò, as well as several cafes and restaurants. A wide cosmopolitan promenade, paved in red brick and marble, stretches along the waterfront as well. The Castello Scaligero, another stronghold once belonging to the powerful Veronese family, lies to the southern end of Lazise and its five towers stand proud above the town.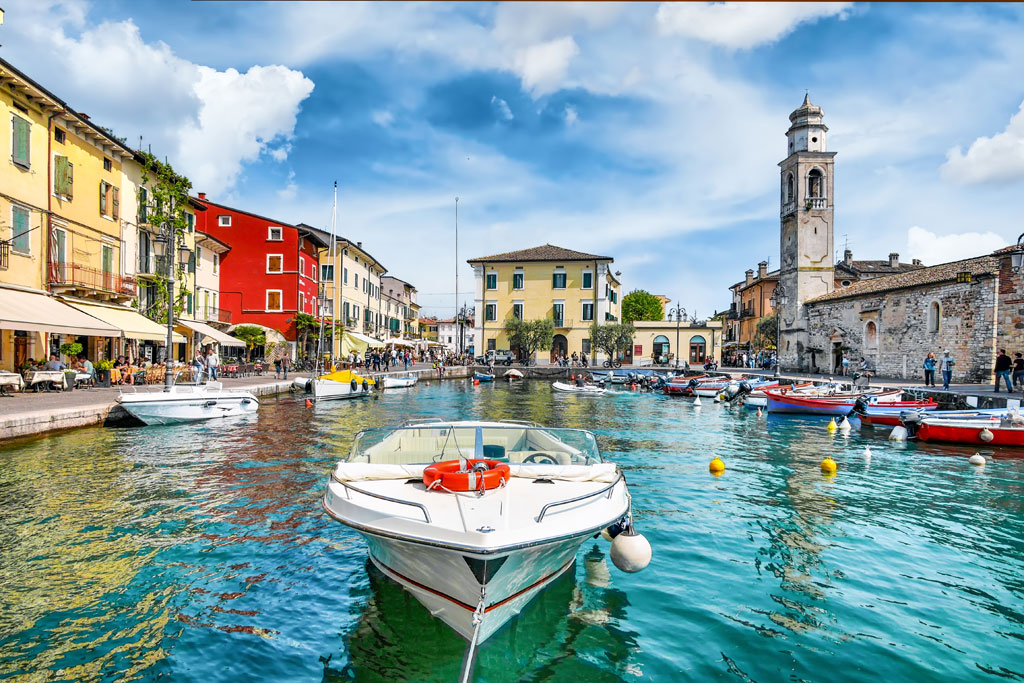 It is worth noting how busy Lazise can get in the summer months. If you are looking for a quieter spot to relax, it might be worth forgoing the sandy beaches for more secluded spots like the Parco Baia delle Sirene ("Bay of the Sirens"). This natural park is nestled between the historic towns of Torri del Benaco and Garda and is surrounded by luscious woodland and captivating scenery.
Peschiera del Garda: the best town for rowing and kayaking
Peschiera del Garda is an impressive fortified town with its network of canals weaving through the historic centre. Situated on the southern shores of Lake Garda, it is protected from the northern winds, which makes its calm turquoise waters the ideal place to visit for rowing and kayaking. You can also try your hand at more traditional sports like Venetian rowing ("voga veneta"). One of only two resort towns with a train station, Peschiera is easily accessible from Venice, Verona, Padua and Mantua, if you do not have a car.