Italy pours its spirit into alcoholic drinks, from Chianti wine to Venetian cocktails, and the sweet Amaretto liqueur has made its mark in Lombardy. Amaretto is a popular drink in Italy and is often a supplement in classic Italian desserts such as Tiramisu. Two noble families fight to be crowned creator of Amaretto, with possible Renaissance roots making this liqueur a historic icon of Lombardy. Amaretto originated from Lombardy's scenic comune of Saronno, a Northern neighbour to the region's fashion-hub capital, Milan.
Discover the history behind this alluring liqueur and relish in its almond flavour at Lombardy's finest bars. All of our luxury villas near Venice and Verona are just an hours' drive away from the birthplace of the iconic Amaretto.


A guide to Amaretto and where to drink this sweet liqueur in Italy
Two households, both alike in claims
The history of Amaretto is largely defined by the artisanal productions of the Lazzaroni family. They moved from the Valtellina valley to the Renaissance municipality of Saronno in the 18th-century, where their business of Amaretti flourished. They began selling the well-known Amaretti di Saronno, bitter-sweet macarons with the trademark almond flavouring. The son's, Paolo and Davide continued the Lazzaroni family's legacy and started the production of liqueurs in the 19th-century. The year 1851 is the moment they claim to have created Italy's beloved Amaretto.
Going back further in Italian history raises the opposing family of this theory. The Reina family are also a claimant of Amaretto, who interestingly worked for the Lazzaronis at some point in time. Their story begins in 1525 with a widow posing for Bernardino Luini, one of the most famous Milanese Renaissance artists of the early 16th-century. Luini worked as a fresco painter in Milan but did some work in Saronno, which is where the Reina family make their claim. The posing widow fell in love with him and subsequently gave him a potion to entice him — a concoction with strong almond aromas.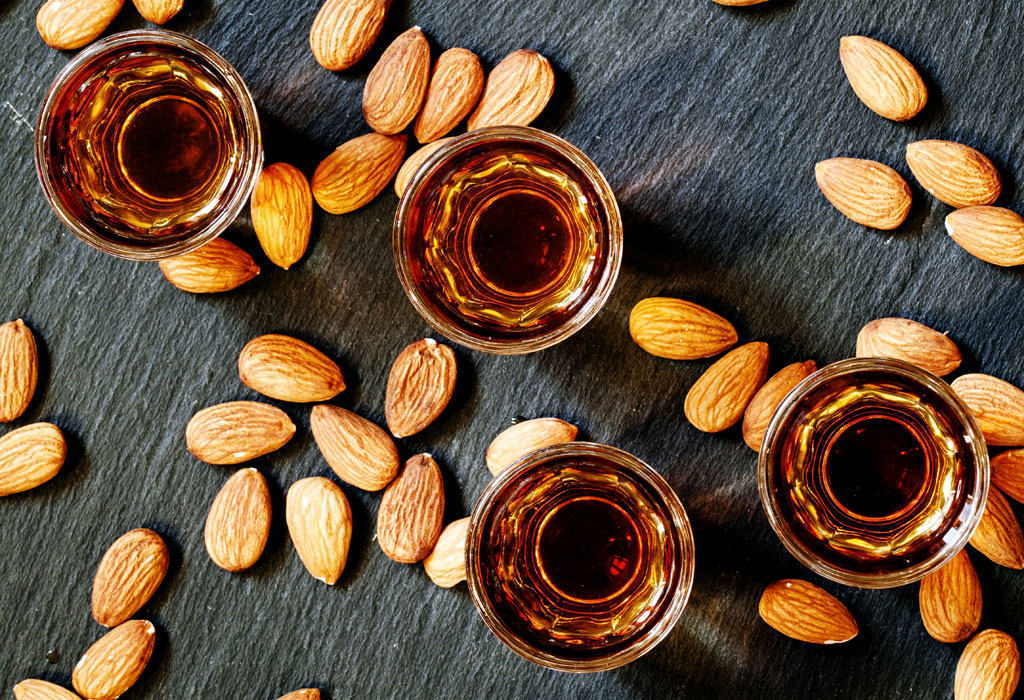 Today, Amaretto has been marketed and rebranded numerous times. The most recognisable name on the market is arguably Disaronno, a type of Amaretto that exemplifies the liqueur's bitter-sweet almond taste. Disaronno has become a worldwide obsession that is still manufactured in the scenic comune of Saronno to this day.
Extracting the apricot core
The familiar name, Amaretto ("little bitter"), leaves little mystery surrounding its aftertaste. When it comes to its main flavour, Amaretto is to almond as Grand Marnier is to orange — strong and bitter-sweet. Interestingly, not every Amaretto recipe contains almonds to achieve its slightly nutty flavour — the secret lies in apricots.
The definitive ingredient is the oil found in apricot kernels, extracted by soaking the subjects in water for up to 20 minutes. Cold pressing is performed on the kernels to help protect the oil from heat and retain its quality. This oil is infused with 17 botanical ingredients, notably vanilla, and laced with burnt sugar caramel. This helps the liqueur achieve its deep chestnut hue washed in a ginger-orange undertone.
Amaretto is typically served as a dessert drink. It can be enjoyed as a cordial over ice, or mixed with carbonated drinks for a longer beverage. The almond liqueur pairs well with coffee and is often used in creamy cocktails or as a way to sweeten up a martini.


Our favourite places to try Amaretto in Lombardy
Lombardy is known for a captivating nightlife, made complete with its local liqueurs and cocktail bars. We've carefully selected the best venues that epitomise Lombardy's vibrant drinking scene, to complete your experience of its favourite liqueur.
On the outskirts of Amaretto's birthplace, Saronno is a bar known as La Stiva. This pub and cocktail bar is found along the Via Leonardo da Vinci road, named after Luini's major influencer. La Stiva offers an extensive cocktail list under colourful fluorescent lighting, with all the drinks holding a creative flair. We recommend La Stiva as the perfect place to relish in the Amaretto obsession; its lively atmosphere elevates you to dance and its historic connection to Amaretto is unmatched.
In the stylish city of Milan is Wave, a cocktail bar dedicated to revolutionary Milanese drinking experiences. Caught between the Basilica di Sant'Ambrogio and Basilica San Lorenzo Maggiore, Wave is at the heart of Milan's historic core. This bar captures the Milanese elegance with plush sofas, opulent lamps and a cocktail menu to die for. We recommend Wave as a more stylish location to experience all Amaretto has to offer, as this venue serves you the classic almond cordial over ice or in one of their many decadent cocktails.
Found on the edge of Mantua's city centre is Le Pupitre 18, a slightly secret cocktail bar with a great happy hour. The interior boasts a rustic appearance with a refined atmosphere, and the rooftop is host to a breathtaking view of Lago Inferiore. Le Pupitre 18 is adored for its generous platters of finger food, including local cold meats, cheeses and olives. We recommend Le Pupitre 18's simple take on Amaretto: served over ice for a refreshing cordial to wash down their delicious Italian tapas.


Alluring blends: 3 Amaretto cocktails to try
Aside from the countless brand variations of Amaretto, there have been plenty of cocktail creations. We've narrowed it down to our top 3 Amaretto concoctions, all of which are found in most bars or readily available to be made in your own home.
Amaretto Sour: The familiar face of all Amaretto-based cocktails in the Amaretto Sour. Amaretto is blended with bourbon whiskey for a rich flavour, thickened with egg whites and spiked with lemon for a citrus twist. Garnish with more lemon and cherries.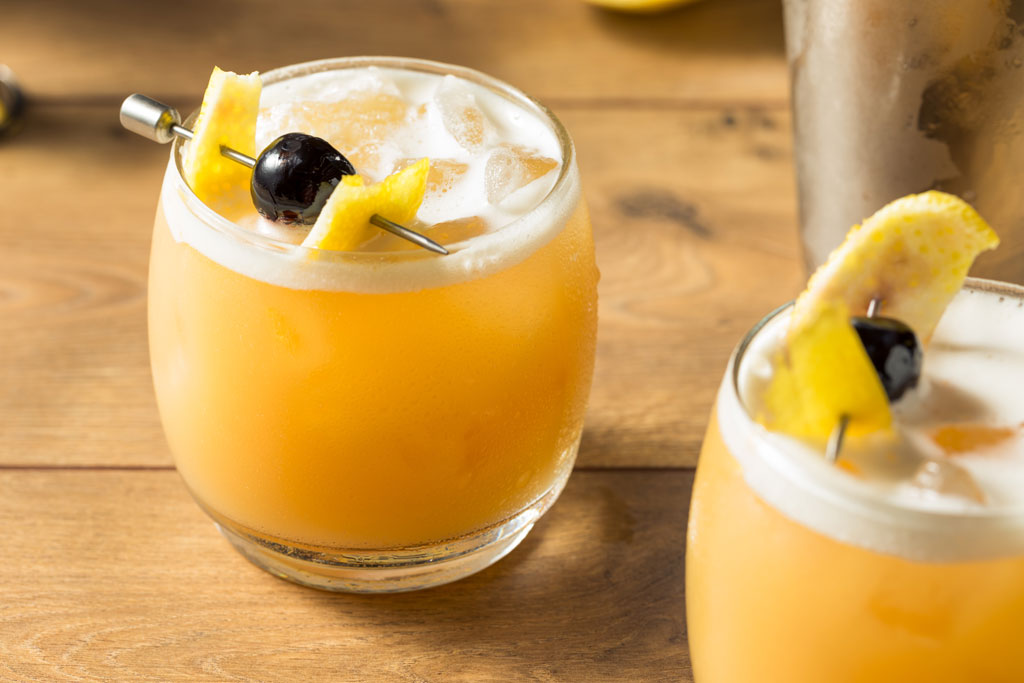 Godfather: This 70s cocktail came into view following Francis Ford Coppola's timeless classic The Godfather, and certainly does the film justice. It's simply a mix of whiskey and Amaretto strained over ice, served in an Old Fashioned glass for a timeless touch.
Café Amore: Perfect for coffee lovers, Café Amore blends Amaretto with Cognac in an Irish coffee glass served with hot coffee. The drink is topped with whipped cream and shaved almonds so it resembles a very grown-up coffee drink.