One of Italy's fondest cultural traditions is the art of aperitivo. The simplicity of enjoying a drink before a meal was given the Italian treatment, transforming it into a social pastime favoured by locals and tourists alike. Aperitivo thrives in the Veneto region, where the best in food and drink options are available — notably Padua's Aperol.
If you're staying in one of our villas near Venice and Verona, one of the best ways to live like a local is to partake in the region's finest aperitivo. A vital drink on everyone's table is Aperol, a bitter apéritif native to Veneto and the foundation to some of Italy's trendiest cocktails.
The Paduan origin of Aperol
The city of Padua is a popular tourist attraction renowned for its art and historic buildings. Aperitivo is a common ritual in Padua, occurring every day with the weekend featuring the height of this activity. The piazzas of Padua become flooded with people during the golden hour, enjoying Veneto's favourite vibrant orange aperitivo.
The year 1919 saw the induction of Aperol executed by two brothers named Luigi and Silvio Barbieri. The Barbieri brothers assumed their father's liquor company just seven years before and introduced a drink to be enjoyed by many Italians after the war. The liquor was favoured mostly by young adults with active lives, and through years of rigorous marketing campaigns, Aperol was the go-to aperitivo in Italy.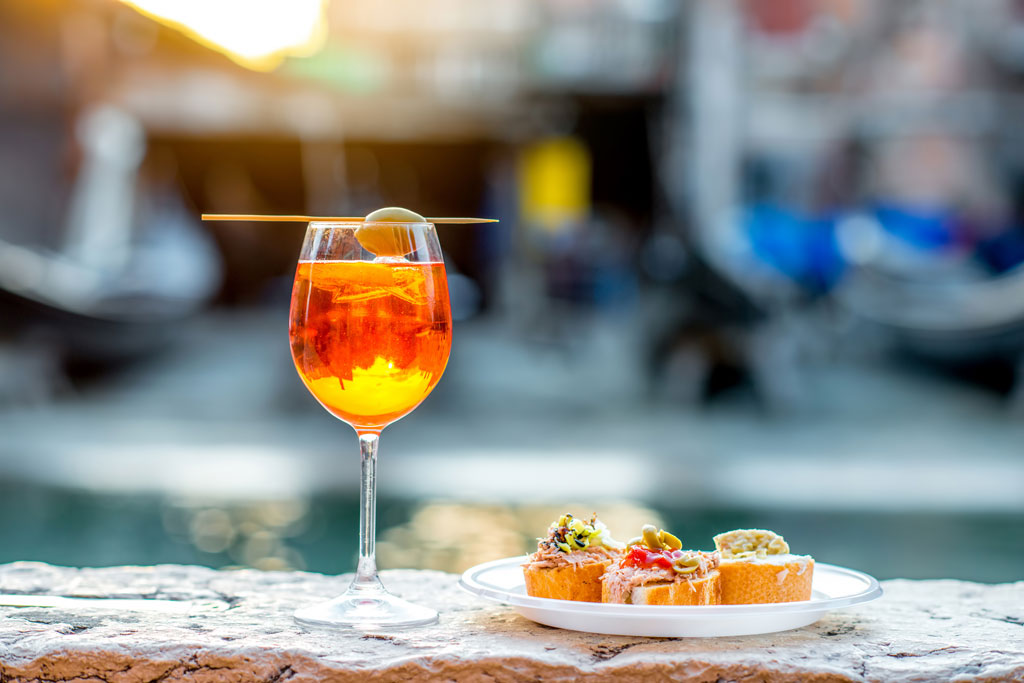 The name Aperol comes from Apéro, a French slang term for apéterif. The Barbieri brothers always held the vision that it would be an apéterif, creating the perfect blend of sweet and bitter citrus flavours to match with a variety of foods. Since 1919, the recipe of Aperol has retained some of its vital secrets but has never changed.
How Aperol gets its orange vibrance
Aperol never goes unnoticed with its bright orange appearance. The neon qualities of its hue provide a bright reminder of summer, a time when this drink is at its most popular. Aperol is often mixed with soda water or some other form of bubbles, served in a wine glass accompanied with an orange slice to complement its zesty flavour.
The process of making Aperol involves a selection of herbs and plants. The essential ingredients are gentian, cinchona, rhubarb and oranges. Gentian and cinchona are both flowering herbs with bitter aromas that work well with the sweetness of the oranges. The rhubarb provides the sharpest strand of sourness, which is why Aperol is often mixed with sweeter bubbles to balance the overall taste.
Aperol is often compared to Campari for its colour, where Campari has redder tones instead of luminous orange. The original recipe for Campari used crushed cochineals to achieve its ruby shade, however, the story behind Aperol's orange glow can likely be accredited to the drink's heavy use of orange.
Our favourite places to drink Aperol in Padua
Padua has three central piazzas acting as the ultimate destinations for aperitivo. It can be hard to distinguish what venues will be tourist traps and what will be a tribute to local culture, so we've sought out the best bars to go to in Padua.
Located in Piazza dei Signori, Caffè Pedrocchi is known by Paduans for great coffee and cocktails with architectural prominence. Founded in the 18th-century as an intimate cafe, Caffè Pedrocchi has expanded its menu to offer food and drinks fit for the ultimate Paduan aperitivo experience. Here you can enjoy Aperol and Italian tapas where famous figures such as Lord Byron once sat, making Caffè Pedrocchi a must when in Padua.
Found amongst the food markets of Piazza Delle Erbe, Bar Canaja is a simple counter-serve cafe overflowing with drink options. Bar Canaja is perfect for aperitivo on one of Padua's bustling streets and ideal for lunches in the city sun. The gastronomic highlights of Bar Canaja are displayed in its paninis and Aperol Spritz, a delectable combination available throughout the day and evening.
Located in a quiet spot in the heart of Padua city centre, La Yarda is renowned for its variations of Spritz. Just a short walk from Padua's famous clock tower, Torre dell'Orologio, La Yarda is close to some of Veneto's best tourist attractions but still nestled away from the busy piazzas. Experiment with La Yarda's refreshing family of Aperol Spritzes alongside their homemade polpette ("Italian meatballs"), for the perfect aperitivo ritual in Padua.
Citrus fusions: 3 Aperol cocktails to try
Although Aperol has a flavour light enough to be enjoyed alone, its fruity aroma serves as the perfect foundation for some deliciously refreshing variations.
Aperol Spritz: Also known as the Spritz Veneziano, this glowing cocktail is perfect for golden hour. Aperol Spritz combines Aperol with prosecco and soda water, creating a colourful summer drink reminiscent of a sunset, garnished with a fresh orange slice.
Summer Negroni: A spin on the traditional Negroni, this drink mixes Aperol with gin and Lillet Blanc, a sweet wine adored for its honeyed and candied orange flavour.
Ten Spot: This fruity upgrade adds grapefruit and limes to the mixture, combining Aperol with Tanqueray Nº Ten gin. This modern drink is served chilled in a champagne flute for a sophisticated cocktail.