Tuscany is a culinary paradise, renowned for offering some of Italy's most unique recipes. From Bistecca alla Fiorentina ("chunky flame-grilled, bone-in steak") to Pappa al Pomodoro ("bread and ripe tomato soup"), the list is endless.
The cuisine in Pisa is a combination of land and sea recipes. From fish and seafood specialities to game, every meal is blessed with quality and fresh ingredients. While a tasty plate of pasta can be found anywhere in Pisa, we've compiled a list of the best places to eat like a local in Pisa. If you're staying at one of our villas near Pisa or Lucca, these restaurants are easily accessible and will transform your gastronomic experience in Tuscany.
Best places to eat like a local in Pisa
Finding the balance between culinary experimentation and a sophisticated menu can be tricky, but La PergOletta has perfected this.
La PergOletta has been serving traditional Tuscan cuisine since 1959, offering guests a refined, candle-lit atmosphere with flawless white tablecloths. Hidden in the cosy streets of Pisa, it's a short walk from Piazza della Berlina and close to the Arno River.
What to order
To start, try the tentacolo di polpo grigliato ("grilled octopus tentacle"), as it comes served with mashed potato and nduja from Calabria. Nduja is rich pork laced with fiery Calabrian spices, bringing the delicate flavours of the octopus to life.
Some popular primi include: homemade ravioli con gamberi e tartufo nero ("stuffed pasta with shrimp and black truffle") but if seafood isn't to your liking, try the gnocchetti made with blue cheese, Giffoni hazelnuts, coated with pumpkin cream.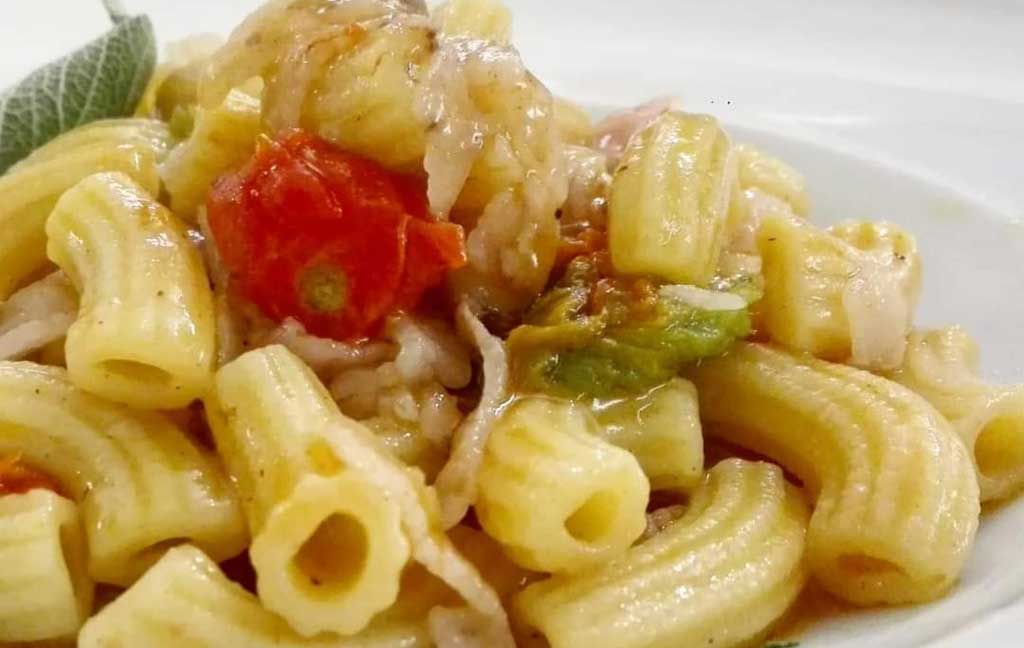 If you've ever wanted to dine in a medieval grotto, this is the restaurant for you. La Grotta offers a laid-back, cosy atmosphere with a ceiling carved from stone and exposed brick. Their menu offers the best in rustic Tuscan dishes, all at an affordable price.
What to order
For mains, La Grotta's pici is popular amongst the locals. Pici are thick, hand-rolled spaghetti, served with the simple yet classic cacio e pepe combination ("black pepper with Pecorino Romano cheese"). If you fancy something lighter, try the maccheroncini, served with courgette flowers and cherry tomatoes.


Alla Bòna means natural and genuine without pretensions of form, a quality reflected in this restaurant's menu. Found on the lively Via Santa Maria road, Allabona is located in the heart of Pisa. The restaurant prides itself on simplicity and Tuscan traditions, offering an authentic culinary experience.
With outdoor seating on one of Tuscany's many busy streets, experience the movida of Pisa and make friends with the locals. It is also only a 5-minute walk from Piazza dei Cavalieri, one of the main squares of the city.
What to order
For your first dish, we recommended the Zuppa Toscana, otherwise known as Tuscan soup. This soup's key component is rigatino ("salt-cured bacon"), paired with potatoes, kale, cannellini beans and seasonal vegetables. These ingredients are coated in a creamy broth spiked with chilli to create a tantalising dish.
A popular second course is the Peposo alla'Impruneta. This slow-cooked Tuscan beef stew is cooked in wine for several hours and requires a chunk of Tuscan bread to mop up the sauce.


Blessed with a relaxing atmosphere overlooking one of Italy's important monuments, La Scaletta is a seafood restaurant located a few steps away from the Leaning Tower of Pisa. The chef patron, Dino Ricci, is an advocate of high-quality food and a self-proclaimed gastronomy lover. La Scaletta prides itself on the fresh catch of the day and award-winning champagne.
What to order
One of the best options for your main is the fresh taglioni prepared with sea urchins and bottarga di muggine. Bottarga is a pressed and dried roe pouch of a grey sea mullet, bringing a briny yet aromatically nutty flavour to this dish.
For dessert, try the flan di cioccolato, made with 75% Amedei chocolate. Filled with sweet pear and zesty lemon reduction, this dessert is indulgent yet refreshing.