Tuscany is a great travel destination for meat lovers. From renowned Bistecca alla Fiorentina to Prosciutto Toscano and other affettati (cured meats in Tuscan dialect) including Finocchiona, Salame, and Salsiccia, the array of dishes prepared with meat is endless.
While Tuscan cuisine is nowadays renowned for animal-based recipes and products, in the past, meat was a luxury reserved for the noble and wealthy. Authentic Tuscan cuisine developed around simple ingredients that peasants could source and afford to buy, mainly vegetables, legumes and bread. In short, Tuscany is a vegetarian and vegan friendly destination, plentiful of rich plant-based dishes.
If you follow a vegetarian or vegan diet, don't limit yourself from experiencing the true essence of Tuscan cuisine: there are many safe and tasty dishes to choose from. Read this short guide and discover the best vegetarian and vegan starters and main courses for your next trip to Tuscany.


Vegetarian & Vegan Tuscan Cuisine: Top starters
Tuscan starters or antipasti are a great way to inaugurate your lavish experience. This is your opportunity to taste fresh quality ingredients, prepared in simple and genuine ways.
Cheese board (vegetarian)
As humble as it may sound, a plate of Tuscany's best cheese is a delight. Restaurants will typically prepare a selection of local cheese such as pecorino, caciotta, and caprino, accompanied by honey and home-made jams.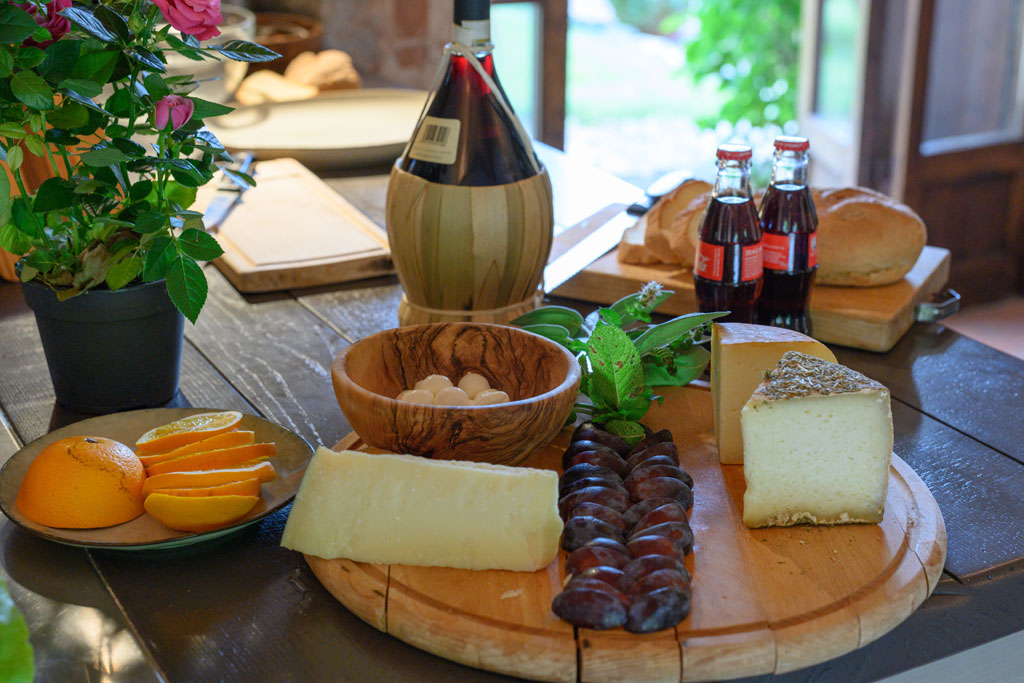 Sformati
Similar to flan, a sformato is prepared using seasonal vegetables and a batter consisting of egg and cheese. Many restaurants also offer a vegan version of this comforting wintery antipasto.
Bruschetta
This is a popular antipasto among vegans. Bruschetta can be served with many different toppings — garlic and Extra-Virgin Olive Oil, chopped fresh tomatoes and tapenade to name a few . Keep an eye out for bruschetta with black cabbage, this delicacy is in season from November to April.
Sottoli
Preparing sottoli is an art passed down through generations. When the harvest season is abundant, all the extra produce is preserved in Extra-Virgin Olive Oil. It is common to find ingredients such as aubergines, bell peppers, courgettes, artichokes and mushrooms.
Polenta Fritta
Fried polenta is a common dish in most of Italy, great for any time of the year. In this recipe, corn flour polenta is prepared, left to cool, cut into big chunks and then deep fried until golden and crispy. This recipe is usually served with lard or sausage, but if you prefer a meat-free dish, ask for it plain or with mushrooms.


Vegetarian & Vegan Tuscan Cuisine: Top main courses
Now that your palate is awake, it's time to dig into the main course. Italian mains are divided into primi (pasta, rice or soup) and secondi (meat or fish). A secondo is usually accompanied by a contorno (side dish) which typically includes a salad or seasonal vegetables.
Fresh egg-pasta (Vegetarian)
Tuscany is a great place to taste fresh homemade pasta such as tortelli and tagliatelle. These are typically served with ragù, but you can opt for a mushroom sauce or simple butter and sage.
Gnudi Toscani (Vegetarian)
Gnudi in Florentine dialect translates into naked. This peculiar Florentine dish is made with the filling of Ravioli, but without the pasta coating. These balls of spinach and ricotta are either served with tomato sauce or butter and sage, and are light, delicate and full of flavour.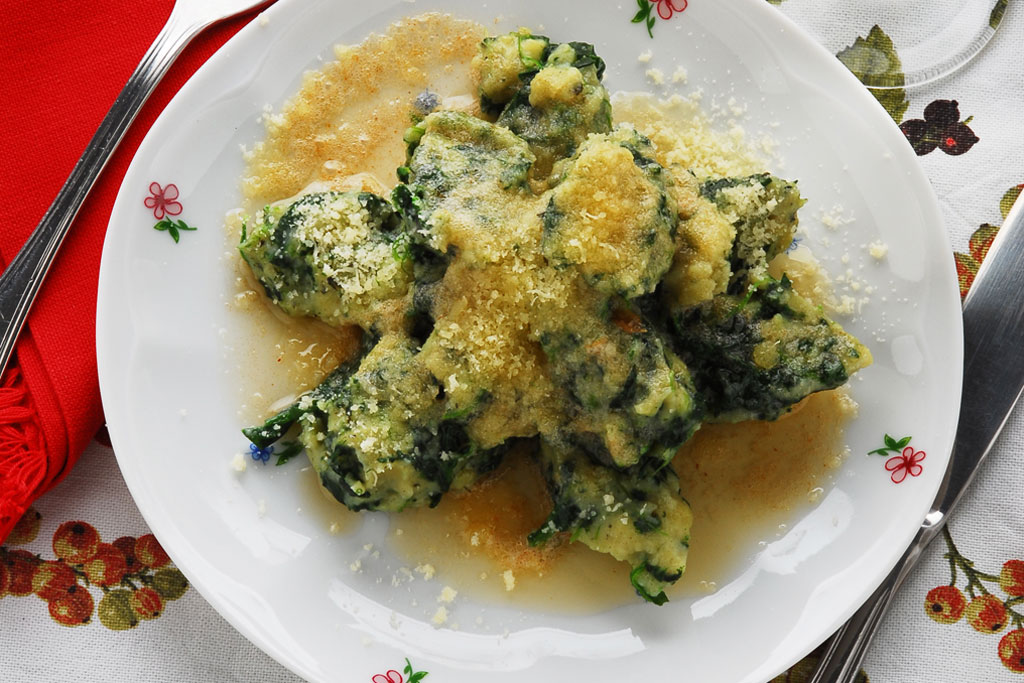 Frittata di Cipolle (Vegetarian)
This is a dish, typical of the Tuscan countryside. This simple omelette with caramelised onions, is perfect with a salad or even inside a panino.
Panzanella
Made with stale bread, fresh tomatoes and onions, Panzanella salad is a must-try summer recipe. Despite how it sounds, we can guarantee that Panzanella reflects the simplicity and flavours of a traditional Tuscan dish.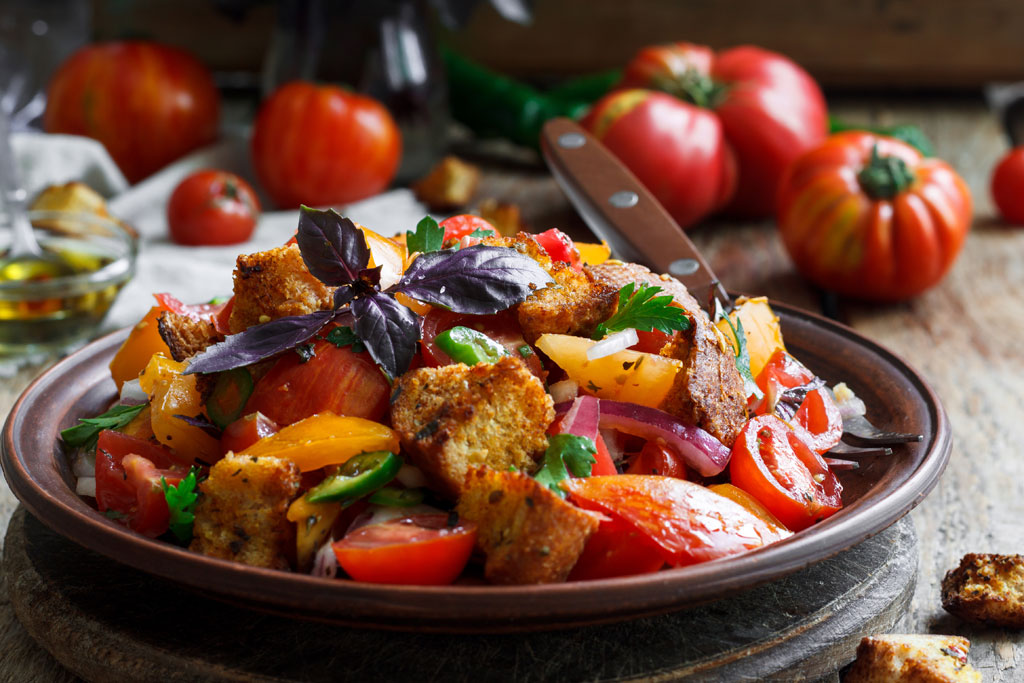 Soups
Ribollita, Aquacotta, Pappa al Pomodoro are three staple Tuscan soups that share two common ingredients: bread and vegetables. As fun to make, as to eat, these recipes make a great vegan dinner party menu.
Fagioli all'Uccelletto
This is a great alternative to frittata, soup or pasta, for your choice of main course. Traditional to Florence, this bean stew in a rich tomato sauce, is a great source of plant-based proteins.
Enjoy these dishes at your local restaurants near your villa, or speak to our concierge team to organise a gourmet Tuscan dinner or private cooking class at your villa in Tuscany.