For a few days each year, between the months of October and January, Venice's water levels rise and parts of the city flood. When acqua alta ("high water") occurs, Saint Mark's Square, the lowest point in the city, briefly becomes one with the lagoon. Locals wade through several inches of water or balance upon the raised walkways ("passerelle") on their way to work, whilst visitors congregate to bear witness to the Basilica's rippling reflection.
Many people are wary of visiting Venice in the fall because of these high tides, but despite what you might think, acqua alta is a relatively rare occurrence. You could stay in the city for the entire months of November and December and only experience this flooding once, if at all. In fact, the autumn and winter seasons are our favourite times to visit Venice — the city is unrivalled in its dreamlike atmosphere, far less crowded, and cool without being too cold. As for acqua alta; this guide explains why it is an event worth embracing rather than merely surviving.
What is acqua alta
When an astronomical tide coincides with a strong south-east wind ("scirocco"), low air pressures and the Adriatic's oscillating currents ("seiche"), the water level in Venice rises and lower areas of the city flood. This is acqua alta, which is not to be confused with an actual flood since it is a completely natural and normal occurrence. The water levels gradually rise by no more than a few centimetres and only last for a couple of hours before the tide goes out and the canals return to normal.
The tide is measured against the mareographic zero of Punta della Salute ("sea level"), which is a reference level that has existed in Venice since 1897. Acqua alta is characterised as a tide exceeding 80 to 110 centimetres above zero on this scale. When the tide exceeds 110 centimetres, only 12% of the city is flooded, which gives you an idea of how little Venice is affected by high water.
An exceptional tide, on the other hand, is when the water level measures over 140 centimetres. Whilst this is a rare occurrence in Venice, it results in over 50% of the historic centre flooding.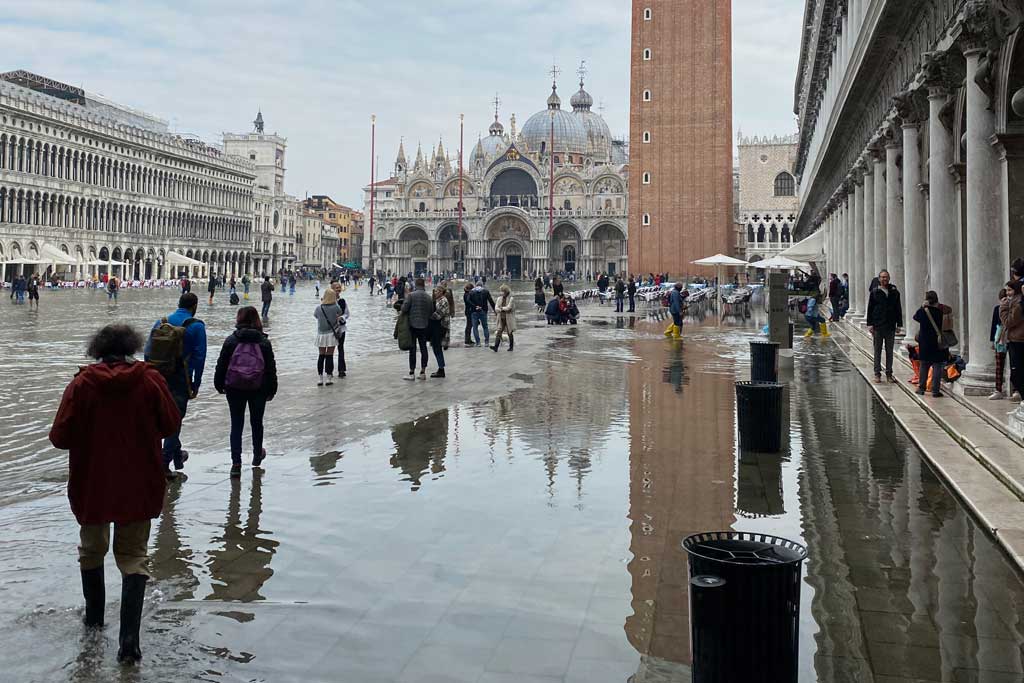 Why Venice is known as the sinking city
For as long as Venice has existed, it has maintained and celebrated its delicate union with the sea. Built across 118 small islands connected by a network of canals, the entire city is an exceptional feat of engineering, but it has never been immune to flooding. The first reported instances of acqua alta date back to 782AD and in 1110AD the original Doge's seat at old Malamocco was swept into the Adriatic.
At the height of the republic, six major rivers were diverted away from the lagoon to prevent the waterways from silting up and drying out. In the 18th and 19th centuries flood defences ("Murazzi'") were built and extended along the barrier islands in order to protect the lagoon from the open sea.
However, Venice's precarious location is not the only cause for concern when it comes to exceptional tides. It's marble and Istrian stone palazzi and churches are raised upon thousands of wooden piles driven deep into the earth, which is gradually causing the city to subside. This doesn't necessarily cause acqua alta, but it does partially explain, alongside global warming, why Venice has started to flood more severely in recent years. So whilst there is so much magic to be found in the city during acqua alta, there is also a grave side to this phenomenon.
Predicting the tides
On days when the tide will reach 110 centimetres or above, an acoustic alert or siren sounds throughout Venice's historic centre and the outlying islands. The alarms range from one long sound when the water reaches 110 centimetres to four sounds when it reaches 140 centimetres, allowing you to prepare in advance for the expected tidal height.
Whilst Venetians are alerted by a text message, the Forecasts and Tide Centre also provide up-to-date tidal forecasts so you know what to expect over the course of your stay.
If you are staying in one of our luxury villas near Verona or Venice, why not download the Hi! Tide app. It is the official app for monitoring the tide in Venice and offers detailed forecasts across different areas and Vaporetto stops throughout the city. This makes it really straightforward to plan when to visit the historic centre during the autumn and winter months.
Dress to keep dry
As soon as the water levels start to rise in Venice, street vendors, news kiosks and tourist shops will start selling plastic knee-high shoe covers and overalls. They are only intended as a temporary solution and won't last very long, not to mention the fact that they aren't great for Venice or the environment. A more robust option is to buy a pair of rubber boots from a home or hardware shop. Avoid souvenir shops around the tourist hotspots near Piazza San Marco unless you are prepared to pay a premium.
Of course, you could always come prepared with your own overalls and wellington boots, but these are bulky and will take up a lot of space in your suitcase. Unless you intend to seek out a partially flooded campo to splash around in, the chance of you actually needing these is also relatively low.
Venetians are always well prepared for acqua alta as well and raised walkways are built across the main squares that tend to flood. This will allow you to navigate your way freely across the city whilst keeping your feet dry.
Where to go and what to do
The lowest parts of the city, Piazza San Marco and the outer edges of Dorsoduro are the most commonly affected areas by acqua alta. You are likely to have seen photos of the iconic square partially submerged in water with tourists sitting ankle-deep at a cafe table sipping an espresso as if nothing unusual is occurring. Many of the famous restaurants around San Marco take pride in staying open during acqua alta, so if you don't mind embracing the tourist scene, a Bellini at Harry's Bar just might be the way to pass some time in the flooded city.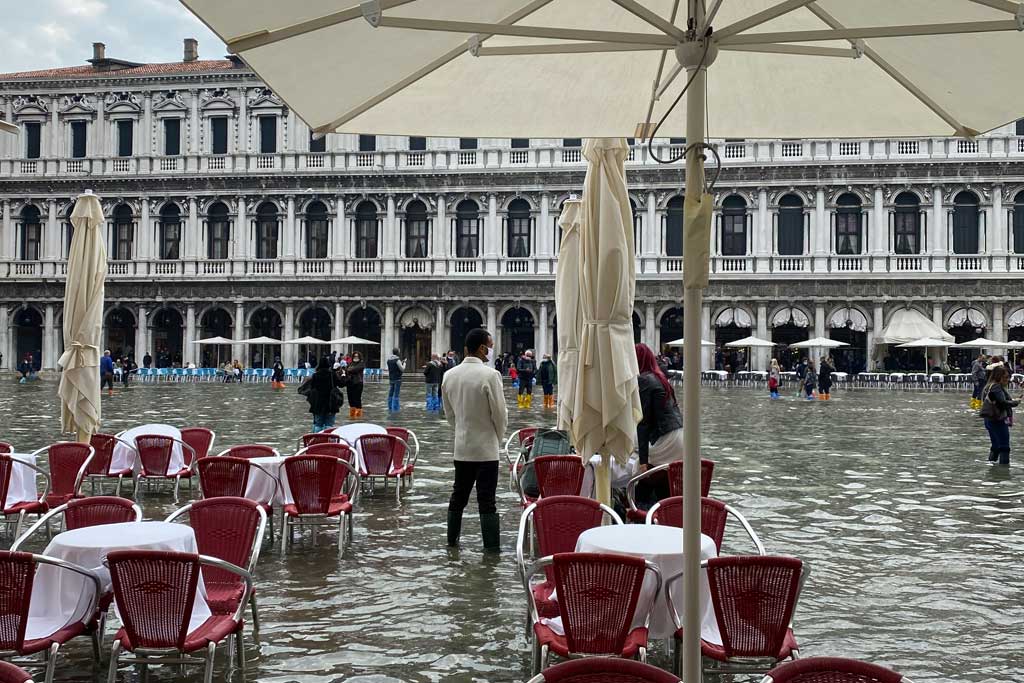 Whilst the piazza is beautiful at this time if you are lucky enough to catch a moment alone here, the chances are many visitors will have the same idea and flock to see the basilica rising from the lagoon side. If you want a quieter and slightly more unique experience of acqua alta, try meandering along the equally beautiful calle and campi of Dorsoduro instead.
Some restaurants and shops may have to close if they are in an area with particularly high water, but generally, it is business as usual in Venice. Venetians will continue about their day as normal whether that is shopping for groceries or going to work. For centuries buildings in Venice have been designed to accommodate the lagoon and its tides which is why the living quarters of grand palazzi were always located on or above the first floor.
If you'd prefer to admire the high tide from a distance and keep dry, retreat to one of the lesser affected districts in the city like Cannaregio. Stop for cicchetti at Alla Vedova before taking shelter exploring the art collection at Ca' d'Oro. Embrace acqua alta like you would a rainy day in any other city and take the time to ponder the many museums in this city. The Palazzo Grimani and the Accademia are both stunning buildings housing important works by artists like Giorgione, Titian and Bellini.
Of course, if you'd rather avoid splashing along the city's fondamente altogether you could always retreat further inland with a day trip to Verona, Padua or Vicenza instead — all are easily accessible from our villas near Verona and Venice.