Christmas in Italy is extra-special, not least because it is a time to spend with family and friends, indulging in great wine, hearty meals, and sweet treats. Italy is still a Catholic country and it upholds many traditions that truly encapsulate the spirit of Christmas. The festive season officially starts on December 8th, with the Feast Day of the Immaculate Conception, and stretches right the way through until January 6th, the day of the Epiphany.
It is also low-season in Italy, meaning many of your favourite destinations have quietened down for the winter season, and the best museums and restaurants can be savoured at a slower pace. Head below for an introduction to Italy's Christmas traditions and national holidays, as well as our top tips for celebrating in Tuscany, Umbria, and Venice.
Christmas Traditions and National Holidays in Italy

Let the festivities begin! The Immaculate Conception of Mary
The Christmas season officially begins on December 8th, with the Feast of the Immaculate Conception of Mary. It is a national holiday across Italy and marks the Catholic celebration of the conception of Mary without original sin.
On December 8th, festive decorations, lights and twinkling Christmas trees are erected on streets and main piazzas, from Venice and Milan to Florence and Rome. Many churches will also place nativity scenes ("presepi") on display and Christmas markets will begin.
Attending midnight mass: Christmas eve traditions in Italy
On Christmas Eve in Italy, bells ring out and families wrap up warm to attend Midnight Mass at their local church. Services tend to begin around 11 pm, with many of Italy's most iconic cathedrals, including the Duomo in Florence, Orvieto's Cathedral, the Basilica di San Marco in Venice, and St. Peter's in Rome hosting Mass. However, there will be plenty of other churches, wherever you are in Italy, that you can attend to take part in an authentic Catholic Christmas.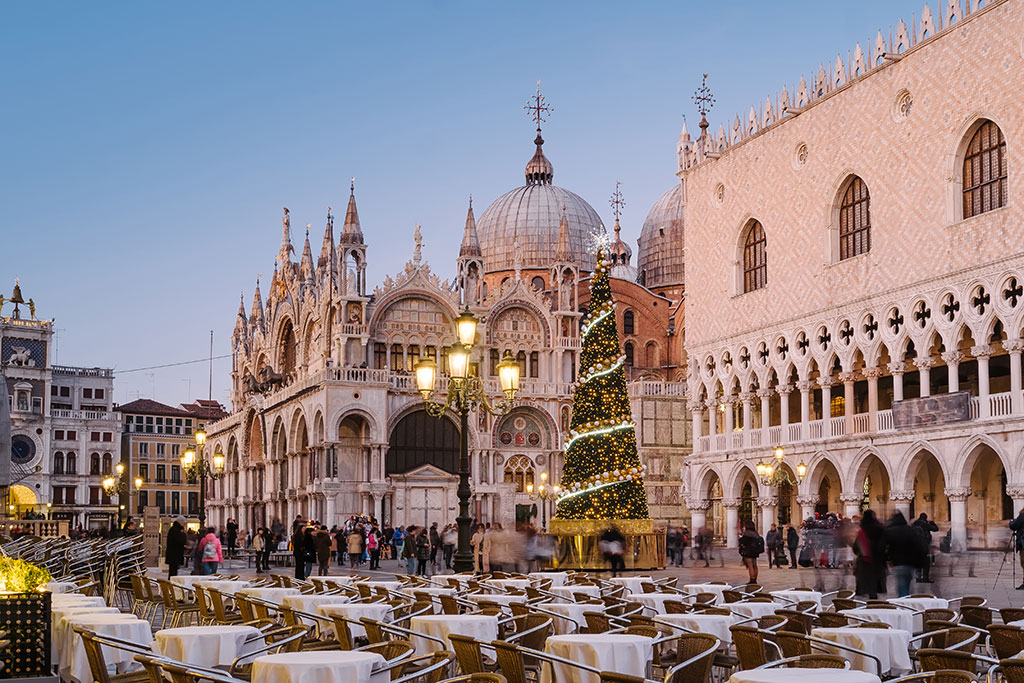 It is also tradition for some families on Christmas Eve, or "La Vigilia" in Italy, to cut out all meat from their evening meal! Only eating fish and vegetables is supposed to help purify the body for the holiday. An easy custom to follow in Venice, where seafood forms such a large part of the local diet, why not try traditional recipes like Sarde in Saor, Baccalà Mentecato, or shellfish? We like to indulge in fresh handmade pasta dishes, perfect for the winter season!
Celebrating the Epiphany
The Feast of the Epiphany on January 6th is another national holiday in Italy. The Catholic feast day, and 12th and final day of Christmas, marks the arrival of the Three Wise Men bearing gifts for the baby Jesus. La Befana is a witch who traditionally delivers gifts by broomstick on the eve of Epiphany. Children are given either candy or charcoal (made from sugar and egg white), and many towns across the country celebrate with elaborate parties and parades.
Exchanging gifts in Italy
For many Italians, the exchanging of gifts will take place after lunch on Christmas day, however, this tradition varies from family to family.
In some parts of Italy, it isn't uncommon for gift giving to take place on December 13th, the feast day of Santa Lucia, when the blind saint is said to deliver presents to children. Other families wait until the Epiphany, when La Befana delivers gifts by broomstick or rather, in Venice, by boat!

Celebrating Christmas in Tuscany
Immaculate Conception: In Florence, a Christmas tree appears in Piazza del Duomo with a ceremony and concert in early December. Every year a life-sized nativity scene with terracotta statues, created by the artisans of Impruneta, also decorates the cathedral square.
If you want to attend Mass, you will find services in most Florence churches. Midnight Mass on the 24th typically begins at 11 pm, with another service on the 25th at 10:30 am. You can even attend traditional Christmas Eve/Morning Mass at the Duomo, celebrated by the Cardinal of Florence.
The Epiphany: Florentines celebrate Epiphany with the Cavalcata dei Magi, where participants dress in medieval costumes and parade through the streets of Florence singing and dancing.
In 2022, Epiphany falls just before the weekend so be sure to visit national museums like the Bargello and the Uffizi, which are free on the first Sunday of the Month.
Christmas Markets in Tuscany
The biggest Christmas market in Tuscany is held in Piazza Santa Croce in Florence from late November until mid-December. The Weihnachtsmarkt traditional Christmas market may be distinctly more German than Italian, but you'll still find Florentine gifts, dishes, and wines among the wooden stalls.
On the 5th, 8th, 12th, and 19th December, the Natale in Corso is back in Barberino di Mugello. The historic streets are transformed into Christmas market stalls, live statues, nativity scenes, and other entertainment.
Not strictly a Christmas market, but authentically Italian, the Mercato Nel Campo in the central piazza in Siena is well worth a visit. Taking place over the first weekend in December, you'll find plenty of local foods, wines, gifts, and decorations here.
Other Christmas markets take place across Tuscany too, from Pisa to Montepulciano.

Celebrating Christmas in Venice
Winter is the season of the famous nebbia ("fog") in Venice when a thick mist erases the city's reflection and softens its edges. It's a truly magical experience and is why it is one of our favourite times to visit.
Saint Mark's Square is particularly festive and a large tree is erected in front of the Basilica at the start of December. Make the most of the joyful atmosphere with a warming cup of vin brulé ("mulled wine") and a slice of Panettone before attending Midnight Mass at the Basilica at 11:30pm on Christmas Eve.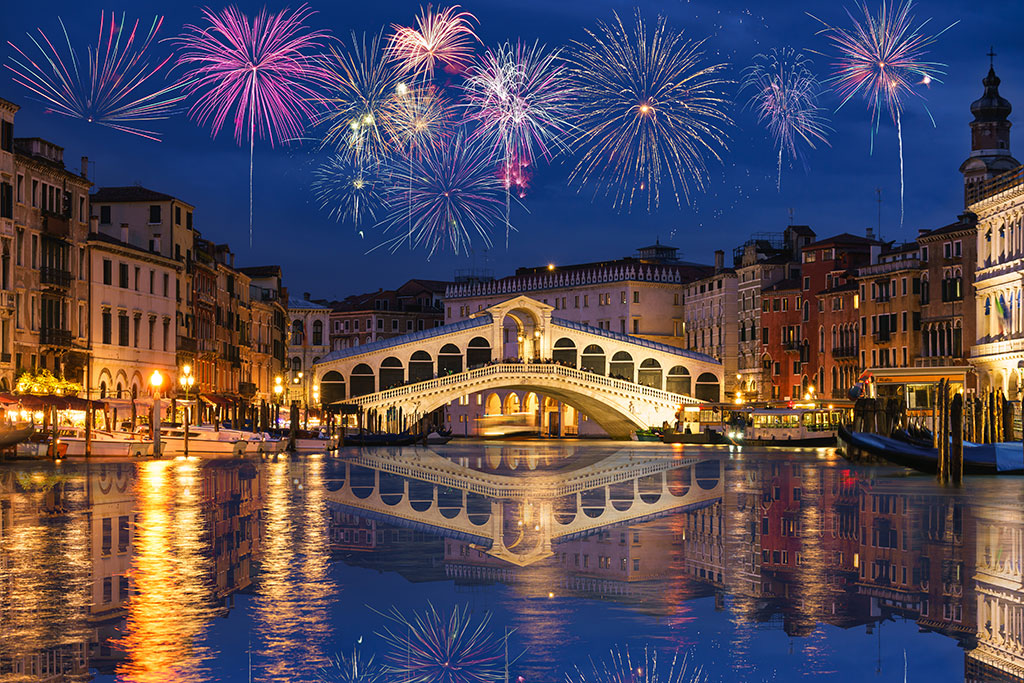 The Epiphany: Each year, Venetians celebrate the Epiphany with the Regatta del Befana, a single-oared boat race along the Grand Canal from San Tomà to Rialto. Men take to the water dressed up as the Befana and the rest of the city comes to life with fairs, festivals, concerts, and firework displays.
Like everywhere in Italy, the first Sunday of the month is also free admission to state-owned museums and archaeological sites, making this the ideal time to pay a visit to the Accademia, Ca' d'Oro, or Palazzo Grimani.
The picturesque Dolomites are just over an hour from Venice, perfect for a day trip skiing. In Cortina d'Ampezzo, according to tradition, skiers take to the slopes at midnight on Christmas Eve to welcome in the holiday.
Christmas Markets in Venice
Christmas stalls and an ice rink transform the Campo San Polo in Venice each December and markets are held in Mestre as well.
The Festa di San Nicolò is well worth a visit; the week-long celebration of the patron saint of glassblowers takes place on Murano in December, which includes a procession along the island's Grand Canal.
Outside of Venice, some of our favourite Christmas markets are held in the Prato della Valle in Padua and along the cobbled streets in Treviso. There is a German market in Piazza dei Signori in Verona and Bassano del Grappa is a particularly festive destination with its pre-alpine backdrop.

Celebrating Christmas in Umbria
You can attend traditional Christmas Eve and Morning Mass in any of the medieval churches in Umbria or cathedrals like the Duomo di Orvieto.
Gubbio is a must-visit for those in the festive spirit, with market stalls, decorations, and a nativity scene taking over the medieval streets.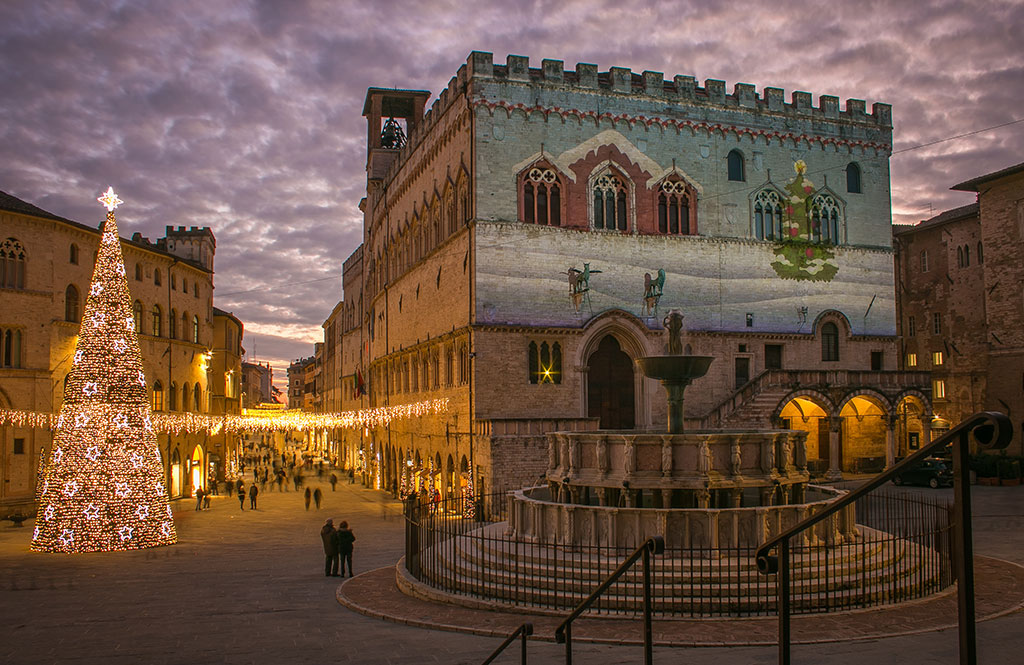 Christmas Markets in Umbria
In Perugia, you'll find a Christmas market in Rocca Paolina, the underground 16th-century fortress, but there are other charming markets to be found from Todi to Lake Trasimeno.

Our Favourite Italian Christmas Treats and Festive Drinks
No Christmas in Italy is complete without a slice of Panettone. This festive bread with candied fruit is best washed down with a glass of Vin Santo sweet wine. Tuscan biscuits like Cantucci are perfect for the festive season. If you are visiting Siena lookout for Cavallucci, a rich Christmas biscotti with almonds, candied fruits, flour and anise. For those with a particularly sweet tooth, try out our recipe for Candied Citron ("Cedro").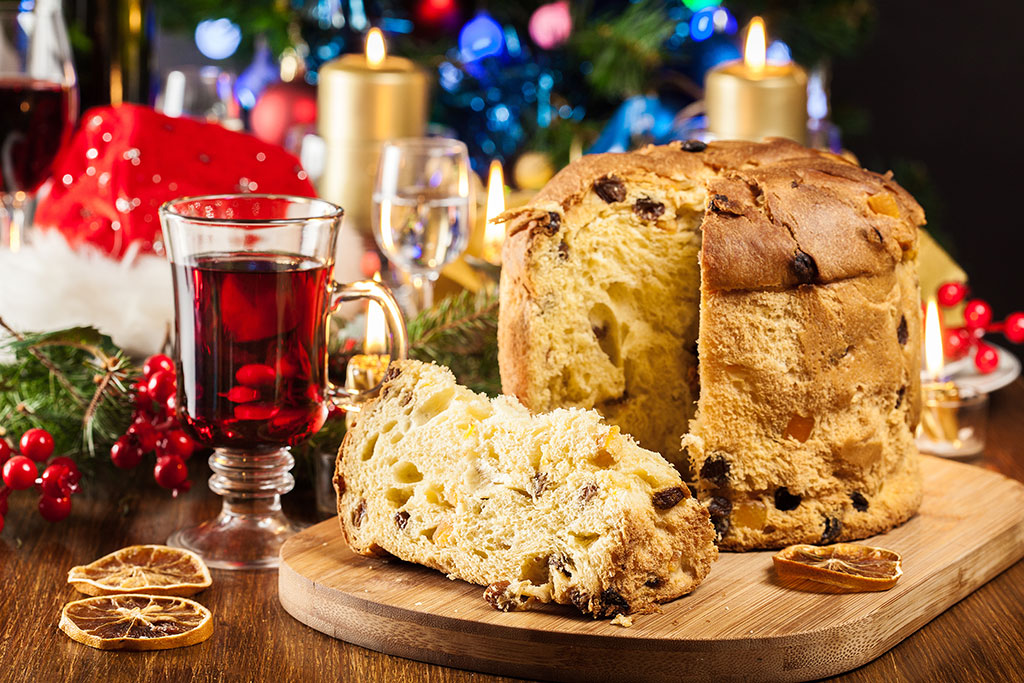 Get in touch with our Villa Specialists and start planning your Christmas getaway in Italy, from luxury villas in Tuscany and stone farmhouses in Umbria, too noble estates near Venice and Verona.
Buon Natale!