Just 26km from Venice, Treviso is an underrated gem often overshadowed by the iconic status of its neighbour. This walled city is characterised by the Sile river meandering through its centre, medieval gateways, cobbled streets, elegant palaces and frescoed churches. An intricate network of scenic canals adorned with modern art installations weave through the historic centre and have earned Treviso the title of 'Little Venice'.
If you are staying in one of our luxury villas near Verona and Venice and are looking for a quiet break from the more popular tourist destinations in Veneto, here are seven reasons why Treviso may just be the perfect city for you.
Scenic canals: a quiet alternative to Venice
Nothing quite compares to Venice's Grand Canal or Piazza San Marco, but Treviso certainly has a unique appeal of its own. Much of the historic centre is pedestrianised, with narrow arcaded and cobbled streets and a network of picturesque canals. You won't encounter the overwhelming number of tourists here or the high prices either, making Treviso the perfect city for peace and quiet.
The most beautiful waterways in Treviso are those around the Canale dei Buranelli, where the streets are connected by wrought-iron bridges and lined with the occasional red-brick Renaissance palace and old decorative water wheel. This intricate network of canals takes its name from the Venetian fishermen of Burano, who once came here to trade.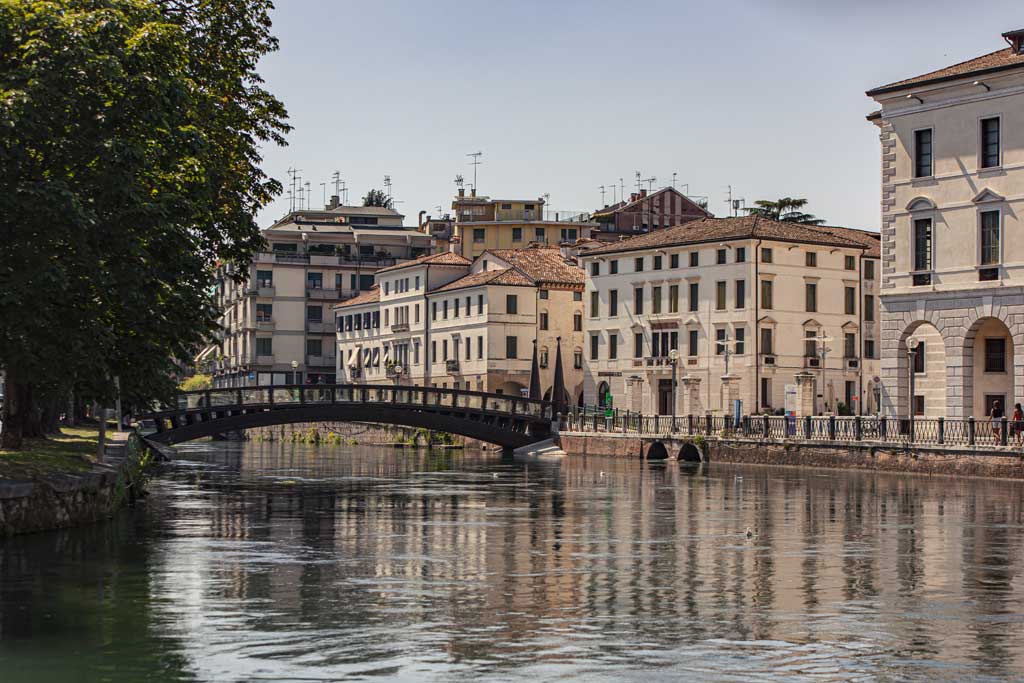 You will find plenty of cafes and restaurants in this area, ideal for a light lunch or romantic dinner. If you are venturing into Treviso for the evening from your private villa, drop in at the Cloakroom Cocktail Lab, a trendy bar in the historic centre that serves over 400 varieties of gin.
The ideal base for walking, hiking and cycling
The historic centre was fortified in the 16th-century when Treviso was under Venetian rule. These city walls and bastions offer a picturesque walking or running route around the old town and are best characterised by three grand gateways. The Porta San Tomaso is by far the most impressive entrance into the city centre.
Cycling is the best way to see Treviso and enthusiasts of the sport should pay a visit to Pinarello. This world-famous manufacturer has built bikes for winners of the Giro d'Italia and Tour de France.
If you love the outdoors, Treviso is a great location to have on your doorstep, with plenty of peaceful long-distance walking and cycling routes along the River Sile and beyond. It is also home to the Parco Regionale del Fiume Sile and Oasi Cervara, which covers 3000 hectares and features idyllic towpaths, rich bird and plant life, and ancient woodland.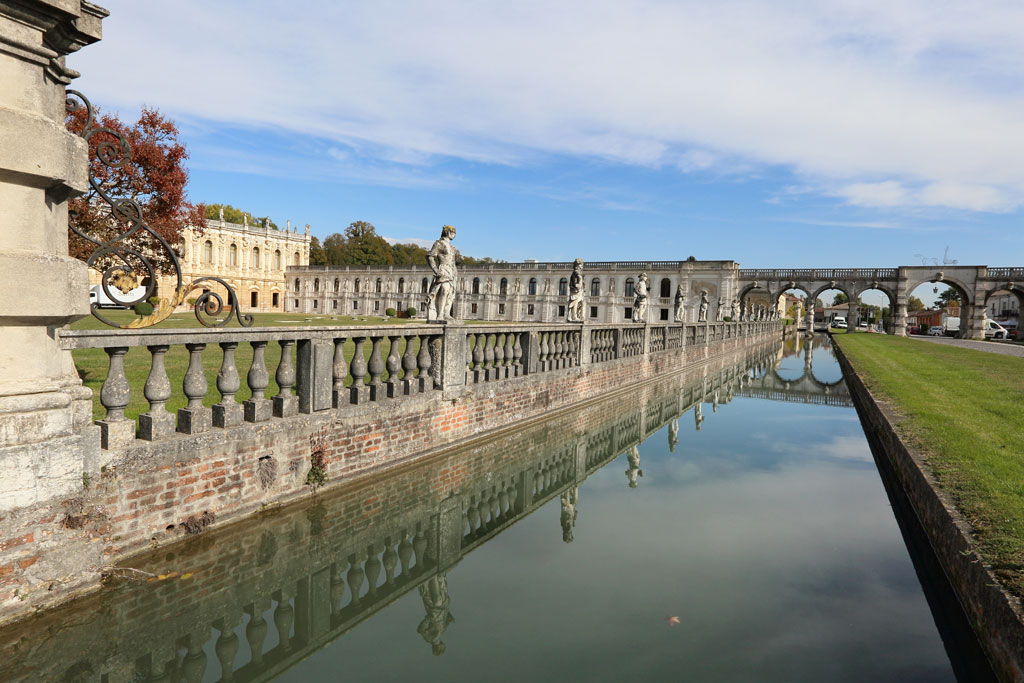 The Treviso-Ostiglia is a 50km public greenway that follows the old railway line that once connected Treviso to the province of Mantua. You might not be able to get as far as this lakeside city, but the thoroughfare still connects the provinces of Treviso and Vicenza and is perfect for rambling through Veneto's natural landscape. You can even take in one or two Palladian villas with a short detour, including Villa Cornaro and Villa Contarini. With Monte Grappa, Conegliano e Valdobbiadene and the Dolomites a short distance away, nature lovers couldn't be better placed than in Treviso.
Renaissance piazzas & frescoed churches
Like Venice, Treviso is a great city to explore just by following your feet. The faded remnants of once vibrantly frescoed facades can still be glimpsed in the historic centre. At the heart of the city is the vast Piazza dei Signori which is lined with cafes and several palaces, including the Romanesque Palazzo dei Trecento and Palazzo del Podestà with its 13th-century civic tower.
The main shopping street in Treviso is the Via Calmaggiore, which links the Piazza dei Signori with the Piazza del Duomo. This square is home to Treviso's neoclassical cathedral, where you will find an Annunciation by Titian.



Piazza San Vito is another pretty square in the historic centre, which backs onto the Buranelli canal. Stop at the Pasticceria Casellato for a light lunch before visiting the Chiesa di Santa Lucia across the cobbled square. This small church's vaulted ceiling and walls are covered in vibrant 14th and 15th-century frescoes by Giotto's follower, Tommaso da Modena. Traces of this important Renaissance artist's work can still be found across the city, with his frescoes also featuring in the Chiesa di San Francesco and the Chiesa di San Nicolò. Of course, if you appreciate Tommaso da Modena, you must also visit Padua for Giotto's masterpieces at the Scrovegni Chapel.
Art museums galore
There are many and excellent museums and galleries to explore in Treviso. The exquisite art collection at the Museo di Santa Caterina includes the fresco cycle of the life of St Ursula by Tomasso da Modena and paintings by Titian, Pietro Longhi and Tiepolo. You will also find modern artworks from the 19th and 20th centuries here. The civic museum is housed in a former 14th-century church and convent and its beautifully restored architecture is equally as impressive as the artworks on display.
Modern art lovers should also take full advantage of the Galleria delle Prigioni, housed in an old Habsburg prison near the Duomo. It was opened by the fashion titan, Luciano Benetton to stage temporary contemporary exhibitions and commissions. The Museo Luigi Bailo is another Civic museum in Treviso championing Italian artists from the 19th and 20th centuries, with a bright contemporary interior.
Shopping: market days in Treviso
Every morning except Monday, a bustling seafood market is held on the Isola della Pescheria, a small island in the middle of the Cagnan river. This is a must-see for anyone visiting the city. You will also find fresh fruit and vegetable stalls here selling local seasonal produce, including Treviso's famous radicchio.
The Piazza Giustinian is also host to an organic farmers' market three times a week, selling local wine, cheese and charcuterie. If you are planning a day trip to the city, a street market is held every Saturday morning, where you will find high-quality clothing and unique vintage gems.
The production capital of Prosecco and radicchio
Starting in Treviso and ending in Valdobbiadene, the Prosecco wine route winds through an ancient landscape lined with vineyards. The province of Treviso is one of the most prestigious regions producing DOCG Prosecco. The bucolic hills of Conegliano and Valdobbiadene are within 30km of the city and are characterized by their historic hill-top villages and small plots of vines.
Radicchio Rosso di Treviso is another local speciality unique to this region. It can only be grown in limited areas around Venice, Padua and Treviso as it relies on the nutrient-rich soils and spring waters of the Sile river. From November well into the spring, you will find the hearts, spines and ruby red leaves of radicchio gracing the best market stalls in Treviso.
The birthplace of Tiramisu
So it might not be a proven fact, but many proud Trevisians have laid claim to this iconic Italian dessert. The origins of Tiramisu are uncertain, but one popular theory can be traced back to 1969 at Le Beccherie, a restaurant in Treviso. It is thought that the owner's wife, Ada Campeol invented the classic Italian dolci after craving a sweet and simple pick-me-up.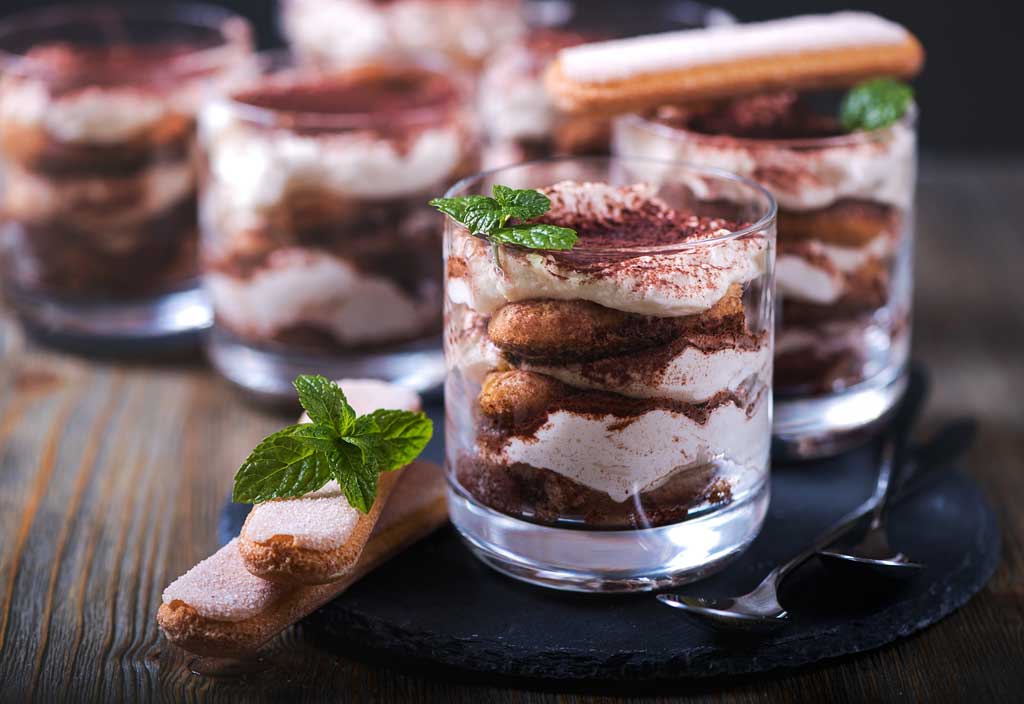 Whether or not the rumours are true, the story has inspired many cafes and restaurants throughout the city to serve their Tiramisu and Le Beccherie remains one of the best places to try the dessert. Treviso also now hosts the Tiramisu World Cup where people from all across the globe compete to create the very best recipe. If you are interested in this coffee-infused dolci, its disputed history and our favourite places to try it in Treviso, why not read our Tiramisu Handbook.