Naturally, visitors in Italy flock to St Peter's in the Vatican City (technically a separate country). As a holy site and a seat of power, it is unequalled. But with religious roots as old as the dawn of modern civilisation, Italy is teeming with places of worship central to the identities of cities that built them.
The Basilica di Santa Maria del Fiore, commonly known as the Duomo di Firenze, defined Italian Renaissance architecture with its revolutionary dome. The silhouette is unmistakable; it's a bigger challenge to explain the engineering genius of Filippo Brunelleschi's double-skinned structure.
Perhaps less universally identifiable, but unmistakably Italian, is the mosaic-covered facade of the Cattedrale di Santa Maria Assunta, in the small Umbrian city of Orvieto.
The guidelines for visiting cathedrals are strict. Priests can be quite rigorous when it comes to enforcing them. Particularly during summer visits, it's important to remember that, while you don't have to go full Jackie Kennedy and wear a mantilla covering your head, you are expected to cover shoulders and knees, and must wear shoes.
Mini-skirts and mid-thigh shorts are out, but T-shirts and jeans are fine.
Below are (in our humble opinion) the greatest cathedrals in Italy, from Tuscany, Umbria, Lombardy and beyond.
Florence: Basilica di Santa Maria del Fiore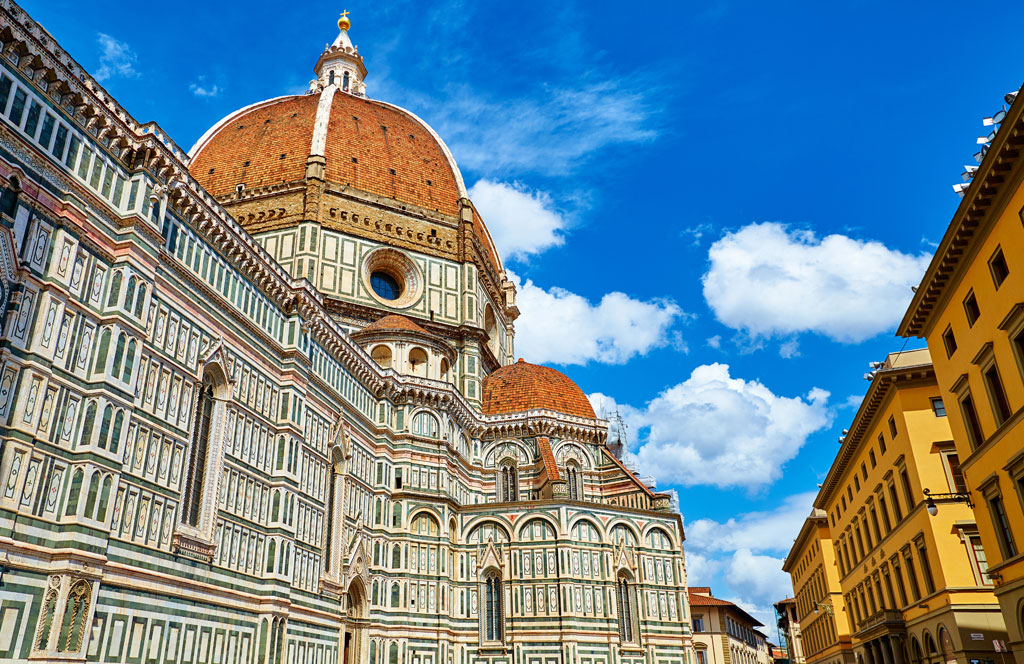 Florence's Basilica di Santa Maria del Fiore is one of the world's largest churches.
This 15th-century masterpiece is easily recognised by its pink, white and green marble facade, which contrasts with 44 gleaming stained glass windows. Climb to the top of the dome and you'll get stunning views across Florence.
See our villa rentals near Florence.
Siena: Duomo di Siena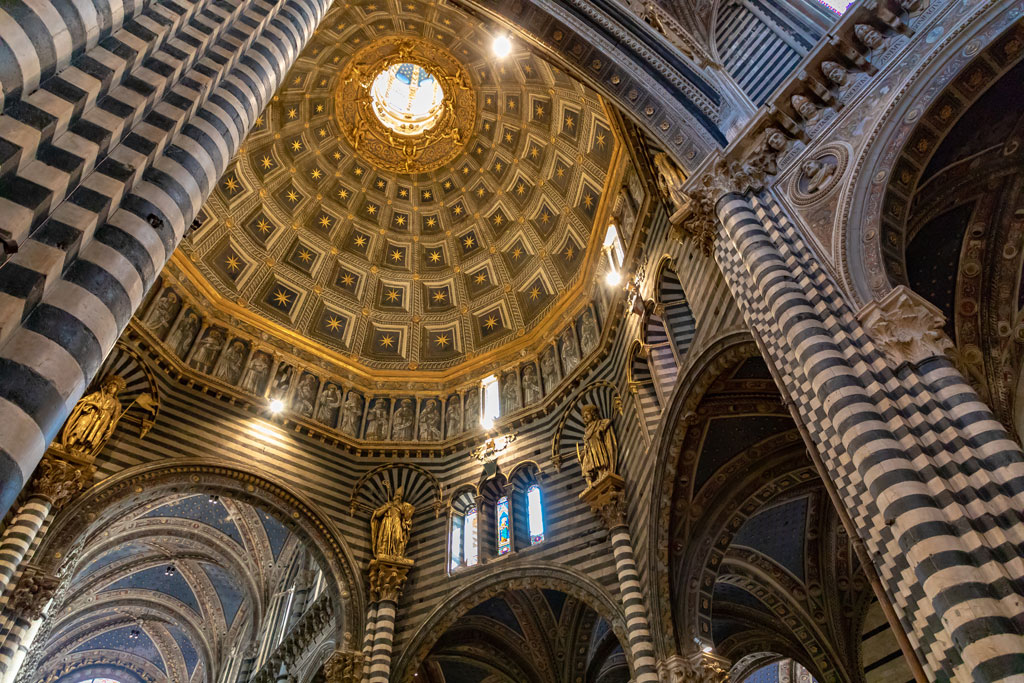 Jumping back two centuries, in Siena you'll find one of the finest Gothic cathedrals on the Italian peninsula.
With a graphic greenish-black and white marble striped exterior, and an interior resplendent with frescoes and floor mosaics, this duomo is home to artworks by masters including Bernini, Pisano and Pinturicchio.
Read our Siena Travel Guide.
Orvieto: Duomo di Orvieto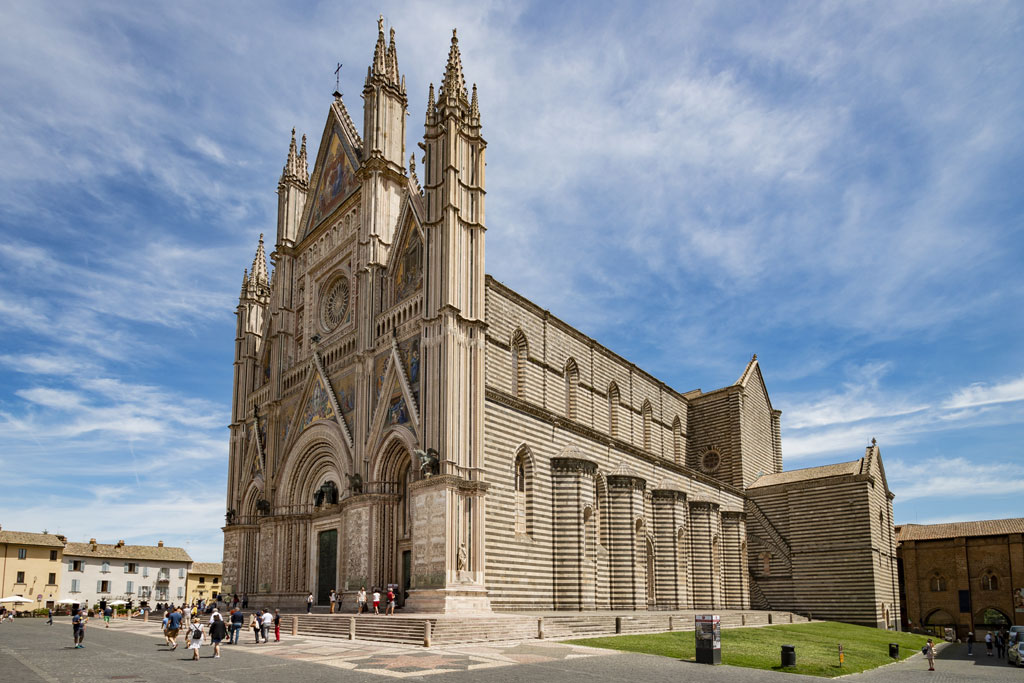 Perched on the rock cliff that holds up most of ancient Orvieto, this Romanesque-Gothic church took almost three centuries to construct.
The facade glitters with graphic gilded mosaics, which frame an enormous rose window. Inside, you'll find graceful travertine columns, elaborate friezes, and Gothic frescoes dedicated to the life of St. Mary (which took local artist Ugolino di Prete Ilario a decade to finish).
Read our Orvieto Travel Guide.
Venice: Basilica di San Marco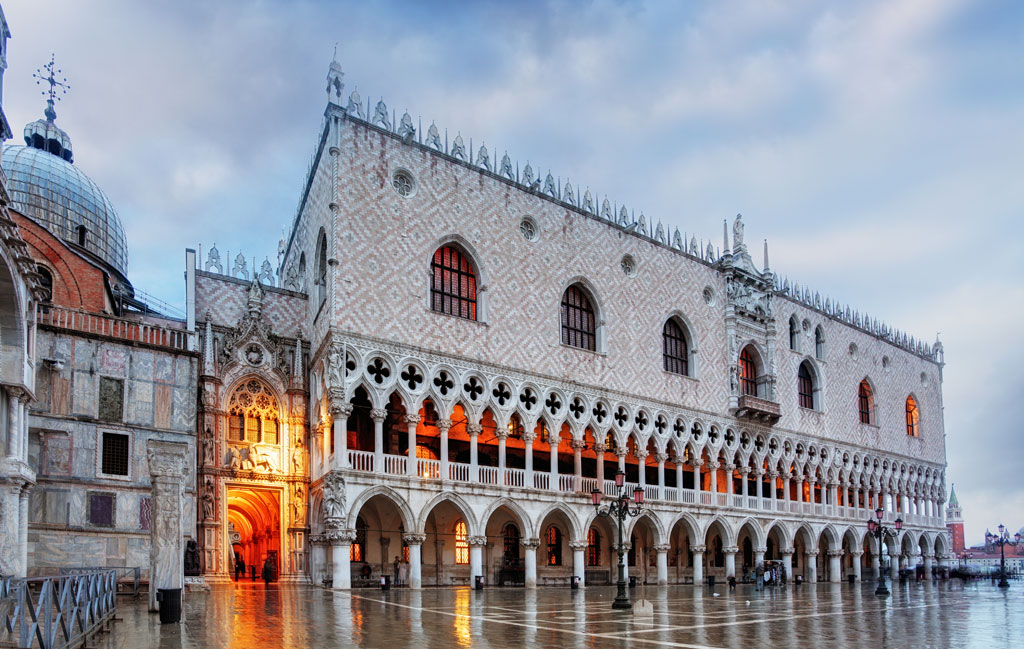 The most ornate of them all.
The glistening, adorned domes and Italo-Byzantine architecture of St Mark's dominate Venice's central square. They are just a hint of what's inside, where you'll find 7,500 square metres of gilded mosaics glowing down from the ceilings.
Milan: Duomo di Milano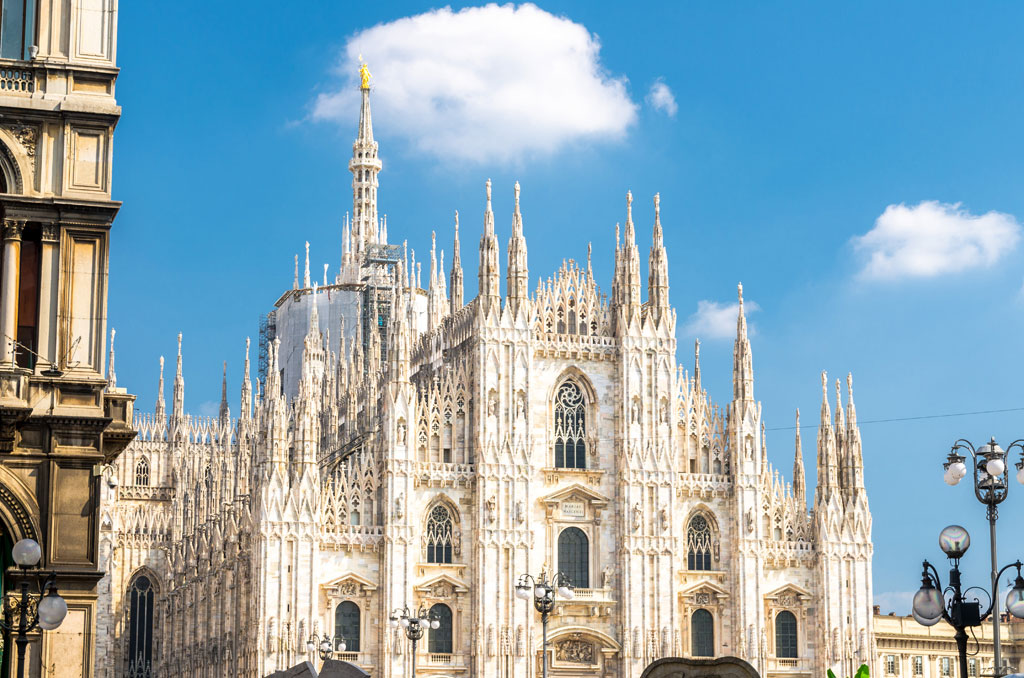 This is Italy's largest church (St Peter's is technically in another country), and most architecturally important Gothic structure.
Climb to the roof to see its soaring spires, flying buttresses and twisted gargoyles up close, with city rooftops and Alpine peaks beyond.
Modena:
Duomo di Modena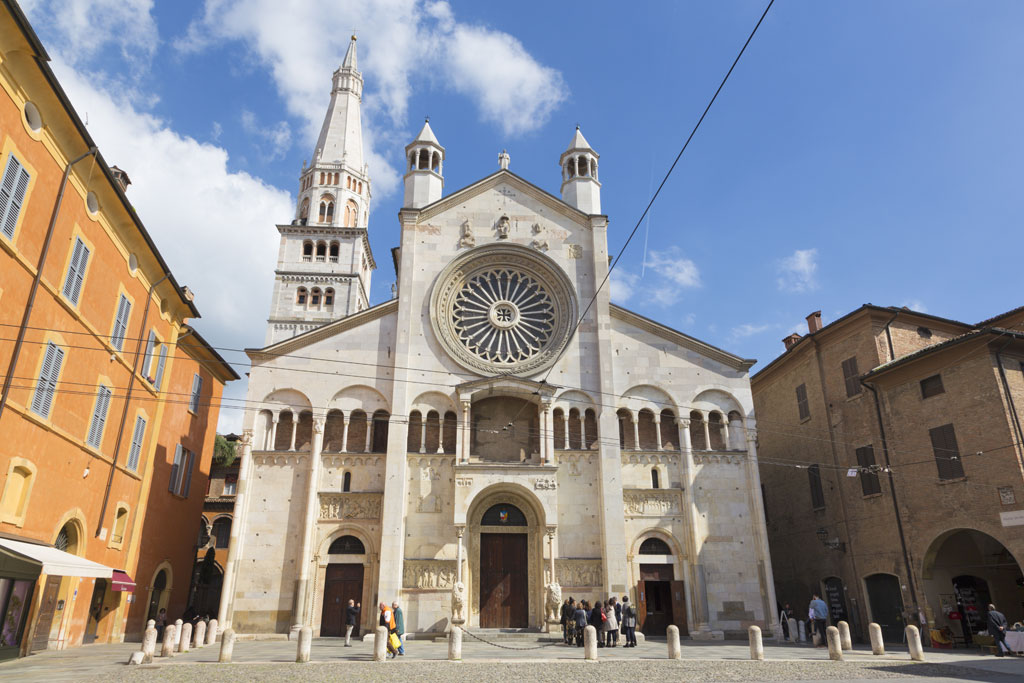 This 12th-century Romanesque cathedral is a UNESCO World Heritage Site, along with its bell tower and Piazza Grande.
Behind an intricately carved facade (with scenes from Genesis), this church has a unique atmosphere thanks to light which filters through its 13th-century rose window. The art highlight is a 15th-century terracotta nativity scene, an "Adoration of the Shepherds", by Guido Mazzoni.
Pisa: Duomo di Pisa
Its leaning bell tower gets rather a lot of attention, yet all the Romanesque buildings on the Campo dei Miracoli (Field of Miracles) more than deserve their UNESCO World Heritage status.
The brilliant-white duomo has a marble-and-mosaic 12th-century facade inspired by Arab architecture (medieval Pisans were renowned seafarers). Inside are a baptismal font by Guido Bigarelli da Como (1246) and a pulpit by Nicola Pisano (1259), an icon of Gothic sculpture.
Read our Pisa Travel Guide.