The local cuisine in Tuscany is deeply rooted in the land and fine-tuned to the seasons. Its identity has been shaped by the tradition of Cucina Povera ("cuisine of the poor") — a celebration of simplicity and seasonal produce, wasting nothing and reusing and reinventing the ingredients you have to hand.
Whether a mouth-watering Bistecca alla Fiorentina, a heartwarming serving of Ribollita or Pappa al Pomodoro, or a gourmet truffle experience in the hills outside of Florence, a true taste of Tuscany is as much about history and tradition as it is the flavour and quality of the cuisine.
Discover Tuscany's farmer's markets
Italians invented the Slow Food Movement, which places central importance on local farming, reusing ingredients, limiting waste and celebrating local, seasonal cuisine. So, if you are looking for the crème de la crème of local food, the best place to start is at one of Tuscany's many excellent farmer's markets.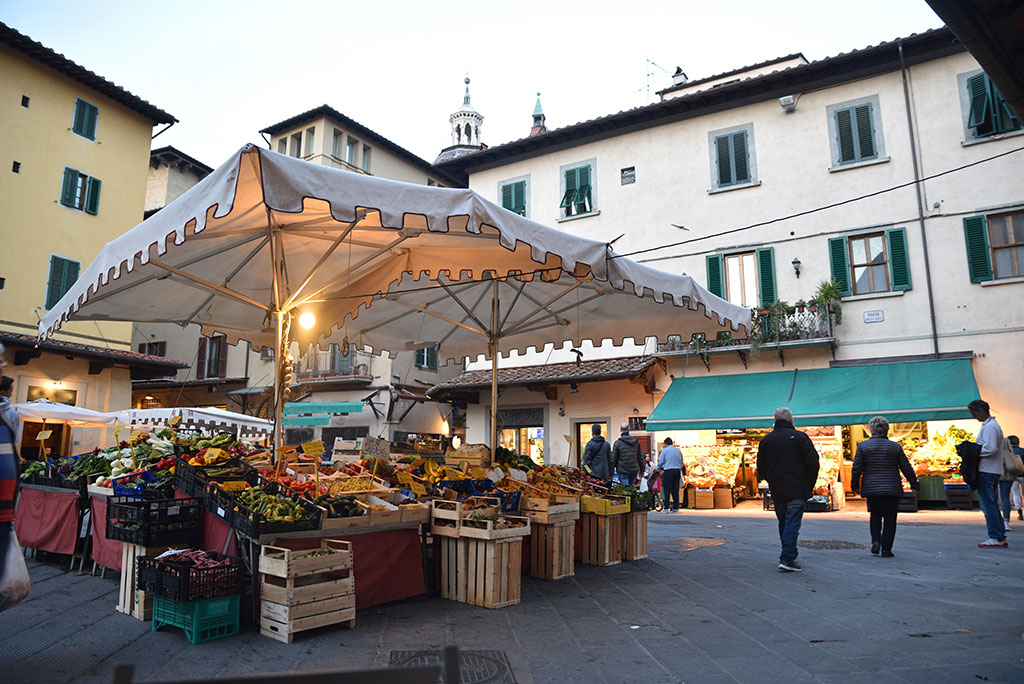 There are several markets held throughout the week in Florence, including La Fierucola in Piazza Santo Spirito on the third Sunday of each month (except August). Il Mercatale in Piazza delle Erbe in San Gimignano is another farm-to-table market selling regional specialities, including spices, truffles, olive oil, wine and cheese.
One of our favourite markets in Chianti, Il Pagliaio, in Piazza Matteotti in Greve in Chianti, is the place to go for Chianti wines and extra-virgin olive oil on the fourth Sunday of the month.
For fresh fish, meat and cheese, Vettovaglie Market in Livorno is one of the biggest and oldest market spaces in Europe open Monday to Saturday each week.
Click here, for our complete guide to the best farmer's markets in Tuscany and Umbria.
Once you're happy with your organic market haul, one of our local chef's can show you how to transform it into an irresistible meal in a hands-on cooking class in your villa kitchen.
...and sample extra-virgin olive oil, truffles and wine
From truffle hunting with a trusty Lagotto Romagnolo dog in the hills of San Miniato to Chianti cellar tours and tastings of local cheese, wine and extra-virgin olive oil, we work with local experts who understand Tuscan cuisine better than anyone else.
Speak to our concierge to find out more about the whole host of foodie Tuscan experiences we offer.
Fully staffed and catered villas with chefs in Italy: delicious local food right on your doorstep
One of the best ways to experience the delicious local food in Tuscany is with a private in-villa cook. At our fully staffed villas with chefs in Italy, you can immerse yourself in the local cuisine with breakfast, lunch and dinner.



Our local cooks don't just work wonders with the highest-quality ingredients that best express the flavours of Tuscany, they also understand the traditions behind each dish. Dinner is served with a story and a passion for the region, which is what makes the fully-staffed villa experience so special. That, and the private and intimate atmosphere in which guests get to enjoy the local cuisine, whether on a shaded terrace by your private pool or around a candle-lit dinner table.
A bespoke experience, our local chefs won't just follow the traditional recipes of Tuscany either, they can tailor them to your specific tastes and interests.
Master Tuscan culinary traditions with a hands-on cooking class
At our fully staffed and catered villas in Italy, our chefs aren't just there to cook for you either. If you want a more hands-on experience sampling the local cuisine, why not ask our award-winning Concierge Team to arrange a cooking class in your villa kitchen? Immerse yourself in Italian food culture and learn the secrets behind each dish you make, from Pappardelle al Ragù and Tagliatelle al Tartufo to Torta della Nonna and Cantucci.
Each cook has their particular speciality, so whether you want to sample fresh seafood or meat, hand-made pasta or sweet pastries, we'll help you find your perfect culinary match.
We also offer all-inclusive cooking vacations, with three programmes to choose from: The Art of Pasta Making, Nonna's Traditional Italian Recipes, and Italian Classics for Vegetarians. Demonstrations, food and wine tastings are seamlessly interspersed with enriching cooking classes over a week. So you won't just sample the delicious local food of Tuscany, you'll leave a seasoned expert.