From Shakespeare to EM Forster, Italy has served as shorthand for romance. What is it about the cobbled medieval streets and vineyard-speckled hilltops that have proven such a fertile ground for flirtation?
Look beyond the objective beauty of the cultural capitals and gentle countryside and you'll realise that what makes life so sweet in Italy — and what makes this country the ideal setting for a romantic break — is the drama. The demonstrative manner of communication, the sexy aesthetic for men and women. The birthplace of both ballet and opera, Italy is synonymous with passion: for food, wine, beauty and love.
Whether your idea of romance is walking through an ancient village with your loved one, or exploring the wild beaches of Tuscany, the ultimate luxury is to return to an exclusive place, with plenty of privacy. While Italy has a wealth of grand hotels, our villas in Italy offer a more exclusive getaway. Watch the sunset from your own private pool, enjoy a dinner for two on your terrace cooked by one of our chefs, or arrange a day at a local spa.
Five romantic villas in Italy
For the Italophile couple:
Sul Coccomorlo
, near San Gimignano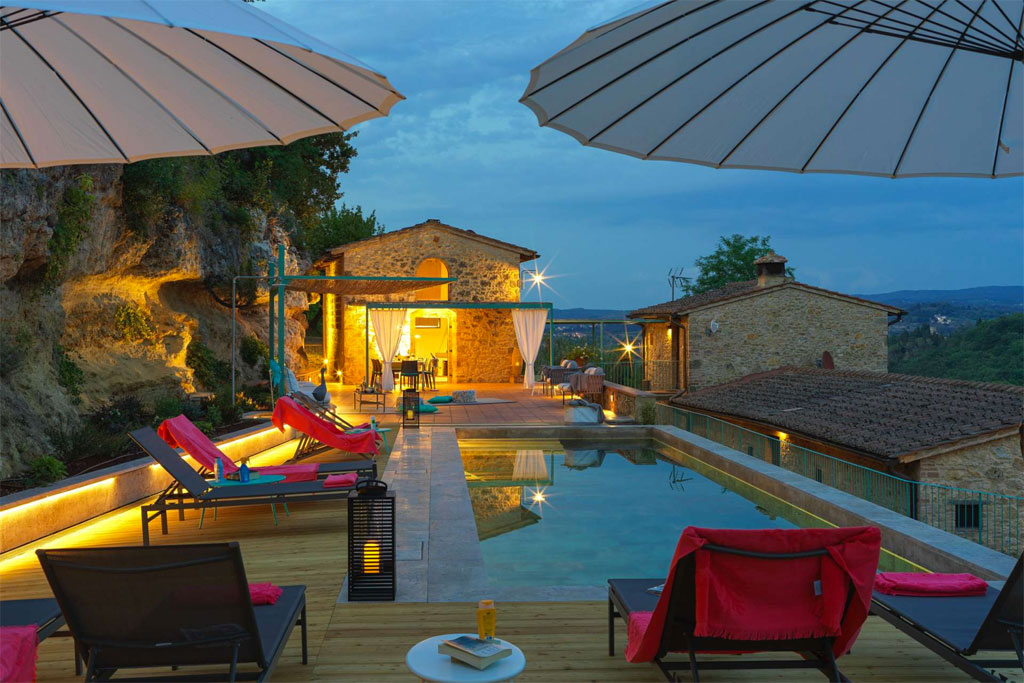 When people talk about "the heart of Tuscany", this is what they mean. This converted stone farmhouse sits 15 minutes from San Gimignano — a unique hill-town known for its winding stone lanes and 13 medieval towers. Halfway between Siena and Florence, Sul Coccomorlo is within easy reach of the region's cultural delights.
The villa's private, heated pool offers an intimate setting. While the property can accommodate up to eight guests, this romantic and cosy getaway is also ideal for honeymooners. Lounge on the sun-splashed hillside, overlooking rolling hills, until sunset, and then walk to a local restaurant or drive five minutes to Poggibonsi (the nearest town), for dinner à deux.
For the outdoorsy couple:

Casetta Termine

, Maremma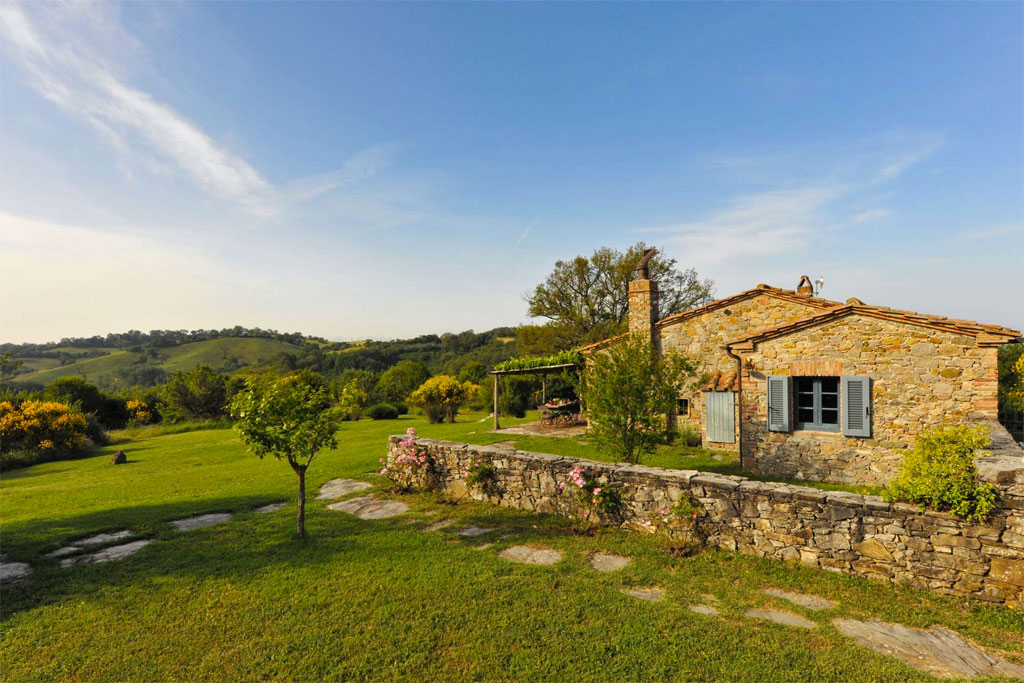 Set on a hillside in the rugged Maremma countryside of south-western Tuscany, this traditional beamed farmhouse is the ideal destination for couples after an escape to nature.
The villa is a fully air-conditioned oasis, with a pool set in natural rock in a less visited corner of Tuscany. Visit the wild beaches and fishing villages just half an hour's drive to the west, or hike Monte Amiata – the tallest dormant volcano in Italy. Our concierge team can also arrange spa days in the nearby thermal springs.
For the cosmopolitan couple:
Colli Fiorentini
, near Florence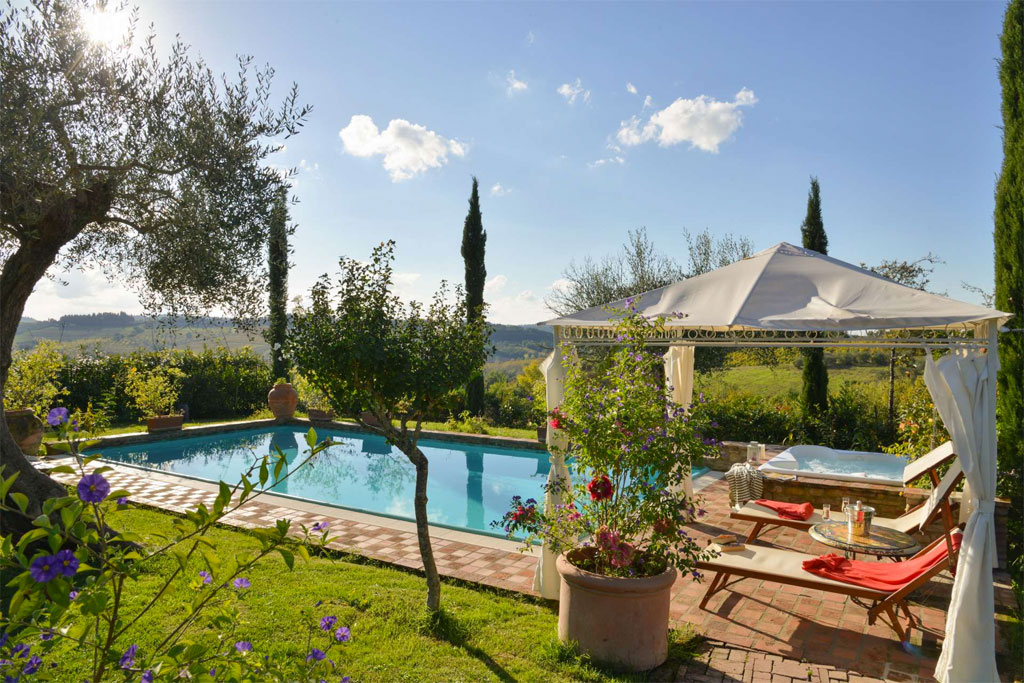 This property on the outskirts of Florence (just 15 minutes to the centre) offers classic Tuscan vistas — vineyards, olive groves, stone farmhouses — without compromising on luxury. The sophisticated modern adaptation of this 17th century villa has created a bright, light space, ideal for modern living.
With San Casciano nearby, and Florence and Chianti within short reach, there's no shortage of world-class restaurants in which to dine. We can also arrange a chef for those who prefer to relax in the private hot tub before the evening's aperitivo begins.
For couples seeking the 'Under the Tuscan Sun' experience:

Casale Il Melograno

, near Cortona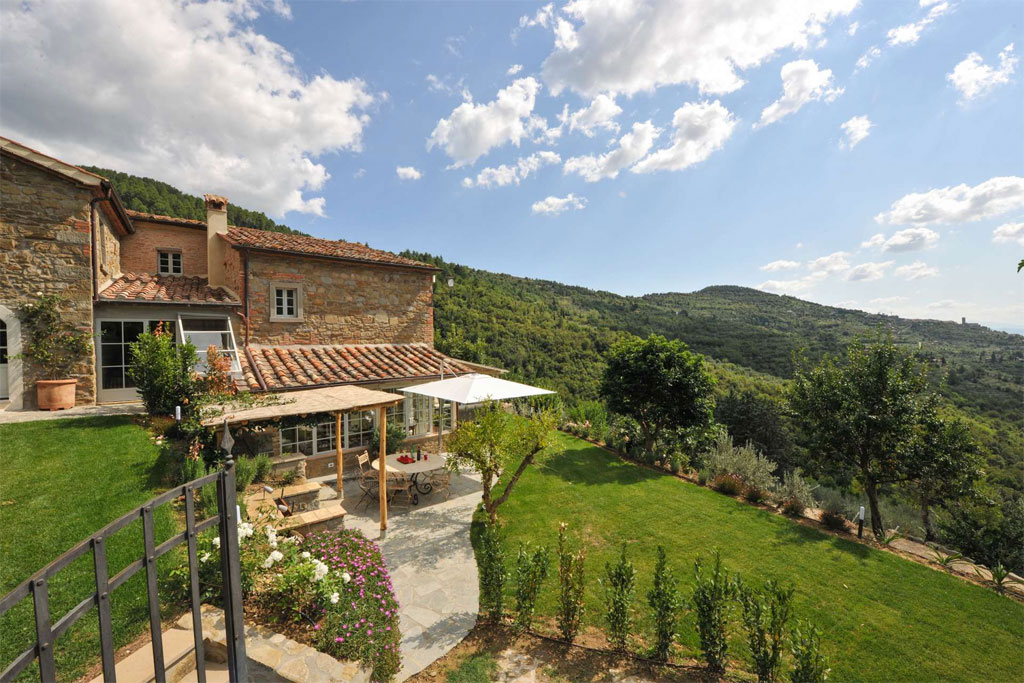 The views from Casale Il Melograno are quite possibly the best of any of our villas. The villa sits within walking distance of Cortona — a hilltop town with Etruscan roots that plays a starring role in Francis Mayes' bestseller.
This romantic corner of Tuscany offers the chance to cross the border into Umbria, perhaps visiting Lago Trasimeno, the castle-ringed lake near Perugia. Cleverly converted, the farmhouse's dining room features a wall of windows, allowing the rolling countryside and the terraced garden into the cosy house.
For couples after their own Eutruscan village:
I Ruderi
, Civitella d'Agliano
Perched on the cliff-side of a medieval village, this unique villa offers you the possibility to live a slice of history. Founded over 3,000 years ago by the Eutruscans, this old village remains a maze of cobbled alleyways. No cars are permitted but all the essentials including restaurants, bars, and grocers are within walking distance.
You might easily stay holed up in this stunning spot for a week, sitting by the oval-shaped swimming pool with views of the village above and the countryside below. But you can also venture out to nearby towns and villages including Orvieto and Todi.