Certaldo travel guide
Around 20 km west of the Chianti hills, Certaldo is a 2-storey town with a perfectly preserved medieval centre. Almost everything you'll want to see is in the upper town, Certaldo Alto, divided from larger Certaldo Basso by a funicular railway… and a few thousand years of history.

Certaldo Alto dates almost entirely from the Middle Ages, bar some necessary rebuilding after World War II left scars. A popular day trip, it's even better after dark, when its silent lanes and the illuminated palace at top of main street ring with the sound of crickets.


In the Beginning...
Certaldo's origins — at least, its small medieval centre up the hill — are Etruscan.

This Tuscan town reappears on the pages of history in the mid-1100s, when an Imperial edict places its castle under hereditary control of the Alberti counts. Through the centuries this noble family allied with and rivalled key players in Florence politics, until the city's Signoria finally stripped them of Certaldo in 1325.

From 1415 to the late 1700s, Certaldo was the uninterrupted seat of the Vicariate of the Elsa Valley. Political and judicial power for miles around was dished out from its Palazzo Pretorio (see below).

Certaldo is best known these days not for this role in Florentine politics, but as the home of one of Italy's great writers. Giovanni Boccaccio, "the Italian Chaucer", was probably born in Certaldo (in 1313) and certainly died there in 1375. For years in-between he lived an itinerant life, including a spell as Florence's ambassador in the 1350s.

His "Decameron", an iconic work of Italian prose, was written just after the Black Death wiped out half of Tuscany's population. Its 100 different novellas, bawdy stories and morality tales, are set within an overarching "frame story" in which 10 young Florentines are hiding out to escape plague.
The humble onion is honoured with legendary status in Certaldo
Visit This
The formidable Palazzo Pretorio dominates Certaldo Alto from the top of the town's only main street. Shields on the facade belonging to Certaldo's presiding Vicars include several painted in colourful ceramics, a style popular during the Renaissance. In total, 707 Vicars administered Florence's justice from this fortress/courthouse/jail, including members of the powerful Medici, Pitti and Ridolfi families.

You probably won't expect to find a traditional Japanese tea house in the small palace garden. But it is there, complete with tatami matting — a gift from Certaldo's Asian twin town in 1993.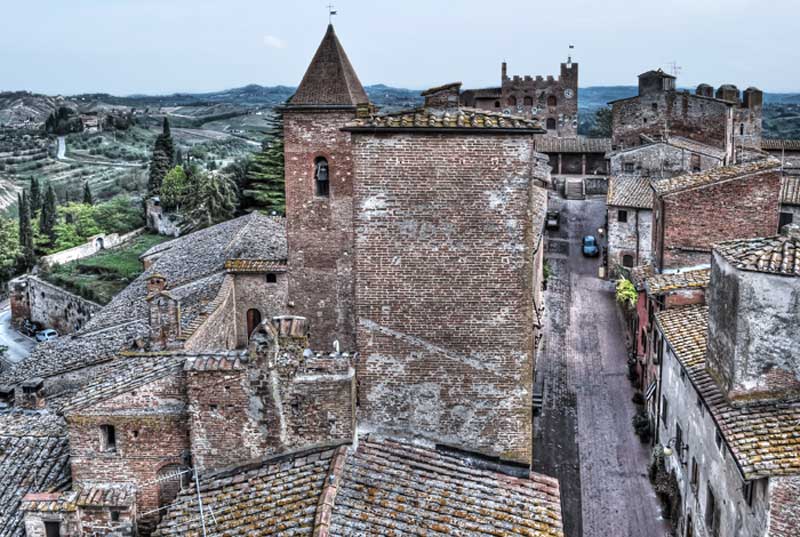 Santi Michele e Jacopo is brick hall church with a 13th-century facade and lofty Romanesque-style ceiling. In the 1300s, Giulia della Rena lived in a small cell beside the sacristy for 30 years, to devote herself to God. Her skeletal body is preserved inside the church, below charming cartoon-strip style, 15th-century paintings showing scenes and miracles from her life.

In the church's nave is the tomb of Boccaccio, though his bones were moved to a nearby cemetery in the 1780s.

Farther along broad Via Boccaccio, the Casa del Boccaccio is (probably) the house where the author lived in later life until his death. The original building took a direct hit in World War II and was rebuilt in 1947, though many treasures inside survive. It also houses a specialist library and archive.

The eastern town walls make a delightful morning walk, past the original Porta del Sole (Sun Gate) decorated with the Medici coat of arms.

For day-trippers, the easiest route is to park in Piazza Boccaccio, in front of the lower town's funicular station, and ride up to the old centre.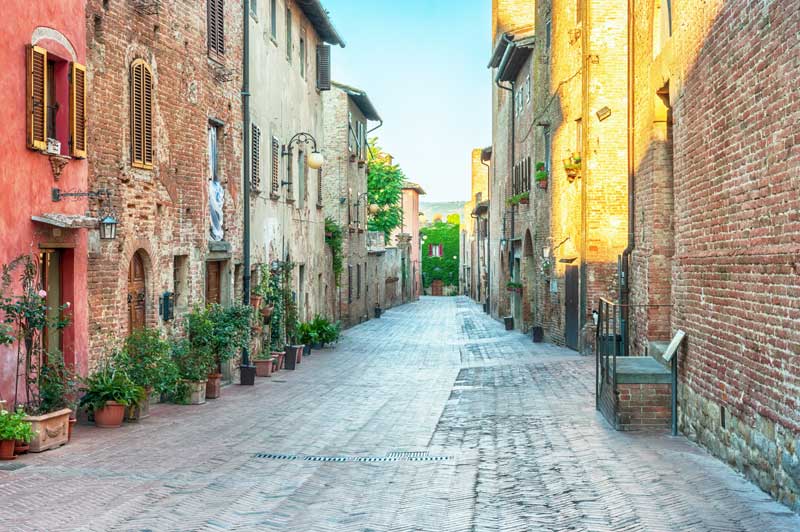 Eat & Drink This
The humble onion is honoured with legendary status here. Harvested in summer through early autumn and recognised by Slow Food as a Presidium, the Cipolla di Certaldo is red and sweet. Boccaccio praised it in the Decameron — "quel terreno produca cipolle famose per tutto Toscana" — it features on the town's coat of arms from the Alberti era, and you'll even find Certaldo onion flavoured ice cream.

Osteria del Vicario offers up a fine-dining interpretation of Tuscan food from inside Certaldo's former rectory, with a spectacular patio and snug romantic tables under the belfry. Modern techniques and traditional ingredients (including Certaldo onion) combine on a la carte and seasonal menus; think sweetbreads-stuffed tortellini in a porcini and tea broth followed by local pork cooked three ways.

Vicario is not cheap, but is definitely event dining and well worth reserving ahead.

Nearby Il Castello, run by a jazz musician, is friendly spot for an evening aperitivo or nightcap. An inventive spritz menu often includes the likes of Cynar (a bitter-sweet artichoke liqueur) alongside classics like Aperol.


Buy This
Based in Certaldo Alto, Artesia is one of Tuscany's best ceramics workshops for traditional majolica. Everything is handmade, fired and painted at the workshop by the two proprietors.

They also offer pottery courses and majolica painting demonstrations.
Three Excursions from Certaldo
Barberino Val d'Elsa: an off-the-beaten-track fortified village, with Barberini family history and excellent restaurants
Montespertoli: for historic estates selling fine Chianti DOCG wines and extra-virgin olive oils
San Gimignano: a preserved medieval walled town with hidden alleys, Gothic towers and sublime Renaissance artworks