Oh my, where to start? In a region filled with art masterpieces, eye-popping landscapes and wine you'd swim the Atlantic to taste, it's hard to know where to place Tuscany's best small towns on a list of "regional highlights". For us, they are "joint 1st"... alongside all the other great things I just mentioned — and many more I didn't.
Alas, chances are you only have limited time in Italy. So, which of Tuscany's many beautiful towns and villages should you target for a first visit? Or a second, third?
Luckily for you — and for the many guests we have welcomed to our Tuscany villas over three decades — we have toured literally hundreds of small towns in Tuscany. We've paused for a morning cappuccino in most of them. Each has its own charm. But if you insist on pushing me, 8 favourites are below. In no particular order.
The Best Small Towns in Tuscany
Cortona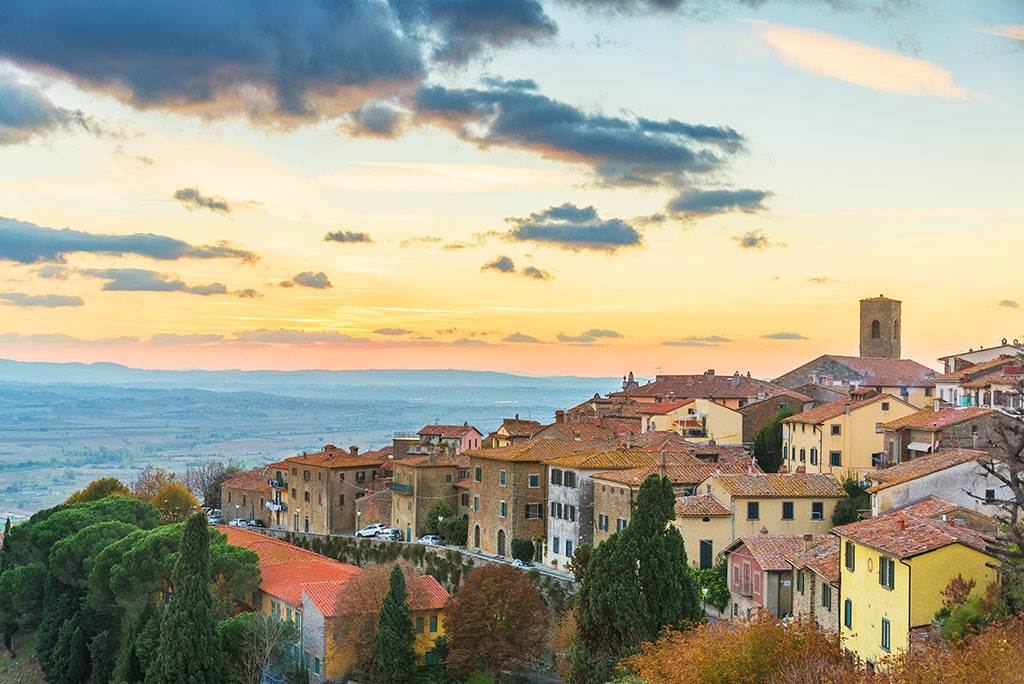 Thrust into the limelight by a bestseller-turned-Hollywood-movie, Cortona still has many secret corners and lanes you'll have to yourself. Over the centuries, it's been a home and a muse for painters and architects, many of whose artworks remain here.
Three essential stops? The Etruscan collection at MAEC, the view from Cortona's Medici fortress and one of the town's renowned ceramics artisans
Read our Cortona Travel Guide
San Gimignano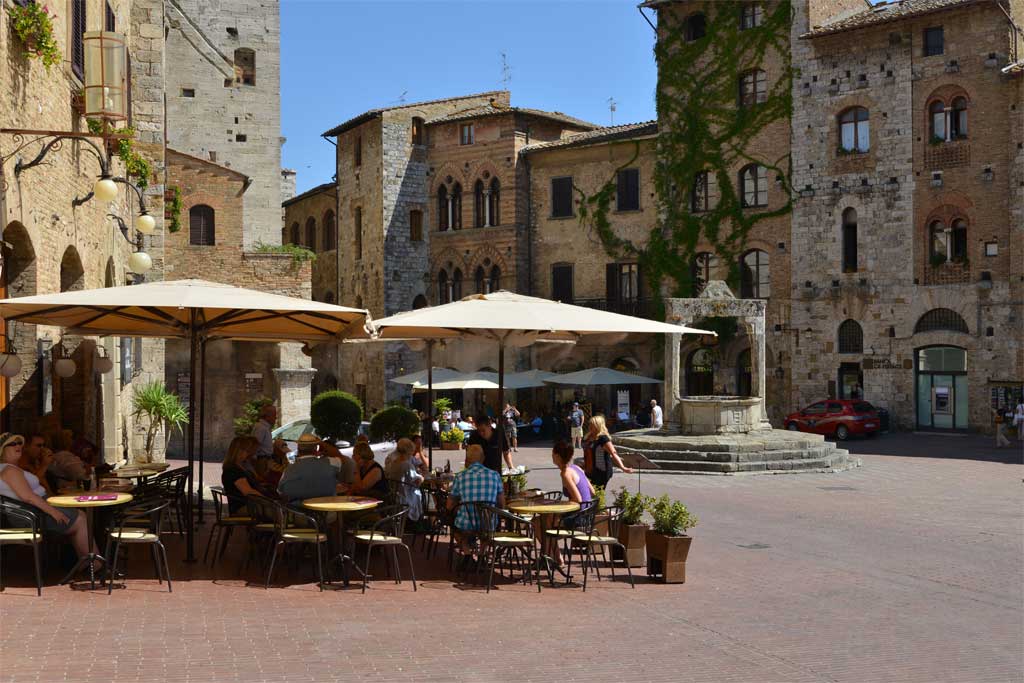 One of Europe's best preserved medieval towns is a remarkable relic of the 1300s, famous for frescoed churches and Vernaccia di San Gimignano, Tuscany's only DOCG dry white wine. Arrive early or in the evening to enjoy its quiet best. (Note: we have several villas to rent near San Gimignano.)
Three essential stops? Piazza della Cisterna, a climb up San Gim's tallest standing stone "skyscraper" and one of the best gelato parlours in Tuscany
Read our San Gimignano Travel Guide
Montepulciano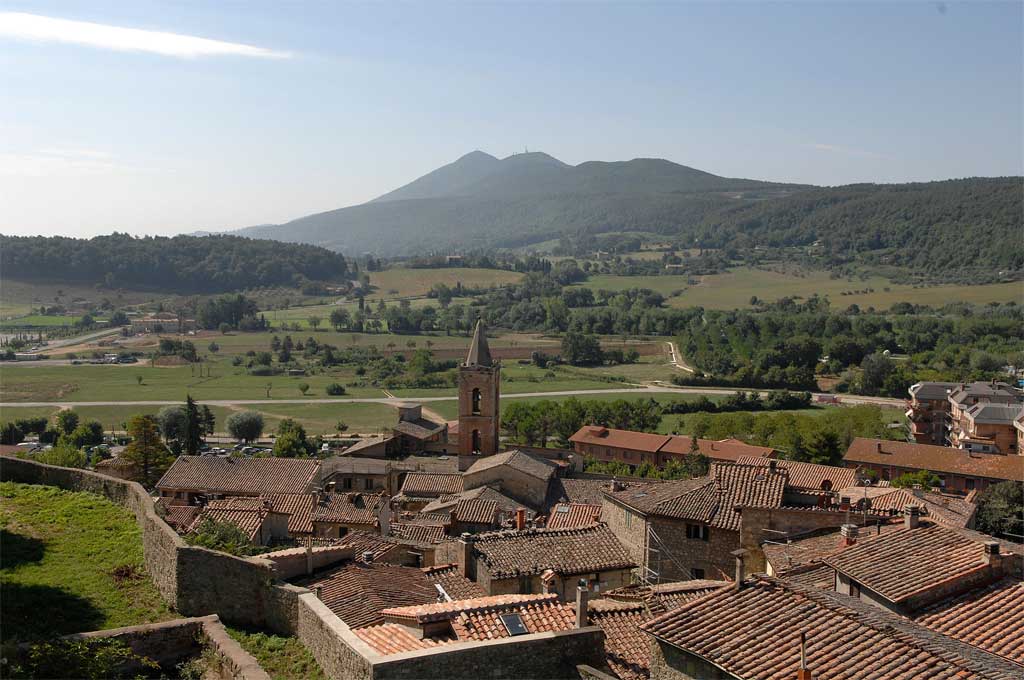 The basecamp for one of Italy's iconic red wines has more going for it than just Vino Nobile di Montepulciano cellars. During the Renaissance, this was second-home territory for wealthy Florentines: art and architecture from that unique moment in history are everywhere.
Three essential stops? The Renaissance palaces of Piazza Grande, a flame-grilled "bistecca alla fiorentina" at Osteria Acquacheta and wine tasting in Montepulciano cellars
Read our Montepulciano Travel Guide
Radda in Chianti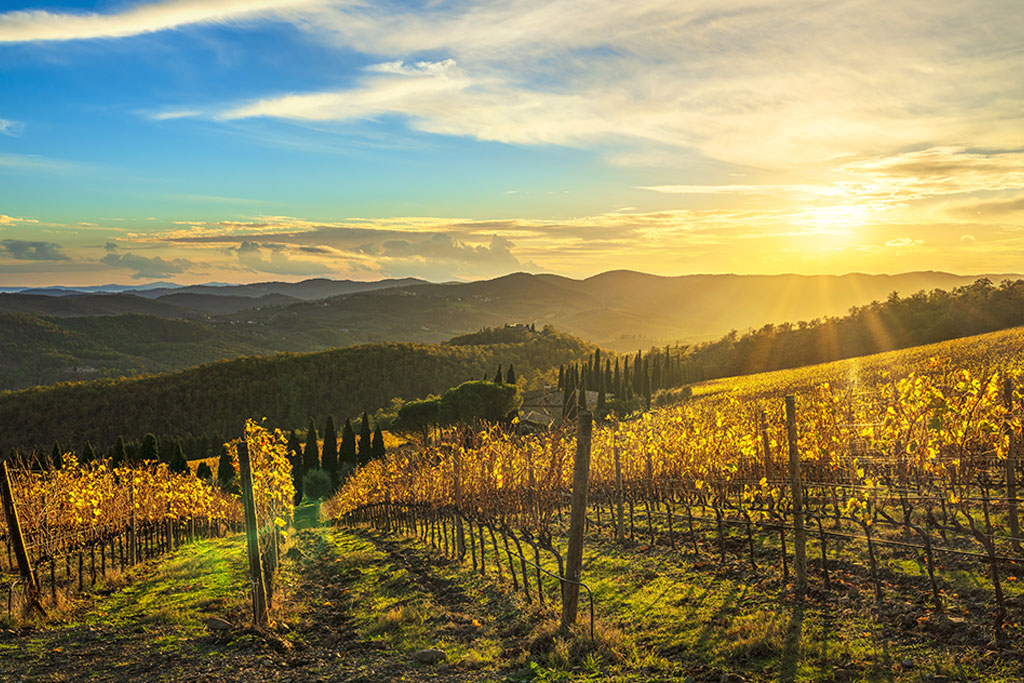 Another wine-lover's paradise, Radda is the most charming town in the photogenic Chianti hills. Alongside views for miles over vines and olive groves, the town's history as capital of the medieval "Chianti League" has left its mark.
Three essential stops? A town hall emblazoned with coats-of-arms, a famous butcher and Chianti wine-tasting in the hamlet of Volpaia
Read our Radda in Chianti Travel Guide
Pienza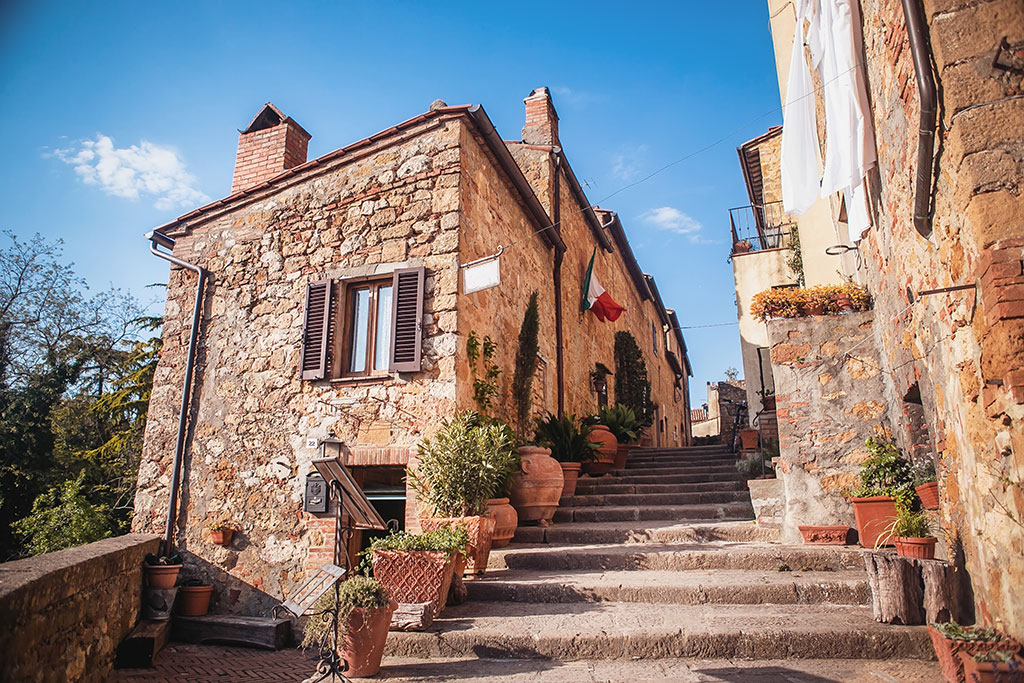 This is what town planning looked like to a Renaissance pope. Pius II commissioned a Florentine architect to turn his rustic home village into the "ideal" Renaissance town. He never got much farther than the main square — but what a square.
Three essential stops? Piazza Pio II, Pius's perfect Renaissance piazza, ramparts with an unforgettable view down the Val d'Orcia and a cheese shop to taste Pecorino di Pienza, made from local ewe's milk
Read our Pienza Travel Guide
Volterra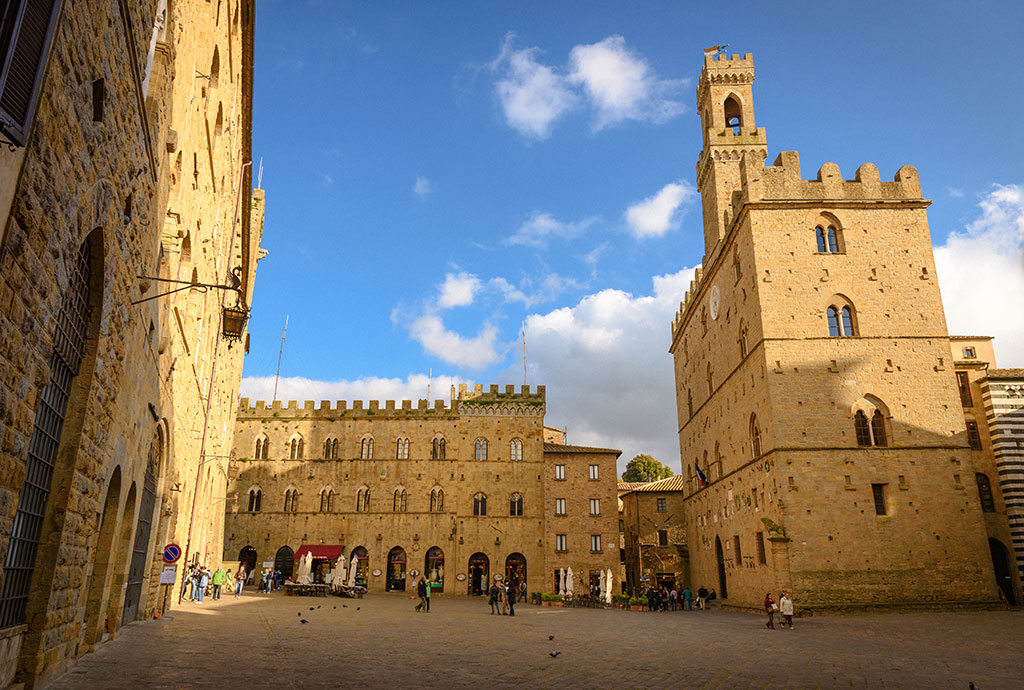 The once mighty Etruscan city of Velathri shrunk over centuries to become the medieval commune of Volterra. Spectral white alabaster has been mined here for millennia. Workshops are scattered among eerie stone backstreets. Secular and religious buildings draw architecture lovers; Volterra's Etruscan museum is among Italy's best.
Three essential stops? Alabaster artisan workshops, a masterpiece of Mannerist painting and the Palazzo dei Priori, design prototype for Florence's Palazzo Vecchio
Read our Volterra Travel Guide
Colle Val d'Elsa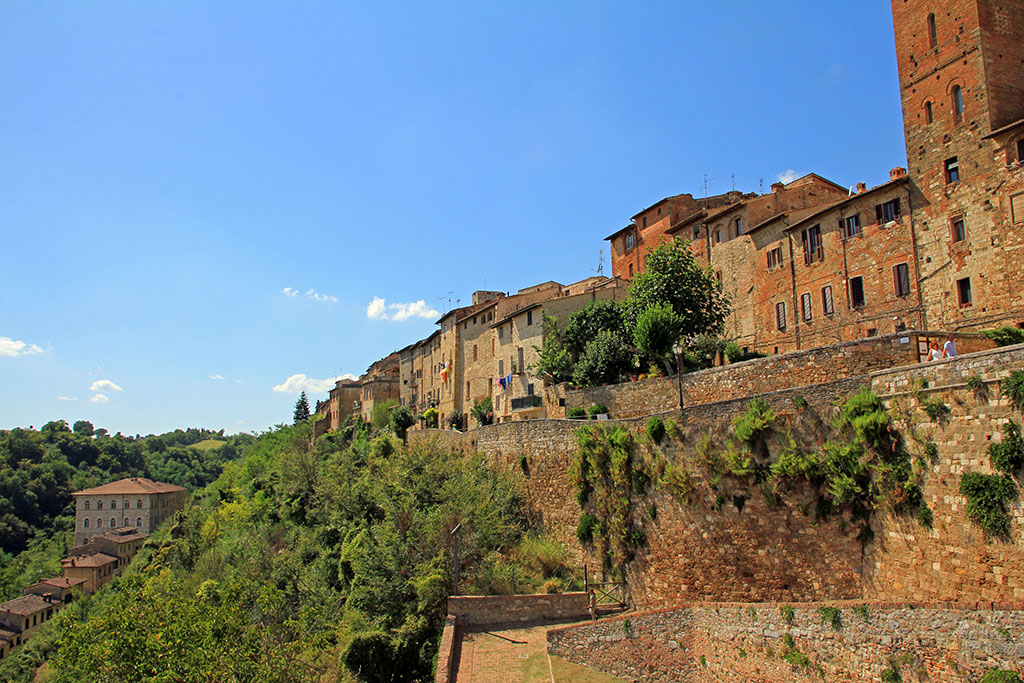 Colle rolled into and sharply out of the history books sometime in the 1200s. Strung along a rocky outcrop, the original old town — now "Colle Alta" — was the birthplace of Arnolfo di Cambio, who built Florence's Palazzo Vecchio. Artisan traditions, in crafts and the kitchen, still run strong. And somehow, this place is quiet most of the year.
Three essential stops? The gnarly stone streets of Colle Alta, centuries of glassmaking heritage and one of Tuscany's finest ceramics workshops
Read our Colle Val d'Elsa Travel Guide
Fiesole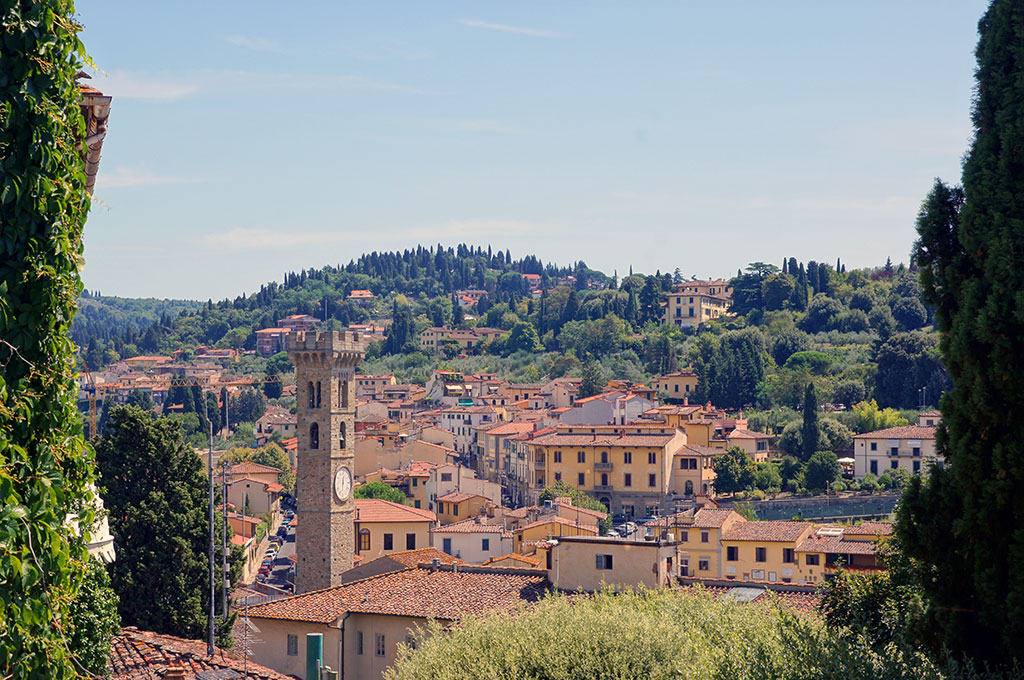 Perched on a hill above Florence, this ancient settlement has been an Etruscan stronghold, a centre for sculptors and stonemasons, an expat literary hangout and a popular escape from the summer city heat. Leonardo da Vinci even tested his flying machine here (it failed). Come for a scenic stroll, low-key art, ancient ruins, formal gardens, views, and a coffee in the main square.
Three essential stops? An iconic viewpoint over the rooftops of Florence, a Roman/Etruscan archaeology park and gardens where Lorenzo "The Magnificent" frolicked
Read our Fiesole Travel Guide