Cycling in Tuscany is a popular pastime for locals and visitors alike. They pour out of Florence at the weekends to take to the smooth roads and scenery of the Chianti, rewarded by lunch and a vineyard stop-off.
Whichever of our Tuscany villas you're based in, touring and mountain bikes are easy to hire, as are e-bikes; several cycle touring companies can also provide guides. For visitors seeking a challenge, there are many climbs and gorgeous, long downhill runs. Tuscany is a region with a long cycling history.
"Without a doubt, central Italy is my favourite destination on a bike," says David Cleveland, author of Bicycle Touring in Tuscany (see What to Read, below). "Tuscany, Umbria and The Marches combine spectacular scenery, magnificent architecture, history, culture, good food, warm people and great riding."

"The roads are smooth, the towns close together and the drivers friendly. On weekends, you will encounter scores of riders. A pack of 40 or more, splendidly clad, of all ages, will swarm up on you. For five minutes, they will pepper you with questions about where you're from and where you're going — then they roll off down the road, chattering among themselves."
If you are a first-timer to cycling Tuscany, it's probably best to avoid pedalling in the cities (unless it's Lucca, where cars are banned — see City Cycling below). Bung the bike in the car, or rent out of town. There are hundreds of routes, with the most accessible scenic stretches between Florence and Siena, in the Chianti.
Tuscany Now & More is also delighted to offer a cycling tour of San Gimignano, one of the seven UNESCO World Heritage sites in Tuscany. The 3-hour tour includes the vineyards and woodlands surrounding the medieval village, and finishes with ice-cream — included in the price. The tour operates at 9am and 3.30pm; choose the most convenient starting time from our San Gimignano villas. (And watch our video!)
The best bits of Tuscany to cycle
Andy Levine founded DuVine in 1996; today it is one of the world's biggest cycling tour operators. The company began bike tours to Tuscany in 1999. "Biking is, hands down, the best way to travel. It allows you to go at your own pace, engage your surroundings with all your senses, and become fully immersed in the minutiae that define a place," he says.
In a blog post, he rates his five top places to cycle Tuscany:
Chianti: San Felice is the perfect stop for a wine tasting. For a more challenging ride in the area, the 12km Monteluco awaits, a difficult ascent that offers stunning panoramas from the ridge. Ascend either from San Felice by way of San Gusme or from Gaiole. Lengthen the ride with a descent all the way to Montevarchi before climbing back up to Radda or Gaiole.
Montalcino: The town rests atop a gradual 8km climb that features stunning views of the valley floor below. En route, you'll pass esteemed vineyards like Casanuova dei Neri and Biondi Santi. From the top, there are a number of exhilarating descents to choose from. The vineyards turn to wheat-covered plains as you descend, and any direction you choose to travel, you are in for a treat.
Pienza: Worth the visit for its pecorino cheese alone. But the views, history, architecture, and wines are equally worth it. Cycling in this area is outrageously good: if you're looking for a challenge, Monte Amiata, the highest peak in Tuscany, and its 27km of climb beckon to you from across the Val d'Orcia. The wide range of cycling terrain available from Pienza makes this town a great place to visit for cyclists of every ability level.
Crete Senesi and Siena: The most picturesque riding in Italy, the ridges south of Siena are well known within the cycling community, frequented by avid, casual, and professional cyclists alike. A 12km ascent from Asciano lands you on top of the ridgeline, from which the view is simply breathtaking. Descend to Arbia and continue your ride up to Siena.
Lucca: The area outside the city has steep climbs, high peaks, and quiet valleys. It's not uncommon to see many pro riders sharing otherwise quiet roads with you. Set out through the city gates on bike, explore the surrounding hillside villages or ride along the valley floor for a more leisurely experience. Either way, the cycling here is unrivaled.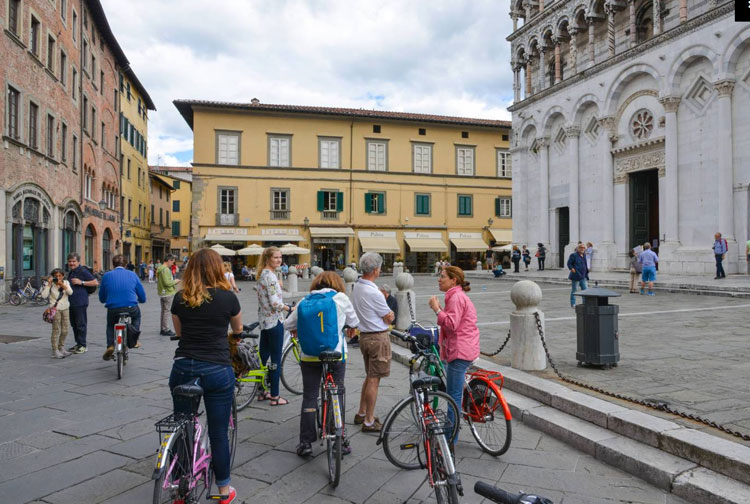 City cycling in Lucca
The walled city of Lucca is a cyclist's goldmine of gear from reputable manufacturers, says cycling author Felix Lowe (see What to Read, below). He commends Italian brands Colnago, Bianchi and Rosa. "Pegoretti is renowned as one of the great contemporary steel frame builders, a true pioneer in the industry."
"He used to design and build frames on the sly for the pros back in the 80s and 90s — riders like Miguel Indurain, Marco Pantani, Stephen Roche, Claudio Chiappucci and Mario Cipollini. Often they would buy them unlabelled and then mark them up with the team sponsor's name so as to keep everyone happy".
If pottering around the city on a bike is more your cup of tea, then Tuscany Now & More offers a tour of Lucca by bike or on foot. Cars are not allowed inside the 500-year-old walls, making cycling the narrow streets and palazzos a joy. Watch our video!
Take a Tuscany Now & More cycle tour of Lucca
Tuscany's big road races: the Giro and L'Eroica
The Giro d'Italia is the country's equivalent of the Tour de France. It celebrated its 100th anniversary in 2017 with a special nod to Giro's three-time champion Gino Bartali (better known as Ginettaccio) when they started the 11th stage of the Giro at Gino's birthplace in Ponte a Ema, in the south-east outskirts of Florence.
There is a Gino Bartali cycling museum in Ponte e Ema which displays 19th-century bicycles, as well as two bikes ridden by Gino and video archives of him and his fellow riders.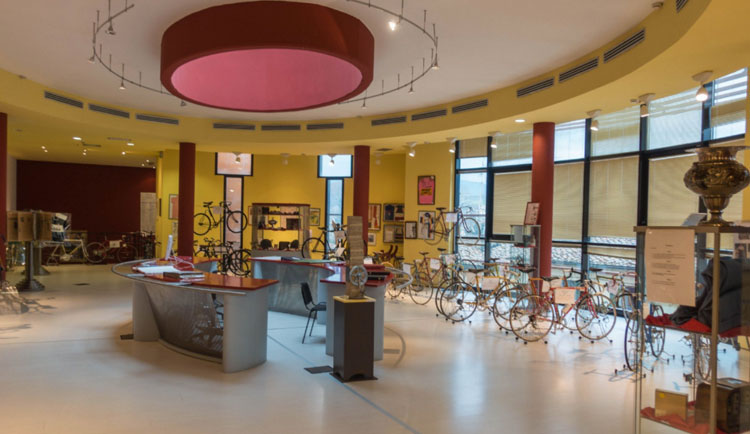 L'Eroica is a retro cycling event launched in 1997 in Gaiole, Chianti, using the rural white gravel tracks (strade bianche) which still criss-cross Tuscany. It was started by Giancarlo Brocci, who said in a 2016 Guardian interview, that there was a purpose in creating the one-day event every October.
"The idea was to protect the strade bianche from being resurfaced, but also to rediscover the roots of the sport — away from technology and doping," he said. "It's about getting back to the joy and essence of cycling. And the beauty of fatigue — of tiring yourself out — is the essence of cycling."
All cyclists have to ride steel-frame bikes made before 1987, and dress in suitable period costume. The idea is to discover and enjoy the timeless scenery of Tuscany while cycling along quiet country lanes, but also to challenge yourself physically with the most basic tools of the sport. The event, which now also has a Spring edition, attracts thousands of riders from around the world.
Electric e-bike rental in Chianti
Tuscany Bike Rental is based in Gaiole, 40 miles south of Florence, and rents e-bikes by the hour (£12), the half-day, day or longer. They also offer guided e-bike tours through the Chianti vineyards from £100 for a half-day.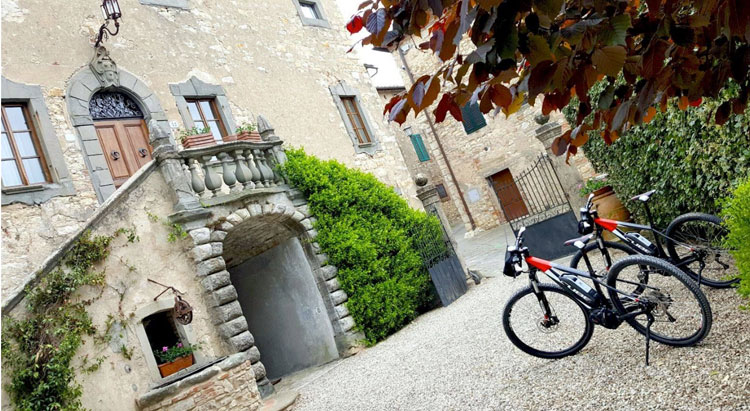 What to read before cycling in Tuscany
Everything you need to plan a tour of Tuscany, Umbria and the Marches: What to bring, where to go, how to transport your bike, how to ride away from the airport. It describes eight multi-day tours with detailed maps of every route.
To get a thorough understanding of Italy's cycling culture, read this exploration of a century of cycling, covering the historical context and individual biographies of notable riders.
A personal and often humorous account of a cycling journey to the capital, enriched with accounts of delicacies and sights along the way.