Everyone loves and knows Tuscany for its historic cities, cultural heritage, and food tradition, but our fascination with the region also comes from its wild charm. There is something about the Tuscan soul that comes from its unexplored nature, a visceral relationship with the land, an untamed spirit made of forest trails, mountain peaks, and secluded beaches. Southern Tuscany is a playground for those who want to experience this lesser-known side of the region.
Whether you are staying in a villa near the Tuscany coast and Maremma, or simply want to explore the area for the day, we have put together a list of our favourite walking trails along the Tuscan coast. Ancient monasteries, intimate treasure coves, turquoise waters, and breath-taking views — these outdoor itineraries will put you in contact with the natural beauty of Tuscany. Just remember to bring the right pair of shoes and enough water for the day!
5 Walking Itineraries to explore Southern Tuscany
Distance: 8km/5 miles (16km roundtrip)
Difficulty: Easy, flat and perfect for families with children
Best time to walk: All year
This walking trail is simply a long walk along the beach, starting from Castiglione della Pescaia. The easy excursion will take you across the sandy beach of Spiaggia delle Marze, and through the sheltered parasol pines of Pineta del Tombolo.
Stay fresh during your walk with dips in the sea, and make sure to keep an eye out for the local flora and fauna — foxes, porcupines, badgers and more. At the end of the walk, you will reach the Fiumara canal which crosses the pine forest. This canal is testimony to the marshland ecosystem that the lower Grosseto province once was.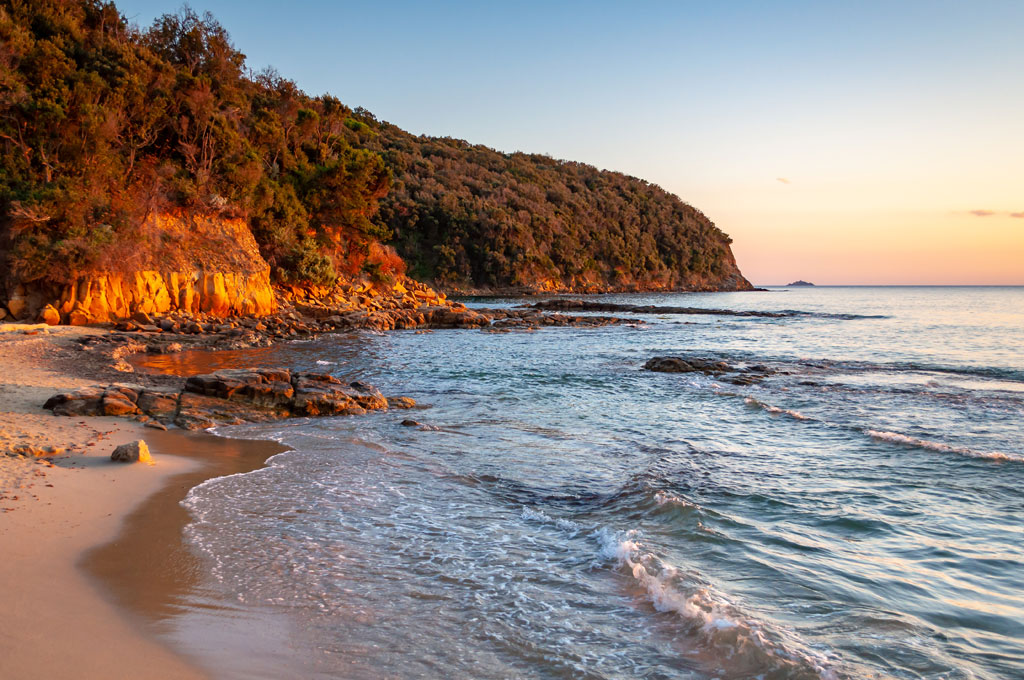 Distance: 4km/2.5 miles (8km roundtrip)
Difficulty: Easy but uneven tracks
Best time to walk: All year, but it's best to avoid the hottest hours in the summer and harsh weather conditions in the winter.
Cala Violina is one of Tuscany's best beaches, reached only by foot, bicycle or horse. The beach takes its name, Violin cove, from the quartz grains that make the sand emanate violin-like sounds when visitors step on it.
The path unfolds along the promontory and promises memorable views of the blue gulf, and a unique experience within the Mediterranean wilderness. Stop by the other coves along the path, including Cala Francese and Cala Martina. Despite being short and relatively easy, this trail runs along the cliffs and is unpaved, so keep a careful eye on your step.
If you're in the mood for adventure, start from Punta Ala and enjoy a longer (8km/5 miles) and more moderate-challenging walk.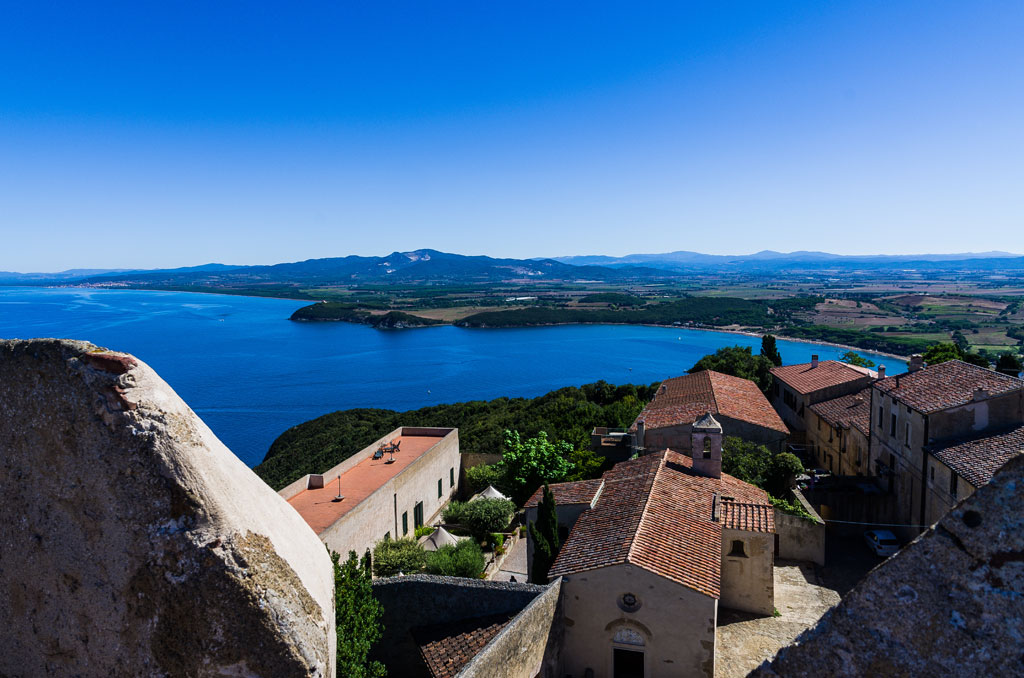 Distance: 10km/ 6.5 miles (20km roundtrip)
Difficulty: Medium with narrow paths
Best time to walk: Spring and Autumn. During the summer, avoid the hottest hours of the day and start your walk early in the morning.
There are many walking trails between Cala Moresca and Baratti. One of our favourite excursions, Dei Cavalleggeri, runs on the coast along the cliffs with access to many intimate beaches like Fosso alle Canne and Buca delle Fate. Buca delle Fate — Hole of the Fairies — takes its name from rock formations said to be inhabited by fairies.
Distance: Various
Difficulty: Various
Best time to walk: Spring and Autumn
This nature reserve extends for 25km along the South Coast of Tuscany, with an area of 8902 hectares. The park offers a unique experience for those who want to explore the nature and history of Maremma.
While there are many self-guided walking trails, we highly recommend joining the guided walking tours. Levels range from easy to challenging, and from a minimum of 2 hours to a maximum of 9 hours walking-time. The park offers trails to visit the ancient monastery of San Rabano, spend an afternoon spotting the wild flora and fauna, or stargaze during a night tour.

Distance: Option 1: 50km (31 miles) / Option 2: 56km (35 miles) / 5 Days (suggested)
Difficulty: Advanced
Best time to walk: Spring and Autumn
Experience the wilderness and nature of the biggest island in the Tuscan Archipelago, Elba. Nature, art and culture — this island is an unexpected paradise, and an adventure for advanced-level hikers.
Start your excursion from Cavo, a village in the North-East, and cross the island on its ridge to reach the West. You can choose to end in either Pomonte (Option 1: 50km) or in Patresi (Option 2: 56km). Both options can be completed within 24 hours with no stops, but why rush when you can enjoy this once-in-a-lifetime experience. Camping along this track is forbidden, but you can easily stop in any village along the coast, like Porto Azzurro and Procchio, for a delicious seafood meal and restorative sleep.
Castles, Etruscan ruins, monasteries, napoleonic villas, and views that showcase the true nature of the whole island — there is no better way to take a walk on the wild side of Tuscany.